Of the 259 players selected in the 2021 NFL Draft, one took slightly longer than the others to sign the dotted line on his first NFL contract and report to training camp: New York Jets quarterback Zach Wilson. After the brief holdout, NFL Media's Ian Rapoport announced Thursday that the deal is done.
The No. 2 overall pick out of BYU skyrocketed up draft boards after a remarkable 2020 campaign in which he earned PFF's top grade among quarterbacks (95.5). Wilson made 31 big-time throws and just four turnover-worthy plays, excelling in a heavy play-action scheme that should resemble what new Jets offensive coordinator Mike LaFleur brings to the Big Apple.
The rookie now gets to put his skills to the test at training camp, but what took so long?
While the values of rookie contracts are largely predetermined by the rookie wage scale, a lot more goes into the execution of a multi-million dollar agreement between player and club.
According to a recent article by the New York Post's Brian Costello, Wilson's contract remained unsigned largely because of offset language. There were also discussions of the Jets not wanting to agree to a more player-friendly payment structure where Wilson got all the cash from his signing bonus in a lump sum almost immediately after signing.
Cap guru Joel Corry of CBS Sports noted that Sam Darnold received the entirety of his signing bonus fifteen days after executing his rookie contract, so clearly it proved difficult for the Jets to go back on that precedent and they conceded.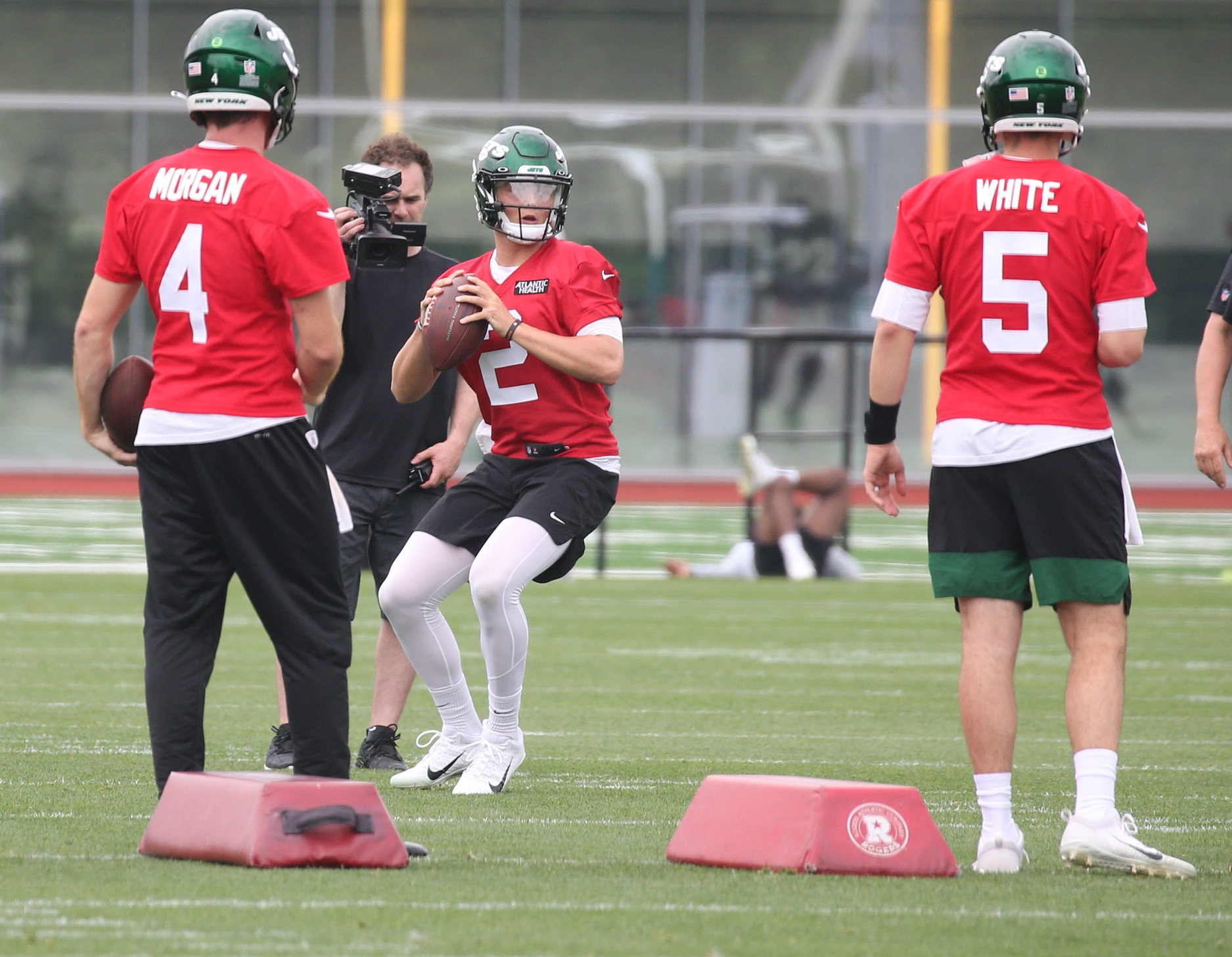 On the other hand, teams and agents go to war over offset language every year when negotiating rookie contracts. Only the Los Angeles Rams and Jacksonville Jaguars, who did not include offset language for either quarterback Trevor Lawrence or running back Travis Etienne, generally waive the language. In the simplest of terms, here's what offset language entails:
Player X has a $2 million fully guaranteed roster bonus for 2022 pursuant to his contract with Club A. After the 2021 season, Club A wants to move on.
Absent offset language, if Club A cuts Player X, Club A will owe Player X $2 million no matter what.

Player X can sign elsewhere and "double dip" by earning from both clubs.

With offset language, if Club A cuts Player X and Player X subsequently signs a deal elsewhere, Club A can subtract the amount owed on that $2 million bonus to Player X by the amount he earns elsewhere in that season.

So, if Player X earns $1.5 million in 2022 with a second team, Club A would be obligated to pay only $500,000 of that $2 million roster bonus.
Clearly, the mechanism has practical applications, but with that said, what are the odds it actually comes into play with Wilson? One could argue the Jets just witnessed a borderline worst-case scenario outcome of a top pick quarterback in Darnold's tenure with the team. In his three seasons in New York, his 60.4 PFF passing grade ranked 42nd among quarterbacks with at least 300 passing attempts. His 4.2% turnover-worthy play percentage was tied for eighth-worst, and his 42 interceptions ranked fourth-worst over the span.
Yet, even after the countless struggles, the Jets never contemplated cutting Darnold. On the contrary, they were able to recoup a second-round pick in a trade for him, and the Carolina Panthers exercised Darnold's fully guaranteed fifth-year option for 2022. It's very hard to foresee a scenario where a top pick quarterback's offset language will actually come into play.
With all of that said, new San Francisco 49ers quarterback Trey Lance was also on the precipice of joining Wilson as a training camp holdout before he signed his contract, but per Corry, Lance's guarantees do have offset language. So, the Jets are clearly not alone in this battle. However, the 49ers have a proven veteran quarterback in Jimmy Garoppolo on the roster who's set to earn the highest base salary in the NFL this season, providing them with a solid fallback option and more leverage in negotiations.
The Jets' current quarterback depth chart doesn't inspire even a modicum of confidence, featuring two young signal-callers without NFL game experience in 2020 fourth-round pick James Morgan and 2018 fifth-round pick Mike White. New York needed Wilson in the building to start learning the offense and developing chemistry with his receivers, because there is absolutely no question he will be the Week 1 starter.
While it may seem silly to squabble over offset language here, the argument from the club side may be more about establishing contractual precedent for a potential second contract with Wilson if and when that time comes. If the Jets don't include offset language in this deal — even understanding there's very little chance of it coming into play — it makes it that much harder to push for offset language next time. From the player's perspective, one could certainly argue that while the overwhelming majority of players have every right to fight to waive offset language, it likely won't come into play for Wilson. Ultimately, the Jets got the offset language they wanted.
Perhaps merely a coincidence, but certainly worth noting, Wilson's agent Brian Ayrault of WME Sports is also Los Angeles Chargers edge rusher Joey Bosa's agent. Bosa and the Chargers famously went back and forth on his rookie contract, leading to a brief holdout, before the two sides finally compromised.
Per ESPN's Adam Schefter, Bosa's contract did contain offset language, but he received an extremely favorable payment structure. Here's one thing no one can argue: Bosa's second contract, signed in 2020 for $27 million per year with $78 million fully guaranteed at signing, remains the richest deal in NFL history for a defensive player. Perhaps Bosa and Ayrault wore the Chargers down in their initial negotiations, and that sure seems to have worked out pretty well in the long run.
Wilson gets his signing bonus paid in full within 15 days, the Jets get their offset language and a new era is officially underway.