PFF previews the 14 NFL games ahead in Week 11, highlighting players to watch while also taking a fantasy football and betting approach to offer insight for every NFL fan.
[Editor's Note: ELITE subscribers have access to all of PFF's fantasy football projections, rankings and lineup tools in addition to PFF NFL and College Greenline, an online dashboard with predictions for the spread, total and moneyline for every FBS and NFL game every week. Subscribe today to gain access!]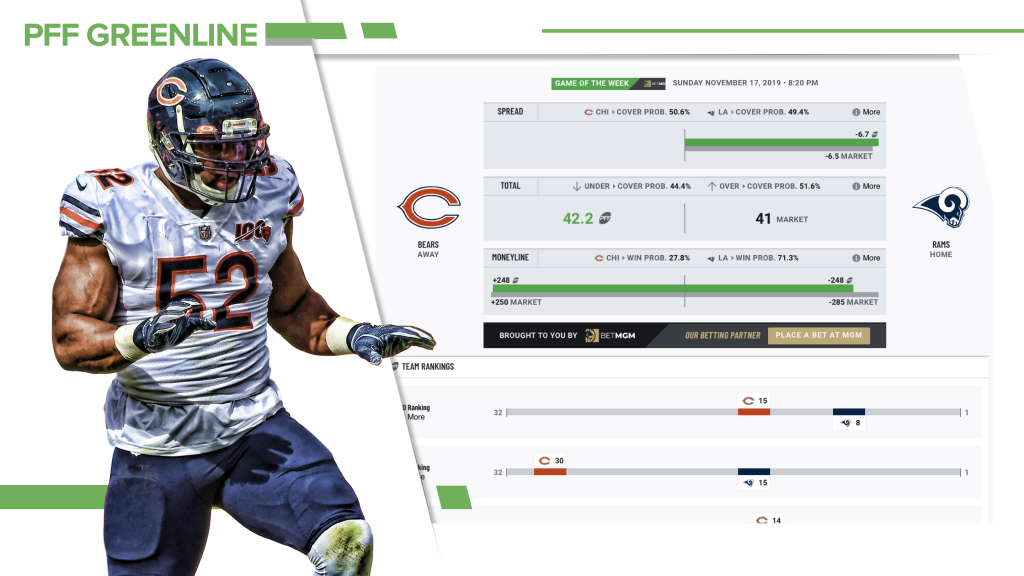 Players to Watch
Mason Rudolph has really struggled when asked to push the ball downfield. He enters Week 11 ranked 32nd among the 34 signal-callers with at least 40 pass attempts of 10-plus air yards in PFF passing grade on such throws (61.7). He has just five big-time throws and six turnover-worthy plays when throwing 10 or more yards downfield.
Fantasy Football Preview
Was there reason to be concerned about Nick Chubb's workload last week in Kareem Hunt's first game? Of course. Were those founded? Not really. Chubb had exactly 20 carries Sunday for the fourth straight game and fifth time on the season, as the Browns had both backs on the field at the same time for 28 snaps after running 20 or 21 personnel only three snaps all season prior to that. It looks like Chubb's ceiling will remain high with Hunt in the fold.
Betting Preview
The Browns have dropped below a field goal favorite at home in this AFC North matchup. The key differentiator in this game is that the Steelers rank fourth overall defensive ranking. Pittsburgh has generated pressure on 54% of pass-rush snaps and has relied heavily on their defense in 2019. The Browns put forth the better quarterback in Baker Mayfield, despite his struggles, still grading 15 points better than backup Mason Rudolph. Greenline offers a strong lean on a certain side of this opening action for Week 11. 
Players to Watch
While everyone's eyes will be locked on Lamar Jackson, Texans quarterback Deshaun Watson is well worth a look, as well. He enters Week 11 ranked third among qualifying quarterbacks in PFF passing grade on passes of 10 or more air yards (93.7), completing 56-of-100 such attempts for 1,222 yards, 13 touchdowns and four picks in the process.
Fantasy Football Preview
You could probably win a bar bet with someone over whether Carlos Hyde has ever had a 1,000-yard rushing season. He hasn't. But through nine games of 2019, he's at 704 yards, which puts him on pace to not only crack 1000 for the first time but blow past that mark. He's a non-factor in the passing game and only has three touchdowns, but it's true nonetheless that Hyde is averaging a career-best 4.7 yards per carry and has a career-best 77.1 rushing grade. Against a Ravens defense that is among the 10 stingiest teams to opposing fantasy running backs, this will be one of his toughest tests.
Betting Preview
One of the most anticipated matchups on the weekend has the fourth-ranked Ravens hosting the ninth-ranked Texans. Both the spread and total have held strong since the open, with no discernible edge on either of those numbers. If looking for a play, a small opportunity awaits on one of the moneylines in this matchup if you can find a quality price. 
Players to Watch
Among the 76 NFL receivers with at least 200 routes run on the year, D.J. Moore ranks tied for 15th in yards per route run (2.02). He has also hauled in 11-of-20 contested targets and has just three drops on the year.
Fantasy Football Preview
Could we see the end of an era? Julio Jones famously has topped 1,400 receiving yards in five straight years, the only player to ever do so. At 791 yards through nine games, he's actually still on pace to keep it going, but barely, on a 1,406-yard pace. Jones hasn't scored a touchdown since Week 3 and has come in under 60 yards three times this year. If he's going to keep it going, we'll want to see another big game sooner rather than later.
Betting Preview
The PFFalcons appear back for one week after upsetting the Saints on the road as two-touchdown dogs. Bettors are piling on slightly with this game opening as a touchdown spread but being bet down to a current -5.5 price. Greenline thinks the Falcons may still offer value, but with this spread moving quickly, action is necessitated immediately. 
Dallas Cowboys @ Detroit Lions
Players to Watch
Among the 34 NFL quarterbacks with at least 100 clean-pocket dropbacks, Lions quarterback Matthew Stafford ranks first in PFF passing grade from a clean pocket (92.6). Detroit needs a healthy Stafford to win football games; he's having a career year.
Fantasy Football Preview
The best horror movies are the ones where characters are lost one-by-one until only one or two survivors remain to take on the big bad guy. And that's basically where the Lions have found themselves in the backfield. Kerryon Johnson hit IR a few weeks ago and was joined a week later by Tra Carson. And now Ty Johnson is in the concussion protocol. The Lions are down to just J.D. McKissic and Paul Perkins among healthy and active running backs, assuming the team doesn't add someone before Sunday. The Cowboys have allowed the 10th-most PPR points per game to opposing running backs, but while it's always tempting to grab a sleeper who falls into a starting job, it's hard to imagine using a Lions running back in fantasy.
Betting Preview
Only a handful of books have moved to open a total number on this game as we wait for more news on Matthew Stafford. The Lions kept his injury close to the vest last week, which means we may be waiting for anything official all week. Some books have posted 51.5 totals, which would make this the highest total in Week 11. The Cowboys currently sit as 3.5-point road favorites, but we will see this number fluctuate when things with Stafford become clearer. In the meantime, this game is a spot to be patient on when looking for a betting side.  
Players to Watch
Colts' Marlon Mack has struggled significantly when facing early adversity running the football. Among the 23 NFL backs with at least 50 rush attempts where they've been contacted at or behind the line of scrimmage, Mack ranks dead last in yards per carry (0.4) and yards after contact per carry (1.9) on such attempts.
Fantasy Football Preview
If it weren't for Christian McCaffrey, we'd be speaking in awe at the amount of work Leonard Fournette is getting this year. He's at 214 touches so far this year, third behind Dalvin Cook (who has played one more game) and McCaffrey, and when you break it down by percentage of team's backfield touches, Fournette (88.8%) is well ahead of anyone but McCaffrey (a calculator-breaking 91.0%). Fantasy managers have to be frustrated with Fournette only having one touchdown so far, but with that workload, scoring will come.
Betting Preview
Another matchup with questions at quarterback causing betting markets to pause on releasing concrete totals. The Jaguars head out of their bye sitting between 3- and 3.5-point road dogs. Gaining the hook could do wonders for their cover probability. Right now, this is another spot to wait for more injury information. 
Players to Watch
Dolphins rookie cornerback Nik Needham is coming off a career performance against the Colts in Week 10. He earned a 90.3 overall grade and allowed just three receptions for 34 yards from eight targets in the contest. He also recorded an interception and a pass breakup.
Fantasy Football Preview
The trade of Kenyan Drake and suspension of Mark Walton left Kalen Ballage as the Dolphins' No. 1 back by default, and … it went poorly. Ballage ran the ball 20 times Sunday for 43 yards, a 2.2 per-carry average that actually improved his season-long YPC to 2.1. He's now at 55 carries for the season without any carry longer than eight yards, with only one game of more than 2.7 YPC (and that was on 2 carries) and a yards after contact per attempt mark of 1.45 that is worst in the league by more than half a yard. The Dolphins might not have a choice but to keep running Ballage out there until Walton returns, but fantasy managers are under no such requirement.
Betting Preview
The hottest team in the NFL has now reeled off five straight covers against the spread. Bettors continue to hop on board, with this line dropping from a touchdown spread to 5.5 for the home dogs. These two teams have close to the highest run/pass splits in favor of passing in the NFL. Ryan Fitzpatrick has a higher passing grade than Josh Allen, so backers are getting the better quarterback at home with points typically equaling a recipe for success. 
Players to Watch
Kirk Cousins is playing at an elite level when awarded a clean pocket. He enters Week 11 ranked second among qualifiers in PFF passing grade when kept clean (92.4). He has recorded 12 big-time throws and just one turnover-worthy play when kept clean this season.
Fantasy Football Preview
Brandon Allen has been in the league four years now since being drafted in the sixth round by Jacksonville in 2016, and Week 9 was the first regular-season game action he's ever seen. Joe Flacco has been in the league 12 years now since being drafted in the first round by Baltimore in 2008, and Week 9 was the first time he's ever been benched without injury. And yet Allen put up as many fantasy points in that game (17) than any two consecutive games for Flacco since Week 4. Things won't always go as well for the fresh face, but it was a nice debut.
Betting Preview
The Vikings rebounded from a disappointing loss in Kansas City to knock off the Cowboys on Sunday night football. They now head home as 11-point favorites, gaining half a point off of the opening -10.5 spread. It is a lot of points to be laying for the sixth overall team according to our ELO rankings. Greenline feels strongly about a play on the spread with a small shot on the moneyline possibly coming into play. 
Players to Watch
Michael Thomas is still a game-wrecker. He has averaged 2.90 yards per route run so far this season, a figure that ranks third among qualifiers in Weeks 1-10. He's also logged 12 contested catches from 14 contested targets on the year.
Fantasy Football Preview
In Weeks 1-3, Marshon Lattimore wasn't really himself, and he allowed a 140.6 passer rating in coverage. The Saints got him back to predominantly shadowing the opponent's No. 1 wide receiver after that, and from Week 4 on, Lattimore's passer rating allowed has plummeted to 45.2. That would be bad news for Tampa Bay (primarily Mike Evans, most likely), were it not for the fact that Lattimore was forced from the Saints' Week 10 game with a hamstring strain that has him listed as "week to week." The Falcons allowed a 54-yard completion to Julio Jones almost as soon as Lattimore left Sunday, and we can expect the Buccaneers to attack similarly.
Betting Preview
Tampa Bay brings the 12th-highest ranked offense home against the ninth-ranked Saints offense. Points appear to be on tap with an opening 51.5 print before settling in between 50 and 50.5. Greenline thinks this total should drop a little lower, giving the 50.5 price a 53.2% under cover probability. The Bucs have gone over the total in their past seven games, but our current number thinks that trend stops on Sunday. 
Players to Watch
Sam Darnold has struggled quite a bit this season, and his performance from a clean pocket is a big reason why. The second-year Jets signal-caller ranks second-to-last in PFF passing grade from a clean pocket (67.0) entering Week 11. He has just five big-time throws and three turnover-worthy plays when kept clean.
Fantasy Football Preview
There hasn't been a Washington quarterback this year who has played well, but Dwayne Haskins has fared the worst of the group, with a 40.8 PFF passing grade and a 42.2 passer rating. On the other hand, Haskins' three games have not been in ideal situations, coming in as an injury replacement twice and getting his lone start against a strong Bills defense. This week, Haskins faces a much friendlier Jets defense, and he does it coming off a bye that has given him two weeks to prepare as the team's starter. If it's going to happen for Haskins in 2019, this is the week for it to start.
Betting Preview
The lowest total on the slate pits two of our bottom four teams in overall ELO ranking. The Jets' defense has distinguished itself as the third-best unit in the NFL. Other than that, it has been ugly on both sides of the football for these two teams. A pick 'em to -1 spread feels like a fair price to avoid this game altogether. 
Players to Watch
Chandler Jones is flying under the radar as one of the NFL's premier pass-rushers. He enters Week 11 ranked sixth in PFF pass-rush grade (88.4) with over 40 total pressures and a high pass-rush win rate.
Fantasy Football Preview
One of the best (and worst) parts of drafting a running back in the first round is that, as long as he's healthy and active, you don't have anything to think about him. You just put him in your fantasy lineup and move on, and if he struggles, well, that's the risk you run with a top name. And that's true most of the time, but for David Johnson this week, well … it's just not. Johnson is facing a 49ers defense that has allowed the third-fewest PPR points to opposing backs, and he has a combined four rushing yards in the last month. If you have any alternative at all at the running back position, consider it.
Betting Preview
The 49ers were knocked from the mantle of unbeaten teams on Monday night, and they need to rebound quickly against another NFC West foe. Arizona has dropped considerably in price after opening as 14.5-point road dogs, they currently sit at -11.5 in most spots. Not a lot of value exists at the current market prices, with some more sliding required for a potential value to come into play. 
Players to Watch
A better version of the Derek Carr we witnessed in 2016 is suiting up for Oakland in 2019. The veteran signal-caller enters Week 11 ranked second in PFF passing grade under pressure (75.3) with just two turnover-worthy plays and three big-time throws on such dropbacks.
Fantasy Football Preview
Ryan Finley couldn't have asked for a much tougher opponent for his first NFL start, going up against a Ravens defense that has been absolutely lights out since acquiring Marcus Peters and is second in the league in defensive touchdowns. But he couldn't ask for a much better opponent for his second, going up against a Raiders defense that has allowed huge games to Aaron Rodgers, Deshaun Watson and Matthew Stafford over the last month. Finley doesn't carry a high ceiling regardless, but it'll be higher this week than it was last.
Betting Preview
The worst overall team in the NFL sits at 10.5-point dogs to Oakland. The total has risen slightly from an opening of 48 picking up a point. Greenline doesn't expect this matchup to exceed the current total, with the Bengals having the 30th overall offense according to our opponent-adjusted metric. Either avoid this game entirely or hit a spot on the under with more enticing matchups on tap in the afternoon slate.  
Players to Watch
Jonathan Jones enters Week 11 ranked tied for second among qualifying cornerbacks in PFF coverage grade at 88.7. And fellow defensive backs Duron Harmon and J.C. Jackson rank first and second, respectively, in passer rating allowed when targeted among defensive backs with at least 150 coverage snaps played in 2019.
Fantasy Football Preview
There were rumblings that the (relative) struggles of Zach Ertz this season had come in part because of the absence of DeSean Jackson since Week 1. And when Jackson returned for Week 9 and Ertz had his best game of the season (putting up a 9/103/1 line), at the very least confirmation bias rose up. Well, nothing gold can stay, and with Jackson out again going forward, we'll see if Ertz can succeed despite increased defensive attention. He's still a weekly must-start, even against a tough Patriots defense, but we might not see peak Ertz the rest of the way.
Betting Preview
The Patriots stumbled into their bye week after getting blown out by the Ravens on the road. They have held as 3.5-point road favorites against the Eagles in Week 11. With both teams ranked in the top 10, Greenline thinks this spread maybe a little too one-sided at the current hook price.  
Players to Watch
Mitchell Trubisky is cracking under pressure. He enters Week 11 ranked dead last in PFF passing grade under pressure (27.2) among qualifying quarterbacks. That's not a great place to be with Aaron Donald & Co. on the schedule for this week.
Fantasy Football Preview
The offensive line, one of the Rams' strengths of the team's Super Bowl run a year ago, has been a big weakness for Los Angeles this year. The Rams come into Week 11 with a 54.0 pass-blocking grade (third-worst) and a 50.9 run-blocking grade (sixth-worst). And now center Brian Allen and tackle Rob Havenstein will miss Sunday's game (with Allen lost for the season). Jared Goff's passer rating drops from 95.7 when kept clean to 59.5 when pressured, and we can expect the Bears to bring a lot of pressure Sunday.
Betting Preview
Our Game of the Week projects for a low-scoring affair with the market holding strong since the open at 41 total points. Our current projections see little value in the 6.5-point spread, meaning a play for points could be the only spot on Sunday night. 
Players to Watch
Chiefs' Tyreek Hill enters Week 11 ranked first in yards per route run (3.05) among the 96 NFL wideouts with at least 150 routes run on the year. It didn't take long for Hill to take the NFL storm after returning from injury a few weeks ago.
Fantasy Football Preview
Because Russell Wilson threw an interception Monday night, Patrick Mahomes is the last qualifying quarterback with no more than one interception on the season. He has an 18:1 TD:INT ratio — if he maintains that the rest of the way, it would already be the most touchdown passes in a season with 1 or 0 interceptions since 1929, two shy of the all-time record. He's got seven more weeks to go, and the odds are against him maintaining his ridiculous success rate all year, but betting against Mahomes hasn't gone well so far in his career.
Betting Preview
Two offenses ranked in the top fourth of the NFL face off in a Monday night shootout. The market has dropped from the opening 53 with too much correction potentially coming into play. Some line shopping is required, but if 51.5 or less is available, a play to the over on Monday night looks great according to Greenline projections.