Few wide receivers have been dealt a tougher hand than Terry McLaurin during his first two seasons in the league, but that could all change thanks to the free-agency acquisition of quarterback Ryan Fitzpatrick.
The veteran signal-caller agreed to terms with the Washington Football Team on a one-year deal worth $10 million, ESPN's Adam Schefter reported on Monday. He will enter training camp as the presumptive Week 1 starter, with competition from Taylor Heinicke and Kyle Allen.
McLaurin hasn't had anything approaching plus quarterback play during his time in D.C.  So far, the budding star has dealt with a combination of Case Keenum, Dwayne Haskins and Alex Smith under center (save for cameos from Colt McCoy, Allen and Heinicke). Over McLaurin's career, that group has combined for an overall PFF grade of 62.4, 29th in the league. They are even lower in terms of expected points added (EPA) per play (30th), and the group is actually being dragged up by the performances from Smith and Heinicke late last season.
Bad quarterback play is never a good thing for a young wide receiver, but McLaurin has been hamstrung not just by the quality of the players throwing him the football but also by their style of play.
Smith has long been one of the league's most pathologically conservative passers, and that tendency was even more pronounced when he came back from injury in 2020. His 5.4-yard average depth of target was the lowest in the league by over a full yard, and Allen (6.4), Keenum (6.7) and McCoy (7.3) weren't much better during their appearances in the starting role. Haskins made it up to 7.9 yards on average, which would have ranked 29th out of 41 qualifying quarterbacks in 2020.
The entire quarterback room has combined for just 38 big-time throws over McLaurin's two seasons in Washington. The top five quarterbacks in the league had more big-time throws than that in 2020 alone — and that doesn't even include the ones they added in the playoffs.
Enter Ryan "Fitzmagic" Fitzpatrick, the most YOLO-inspired quarterback of modern memory.
Fitzpatrick is 38 years old and has never had the best physical tools or arm strength in the league. He will never be a top-five quarterback or an All-Pro at the position, but he will put the ball in the air and give his receivers a chance to make a play.
Fitzpatrick has always had this tendency. Given his physical limitations, perhaps he realized that the only chance he has at being a high-end starter is to rely on the quality of the receivers at the other end of his passes. His season with the New York Jets in 2015 when he had Brandon Marshall and Eric Decker to throw to was the best statistical season of his career, but it also yielded 26 touchdowns and 2,529 yards from Marshall and Decker combined.
Ryan Fitzpatrick vs. Past Washington Football Team QBs: PFF grade and rank since 2019 (among QBs with 250 or more dropbacks)
DeVante Parker had been underachieving in Miami until Fitzpatrick entered the lineup in 2019. Then he had a breakout season in which he ranked fourth in the league in receiving yards while finishing with nine touchdowns. Both Parker (8th) and fellow Miami receiver Preston Williams (3rd) ranked in the top 10 in terms of contested-target percentage, showing Fitzpatrick's willingness to let them go up and make plays.
Not only does Fitzpatrick know that those 50-50 shots are an inevitable part of the game, but he also embraces it. Last season, after he had been benched for Tua Tagovailoa and then put back into the game after Tua had struggled, he was caught on camera coaching the young rookie up on the sideline and explaining that sometimes quarterbacks have to throw a contested ball. His logic was simple: sometimes quarterbacks aren't going to have all day to get through a progression to find somebody who is as open as they would like them to be.
This is certainly true generally in the NFL, but Fitzpatrick has probably always been more unhesitant to pull that trigger than other passers. It's not always great for his stats or even the team, but it will certainly give a boost to a wide receiver's best friend — opportunity.
McLaurin has seen 219 targets since he came into the league, 21st among all receivers over that time, but he has been almost the only viable target in Washington. He trails Allen Robinson II, who can make a similar claim, by more than 80 targets.
Fitzpatrick coming on board should generate a rapid increase in McLaurin's target volume. And it will only get higher if Fitzpatrick can provide enough of an upgrade at quarterback to allow the team to sustain some more drives and be more efficient on offense.
Fitzpatrick has been quietly playing the best football of his career over the last three years, yet he is only ever seen as a bridge to a new young quarterback. He ranks 15th among 42 qualifying passers in PFF passing grade over those three seasons, making him a slightly above-average passer in any given season.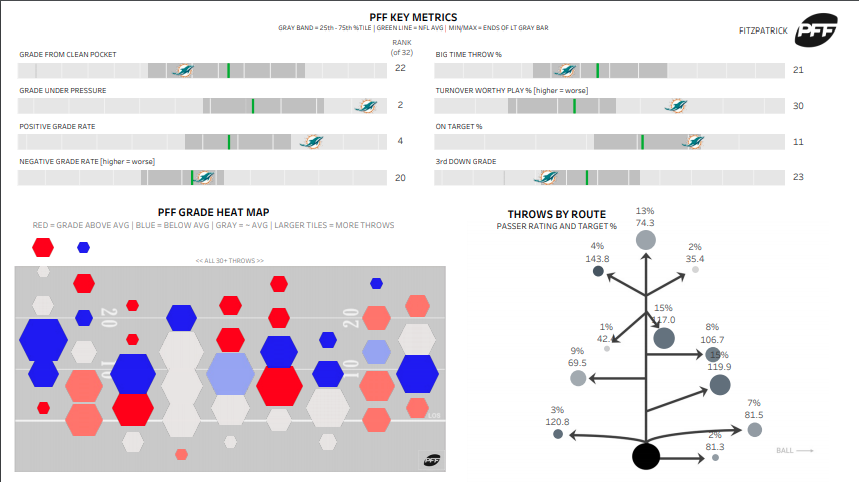 Adding more receivers to the mix is a delicate balance in terms of how it will affect McLaurin. But at this point, even with Fitzpatrick in the mix, he needs somebody else on offense to start drawing some of the attention away from him and at least ensure that opposing defenses play him honestly with their coverages rather than rolling all of the attention in his direction. While McLaurin may always be the receiver Fitzpatrick is looking for, the veteran QB is more than good enough to fire the ball to the guy the defense is not paying attention to, forcing a defensive readjustment that will allow McLaurin to cook.
Few receivers have had as tough a role as McLaurin since entering the league, yet he still ranks inside the top 15 in terms of PFF grade and explosive plays. He has generated a passer rating of over 100.0 when targeted and been the only thing keeping Washington's passing game afloat.
Ryan Fitzpatrick may not take the Washington Football Team to the promised land, but he should virtually guarantee a huge year from Terry McLaurin.