The NFL trade market finally has some action as we close in on 24 hours until the 4 p.m. EST Tuesday deadline.
The New Orleans Saints and Tennessee Titans made moves to shore up their respective defenses, with the Saints landing linebacker Kwon Alexander from the San Francisco 49ers in exchange for linebacker Kiko Alonso and a conditional fifth-round pick while the Titans acquired cornerback Desmond King II from the Los Angeles Chargers in exchange for a sixth-rounder.
The big NFC trade
The Saints lost A.J. Klein to the Buffalo Bills this offseason, where he signed a three-year, $18 million contract. They came into 2020 with star LB Demario Davis occupying the WLB position, with Alex Anzalone taking over the MLB spot from Klein. Both players have struggled this season, with Demario Davis' 59.9 overall grade nowhere near the standard he has set for himself (Davis has had three straight seasons with a grade above 70.0, with 2019 being by far the best of his career at 90.1).
Anzalone has been a bit better, earning a 63.1 overall grade, but the Saints have still struggled to defend the middle of the field.
Alexander will always be enticing to NFL teams because of his blend of athleticism and speed. A rare prospect, he ran a 4.55 40-yard dash at the 2015 NFL Scouting Combine, and in exchanging him for Kiko Alonso, the Saints have engineered a massive upgrade in athleticism at the position, given where Alonso currently is at 30 years of age.
However, Alexander's issue is in harnessing that athletic prowess consistently and getting to the right place at the right time under control. He has missed double-digit tackles in every season in which he has played over 400 snaps on defense, and run defense has been the weakest area of his game, with this year's PFF grade of 65.7 representing by far the best mark of his career in that area.
His speed brings more advantages in coverage because his range takes away some throws without him actually having to be in exactly the right place at the critical moment. Alexander has three separate seasons with a PFF coverage grade of at least 68.0, even if this year is on course for one of his worst performances in that area (42.9).
He doesn't have a single interception or pass breakup so far this year, and he is being beaten for a passer rating of 121.8 when targeted. Alexander will be an active player when he's on the field, and he has 16 defensive stops already — just one behind Demario Davis, who leads the Saints linebackers with 17.
When you consider that Alonso has yet to feature this season for the team, rolling the dice on Alexander seems like a gamble worth taking because that athleticism will always present potential if it can be controlled.
Here is the heatmap illustrating where New Orleans' defense has been vulnerable this season, with that red area in the middle demonstrating the issues over the middle of the field in the short-to-intermediate passing game.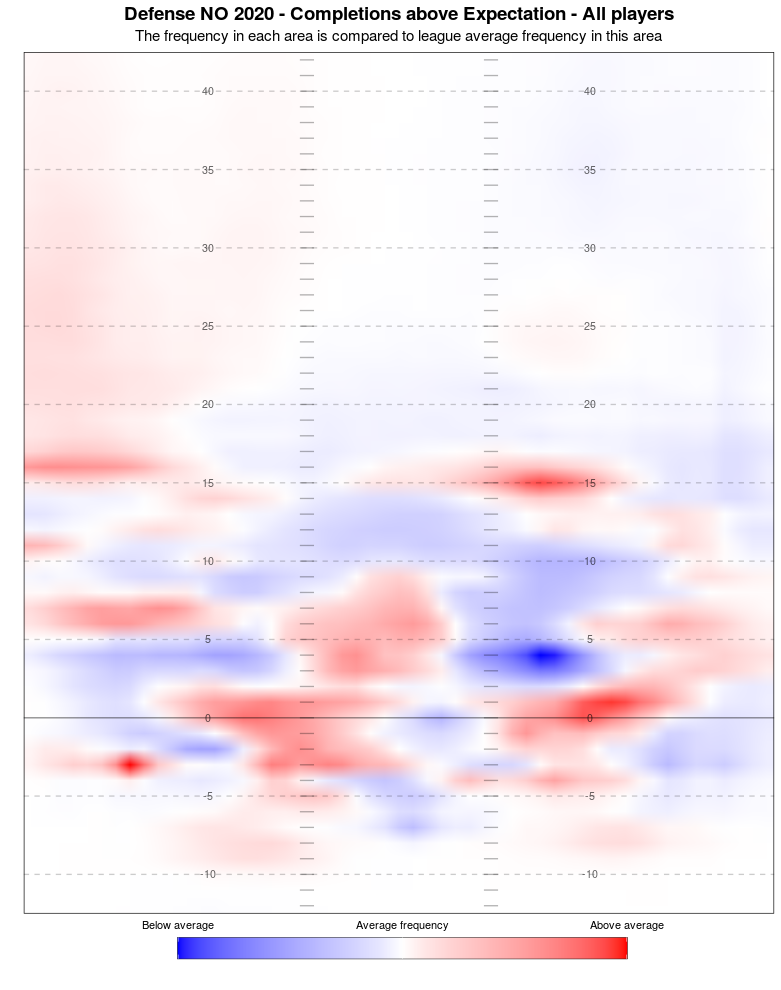 New Orleans was able to unload the remainder of Kiko Alonso's $1.7 million 2020 base salary, but they will also lose roughly $1.75M in net 2020 cap space by adding ~$2.65M for Alexander while unloading $900,000 in the process.
It's pretty surprising to see a 4-4 San Francisco team not only trade to an NFC contender but also help the Saints clear cap space, but it could signal that the 49ers are throwing in the towel a bit on the 2020 season. They've dealt with an insane amount of injuries at this point, and both quarterback Jimmy Garoppolo and tight George Kittle were removed from this past weekend's game after getting dinged up.
It's a smart decision from the 49ers for a few reasons. At 4-4, they're still dead last in the gauntlet NFC West. The road to a playoff berth is not easy, and pivoting now to 2021 is probably their best long-term play. Additionally, San Francisco's 2018 third-round pick, Fred Warner, is currently PFF's eighth-highest-graded linebacker in 2020 with an 80.1 overall grade, and his 88.6 coverage grade is second among all linebackers.
Alexander will be a free agent after the season, and we'd say there's close to a zero percent chance New Orleans looks to extend him given their cap situation — this is a pure rental.
The big AFC trade
Now for the big move in the AFC — Desmond King II has long been a favorite of PFF's. The versatile defensive back can line up all over the secondary, excelling in the slot at cornerback and as a safety. King's 90.5 coverage grade since 2018 ranks third among cornerbacks with at least 200 coverage snaps, behind Stephon Gilmore and Bears' depth corner Sherrick McManis.
The Titans were in desperate need of help at cornerback. 2017 first-round pick Adoree' Jackson has still yet to suit up in 2020, and it's hard to tell when he'll be back at this rate. The Titans let slot cornerback/safety Logan Ryan leave in the offseason for the New York Giants, and his presence has been sorely missed. Tennessee finds his younger, cheaper replacement in King to fill in for the rest of 2020.
The Titans acquired one of the league's best defensive backs and are able to attack an area of need at the same time. With Kristian Fulton injured, they have been trying to find an adequate solution to their slot corner woes, and Chris Jackson has been the player tasked with that responsibility.
Jackson was a seventh-round draft pick in 2020, and even though his past few weeks have been an improvement from his disastrous start, his PFF coverage grade has yet to top 60.0 for a single game, as is also true for his overall grade. By contrast, Desmond King II is the league's best-graded player when lined up in the slot since the start of the 2018 season.
Since coming into the NFL, King is tied for the league lead in overall PFF grade (91.1) and is one of only three cornerbacks to have a PFF grade of at least 75.0 in every facet of play we measure. He should immediately step in as Tennessee's starting nickel corner and massively upgrade an area that was becoming an issue, adding some reinforcements to a defense that has started to falter in recent weeks.
King isn't just a quality coverage player but also a master at keeping the play in front of him and forcing an offense behind the chains. Over his first two seasons playing significant snaps, King had 62 defensive stops, whereas Chris Jackson currently has just four. And the leader on the Titans' defense has only 15 on the year.
Here is the Titans' heatmap for 2020.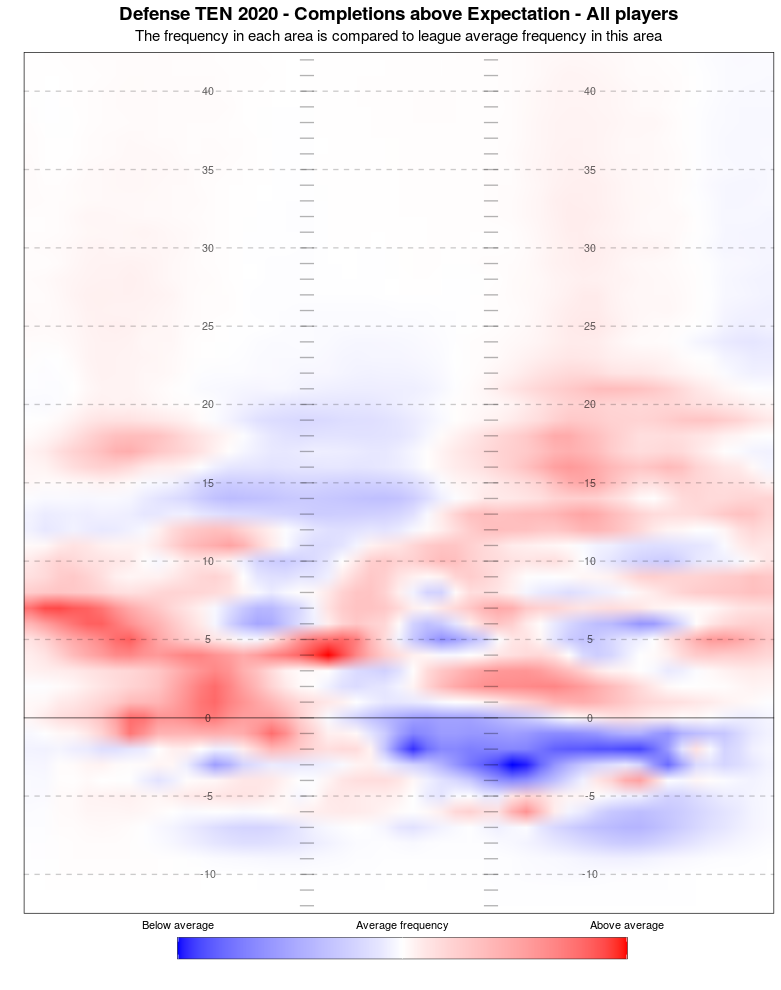 Tennessee has some clear issues up the seams on defense. King's compensation of just a sixth-round pick given everything stated above may seem strange, but it can be explained fairly easily. First, the NFL still does not value slot cornerbacks very highly. Nickell Robey-Coleman and Mackensie Alexander signed one-year deals for $1.35M and $4M, respectively, this past offseason. And while neither is as good as King, each is a quality slot cornerback. The second reason is contract-related, as King is set to hit free agency after 2020.
Given the Titans are technically paying the Chargers for only nine games of King's services, it's hard to get much more in return here if you're Los Angeles. The Chargers may not trust the compensatory pick market for King given the deals for Robey-Coleman and Alexander, and they also may just want to spend a lot this offseason to surround Justin Herbert with more talent, which could nullify any compensatory picks anyway.
Bottom line
Two serious playoff contenders got better today and didn't have to overpay in the process. Both the Titans and Saints are clearly pushing their chips in for a Super Bowl run in 2020.