Few teams are as unrecognizable in playoff guise from their early-season selves as the Tennessee Titans, a team that was once 2-4 before making a quarterback change and marching into the playoffs to knock off the New England Patriots and the Baltimore Ravens on their way to the AFC Championship game.
Obviously, multiple things have changed for the Titans, most of them for the better. Derrick Henry has been on a historic run of record-setting yardage totals over the past few games. Ryan Tannehill was one of the most efficient quarterbacks in the game from the moment he assumed the starting job and actually ended the regular season as the highest-graded passer at PFF, and the defense has actually taken steps forward when the games mattered most. But one of the most significant changes — the improvement in offensive line play — is flying under the radar. 
After six weeks, when the team was two games under .500, the highest-graded member of the line was center Ben Jones at 75.5, and three of the five starters had a run-blocking grade under 50.0. Over that same span, Derrick Henry ranked just 11th in rushing yardage and was averaging only 3.7 yards per attempt (34th).
From Week 7 onwards, though, the only member of their line who has earned an overall PFF grade under 70.0 is rookie guard Nate Davis, and he is the only one of the group who has surrendered more than two sacks. Their tackles, Taylor Lewan and Jack Conklin, have each earned grades above 80.0 and have been grading well as both run blockers and pass protectors. Left guard Rodger Saffold looked like a disaster early in the year, but since he recovered from injury and got comfortable within the system, he has looked like the player who earned his free-agent deal in the first place.
In the playoffs, Lewan has the highest run-blocking grade of any player to have appeared in both weeks of action (90.5), and Conklin is second. It's not a coincidence that the line suddenly dominating has corresponded with Henry's historic yardage total.
Take a look at this play for a good example of how blocking can influence rushing production even though stats might make it look like it's all Derrick Henry. This is a 10-yard run on first down, and it's certainly a strong carry, but look at what Lewan does to his man to open the rushing lane that Henry is able to run into.
Lewan takes his man eight yards off the line of scrimmage, and the path of the back is exactly where those two were supposed to be at the line. If that block isn't as crushing as it is, Henry has to do work to even find a crease at the line instead of continuing to build a head of steam in a straight line along his original path.  Lewan dominated so thoroughly that his man is actually the guy who makes the tackle 10 yards downfield, which, by the way, is a reason why tackle totals are a terrible statistic. This isn't a hustle play; this is a guy getting killed in the run game and stopping the ball carrier he could have dealt with at the line of scrimmage 10 yards downfield. But I digress.
If we're looking at this game through the prism of stats, even advanced ones,  it will look like this was the product of Henry rather than blocking. Henry gets contacted by the arm of diving linebacker Elandon Roberts as he crosses the line of scrimmage, and then he gets more concrete contact from Kyle Van Noy two yards into the run, so depending on your definition of "after contact," Henry is gaining at least eight of his ten yards on this play after contact. But Roberts is trying to fill a huge hole from a distance because of the block of Lewan, and Van Noy can't ever get clear of the block of Jonnu Smith, and he can't make a tackle because of it. Henry is able to brush aside that contact because the block of Lewan, in particular, gave him a huge pathway to get going. Had that block been even close to a stalemate, Henry would have had to adjust his path at the line of scrimmage and had no kind of momentum when contact came.  Blocking directly influences numbers like yards after contact and even broken tackles.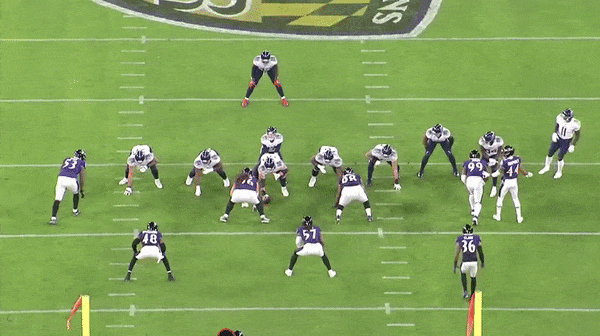 The Baltimore game is a similar story. Henry gets some hard yards up the middle on this play, but the blocking is excellent, and Lewan, again, is the person who buys him the crease to gain seven yards from a play that typically earns a lot less. Lewan perfectly executes his cutoff block and is able to wall off his man and hold his ground enough to open a crease for Henry to hit at pace and keep trucking.
This isn't meant to diminish Henry's achievements. After all, the whole idea of football is that an entire unit executing their individual assignments will have maximum success. However, it is meant to put his historic statistics into some kind of context. Equally, there were runs across both games where Henry was the primary reason for positive yardage, but we must factor all of these things in together, rather than award all of the credit to any one individual.
Henry has been the beneficiary of some truly excellent blocking to gain the yardage he has, and that's true even when some statistics would suggest he is doing all the work himself. Just because a back is gaining a lot of the yards after contact does not necessarily mean the blocking was anything other than excellent, which is why PFF grades are such a vital part of the equation.
Ultimately, the focus will be on Henry, and to a lesser extent, Ryan Tannehill, when the Titans try and upset their third consecutive opponent. Both of those players have had huge effects on this offense, and as a team, they have shown they can win with either taking the starring role, but we need to remember that they have both been able to succeed because of the platform given to them because of the transformation of the offensive line.