While the Arizona Cardinals and Kyler Murray were struggling early, the Panthers were able to roll on the ground, with Mike Davis scoring the opening touchdown and then Teddy Bridgewater doing his best Lamar Jackson impersonation to open up a lead that the team would never relinquish.
Editor's note: All of PFF's grades and advanced stats from this game will be finalized and made available to ELITE subscribers within 24 hours of the final whistle.
Story of the Game
Bridgewater's numbers were solid enough, with a passer rating of 98.4, 275 passing yards and a completion rate of 70%. But those stats don't factor in the times he put the ball in harm's way with multiple turnover-worthy plays — one of which was converted into a touchdown drive.
Bridgwater is good at facilitating the play of other offensive weapons, and Robby Anderson has made a clear difference to the Panthers' offense since signing with the team in the offseason. Bridgewater might not have the deep passing aggression to take advantage of Anderson's signature strength, but he's proving this season that he is also an excellent receiver on shorter pass patterns, catching the accurate balls sent his way and making plays after the catch. Anderson led all receivers in this game in targets (11), catches (8), yards (98) and yards after the catch (61) and could have had even more but for a drop. He was a big part of Carolina's offensive success in this game, securing a first down five different times.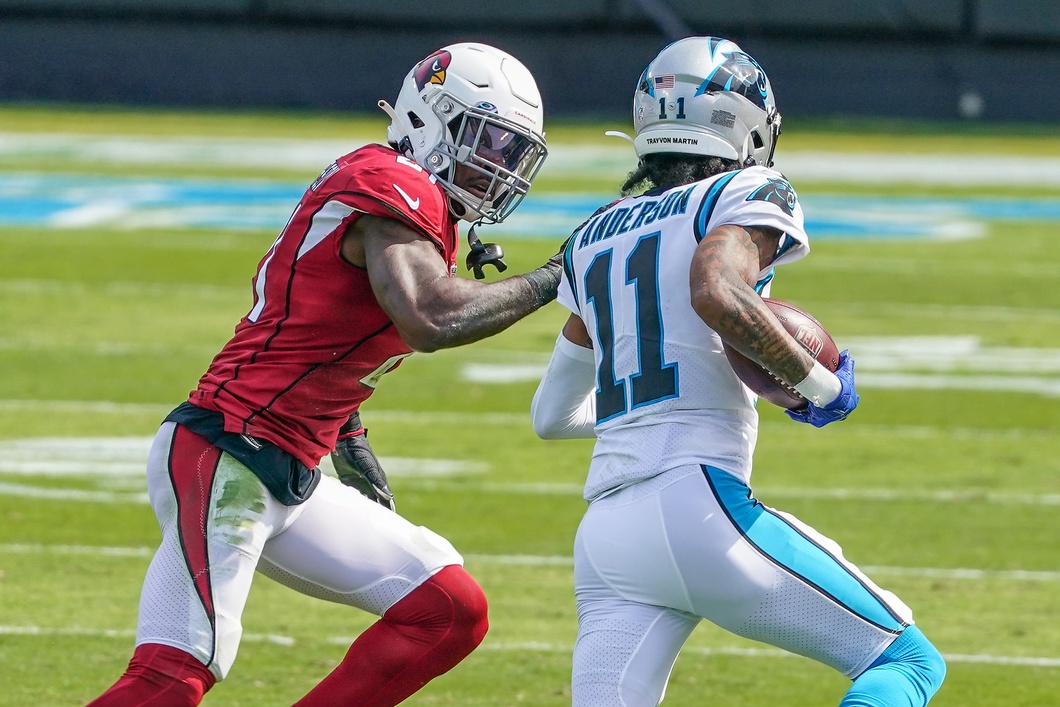 Carolina having some success on offense wasn't tremendously surprising against the Cardinals defense, but Arizona's offense struggling as much it did was unexpected. 
Arizona averaged just 31 yards per offensive possession, but when the Cardinals did get into the red zone, the skills of Kyler Murray and others shone through. In three trips inside the Panthers' 20-yard line, the offense emerged with three touchdowns, albeit two of the three came deep into the second half when much of the damage was already done.
Rookie Watch
Rookie Derrick Brown had his second-straight strong game inside after struggling badly to open the season. This week he was joined by Yetur Gross-Matos, who had a couple of pressures and a sack on 12 pass-rushing snaps. Brown was again destructive against the run, with two stops — each of which was a tackle for loss — and he had a hurry as a pass-rusher but little other joy from 19 pass-rushing snaps.
Gross-Matos is still being used sparingly, with just 21 snaps this week and 61 total for his career so far. But he was much more impactful in those snaps in this game.
Jeremy Chinn has been an exciting player for the Panthers defense, lining up all over the field and was again seemingly everywhere this week. He had seven tackles and an assist, but just one of them was a defensive stop (i.e. an offensive failure on the play) and he had a missed tackle. The defensive stop came in the passing game, where the one catch he gave up in primary coverage went for just two yards.
Cornerback Troy Pride Jr. played 15 snaps on defense for Carolina, allowing one catch, but it was a touchdown.
For Arizona, top draft pick Isaiah Simmons continued his slow adjustment to life in the NFL. This week, he played just six snaps on defense, the lowest-total of his four games so far, which isn't helping any optimism about the rest of his rookie year.
Interior lineman Leki Fotu played 21 snaps on defense but struggled to make an impact against the Panthers' interior line.
ELITE subscribers can view player grades, advanced statistics, positional snap counts and more in Premium Stats 2.0.