• The news should come as no surprise, as the 49ers have been ready to move on since the start of the offseason, but things were delayed when Garoppolo underwent shoulder surgery.
• Garoppolo was recently cleared to start throwing, and the expectation is that he'll be fully cleared in the next few weeks.
• Garoppolo ranked 18th of 32 qualifying quarterbacks in PFF passing grade (73.0) this past season.
• The ninth-year signal-caller has a base salary of $24.2 million this season, and his $26.95 million salary cap hit is the highest on the 49ers roster. However, his salary is not guaranteed, so the 49ers would save $25.55 million against the cap if they trade (or cut) him. Any team acquiring Garoppolo would likely look to renegotiate his contract.
• The 49ers traded up to draft Trey Lance with the third overall selection in the 2021 NFL Draft, and Lance is expected to take over the starting job this season.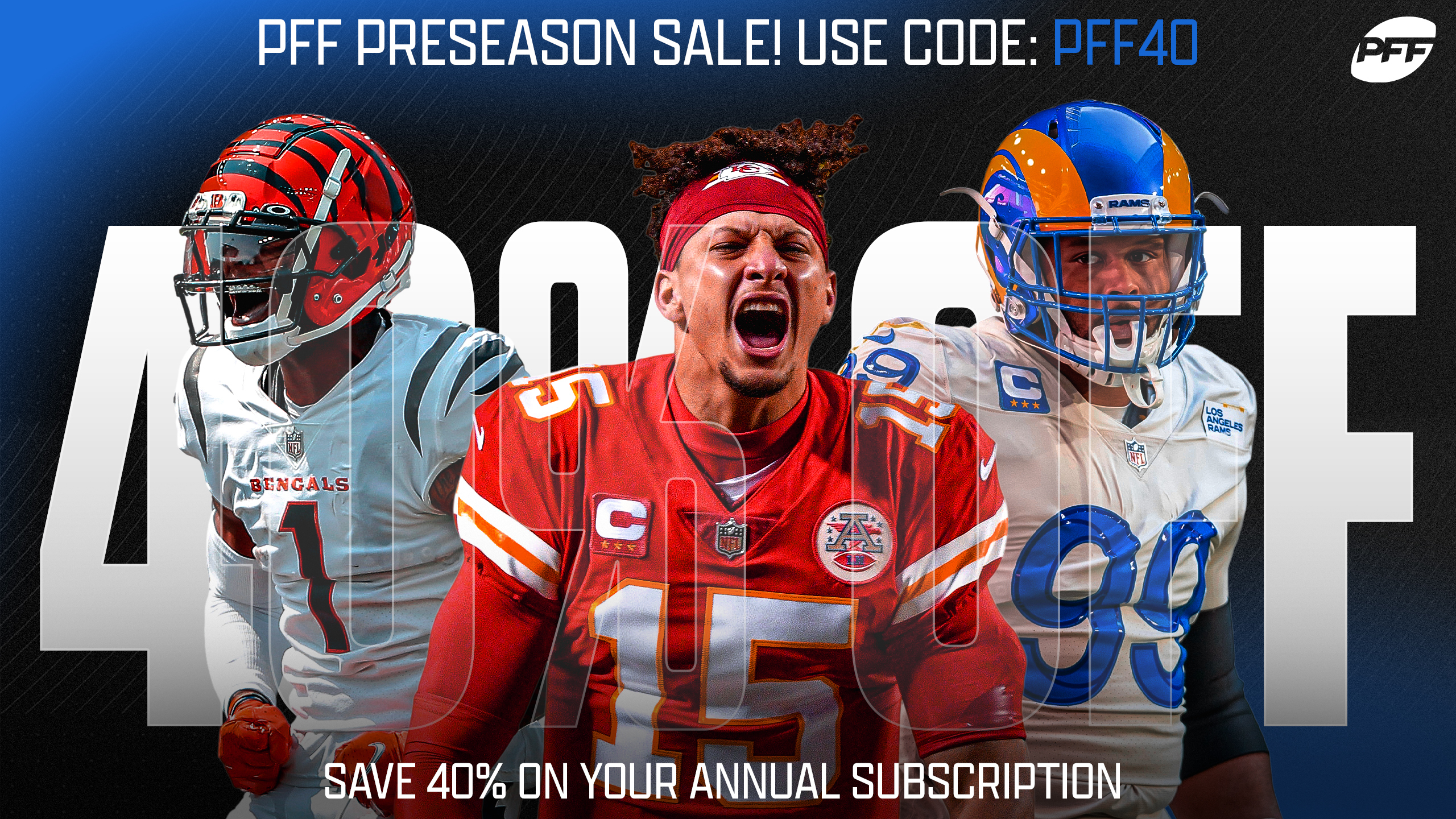 • The belief around the league is that James will become the highest-paid safety in league history, and the Chargers are "optimistic" that the deal gets done.
• The concern with James has never been the play, but rather his availability. Injuries held him to five games in 2019 and kept him out for the entire 2020 season.
• He returned last season and played at an All-Pro level, recording 118 tackles, two interceptions, two sacks and three forced fumbles. He earned a 78.1 PFF grade.
• The NFL's highest-paid safety is currently Steelers' Minkah Fitzpatrick at $18.2 million per season.
40-year-old Jason Peters still wants to play
• The 17-year veteran spent last year in Chicago and started 15 games, earning a very strong 77.5 overall grade.
• "Whenever the opportunity comes, I'm going to give it one more run and try to get me another ring, or pass on some knowledge to these young kids, up and coming," Peters said on SiriusXM NFL Radio.
• Peters has had an incredible and underappreciated career, coming into the league as an undrafted free agent and working his way to a starting job with the Bills back in 2005. 
• He has gone on to start over 200 career games and has graded under 74.0 just twice. He's never graded under 67.0.
• Perryman is in the final year of a two-year deal and is scheduled to make a base salary of $1.1 million, so this report shouldn't come as much of a surprise.
• The Raiders traded for Perryman before the start of last season, and he played his way into a Pro Bowl nod with a career-high 154 tackles.
• His 913 snaps last season was a career-high mark and more than doubled his previous best.
• Asked about his contract yesterday, Perryman said: "My agent Ron Butler is handling that. I just want to play football." 
Rob Gronkowski reiterates he's done with football
• "I wouldn't go back to football. I'm all set. I'm enjoying what I'm doing, and I'm enjoying trying to find what I really, really want to do next," Gronkowski told ESPN. "It was my decision to stop. It was definitely time. It just felt right."
• This all comes after Gronkowski's girlfriend came out and said she wouldn't be surprised if he ultimately decided to come back.
• This is now the second time Gronkowski has had to reiterate he's done playing. It surely won't be the last.