With the 2022 salary cap bouncing back to an expected $208.2 million, NFL teams can view it as a $10 million increase from the $198.2 million 2020 salary cap — before it dropped to $182.5 million in 2021.
A $10 million increase — roughly 5% — is in line with the annual growth of the salary cap year over year from 2013 to 2020, so spending and position market growth should, in theory, return to normal. There is also the new reality of a 17th regular-season game and a new TV deal scheduled to start in 2023.
Early extension candidates from the 2019 NFL Draft will technically be signing new contracts that begin in 2023, a year many expect the salary cap to spike as new revenue streams kick in. While most of these extensions tend to occur after free agency and the NFL Draft, teams must earmark cash and cap dollars for the homegrown players they hope to keep around for the foreseeable future.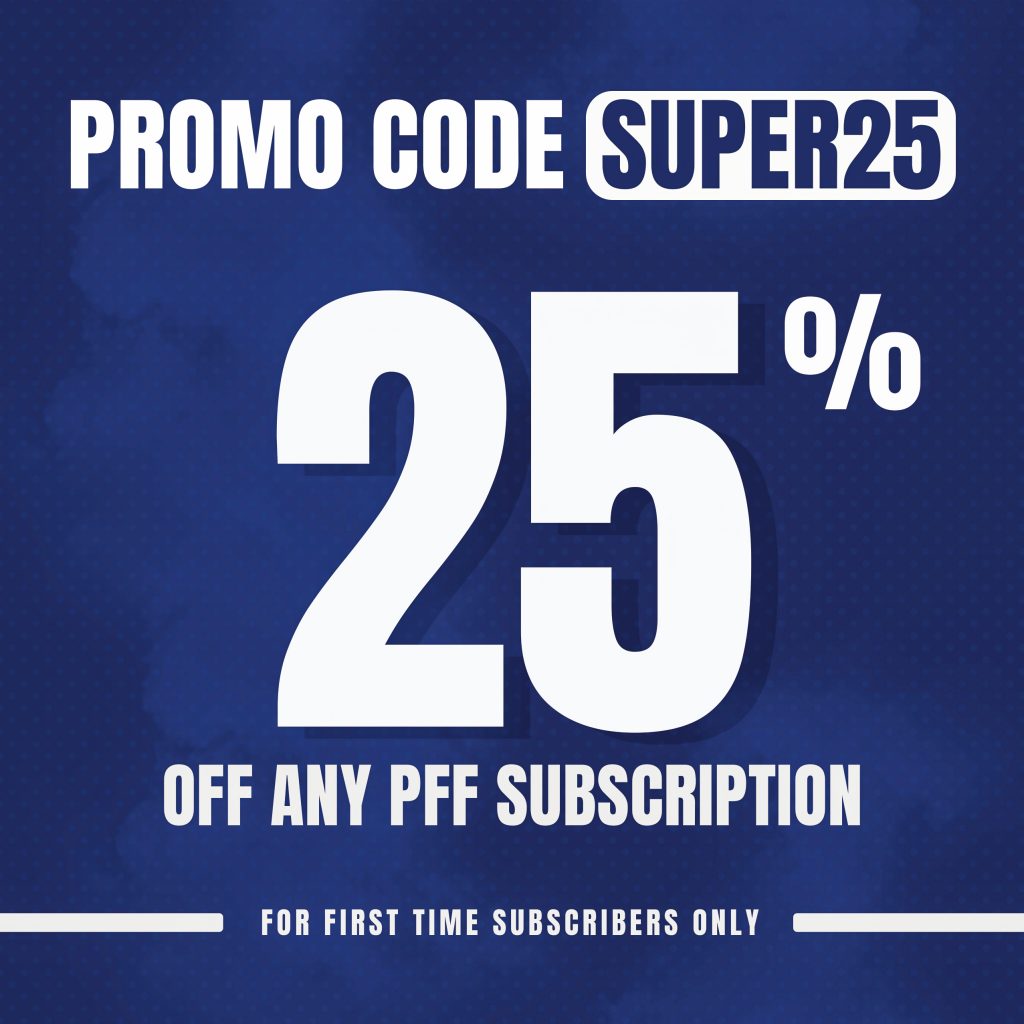 Click here for more PFF tools:
Rankings & Projections | WR/CB Matchup Chart | NFL & NCAA Betting Dashboards | NFL Player Props Tool | NFL & NCAA Power Rankings
Best Bets Tool
---
The Arizona Cardinals will almost certainly exercise Kyler Murray's $28.6 million fifth-year option this offseason — the elevated $28.6 million value a result of Murray earning multiple Pro Bowl bids in his first three seasons —  and the 2019 first overall pick won't be the only difference-maker from the first round of the 2019 NFL Draft to secure that extension.
Standout players drafted in the second and third rounds often ink early extensions after the third year of their rookie contracts so their drafting clubs can ensure they don't hit free agency the following offseason.
In 2019, there was an impressive stretch of wide receivers in the second and third rounds, and they have already become top options for their respective teams. Here, we explore potential early extensions for a dynamic group of young pass-catchers.
*Note that all ranks in key stats shown are among wide receivers.
---
Off. grade since 2019: 87.2 (12/101)
Yards per route run since 2019: 2.52 (5/97)
WAR since 2019: 0.76 (27th)
Off. grade in 2021: 87.2 (4/87)
Yards per route run in 2021: 2.88 (2/88)
WAR in 2021: 0.42 (8th)
Contract Projection: Four years, $79 million ($19.75M per year)
Bursting onto the scene as an early second-round pick, Deebo Samuel wasted no time showcasing his wide-ranging skill set in his rookie season, generating value in both the receiving and rushing game.
In 2019, 12 of his 19 carries came on jet sweeps, end-arounds and reverse plays, similar to how Tyreek Hill had already been used for the Kansas City Chiefs.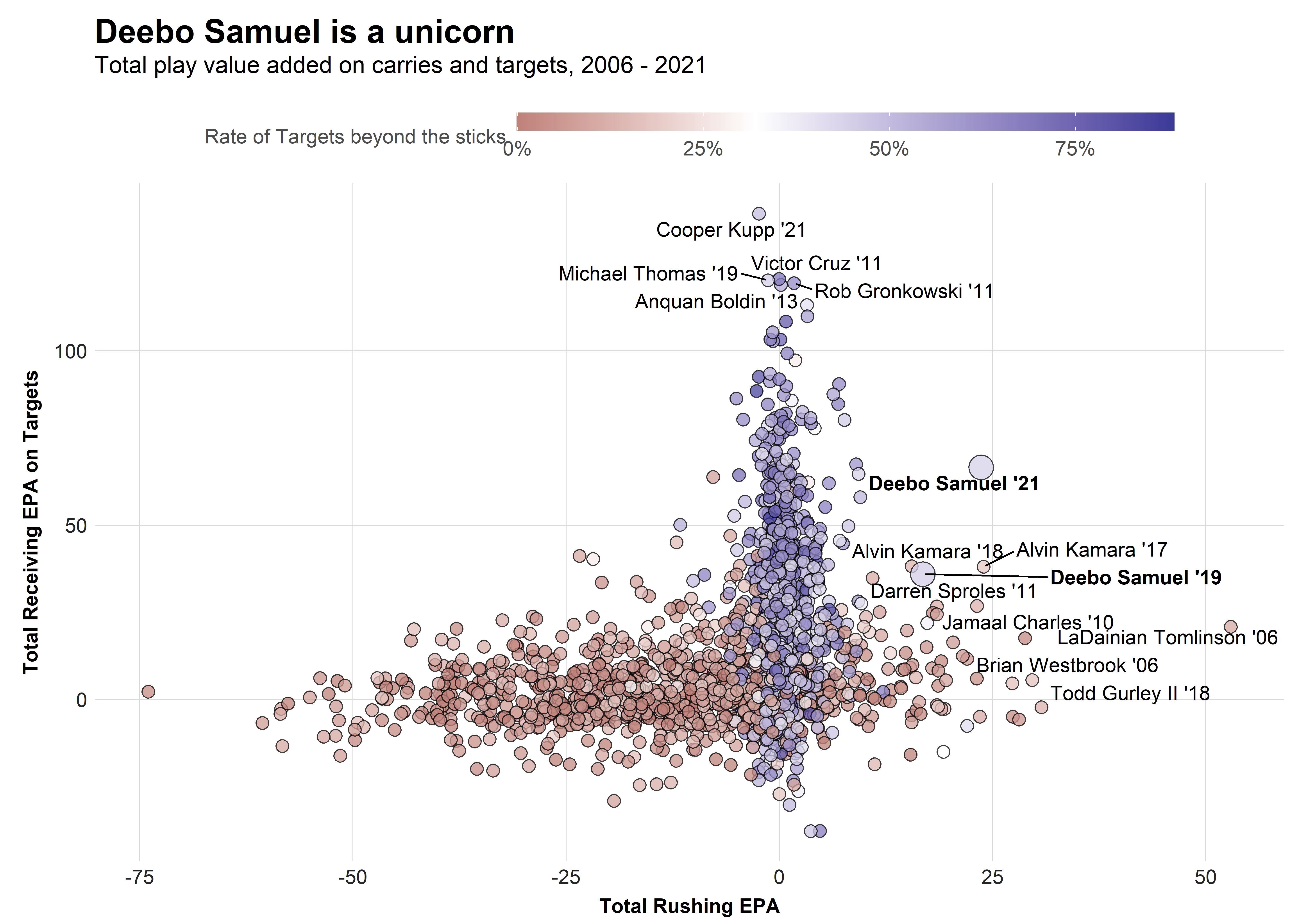 In 2021, he put his unicorn status on a new level in multiple ways. As seen on the chart above, no player since 2006 has even come close to the combination of total expected points added (EPA) on plays where he either carried the ball or was targeted as a pass-catcher.
Maybe even more impressive is that he did it while lining up as a typical receiver in the receiving game and was given similar carries as a typical running back. In 2021, 83 of his 88 carries were charted as either outside zone, pull lead, inside zone, power, man or counter — a much more running back-ish usage than 2019.
There isn't another player in the league who can carry the ball like that and still line up out wide on 606 snaps, line up in the slot on 248 snaps and see targets as a typical possession receiver.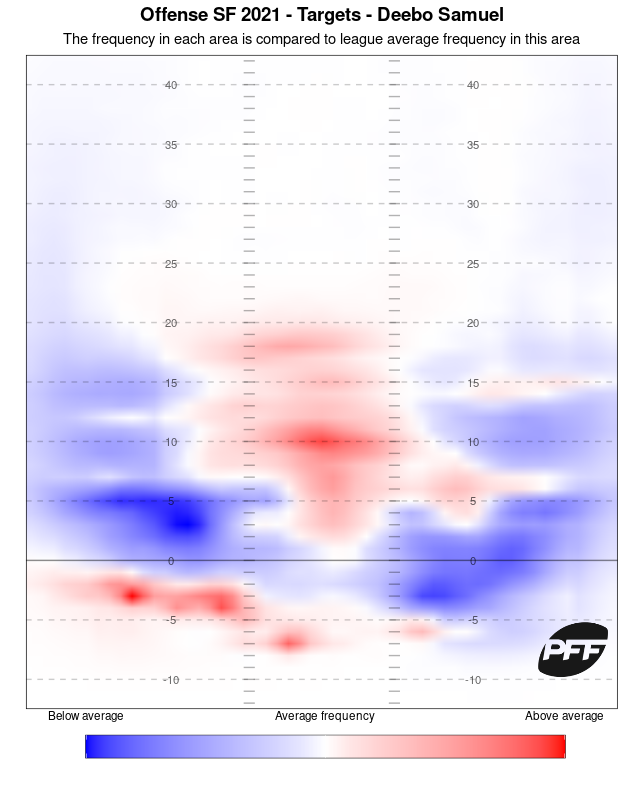 Samuel's unique skill set makes him an invaluable asset for the San Francisco 49ers. And it's simultaneously true that playing for Kyle Shanahan is very beneficial for Samuel because Shanahan has a track record of using his players' skill sets better than most offensive coaches. This makes him a perfect candidate for an early extension.
Samuel may not command true X receiver value, but by no means should he take any sort of discount because his usage tends to come from behind the line of scrimmage. He's one of the toughest players in the NFL and always finds a way to pick up extra yardage, with his 10.8 yards after the catch per reception average since 2020 over two yards better than the next-best wide receiver. 

---
Off. grade since 2019: 91.0 (3/101)
Yards per route run (among WR) since 2019: 2.53 (4/97)
WAR since 2019: 1.06 (13th)
Off. grade in 2021: 84.4 (7/87)
Yards per route run in 2021: 2.40 (6/88)
WAR in 2021: 0.28 (28th)
Contract Projection: Four years, $80 million ($20M per year)
The reasoning behind extending A.J. Brown is as simple as it gets: He has had the most productive start to his career that PFF has ever seen for a wide receiver.
Wide receivers: Most yards per route run over the first three years of a career
| | | | |
| --- | --- | --- | --- |
| Receiver | Draft Season | Team | YPRR |
| A.J. Brown | 2019 | Titans | 2.53 |
| Deebo Samuel | 2019 | 49ers | 2.52 |
| Odell Beckham Jr. | 2014 | Giants | 2.38 |
| Victor Cruz | 2010 | Giants | 2.38 |
| Brandon Marshall | 2006 | Broncos | 2.37 |
| Percy Harvin | 2009 | Vikings | 2.37 |
| Michael Thomas | 2016 | Saints | 2.33 |
| Tyreek Hill | 2016 | Chiefs | 2.31 |
| Hakeem Nicks | 2009 | Giants | 2.21 |
| A.J. Green | 2011 | Bengals | 2.18 |
Brown is not only insanely productive, but he is also among the most complete receivers in the NFL — his route tree has no holes.
In 2021, only 18 receivers in the NFL ran each of the basic WR routes (slant, in, out, hitch/curl, corner, post, go/fly, shallow cross and deep cross) more than 5% of the time, and A.J. Brown was one of them.
Brown's most frequent route is the go-route, and his most frequently targeted route is the out-route. This yields a perfect diversion from what the Titans are usually doing — mainly attacking the middle of the field.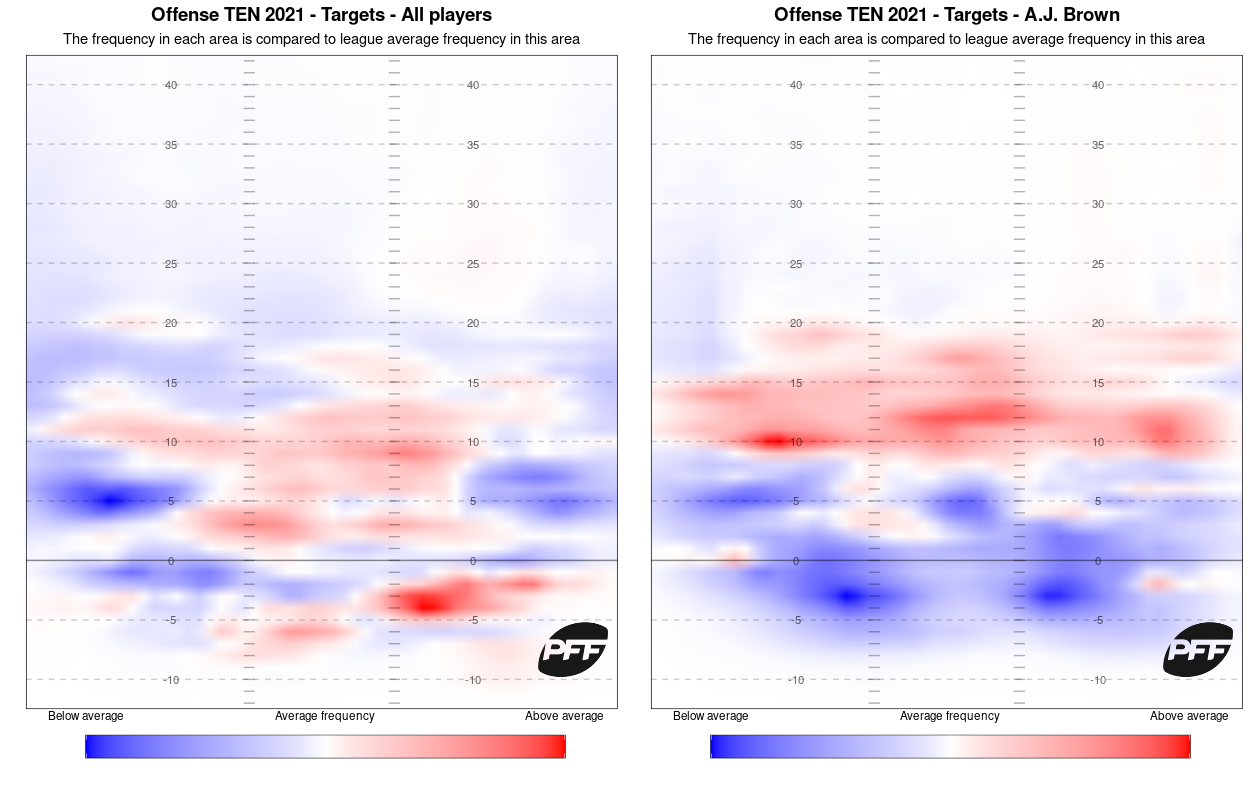 The Titans receiver can also produce over the middle of the field better than most, but the threat of him breaking outside or taking the top off the coverage is a massive part of what makes the Titans offense work so well because it stops the defense from focussing too much on covering only the middle of the field.
Ryan Tannehill's accuracy over expectation in 2021 was +6.5% when targeting the middle of the field between the numbers, but -2.2% when targeting a player outside the numbers. Unsurprisingly, the Titans' passing efficiency plummeted to -0.06 EPA per pass play when A.J. Brown was off the field due to injuries and defenses weren't as concerned about him attacking the sidelines. However, when he was on the field, the efficiency was an excellent 0.15 EPA per pass play, which would have been a top-10 passing offense in 2021.
Whether they keep Ryan Tannehill for an extended period or move to another starting quarterback in the near future, A.J. Brown is the most important piece of their offense. The Titans should start contract talks sooner rather than later.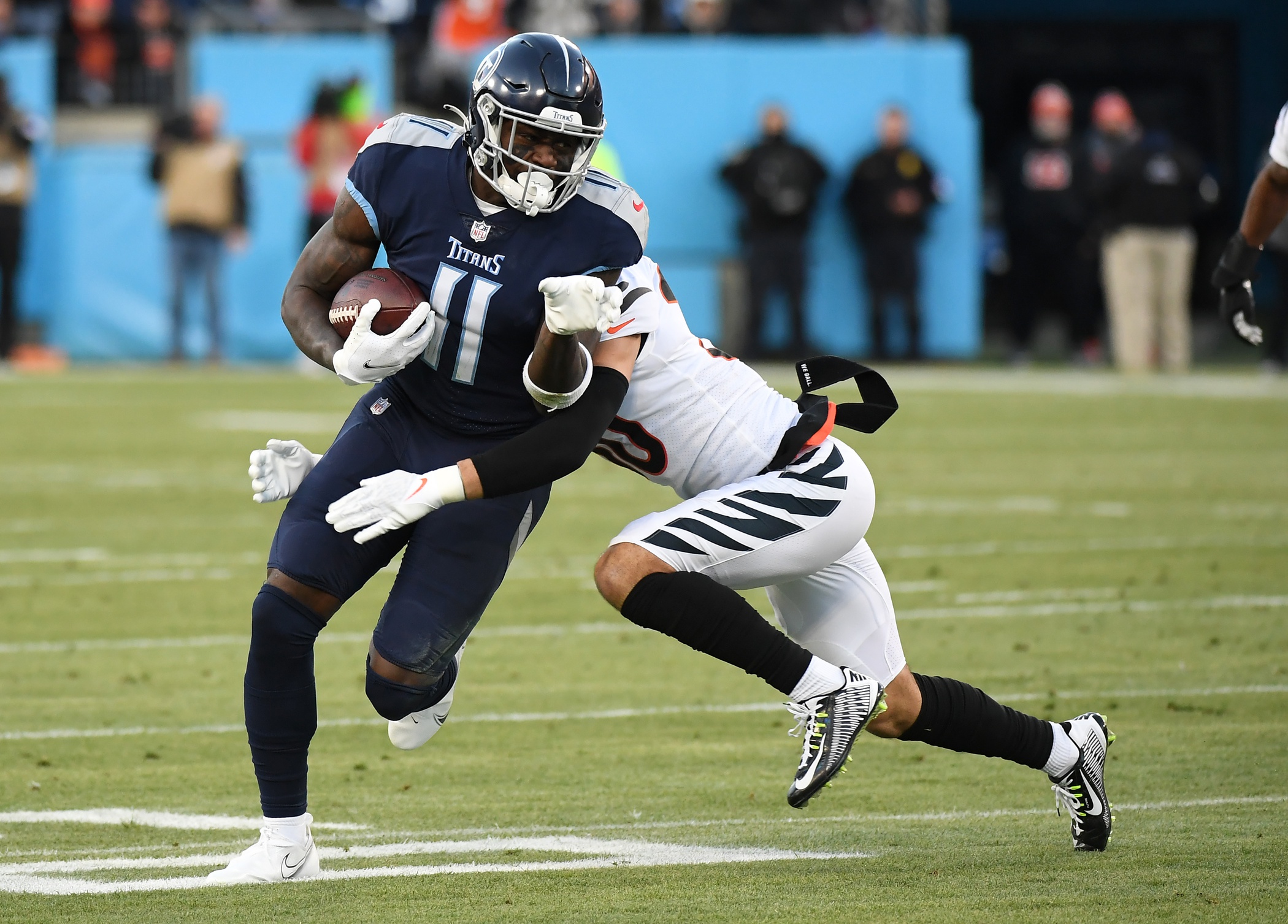 ---
Off. grade since 2019: 83.4 (20/101)
Yards per route run since 2019: 1.84 (23/97)
WAR since 2019: 0.98 (16th)
Off. grade (among WR) in 2021: 80.9 (13/87)
Yards per route run (among WR) in 2021: 1.89 (15/88)
WAR (among WR) in 2021: 0.35 (17th)
Contract Projection: Four years, $84 million ($21M per year)
D.K. Metcalf couldn't quite keep up his insane consistency from 2020 when he posted more than 2.0 yards per route run in 11 of his 18 games, but his 2021 season still cemented his status as one of the league's most valuable receivers, as he almost maintained his good rate stats with overall worse quarterback play.
Free for 7-days. Subscribe to continue reading and unlock
All premium content with the best insights + analysis in the game
NFL Draft Guide, Big Board + Mock Draft Sim
Fantasy Draft Kit and Nathan Jahnke's award winning rankings
Bet smarter with PFF player mismatches and expert betting insights
NFL and CFB player grades and premium stats
Unlock all PFF data trusted by all 32 NFL teams
Already have a subscription? Log In