The NFL is suspending Atlanta Falcons wide receiver Calvin Ridley for at least the 2022 NFL season for gambling on games, the league announced Monday afternoon. Ridley can petition for reinstatement on or after Feb. 15, 2023 and can also appeal his suspension within three days.
---
Click here for more PFF tools:
Draft Guide & Big Board | Mock Draft Simulator
Dynasty Rankings & Projections | Free Agent Rankings | 2022 QB Annual
Player Grades
---
Ridley bet on games during a five-day period in late November, according to the NFL. He was away from the Falcons on the non-football illness list due to personal issues.
"There is nothing more fundamental to the NFL's success — and to the reputation of everyone associated with our league — than upholding the integrity of the game," NFL commissioner wrote to Ridley while notifying him of his suspension. "This is the responsibility of every player, coach, owner, game official, and anyone else employed in the league. Your actions put the integrity of the game at risk, threatened to damage public confidence in professional football, and potentially undermined the reputations of your fellow players throughout the NFL.
"For decades, gambling on NFL games has been considered among the most significant violations of league policy warranting the most substantial sanction. In your case, I acknowledge and commend you for your promptly reporting for an interview, and for admitting your actions."
Ridley tweeted, "I bet 1500 total I don't have a gambling problem" on Monday afternoon. He placed the bets on the Falcons using his cell phone, per NFL Media's Mike Garafolo.
Ridley, a 2018 first-round pick, had been involved in trade rumors prior to his suspension. He caught 31 passes for 281 yards with two touchdowns in five games before stepping away from the team. He was coming off of a second-team All-Pro campaign in 2020 when he caught 90 passes for 1,374 yards with nine touchdowns with Atlanta.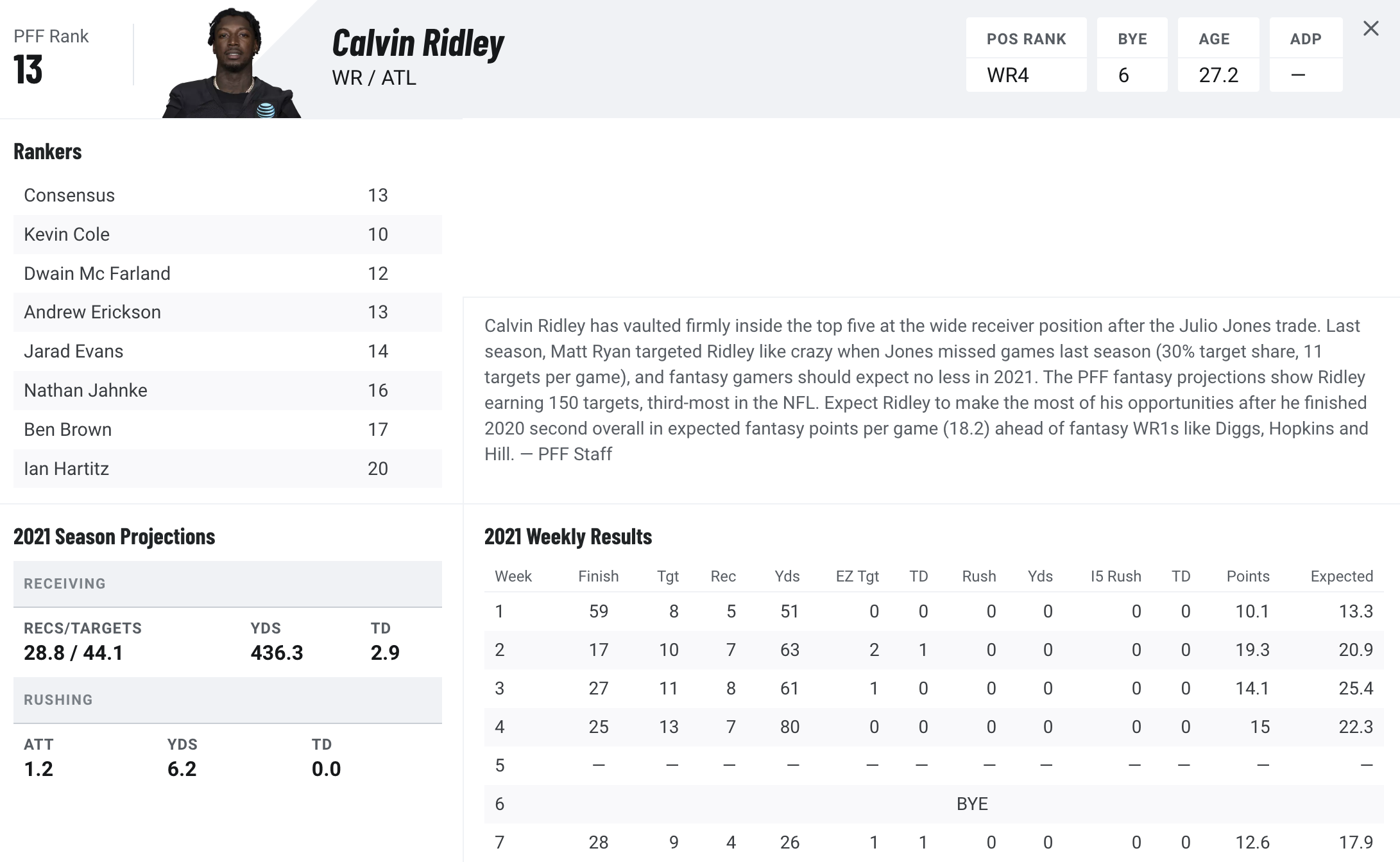 "We were first made aware of the league's investigation on Feb. 9," the Falcons announced. "We have cooperated fully with the investigation since receiving notice and support the league's findings and actions. We are moving forward in the 2022 season with the decision that was made. With the decision that was made by the NFL, any further questions on the investigation should be directed to the league office."
It's unclear when or if Ridley will return to the NFL since his suspension is indefinite.
"A league investigation uncovered no evidence indicating any inside information was used or that any game was compromised in any way," the NFL announced. "Nor was there evidence suggesting any awareness by coaches, staff, teammates, or other players of his betting activity."