Talented but troubled wide receiver Antonio Brown still has not been officially waived two days after he took off his jersey and shoulder pads, threw his undershirt and gloves into the stands and walked off the Tampa Bay Buccaneers' sideline, across the field and into the locker room in the middle of an eventual Week 17 win over the New York Jets.
---
Click here for more PFF tools:
Rankings & Projections | WR/CB Matchup Chart | NFL & NCAA Betting Dashboards | NFL Player Props Tool | NFL & NCAA Power Rankings
Best Bets Tool
---
One source close to the situation has doubts that the Buccaneers will end up waiving Brown. Tampa Bay's other option is to suspend him for conduct detrimental to the team. By doing that, and not waiving Brown, the Buccaneers can keep him away from other contending NFL teams who could claim him off waivers.
Still, per a report from CBS Sports NFL Insider Josina Anderson, other NFL teams are interested in Brown's services if the Buccaneers do opt to release him.
If Antonio Brown wants a job on another team in the NFL, he can have one. That is not an opinion. That is what I know.

— IG: JosinaAnderson (@JosinaAnderson) January 4, 2022
Buccaneers head coach Bruce Arians told FOX Sports that he told Brown to get off the sideline after the wide receiver refused to re-enter the game, leading to Brown's outburst. Arians said after the game that Brown was "no longer a Buc." Two days later, that is not yet officially true.
NFL Media's Ian Rapoport reported that Brown felt he wasn't healthy enough to return to the game and that the disagreement actually started during halftime of the Week 17 matchup.
From @NFLTotalAccess: It started in the halftime locker room for #Bucs WR Antonio Brown, continued on the sidelines when he refused to enter the game, and then he was done. The latest on the AB situation, with Tampa Bay not yet releasing him (but they will). pic.twitter.com/xT3oEAeXr2

— Ian Rapoport (@RapSheet) January 4, 2022
PFF's Seth Galina detailed what Brown's departure will mean for the Buccaneers' offense moving forward — spoiler: it's a big loss. 
But we now turn our attention to Brown's next potential team if the wide receiver is eventually released this season. After the NFL trade deadline passes, all players — including vested veterans like Brown — are subject to the waiver system. An acquiring team would be on the hook for just a hair over $60,000, which represents Brown's remaining 2021 salary. This is, of course, a minuscule price tag for one of the league's best wide receivers. That's only if the Buccaneers are willing to waive him, however.
Tampa Bay could stand to recoup more money if it were to suspend Brown for conduct detrimental to the team instead of cutting him. Furthermore, this could prevent Brown from landing with a team the Buccaneers end up facing in the playoffs. While preventing a player from gainful employment elsewhere should never be something a team strives to do, Tampa Bay may feel as though it stuck its neck out in standing by Brown when he was suspended for three games after using a fake vaccination card, only to be spurned weeks later.
Nevertheless, even at 33 years old, Brown is still playing at an elite level. Since 2020, his 90.3 receiving grade ties for fifth at the position with Buffalo Bills star Stefon Diggs. Brown's 2.40 yards per route run ranks seventh, and his 94.6% catch rate on passes deemed "catchable" ranks 10th. If the Buccaneers do officially move on, it's fair to wonder if a playoff contender would look to bring him aboard.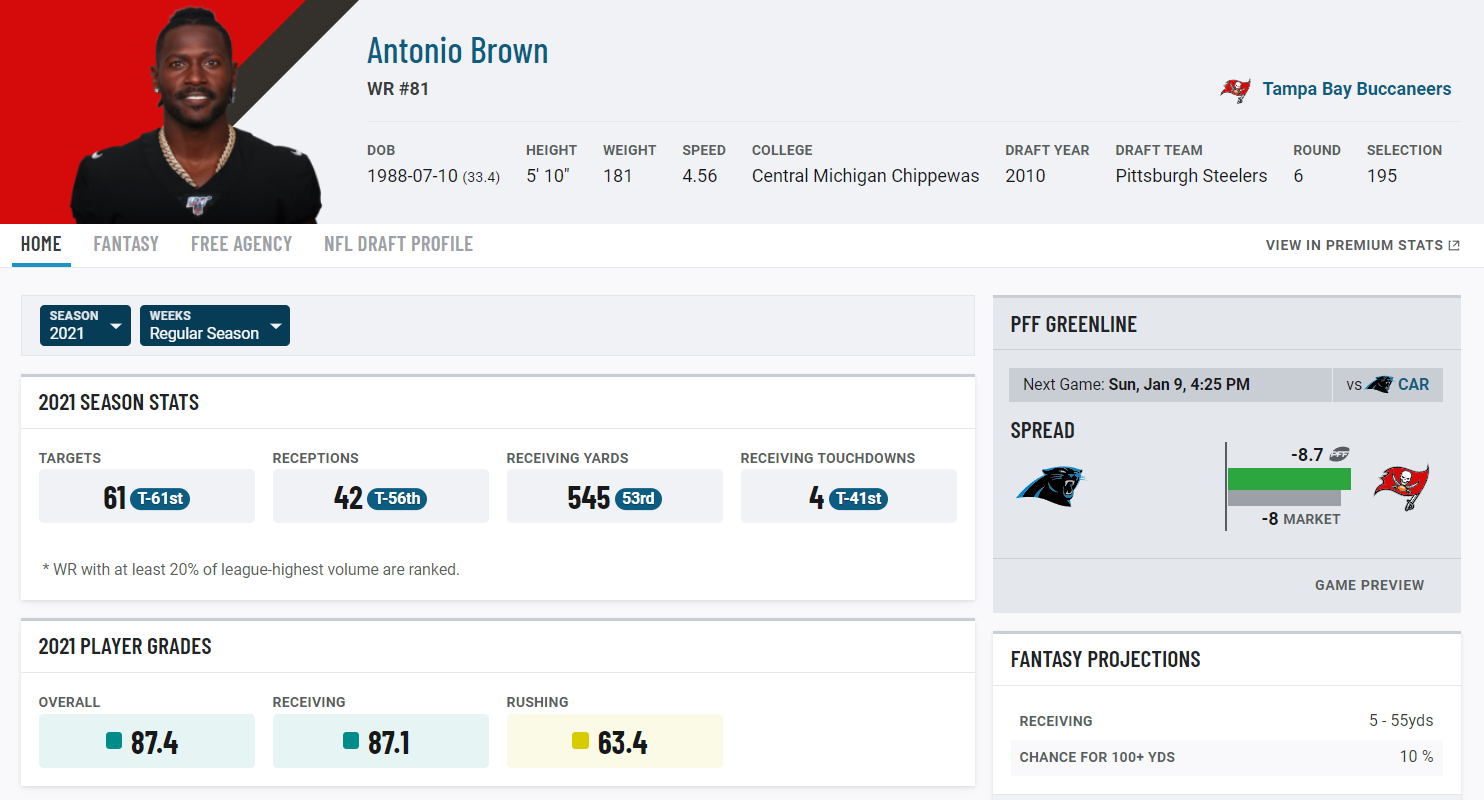 Which playoff teams should explore adding Brown?
PFF reached out to a variety of league sources to get their thoughts on a potential landing spot for Brown. One league source, when asked whether they expected Brown to be claimed on waivers, simply responded: "Hell no."
But others weren't so sure…
"Dallas or Kansas City could pull it off," another source suggested.
PFF's Power Rankings currently give the Kansas City Chiefs the second-best odds to win the Super Bowl (24%), while the Dallas Cowboys sit in eighth (10%).
Teams may be wary of placing a waiver claim on Brown without first confirming he'd be willing to join their roster. Brown famously thwarted an effort by the Buffalo Bills to acquire him via trade from the Pittsburgh Steelers back in 2019. However, if a team is confident that Brown is interested in playing for them, perhaps they're more open to the idea.
The Cowboys just lost wide receiver Michael Gallup to a torn ACL suffered during an acrobatic touchdown reception in Week 17's matchup with the Arizona Cardinals. Gallup, much like Brown, is a toe-tapping specialist along the sideline with great body control in the air: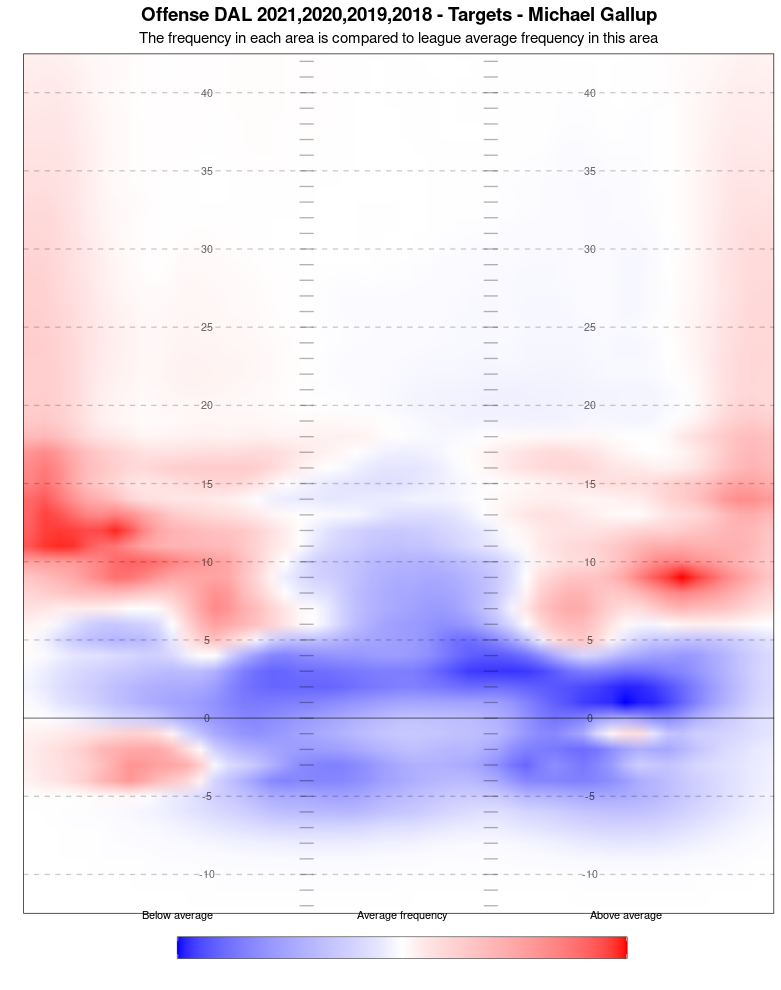 Dallas doesn't lack receiving talent, with CeeDee Lamb working the slot, Amari Cooper as the X receiver and tight end Dalton Schultz commanding more targets each week. However, Gallup's ability to stretch the field has opened up the Cowboys' offense for everyone.
In Weeks 2-9 when Gallup was out with an injury, 20.9% of Dallas' passes were contested at the catch point, the fourth-highest mark in the NFL. With Gallup in the lineup, that figure drops to 17.1%, 14th in the league. Brown commands opposing defenses' attention and opens things up for everyone around him in the same way, and his presence could put Dallas over the top in the NFC playoff picture.
The Chiefs have worked tirelessly to address their lack of a true No. 2 wide receiver, hosting a handful of free agents this past offseason — including Pittsburgh Steelers wide receiver JuJu Smith-Schuster — and ultimately adding Josh Gordon earlier this year following his reinstatement to the league.
Despite all those efforts, 48.7% of the Chiefs' targets this season have gone the way of wide receiver Tyreek Hill and tight end Travis Kelce, with Hill ranking fifth and Kelce 13th in total targets among all players in 2021. A third option like Antonio Brown would open up the Chiefs' passing attack, and perhaps be the final piece that lands them a second Lombardi Trophy in three seasons.
Per a report from NFL Media's Ian Rapoport, Arizona Cardinals star wideout DeAndre Hopkins had knee surgery to fix a torn MCL, and his only chance at returning for the 2021 playoffs is if the Cardinals make a deep postseason run.
One move that would go a long way in helping Arizona advance through the NFC playoff bracket would be to bring in Antonio Brown. In games this season with Hopkins on the field, Kyler Murray's 89.9 passing grade ranks second among quarterbacks and his 8.7 yards per attempt ranks fourth. In the three games Murray has played without Hopkins, his 72.5 grade ranks 11th and his 6.3 yards per attempt is good for 26th in the NFL.
These splits, while not having a particularly large sample without Hopkins in the lineup, should come as no surprise. Hopkins is one of the game's premier receivers, and his quarterback losing almost 2.5 yards per pass attempt as a result of his absence further underscores just how valuable he is. Perhaps Arizona can survive and advance with Brown stepping in as the No. 1 option, and whether or not Hopkins is ultimately able to return, they'll give NFC defenses a ton of headaches in the early rounds of the playoffs.
Related content for you:
What does Antonio Brown and Chris Godwin's absence mean for the Tampa Buccaneers' playoff run?
via Seth Galina