The NFL Super Bowl is just under two weeks away, but it's time to start mapping things out with our Super Bowl fantasy football rankings. Sure, there are only two teams remaining, but there's still plenty of fantasy football to be play. Don't forget to also check out our Super Bowl fantasy football projections and Super Bowl fantasy football matchup charts.
Quarterback
1. Patrick Mahomes, KC
2. Jimmy Garoppolo, SF
Sure, there are only two signal-callers on the slate, but it's tempting to rank Garoppolo even lower. All joking aside, there's a sizeable gap between these two, and need to look no further than the Conference Championship round for evidence. Mahomes went out and toss three scores and nearly topped 300 yards, whereas Garoppolo attempted just eight passes. In the game. Eight.
Running back
1. Raheem Mostert, SF
2. Damien Williams, KC
As we correctly predicted on the PFF Fantasy Football Podcast, Mostert ended up being the guy for the 49ers despite Tevin Coleman's impressive performance in the Divisional Round. To be fair, the two were splitting series before Coleman left the game due to injury. While Coleman hasn't been ruled out for the Super Bowl, it's fair to expect the 49ers to continue riding Mostert against the Chiefs' lackluster run defense.
3. Matt Breida, SF
4. Darwin Thompson, KC
5. Kyle Juszczyk, SF
It's really tough to like any of these guys, but if there's an unsung hero who will surprise us in the Super Bowl, he's going to come from this group. Breida was lightly used in the Conference Championship game, but his explosive upside makes him the most appealing of this bunch, especially if Coleman is inactive.
6. LeSean McCoy, KC
7. Tevin Coleman, SF
Speaking of inactive, that was McCoy's status in the Conference Championship game. The veteran has really come to the end of the line and isn't a good bet to play in the Super Bowl. Likewise, Coleman's injury could keep him in the sideline. While reports suggest the injury isn't as bad as it looked on the field, it's going to be a challenge for him to suit up.
Wide receiver
1. Tyreek Hill, KC
We really don't have a star-studded group of wideouts in this year's Super Bowl, so Hill gets the distinction of having the top tier all to himself. Following a quiet Divisional Round performance, he exploded for two scores in the Chiefs' impressive win over Tennessee. San Francisco is a tough matchup, but Hill clearly has the highest fantasy ceiling among wideouts in this game.
2. Deebo Samuel, SF
3. Sammy Watkins, KC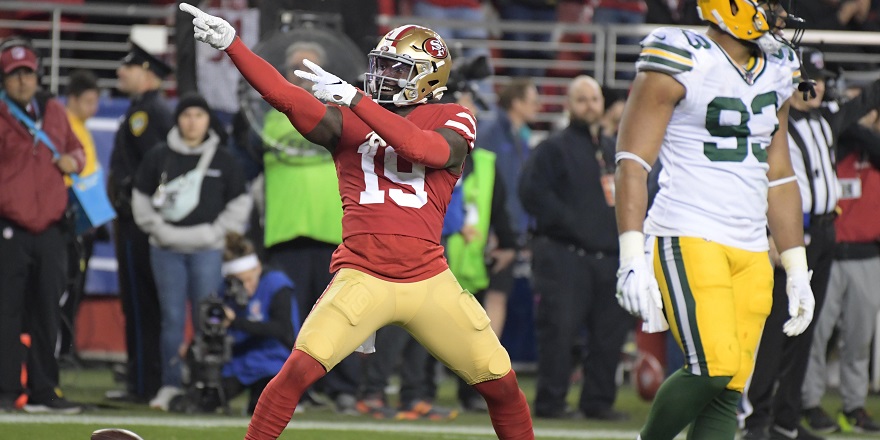 The 49ers have continued to expand Samuel's role throughout the season, and we saw the rookie post 89 scrimmage yards on four touches against the Packers. The upside is certainly there with Samuel, but the question is how much work will be available in the passing game? As for Watkins, the notoriously streaky receiver is coming off his second-biggest performance of the year. He's extremely volatile, but can pay dividends even in a tough matchup
4. Emmanuel Sanders, SF
5. Kendrick Bourne, SF
6. Mecole Hardman, KC
7. Demarcus Robinson, KC
Tight end
1. Travis Kelce, KC
2. George Kittle, SF
According to PFF grades, this game features the No. 1 (Kittle) and No. 3 (Kelce) tight ends in the league. For fantasy purposes, they're the clear top two options. In some ways, this game is an interesting moment in the history of fantasy football, as we could be witnessing Kelce essentially passing his torch as the top dog among fantasy tight ends to Kittle. It's really tough to rank one of these guys ahead of the other, but Kelce gets the slighted edge in the PFF fantasy football projections.
3. Blake Bell, KC
4. Ross Dwelley, SF