For most dynasty fantasy football players, rookie drafts are done. The players on their roster are who they'll be rolling with into the 2018 season. But, let's face it, there's also more than a month's worth of preseason and practices to overreact, dissect and downplay. This means the opportunity is ripe to take advantage of short-term results in exchange for long-term success. Below are several veterans whose value, I believe, could be taken advantage of whether you're buying or selling.
(PFF Dynasty Ranking: 2)
As far as consistency, they don't get much better than Wilson. He's finished as a fantasy QB1 every year of his six-year career. He's also thrown for at least 3,000 yards and 20 touchdowns in each of those. And while the passing numbers don't exactly jump out, it's been supplemented by rushing totals rarely seen by a quarterback. His 3,275 total rushing yards since 2012 are not only second among all quarterbacks (hello, Cam Newton) but they're 22nd among all players.
The downside is Wilson turns 30 this year and the Seahawks are seemingly a team in transition. New receivers, new running backs, new defense (yet the same crappy offensive line). They even have a new offensive coordinator, Brian Schottenheimer, who has yet to lead an offense as a coordinator to a top-eight finish in either points or yards. Yikes.
Verdict: Sell. Wilson is one of the few quarterbacks in 1QB dynasty leagues that could fetch something of value in a trade and none of the moves Seattle's made are encouraging.
(PFF Dynasty Ranking: 20)
Yes, Ingram is 28. Yes, he's not even the best running back on his own team anymore. But even as his physical clock ticks upward, he keeps getting better. How good? His 4.98 yards per carry the last two seasons is literally the best in the league among backs with at least 200 carries. He also set career-highs in rushing touchdowns (12), receptions (58), and receiving yards (416) in 2017. By adding Alvin Kamara to the mix, Ingram's stats actually improved.
Verdict: Buy/Hold. At his current dynasty ranking, you're looking at the value of a low-end RB2. Ingram's worth more than that even with the looming suspension. If anything, I'd be looking to take advantage of those down on Ingram and buy now.
(PFF Dynasty Ranking: 10)
While McCaffrey has had lofty fantasy expectations ever since being drafted eighth overall in last year's draft, it might not have been foreseen to be exactly like this. If you just look at his rushing totals, which is what most assumed would be his primary function, they were very meh last year — 117 carries for 435 yards. Yet he finished as a top-10 fantasy back (in PPR leagues) thanks to his prolific receiving stats. His 80 receptions were third-most for a rookie running back since the merger and 12th-most for a rookie all time at any position.
Heading in to his sophomore season, there's been some concern that McCaffrey won't be able to see those types of numbers again. The Panthers drafted receiver D.J. Moore in the first round of this year's draft and are getting back tight end Greg Olsen and receiver Curtis Samuel from injuries. His path to more carries has also, seemingly, been blocked as Carolina signed an upgrade in C.J. Anderson.
Verdict: Buy/Hold. McCaffrey's still just 22 and was drafted high enough by Carolina to be a big part of the offense. It's rare to have a running back that young and that important to an offense on your dynasty team.
(PFF Dynasty Ranking: 9)
Much like Wilson above, Green's been a model of consistency. He's totaled at least 1,000 receiving yards every season of his career save one (he missed six games in 2016 due to injury). He's done all of this while having what many consider to be a below-average quarterback throwing him the ball in Andy Dalton and subpar options around him.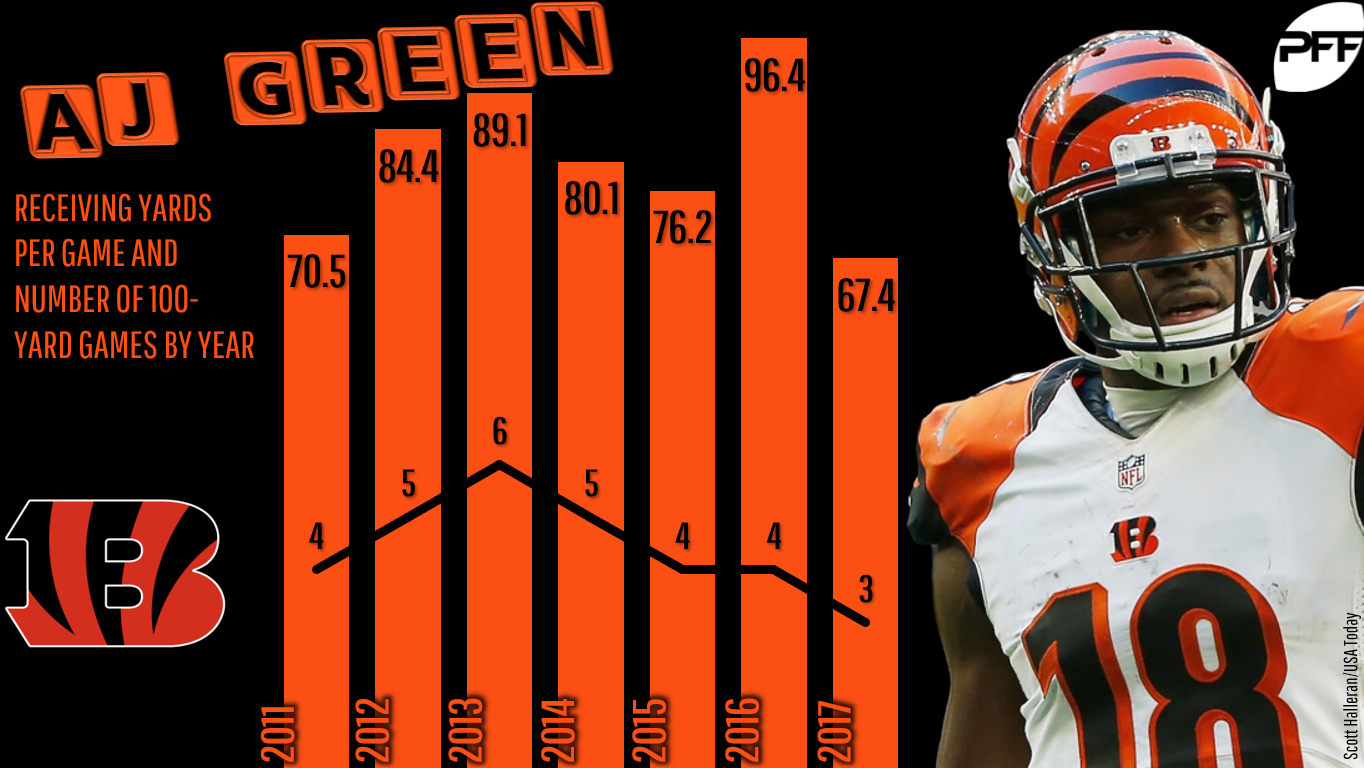 But Green will turn 30 this season. He's coming off a season with the lowest yards-per-game average of his career (67.4) and the fewest 100-yard games (3). And not that Green should be worried yet, but the Bengals have invested a fair amount of draft capital in the skill position players around him. Giovani Bernard, a second-round pick, returns, as does Joe Mixon, another second-rounder. The Bengals will also deploy 2016 first-round pick John Ross, provided Ross can stay healthy.
Verdict: Sell. Green has won a lot of people dynasty championships over the years, but there does come a time when you need to get out before a players value craters. I'd rather been early than late with Green.
(PFF Dynasty Ranking: 23)
A lot can change in just over a year's time. This time last year, Watkins was still considered a top-10 dynasty receiver. Sure, he was coming off an injury-riddled third season in Buffalo but prior to that he had averaged 60-plus receptions, 1,000 yards, and a half-dozen touchdowns his first two seasons. When he was traded to Los Angeles, hopes were high that the Rams would finally unleash what fantasy prognosticators had touted for years.
But it wasn't meant to be. Sure, the Rams offense exploded, but Watkins didn't. He caught only 39 balls for 593 yards (he did make up the lack of receptions and yardage with eight touchdowns). Watkins' dynasty value plummeted until the Chiefs threw it a lifeline. They signed Watkins this offseason to one of the five richest average annual value contracts ever handed out to a receiver. The financial commitment can mean nothing but the Chiefs plan to feed Watkins.
Verdict: Buy. While there aren't many targets missing from the 2018 Chiefs offense, it's also reasonable to expect an uptick in pass attempts and, therefore, a larger target pie. Kansas City was only 19th in pass attempts last season — averaging about 34 per game — but head coach Andy Reid is fully capable of a pass-first offense. He may have never been in the top-half of the league in pass attempts while coaching the Chiefs, but he actually was a in the top-10 during half of his 14 seasons in Philadelphia. Watkins is currently valued as a WR2/3 but has the ceiling and history of a WR1.
(PFF Dynasty Ranking: 16)
Brate finished as the sixth-highest-scoring fantasy tight end in 2016. Not bad for an undrafted free agent in his third year, right? How did the Buccaneers handle it? They draft O.J. Howard, one of the top tight end prospects in the draft, in the first round of the 2016 draft. How did Brate handle that? He finished eighth in fantasy scoring in 2017.
Brate may be one of the more underrated fantasy assets in all of football. Of the six other tight ends who have finished in the top-10 of fantasy scoring in each of the last two years, Brate's ranked three spots below Delanie Walker in our dynasty rankings (despite being six years younger!). Not only that, but the Bucs just handed him a huge contract (to be fair, they can get out from it as early as next year). But why bother when you have Howard queued up and ready to go? Because you plan on him being a big part of the offense.
Verdict: Buy. At that price? He's easily in the next tier of productive tight ends and can be had for much cheaper than most of them.