The Houston Texans acquiring a running back seemed inevitable after starter Lamar Miller went down to an ALC tear in their Week 3 preseason game, and lo, it came to fruition Saturday, with the Texans reportedly trading for Carlos Hyde, who had spent the preseason with Kansas City.
Hyde joined the Chiefs in free agency and at first looked like the team's No. 2 back behind starter Damien Williams with a chance to split reps with the inexperienced starter, but a poor offseason/preseason quickly soured the Chiefs on Hyde, and he was passed on the depth chart by rookie Darwin Thompson and looked like a prime candidate to be cut.
The Texans jumped the line by sending G Martinas Rankin to the Chiefs. Hyde is the roster replacement for Miller, though he is extremely unlikely to fill the role Miller was set to have in that offense. Duke Johnson, acquired by the Texans in a trade with the Browns weeks ago, should enter the season as the starter, and while his career to date has been spent largely as a pass-catching back, his college history (he's the all time leading rusher for the Miami Hurricanes) indicates he can be more than that. In other words, the roles for these two backs from the start of 2018 — when Hyde was the Browns starter to open the season and Johnson was his backup — will be reversed in Houston.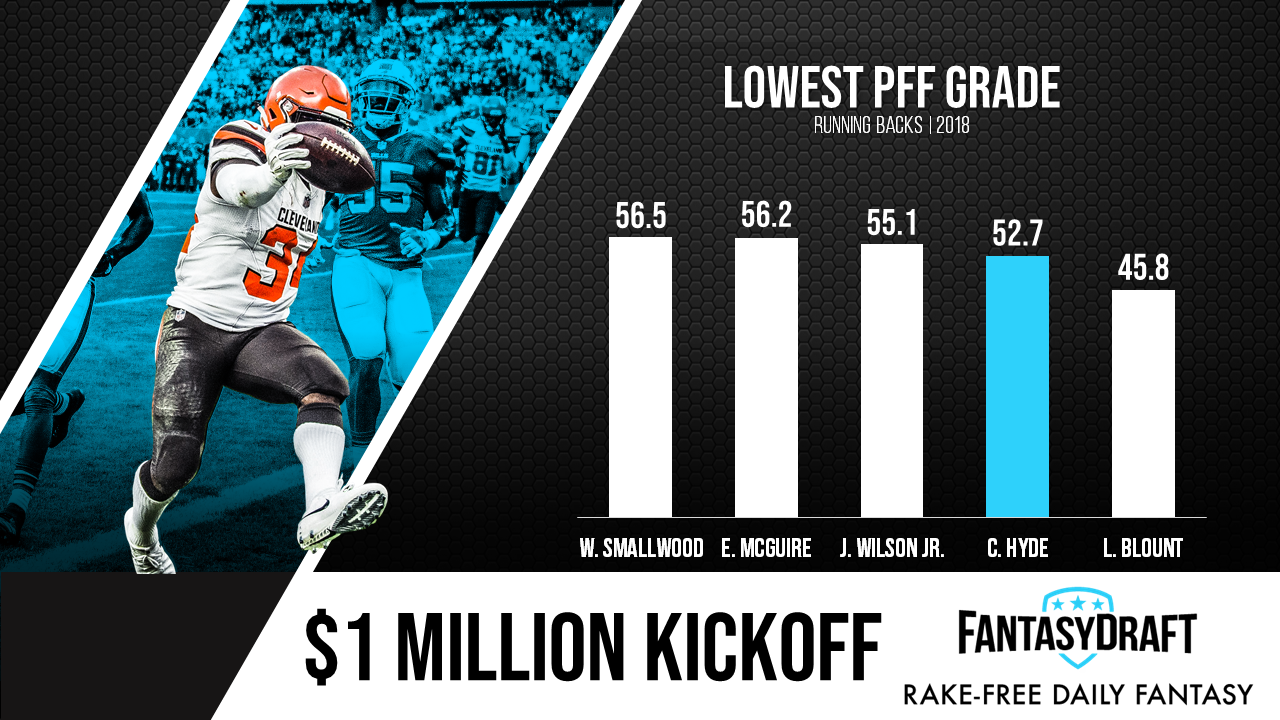 That's good news for fantasy managers in the sense that Johnson is the clear-cut No. 1 in this offense and could flirt with RB2 status, while Hyde remains outside roster consideration outside of extremely deep leagues. If you're diving super deep for handcuffs, Hyde would be the beneficiary in the case of injury to Johnson, but between his poor performances of late (he was the second-lowest-graded qualifying running back last year split between Cleveland and Jacksonville after being the sixth-lowest-graded in 2017 with San Francisco) and the poor offensive line in Houston (the Texans' line entered 2019 as our second-worst), Johnson's ceiling has a cap and Hyde's is even lower.
In the end, this is a trade that has more name value — especially for fantasy — than real relevance for our game. Williams is entrenched as the starter in Kansas City, Thompson was already clearly his No. 2, and Hyde will only steal a small number of touches from Johnson in Houston. If there's a player who sees his value hurt here, it's Damarea Crockett, who was only on the furthest fringes of value anyway. Don't let this change your strategies much, if at all, for drafts this weekend.