(Editor's note: As we lead up to the season, Director of PFF Fantasy Jeff Ratcliffe is breaking down each team's depth chart from a fantasy perspective. Catch up on the work so far here.)
The Seahawks didn't make it back to the Super Bowl last year, but Seattle was still one of the most talented rosters in the league. With nearly all of those pieces back, the fantasy potential remains plentiful on this depth chart.
Through the first nine weeks of the 2015 season, Russell Wilson appeared to be on the fast track to busting, sitting just 18th in fantasy points. But following the Seahawks' Week 9 bye, something changed. Wilson went on an offensive tear, racking up a league high 25 touchdown passes and throwing just two interceptions. Only Cam Newton had more fantasy points down the stretch.
Pass protection was a major issue for Wilson last season. He was sacked 55 times in total, but just 14 times over the final nine weeks of the season. Despite facing pressure on 42.5 percent of his dropbacks, Wilson was calm in the eye of the storm, completing 71.6 percent of his passes under pressure. He also led all quarterbacks with 15 touchdown passes on balls traveling 20-plus yards in the air. The offensive line could still be an issue for Seattle, but Wilson's dual-threat ability and growth as a passer keep him firmly in the top 5 conversation.
Seattle Seahawks projected 2016 offense with 2015 grades: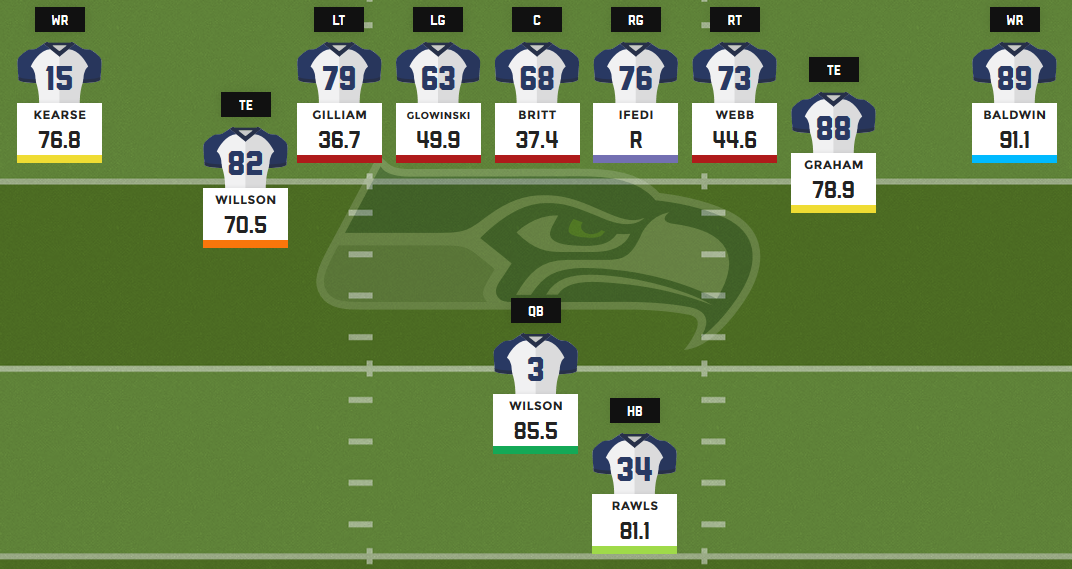 Nothing changes at receiver for the Seahawks, as Doug Baldwin, Tyler Lockett and Jermaine Kearse are projected to start. Baldwin's finished the 2015 season with a magical run. Over the last eight weeks, he racked up 724 yards and a position-high 12 touchdowns on 47 catches. That's a score on more than 25 percent of his receptions, which is completely unsustainable. Baldwin is a fantastic player, but fantasy football is about volume. Baldwin posted top-10 numbers on just 99 targets. Over the last five NFL seasons only 11 receivers have managed top-20 seasons with fewer than 100 targets, and just two have cracked the top 10 – Jordy Nelson in 2011 was the other. So while Baldwin is a good bet to continue to play good football, his fantasy numbers will likely come back to earth.
Lockett is a PFF College favorite from last year. He displayed explosive upside both as a receiver and as a returner in his rookie season. Lockett was especially effective down the stretch, catching five touchdown passes in the final seven games of the season. While there's certainly a lot to like about him, Lockett's short-term fantasy prospects are somewhat limited. Target volume isn't likely to be in Lockett's favor in the Seahawks' run-heavy offense. Last season, he didn't see more than seven targets in a game. Lockett's weekly upside is appealing, but it's tough to trust him as anything better than a WR4.
With Lockett on the rise, Kearse doesn't figure to be much of a fantasy factor outside of the occasional DFS punt play. Deep dynasty dumpster divers may also be interested in Paul Richardson. A hamstring injury limited the former second-rounder to just one game last year, and he suffered a torn ACL in 2014. But he's reportedly healthy and is in the mix for the fourth receiver job.
At tight end, Jimmy Graham is returning from a torn patellar tendon that he suffered in Week 12. Up to that point in the season, Graham ranked ninth among tight ends in fantasy scoring. That's a solid performance for most tight ends, but expectations were much higher for Graham in fantasy circles. In his defense, Graham generally played well, and only dropped just two balls on 68 targets. However, his role was somewhat limited in the Seahawks run-oriented offense, and he found the end zone just twice on the season. Of course, the biggest concern for this season is how he recovers from the injury. Reports on his progress are positive, but players have a poor track record returning from this injury. Graham's Week 1 status is still very much up in the air. He's a very risky TE2 option.
Like Graham, RB Thomas Rawls is coming off an injury and he won't be on the field for the Seahawks' first camp practice. One of last season's biggest surprises, Rawls went from undrafted free agent to fantasy stud when Marshawn Lynch missed the last seven weeks of the season due to an abdomen injury. In four weeks as a starter, Rawls was the No. 1 fantasy running back, racking 74 standard fantasy points and 80 in PPR scoring. Of course, that all came to an abrupt end when he broke his ankle in Week 14. For the season, runs of 15-plus yards accounted for 41.4 percent of his rushing yards, which ranked third in the league. He was also one of just four backs to average more than 3.0 yards after contact per attempt. Despite the positives, his status is very much up in the air for the preseason, and the Seahawks did draft three running backs this year. Exercise caution when drafting Rawls.
Of the three rookie running backs Seattle drafted, C.J. Prosise is the most likely to make an immediate impact. The third-rounder played just one season at running back, but Prosise managed big numbers in 2015 with 1,340 total yards and 12 scores on 182 touches. At the combine, he torched a 4.46 40-yard dash, and he used this speed to force a missed tackle once every 2.5 carries. Like many young backs, he struggled in pass protection (he ranked 32-of-55 draft-eligible backs), and also had ball security issues with five fumbles in 2015. He's still raw, but Prosise is a very intriguing fantasy prospect, especially given Rawls' status. Prosise is worth a late-round flier.
[Is Rawls worth the price you'd have to pay to get him? Check out our PFF Draft Master tool and try a mock draft, complete with offensive line grades, full projections and all the PFF data.]
Rookie Alex Collins is also in the mix at running back. He's a physical runner in the mold of Chris Ivory who graded out eighth overall among draft-eligible running backs. Collins topped 1,000 yards in each of his three collegiate years, and did so despite sharing carries with Jonathan Williams in 2013 and 2014. Last year, he racked up an impressive 1,577 yards and 20 touchdowns. Collins figures to get a shot at early-down work and will likely battle veteran – and perennial fantasy hype candidate – Christine Michael for the No. 3 running back job.
The Seahawks remain loaded on the defensive side of the ball. Michael Bennett is one of the league's best pass-rushers. While he has only topped 50 total tackles once in his career, Bennett's sack upside keeps him in the DL2 conversation. Cliff Avril offers an even lower tackle ceiling, but has double-digit sack upside. At linebacker, both Bobby Wagner and K.J. Wright have proven to be fantasy assets in the past. Wagner remains the preferred IDP option and should be considered a mid-range LB1. Wright is more of an LB3 type. Be careful with Seahawks defensive backs. While Earl Thomas is a fantastic player, his up-and-down tackle production makes him a volatile IDP option. His teammate Kam Chancellor is the more ideal fantasy asset and should be considered a borderline DB1.