In the Cowboys 38-14 win over the Redskins last Thursday, Dez Bryant finally snapped his five-game scoreless streak with a 13-yard touchdown reception at the start of the fourth quarter. The catch was beautiful. As the Redskins brought pressure, Dak Prescott threw the ball up to Bryant in single coverage, and Bryant jumped high over Bashaud Breeland to make the catch. That touchdown made Bryant the all-time touchdown leader in Cowboys history, and I believe it can serve as the impetus for a turnaround for him over the final month. The veteran Bryant may no longer have the same athleticism that he did in his peak seasons, but he continues to be a big, physical receiver. Between 2014 and 2016, he caught 18 of his 29 touchdowns against blitzes, which typically left Bryant in one-on-one coverage with a major size advantage. His touchdown on Thursday was just his second against a blitz this season, but its effectiveness and importance should remind the Cowboys why Bryant has been such a special player and hopefully lead to more end zone targets for Bryant in the final weeks of this season.
Bryant isn't the only player who does his best work against blitzes. Research I did over the offseason shows that many players provide security blankets for their quarterbacks against blitz-heavy teams while others see fewer targets. Here are the players I recommend to use and avoid because of their blitz matchups this week.
Players to target
Jordan Reed/Vernon Davis, TE, Washington Redskins
The Reed/Davis combo as a top-10 tight end has taken a hit in recent weeks, as Reed has continued to miss time and Davis has seen just 3 targets in his last two contests against division rivals New York and Dallas. Reed missed practice on Monday and seems poised to miss his sixth consecutive game. Still, I'm not ready to give up on Davis as a worthy substitute. The Chargers have been a stout defense in defending tight ends this season, in particular holding them to a league-best two touchdowns. But many teams use their tight ends as security blankets against blitzes, and the Chargers have the second-lowest blitz rate at just 19.0 percent. That isn't the case for Reed and Davis, whose blitz target rates of 15.2 and 15.7 percent are half that of most of their receivers and comparable to their running backs.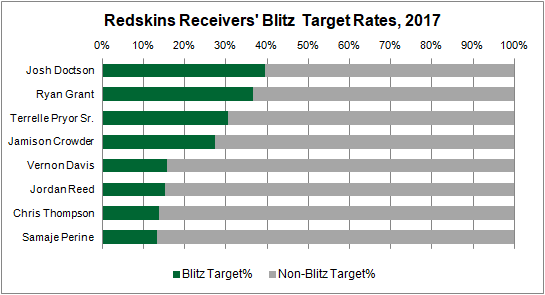 Expect the Chargers' conservative game plan to free up Davis — or Reed if he plays — to run routes, and expect the Redskins to be forced to throw the ball to keep up with one of the hottest teams in football.
Subscribe to PFF Edge to continue reading
Already have a subscription? Sign In