Following a lost season where Dallas played much of the year without franchise QB Tony Romo, the Cowboys are poised to rebound offensively in 2016. Romo is back and experiencing no major effects from the March surgery to repair a broken collarbone that caused him to miss 12 games last season. His presence was sorely missed, as the Cowboys were forced to turn to a motley crew of backups that included Matt Cassel, Brandon Weedon and Kellen Moore.
It's no surprise that Dallas graded out as our No. 29 passing offense, with an average of 216.9 passing yards per game that ranked 27th in the league. Moore is still on the roster to back up Romo, and the Cowboys drafted Dak Prescott, an athletic signal caller out of Mississippi State who is worth a stash in deep dynasty leagues.
Dallas Cowboys projected 2016 offense with 2015 grades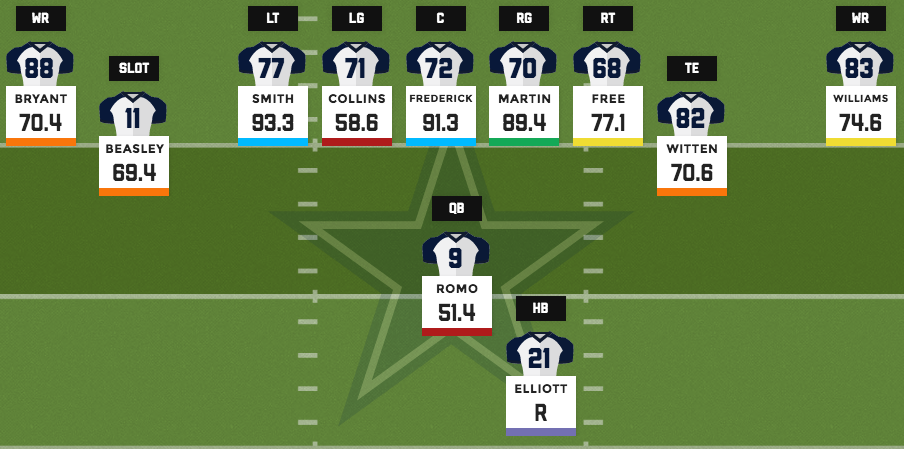 The passing woes rolled downhill last season and affected the overall fantasy value of the Dallas receiving corps. Dez Bryant entered 2015 as the No. 2 wide receiver in ADP, but finished a miserable 77th fantasy scoring as a foot injury cost him seven games and had him not trusting his foot when he did play. Still, this is more of a fluke season than a sign of things to come for Bryant. He's still just 28 years old this season and was a top-5 fantasy receiver from 2012-2014. Bryant figures to get the lion's share of targets and is a good bet to bounce back.
Second in the target pecking order isn't a receiver, but rather veteran TE Jason Witten. Despite the roller coaster at quarterback, Witten still posted triple-digit targets and finished 12th among tight ends in fantasy scoring. While he's getting a little long in the tooth and doesn't offer a high fantasy ceiling, Witten will remain heavily targeted in this offense. He's a safe late-round option to pair with an upside pick like Coby Fleener, Ladarius Green or Zach Ertz.
Terrance Williams and Cole Beasley round out the Cowboys starters at receiver. With Bryant banged up, Williams actually led the Dallas receivers in targets with 91, which was a career high for the former Baylor wideout. Fantasy owners might remember 2014, when Williams racked up eight scores. Well, that number regressed to just three last season. We should see some positive regression for Williams, but he shouldn't be considered more than a WR5. Likewise, Beasley isn't likely to see enough volume or be consistently be target deep enough down field to be a viable fantasy option.
The only other name of note in the Dallas wide receiver corps is Brice Butler. A fourth-year player out of San Diego State, Butler is big (6'3, 215) and posted a sub-4.4 40-yard dash time coming out of college. While there was some chatter he could push Williams for a starting job, Butler practiced exclusively at the X receiver position in OTAs, which suggests he's Bryant's primary backup. Keep Butler in your fantasy rolodex, but we're only going to need to dial him up if injury strikes Bryant again this season.
[How early does it make sense to take Elliott in fantasy drafts this year? And how late can you get Romo? Check out our PFF Draft Master tool and try a mock draft, complete with offensive line grades, full projections and all the PFF data.]
Talking about the Cowboys' passing outlook first really buries the lead, because the name on everyone's lips since April's draft has been Ezekiel Elliott. The first-rounder out of Ohio State enters the league as one of the most complete running backs in years. He's a strong runner who posted a gaudy 3,699 yards and 41 touchdowns over the last two seasons. Elliott can also catch the ball out of the backfield, and has the rare ability as a rookie to hold his own in pass protection. With the expectation that he gets a three-down role in this offense, it's completely fair to say that Elliott has top-five fantasy potential in his rookie season.
While some may scoff at the previous sentence, Elliott enters arguably the best situation of any player drafted this year. He isn't the only rookie on track to start and play significant snaps, but he landed on a team with the best offensive line in the league over the last two seasons. This is a line that helped DeMarco Murray to 1,845 yards in 2014 and Darren McFadden to 1,089 yards last season. Murray's total ranks 17th all-time, but McFadden's may be even more impressive, considering how much he's floundered over his career and the fact that only seven running backs topped the 1,000-yard mark last year.
Behind Elliott, the Cowboys have the aforementioned McFadden and Alfred Morris. McFadden is currently questionable for the start of the season with a broken elbow that he suffered slipping on wet concrete near a swimming pool this summer. With McFadden on the shelf, Morris is the favorite for No. 2 duties. The former Redskins running back generated some fantasy buzz after signing with Dallas back in March. Those hopes were quickly dashed after the team drafted Elliott. At this point, Morris and McFadden figure to spell Elliott with the former seeing early-down work and the latter in passing situations.
Those in IDP leagues will want to prioritize LB Sean Lee. Though often injured throughout his career, Lee has been one of the league's most productive tacklers on a per-opportunity basis. Last year he ranked fourth among linebackers with a tackles-per-opportunity rate of 17.2 percent. Lee underwent a routine knee scope back in April, but this doesn't appear likely to affect his Week 1 status. Given his injury history, Lee is a risky fantasy option, but his reward is strong LB1 production if he's able to stay healthy.