What was once a top-50 draft board has now doubled. These are my top 100 players heading into the 2020 season and, unfortunately, in a lot of cases players won't get any further opportunities to raise their draft stock. Seven of the top 10 players on our board aren't scheduled to play football this fall, and 42 of our top 100 players either opted out or had their fall seasons canceled for now by their conferences.
1. QB Trevor Lawrence, Clemson
Lawrence was the highest-graded true freshman quarterback we've ever seen in 2018 (90.7), and he followed that up by pushing his grade even higher in 2019 (91.1). The 2020 season will be the ultimate test for him, as his top two targets, Tee Higgins (draft) and Justyn Ross (injury), will not be suiting up for the Tigers this year.
2. QB Justin Fields, Ohio State
Fields arrived a little later to the party than Lawrence, but he has been equally impressive. His 92.4 passing grade last season trailed only Joe Burrow among FBS quarterbacks. Oh, and he can run in the 4.5s at 6-foot-3, 225 pounds.
3. OT Penei Sewell, Oregon
We've never seen a tackle prospect quite like Sewell. Not even 20 years old yet, Sewell was far and away the highest-graded tackle in the country last season, at 95.8 overall. If Sewell had been able to declare last spring, he would have been unquestionably the top tackle in a loaded tackle class. He's special.
4. WR Ja'Marr Chase, LSU
Chase was only 19 years old last season, but he was still a man among boys. He hauled in eight more deep receptions (24) than any other wide receiver in college football.
5. LB Micah Parsons, Penn State
The 2021 draft class has multiple prospects who legitimately deserve the generational tag, and Parsons is one of them. He put up the second-highest single-season run-defense grade we've ever seen from a linebacker as a sophomore (94.8).
6. QB Trey Lance, North Dakota State
Lance lacks the polish of the top two quarterbacks on this list, but from a talent perspective, the three players are indistinguishable. The rising redshirt sophomore has the physical tools to open up the entire playbook — he has a cannon for an arm and running back-esque wheels. He ran for 1,150 yards last season, breaking 40 tackles on 134 attempts.
7. WR Rondale Moore, Purdue
What Moore did as a true freshman at Purdue was nothing short of unprecedented. He led the nation with 37 broken tackles and hauled in a ridiculous 114 catches for 1,258 yards with 12 scores. We're excited to see what he can do after an injury-shortened 2019.
8. OT Alex Leatherwood, Alabama
In his first season at left tackle, Leatherwood allowed only nine pressures and earned an 82.0 pass-blocking grade for the Crimson Tide.
9. DI Marvin Wilson, Florida State
Wilson is no freak athlete, but what he lacks in explosiveness he makes up for with raw power and technique. He's seen his pass-rushing grade improve every year of his career, from 67.3 as a freshman to 81.3 as a sophomore to 90.9 last season.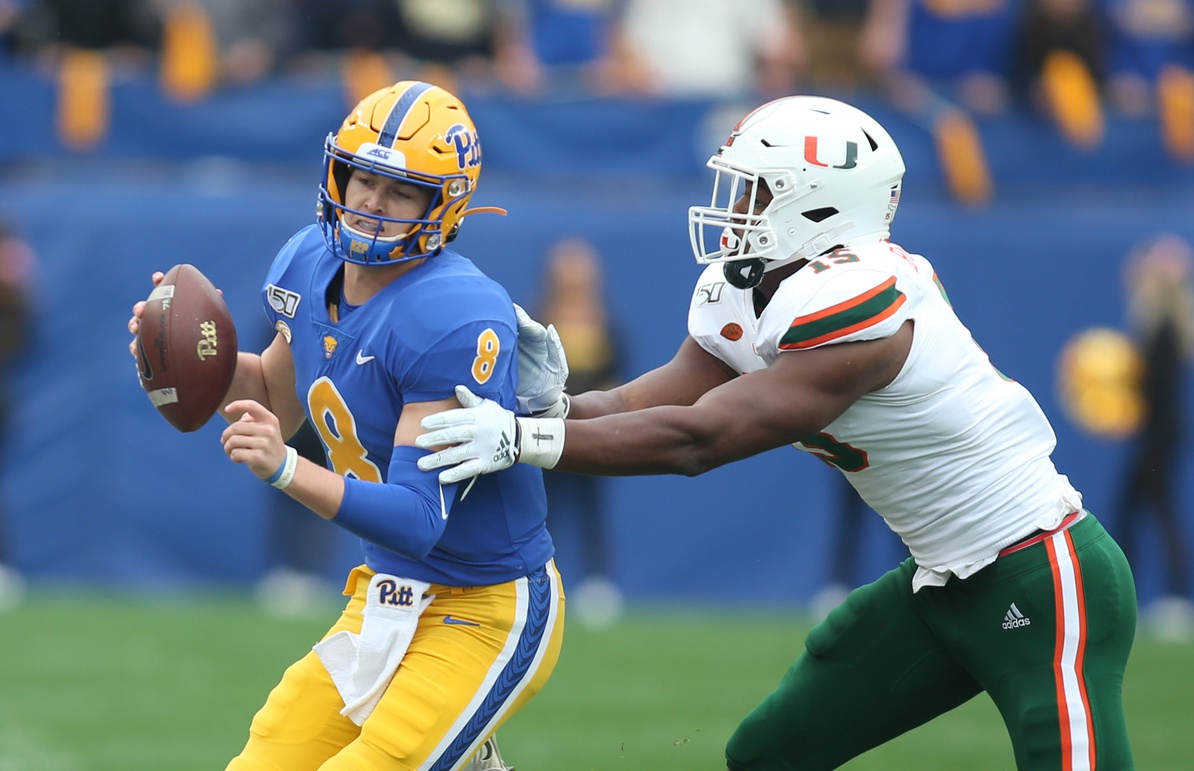 10. EDGE Gregory Rousseau, Miami (FL)
Rousseau flashed unteachable, high-level traits in his lone season of college football. He racked up 16 sacks and an 80.7 pass-rushing grade as a redshirt freshman in 2019.
11. EDGE Carlos Basham, Wake Forest
Checking in at No. 2 on Bruce Feldman's Freaks List, Basham has the kind of explosiveness that you want to see in an edge defender. He produced double-digit pressures in two games last year and finished the season with 60 total pressures next to his name.
12. CB Caleb Farley, Virginia Tech
Farley is listed at 6-foot-2, 207 pounds, and he reportedly clocked over 24.0 miles per hour on a GPS tracker last season. His combination of size, speed and production — he earned a 90.5 coverage grade last year — make him an easy choice for CB1.
13. WR Jaylen Waddle, Alabama
There's a reason why Waddle handled return duties over the past two seasons at Alabama. After Rondale Moore, he is the most dynamic player in the country with the ball in his hands.
14. OT Walker Little, Stanford
Little's 2019 season lasted only one game, but we saw what we needed to feel good about him as a first-rounder. Dating back to 2018, Little has allowed only one pressure in his past seven games.
15. QB Brock Purdy, Iowa State
Purdy doesn't have the luxurious situations that the quarterbacks higher on this list do, and that makes it difficult to evaluate him at times. He's a gamer in every sense of the word, though, and he put up passing grades of 88.0 and 82.2 as a freshman and sophomore, respectively.
16. DI Christian Barmore, Alabama
Barmore is the next man up in the Alabama defensive line pipeline. He played only 269 snaps last year as a redshirt freshman but earned dominant grades in run defense (83.0) and as a pass-rusher (88.1).
17. S Ar'Darius Washington, TCU
Washington is listed at 5-foot-8, 179 pounds, and he's the No. 1 safety on the PFF board — that's how talented he is. He sees the game unlike any safety prospect since Tyrann Mathieu. Last season, he allowed only five catches and 65 yards from 14 targets in coverage.
18. S Jevon Holland, Oregon
Holland was more of a traditional safety as a freshman before switching to the slot in 2019 as a sophomore. He showed a knack for getting his hands on the ball at both positions, totaling 20 combined pass breakups and interceptions on the year.
19. OT Samuel Cosmi, Texas
Cosmi has all the movement skills and has already proved to be proficient in pass protection. He's also done it at both right tackle (82.8 pass-blocking grade in 2018) and left tackle (86.0 pass-blocking grade in 2019).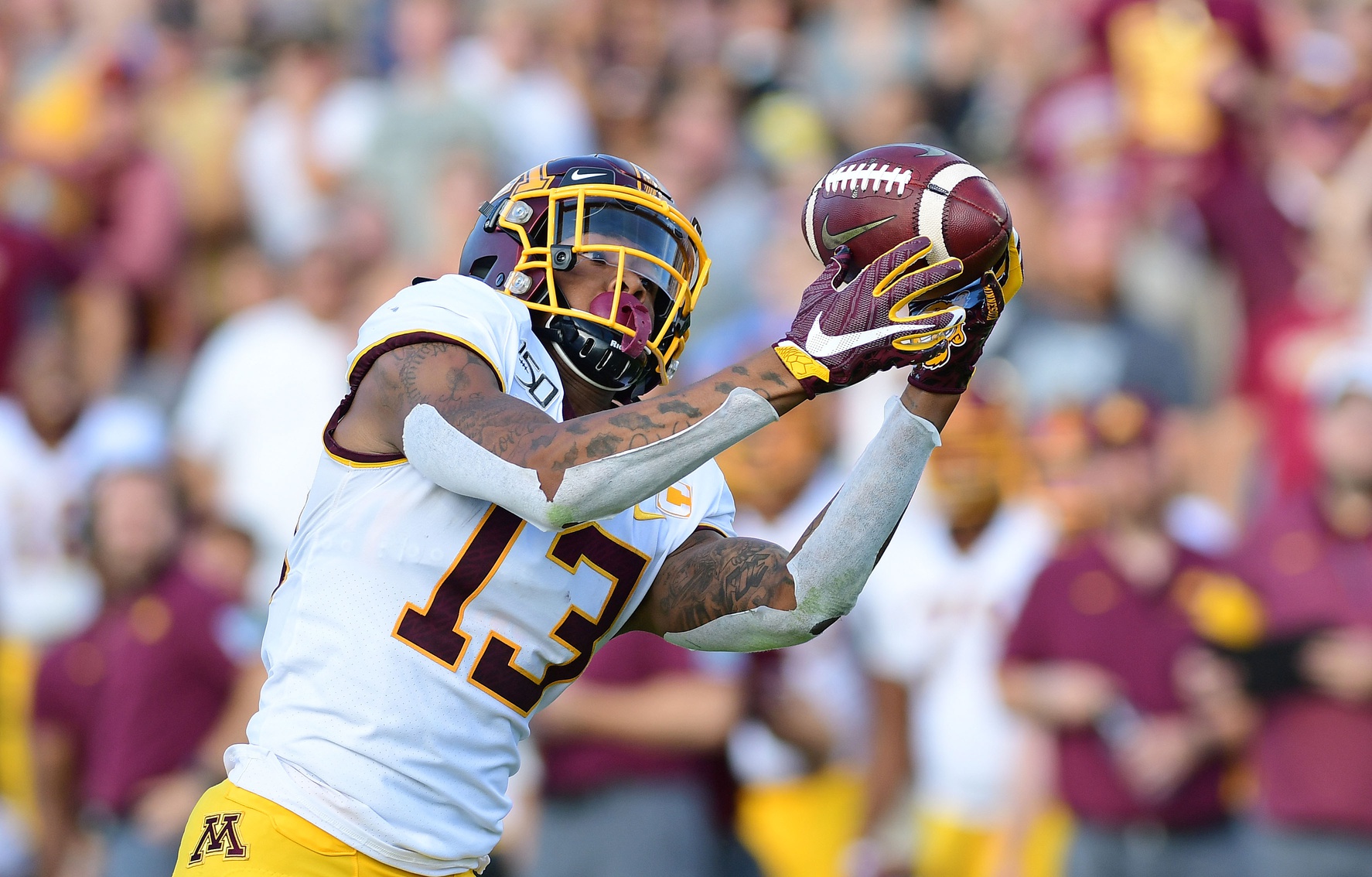 20. WR Rashod Bateman, Minnesota
While Tyler Johnson was racking up his targets from the slot last year for Minnesota, it was the sophomore Bateman who had the more difficult task of beating coverage on the outside. He did just that, recording 20.3 yards per catch to go with 1,219 receiving yards.
21. TE Kyle Pitts, Florida
Pitts is listed as a tight end, but he in no way looks like one with the way he moves on a football field. There's a reason why Florida had three receivers drafted last spring, but it was the sophomore tight end who led the team in receiving yards. He's special.
22. CB Shaun Wade, Ohio State
You can pretty much throw out any preseason ranking for Wade. After manning the slot admirably the past couple of seasons, Wade's draft projection hinges almost entirely on how he fares in his transition to outside cornerback this season.
23. WR Amon-Ra St. Brown, USC
St. Brown is smooth in pretty much everything he does. He's a crafty route-runner who's also sneaky good after the catch. He broke 18 tackles last season.
24. WR DeVonta Smith, Alabama
Smith's size — 6-foot-1, 175 pounds — will be an issue. It didn't stop him from consistently making plays at the catch point this past season, though. On 112 catchable targets over the past two years, Smith has only three drops.
25. IOL Wyatt Davis, Ohio State
The Buckeyes had the best guard tandem in the nation last season, as the duo of Jonah Jackson and Wyatt Davis didn't allow a single sack or hit all season. Davis has even better physical tools than Jackson, too.
26. LB Nick Bolton, Missouri
Bolton is built like a brick at 6-foot, 235 pounds, and he hits like one, too. He's also been sneaky good in coverage, posting a 90.4 grade in that area last season.
27. LB Dylan Moses, Alabama
Moses has all the physical tools to be an elite NFL linebacker, but we've yet to see him get his hand on a single pass in his college career. He's an exceptional tackler in space, though, with five missed tackles on 107 attempts in his career.
28. CB Patrick Surtain, Alabama
Surtain has been starting since he was a true freshman at Alabama, which has placed him firmly on NFL radars. In two seasons, Surtain has allowed only 681 yards on 986 coverage snaps.
29. RB Travis Etienne, Clemson
Etienne is the most explosive running back in college football, and he broke the PFF record for broken tackles per attempt last season after shedding 91 tackles on 207 rushing attempts.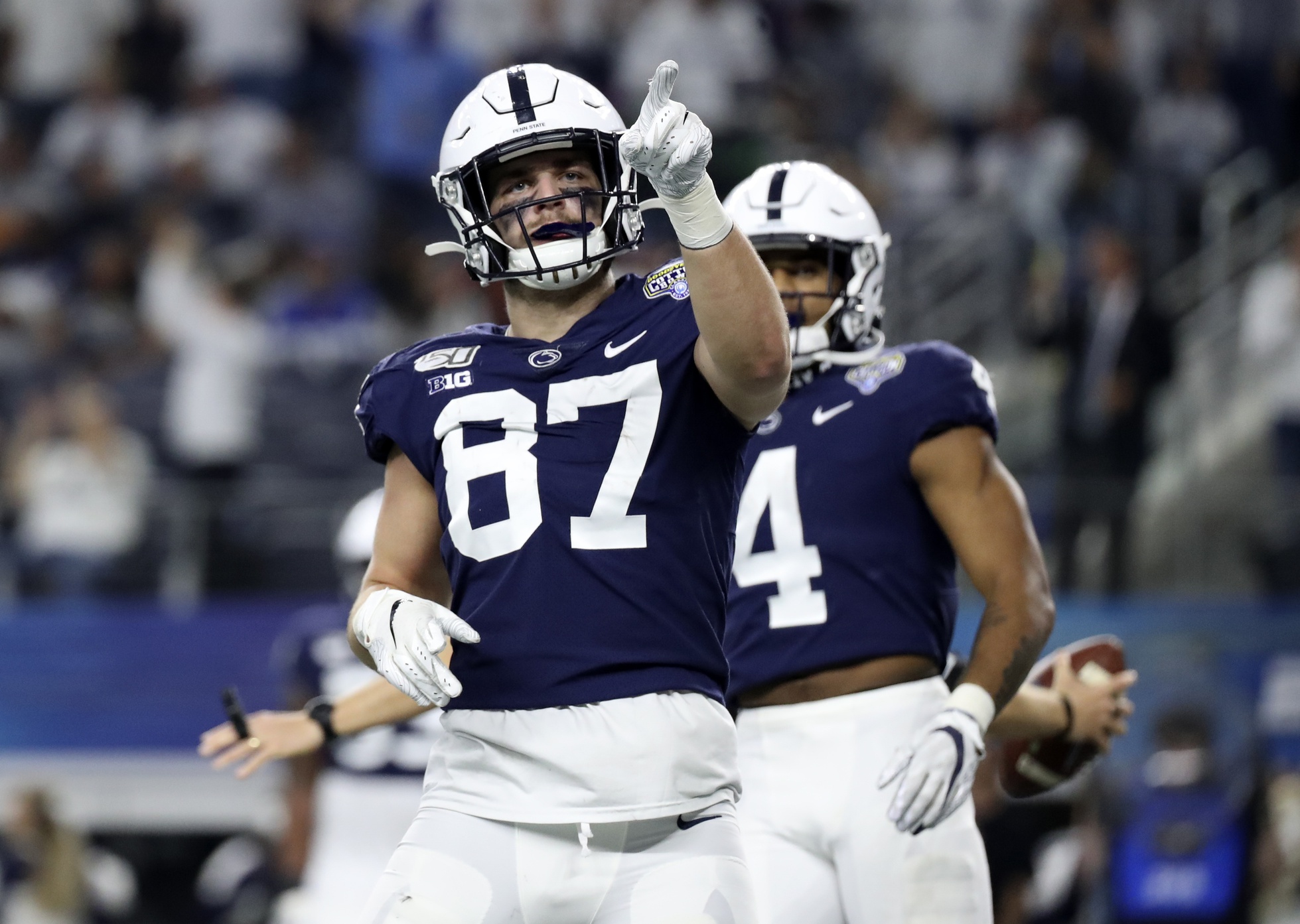 30. TE Pat Freiermuth, Penn State
Freiermuth is the total package with vise-grip hands, a barn-door catch radius and NFL-caliber inline blocking. That's a rarity in this day and age.
31. S Andre Cisco, Syracuse
There hasn't been a better playmaker in college football over the past two seasons than Cisco. As a true freshman and sophomore at Syracuse, Cisco picked off 12 passes and broke up 13 more. He has ridiculous range but freelances far too often at the moment.
32. EDGE Chris Rumph II, Duke
Rumph is the most polished pass-rushing defensive lineman in the country and had the highest win rate in the country last season. He just needs to get his weight up from his listed 225 pounds.
33. WR Tutu Atwell, Louisville
The wide receiver label might be doing Atwell a disservice. He should be listed simply as a playmaker. With a rare blend of speed and agility, Atwell is ideal to play the modern vertical slot role.
34. S Hamsah Nasirildeen, Florida State
At 6-foot-4, 220 pounds, Nasirildeen is a thumper of a safety. More realistically, he's a linebacker in the NFL, but his movement skills are evident —he has lined up all over the field for the Seminoles.
35. IOL Trey Smith, Tennessee
Smith wants nothing more than to bury the man across from him on every single play. After blood clots put his career in jeopardy and limited his offseasons, Smith was arguably the best guard in the country over the second half of 2019.
36. S Trevon Moehrig, TCU
Moehrig is far more of a traditional safety body type at 6-foot-2, 208 pounds than his teammate Ar'Darius Washington, but he is far less instinctual and smooth in coverage. That's not a knock with how good Washington is, as Moehrig still put up a 91.9 coverage grade last season.
37. EDGE Aidan Hutchinson, Michigan
Hutchinson holds the crown of being the only defender to give Tristan Wirfs fits last season when he racked up seven pressures against Iowa. The rising junior's versatile body allows him to also kick inside and still produce.
38. EDGE Xavier Thomas, Clemson
Thomas featured in an odd role last season that didn't play to his strengths whatsoever. However, he showed his true talents as a true freshman when he earned an 84.2 pass-rushing grade on 150 pass-rushing snaps.
39. EDGE Kwity Paye, Michigan
The No. 1 freak on Bruce Feldman's list, Paye is only scratching the surface of what he could become. With no polished pass-rushing moves to speak of, he still earned a 77.8 pass-rushing grade in 2019.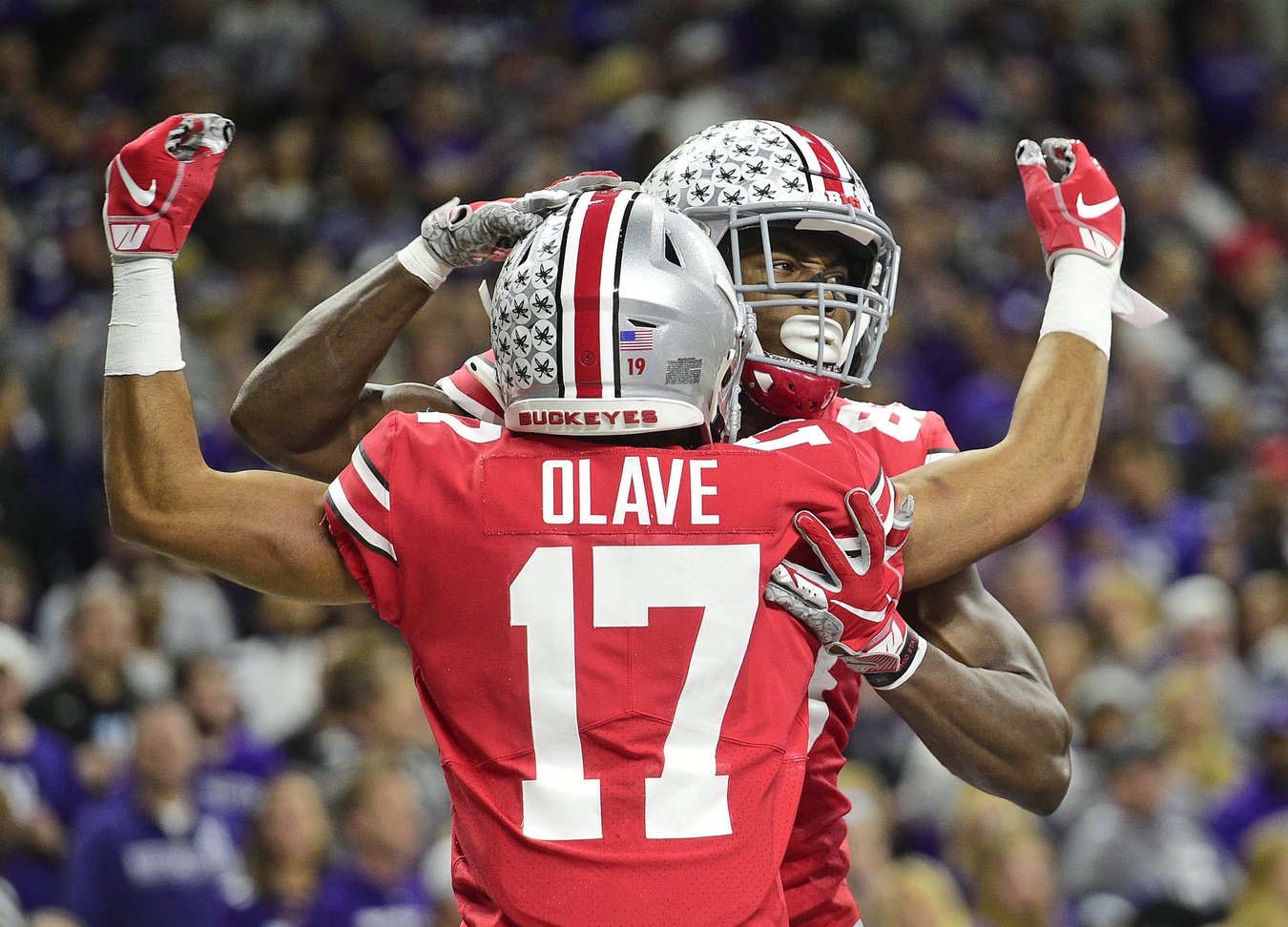 40. WR Chris Olave, Ohio State
No corner who lined up across from Olave last season could keep pace one on one. He's already an incredibly advanced route-runner and brings some downfield juice to the table, as well.
41. CB Asante Samuel Jr., Florida State
Samuel is as agile as any corner in college football. His ability to change directions at will and stop on dimes is why he's broken up 18 passes in two seasons.
42. DI Levi Onwuzurike, Washington
Onwuzurike hasn't quite harnessed his dominant physical tools into dominant physical play, but you see the flashes. He earned an 82.5 overall grade in his first year as a starter in 2019.
43. WR Tamorrion Terry, Florida State
When Terry gets up to speed, there are not many players in college football catching him from behind. The 6-foot-4 wideout has averaged 20.3 yards per catch in his career.
44. OT Liam Eichenberg, Notre Dame
Eichenberg took a massive step forward in 2019 to firmly put himself in the conversation as an early-round prospect. After allowing 23 pressures in 2018, he allowed only 12 last season with no sacks.
45. DI Cory Durden, Florida State
Durden is the definition of a bull in a china shop. He misses tackles all over the place (15 on 47 attempts last year) and is liable to get moved 4-5 yards off the ball in the run game. At the same time, Durden's 45 pressures in 2019 were the most of any returning interior defender in the country.
46. LB Chazz Surratt, North Carolina
When watching Surratt's tape, it's incredible to think that he was playing quarterback as recently as 2018. He's such a smooth athlete who flashes tremendous instincts for the position. Now, he just needs to learn how to tackle after missing 27 attempts last season.
47. EDGE Quincy Roche, Miami (FL)
Roche was unblockable last season at Temple, but beating up AAC tackles is a little different than NFL ones. If he comes close to replicating his 68 pressures at Miami this season and gains some weight, we'll talk more seriously about him as an early-round prospect.
48. IOL Tyler Linderbaum, Iowa
Linderbaum is easily the most athletic interior offensive lineman in the country. After flipping from the defensive line last season, he earned an 81.7 overall grade for the Hawkeyes.
49. EDGE Jayson Oweh, Penn State
Oweh is yet another edge defender who could shoot up boards if he shows a modicum of polish in 2019. He can reportedly run in the 4.3s at 257 pounds, but he still wasn't even a full-time starter last year despite earning an 81.8 pass-rushing grade on 207 pass-rushing snaps.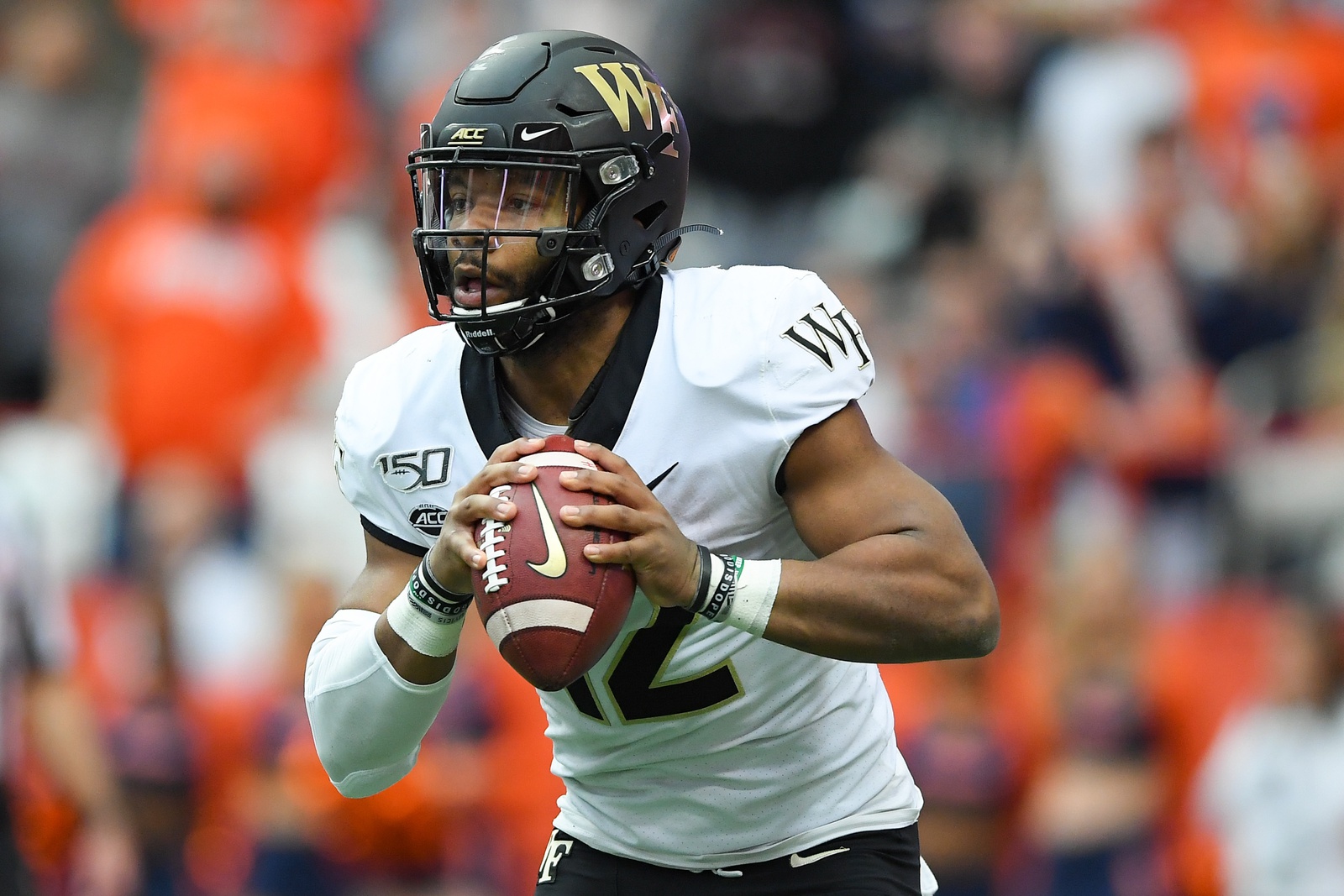 50. QB Jamie Newman, Georgia
We thought Newman would have easily come out on top in the Georgia quarterback competition before he opted out. He earned an 85.7 passing grade last season at Wake Forest. He's a legitimate dual-threat player and one of the best deep-ball throwers in college football.
51. EDGE Tyreke Smith, Ohio State
Smith is one of the best power ends in the class, but we just haven't seen much of him on the field. He played all of 245 snaps last season and didn't see 30-plus snaps in a game until the playoff bout against Clemson. It's hard to see him declaring without football this fall.
52. EDGE Joshua Kaindoh, Florida State
Kaindoh has the kind of flexibility for a 6-foot-7 defensive end that you can't teach. The former five-star recruit is only scratching the surface of what he could be and needs a big season after appearing in only three games last year before getting hurt.
53. OT Rashawn Slater, Northwestern
At 6-foot-3, Slater may be seen as a guard by NFL evaluators. Either way, his three years of starting experience between both tackle spots make him one of college football's most accomplished offensive linemen. Last year, he allowed only five pressures all season.
54. IOL Alijah Vera-Tucker, USC
With only one year of starting experience, Vera-Tucker is at a bigger disadvantage than others without football this fall. His one season was still good enough to land him here, though. He allowed only seven pressures on 590 pass-blocking snaps in 2019.
55. LB Jeremiah Owusu-Koramoah, Notre Dame
Owusu-Koramoah had a slow start to his 2019, but he was a difference-maker in the overhang role in Notre Dame's defense down the stretch. He has modern linebacker athleticism combined with an uncoachable willingness to stick his nose in it despite being undersized.
56. RB Trey Sermon, Ohio State
Sermon is a big back at 220-plus pounds who has consistently broken tackles throughout his career. His .33 career forced missed tackles per attempt rate equaled the marks that Cam Akers and Clyde Edwards-Helaire put up last season.
57. WR Sage Surratt, Wake Forest
Surratt is easily the most physical wide receiver in college football. His 18 contested catches in 2019 ranked sixth in the country, and they came in only nine games before a shoulder injury ended his season. Unfortunately, Surratt has already opted out of the 2020 season to prepare for the draft, so that's all we'll see from him.
58. IOL Creed Humphrey, Oklahoma
Humphrey had a few down games in 2019, but his body of work in two seasons as the starting center for the Sooners is impressive. He's allowed 22 pressures on 896 career pass-blocking snaps. While he has played only center, he's got the size at 6-foot-5, 315 pounds for any interior position.
59. OT Daniel Faalele, Minnesota
Faalele is still far more a projection due to a lack of on-field performance at this point. And without a season, it's difficult to see him declaring. The 6-foot-9, 400-pound tackle has been playing football for only a few years, making his 76.5 pass-blocking grade last season very encouraging.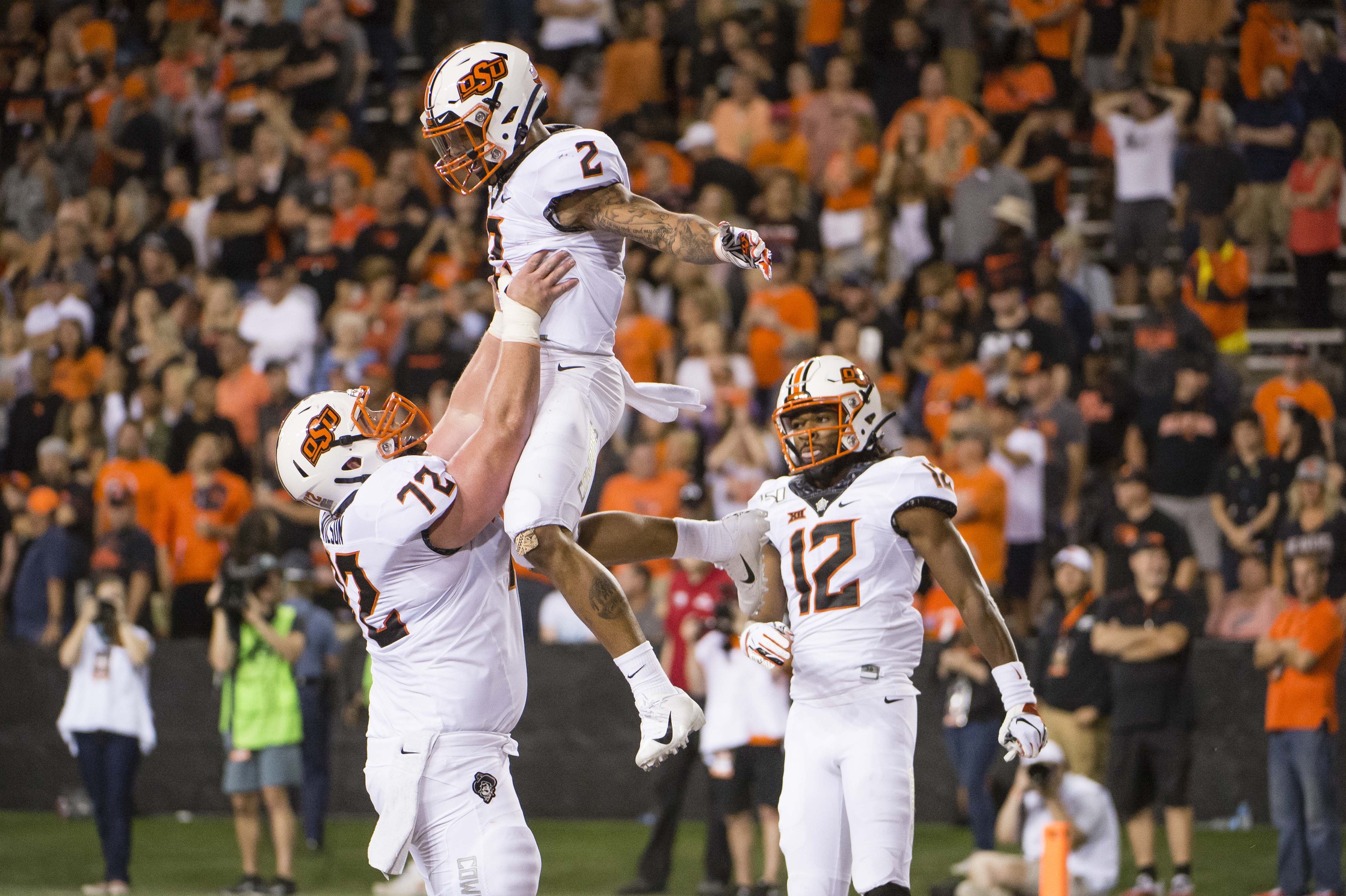 60. WR Tylan Wallace, Oklahoma State
Wallace would have been in the early Day 2 mix last spring had he not torn his ACL midway through 2019. He's been incredibly productive in his college career, averaging 113 yards per game over the past two years.
61. EDGE Joe Tryon, Washington
Tryon's motor runs so hot that he borders on out of control at times. He's a big, physical end who is still developing a package of pass-rushing moves.
62. RB Chuba Hubbard, Oklahoma State
Hubbard was a massive surprise to return to school after leading college football with 2,090 yards last season. He's a tad undersized at 208 pounds and runs limited concepts at Oklahoma State, but he runs as hard as any back in college football.
63. OT Abraham Lucas, Washington State
At 6-foot-7, 324 pounds, Lucas is a massive tackle who is already accomplished in pass protection with grades of 85.0-plus in each of the past two seasons. He has limited experience in the run game but possesses the physicality to figure it out.
64. LB Jack Sanborn, Wisconsin
Sanborn plays with terrific balance and already earned a solid 83.8 coverage grade in his first year as a starter last season. However, we need to see him get stronger and clean up his tackling game after missing 24 attempts last season.
65. CB T.J. Carter, Memphis
Carter may not have ideal size, but he has ideal production. He allowed only 22 catches on 41 targets as a junior in 2019 for 237 yards. With four years of starting experience under his belt, he'll be one of the most battle-tested corners in the class.
66. DI Tyler Shelvin, LSU
Shelvin is one of the safer projections in the class. He is the definition of a space-eating nose tackle. As a sophomore, the 345 pounders earned an 88.3 run-defense grade before opting out this fall.
67. TE Brevin Jordan, Miami (FL)
Jordan is more H-back than true tight end at the moment. He has the type of speed to run the seam that you want at the position, though. In addition, he has broken 12 tackles after the catch on 67 career catches.
68. CB Elijah Molden, Washington
Molden is the best pure slot corner in the class at the moment. He earned a 90.9 coverage grade with four picks and 10 pass breakups from that position last year. The worry is if he can ever be more than that as an every-down player.
69. DI Malik Herring, Georgia
Herring is the type of defensive lineman who you can rely on but will never get you too excited. While he's not an explosive athlete by any means, he still earned a 90.5 overall grade last season.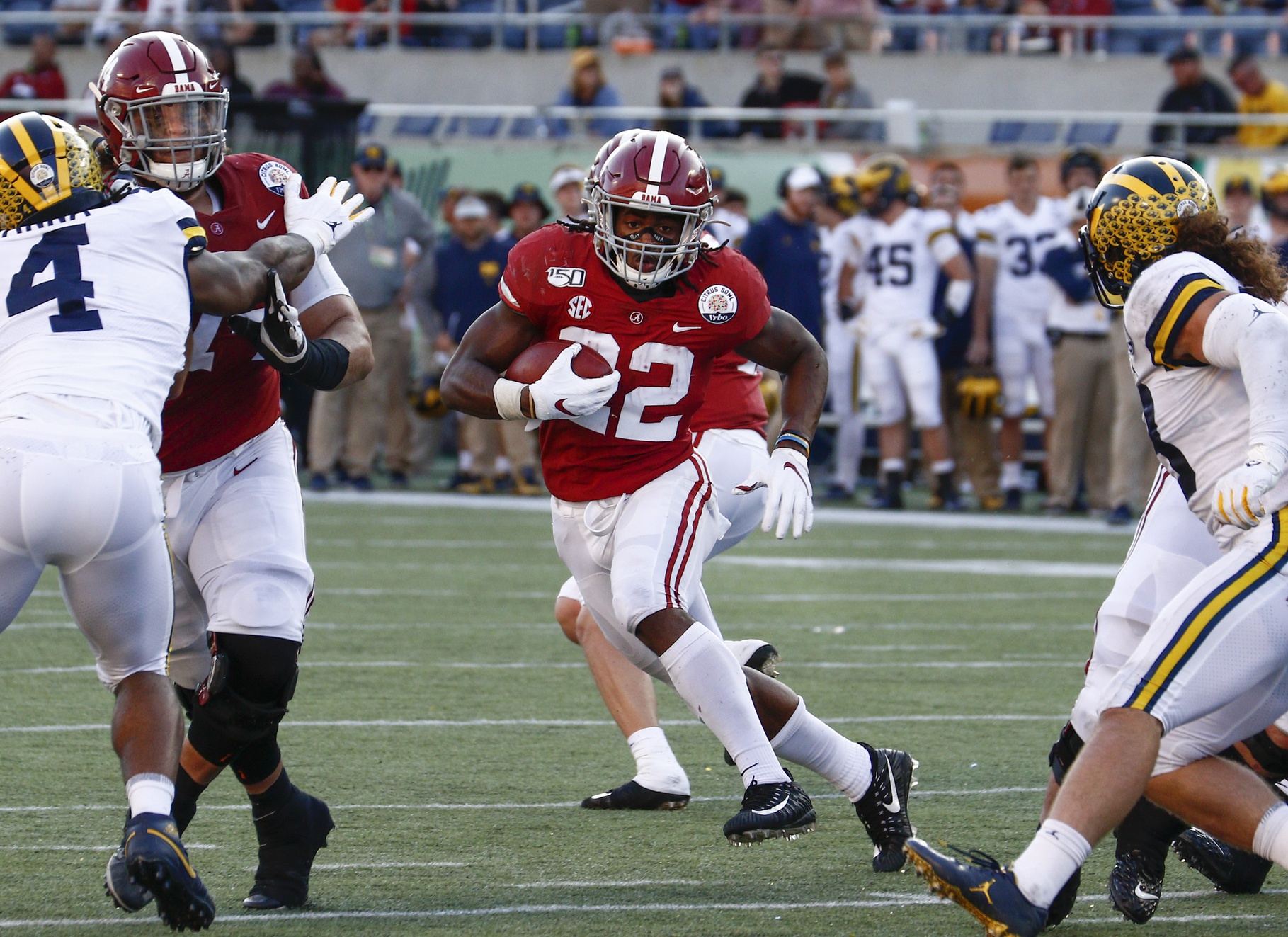 70. RB Najee Harris, Alabama
Harris ticked a big box in 2019 when he proved he has legit ball skills out of the backfield, hauling in 27 of 33 targets for 304 yards and seven scores. He is your quintessential bruiser between the tackles. Just don't expect many big plays due to his lack of speed.
71. RB Zamir White, Georgia
White is next up in the Georgia running back pipeline. he is an explosive, 215-pound back who averaged 3.6 yards after contact on 78 attempts last season.
72. OT Jack Carman, Clemson
With Penei Sewell opting out to prepare for the 2021 NFL Draft, Carman may own the title of best line-of-scrimmage mover at the tackle position in college football. He also came into his own in pass protection down the stretch last season, finishing with 14 pressures allowed.
73. RB Journey Brown, Penn State
Brown was part of a committee approach at Penn State last season until it was clear he was the top running back option toward the end of the year. He's the only other back in the nation who can match Travis Etienne's explosiveness; Brown averaged a ridiculous 4.8 yards after contact per attempt last season.
74. WR Tre Walker, San Jose State
It's a shame we won't get to see what Walker can do in a full season. He averaged over 110 yards per game last season and broke 21 tackles on 79 catches. The senior is a sudden route-runner who can get open at all levels of the field.
75. RB Kenneth Gainwell, Memphis
Gainwell is arguably the top receiving back in the draft after hauling in 51 catches on 59 targets for 610 yards while breaking 20 tackles as a receiver last season. However, his size (5-foot-11, 195 pounds) will be an issue, unfortunately. He's already opted out of his redshirt sophomore campaign to prepare for the draft.
76. DI Darius Stills, West Virginia
Stills is a squatty defensive tackle at 6-foot-1, 285 pounds, and he came into his own as a junior last year. He had 33 pressures on the season, with 18 of those coming in his final five games.
77. LB Jabril Cox, LSU
Cox could push his draft stock much higher this season after transferring from North Dakota State. He's got the long, lean body type that NFL evaluators covet. He earned coverage grades over 85.0 in each of the past two seasons for the Bison.
78. CB Deommodore Lenoir, Oregon
Lenoir is a physical and productive two-year starter for the Ducks. He's so physical, in fact, that his best position in the NFL may end up being safety. As a tackler, he should translate easily. He's missed only eight of 137 tackle attempts in his career.
79. QB Kyle Trask, Florida
Trask is one of the players I'm looking forward to seeing the most this season. Last year was his first season as a starting quarterback since middle school, and he still held his own with a 69.9 overall grade in the SEC. With a big arm, Trask could take a massive leap as he grows more comfortable in the Gators' offense.
80. IOL Zion Johnson, Boston College
In his first year of FBS football after transferring from Davidson, Johnson was a bulldozer of a guard. His eight big-time blocks ranked sixth among guards nationally.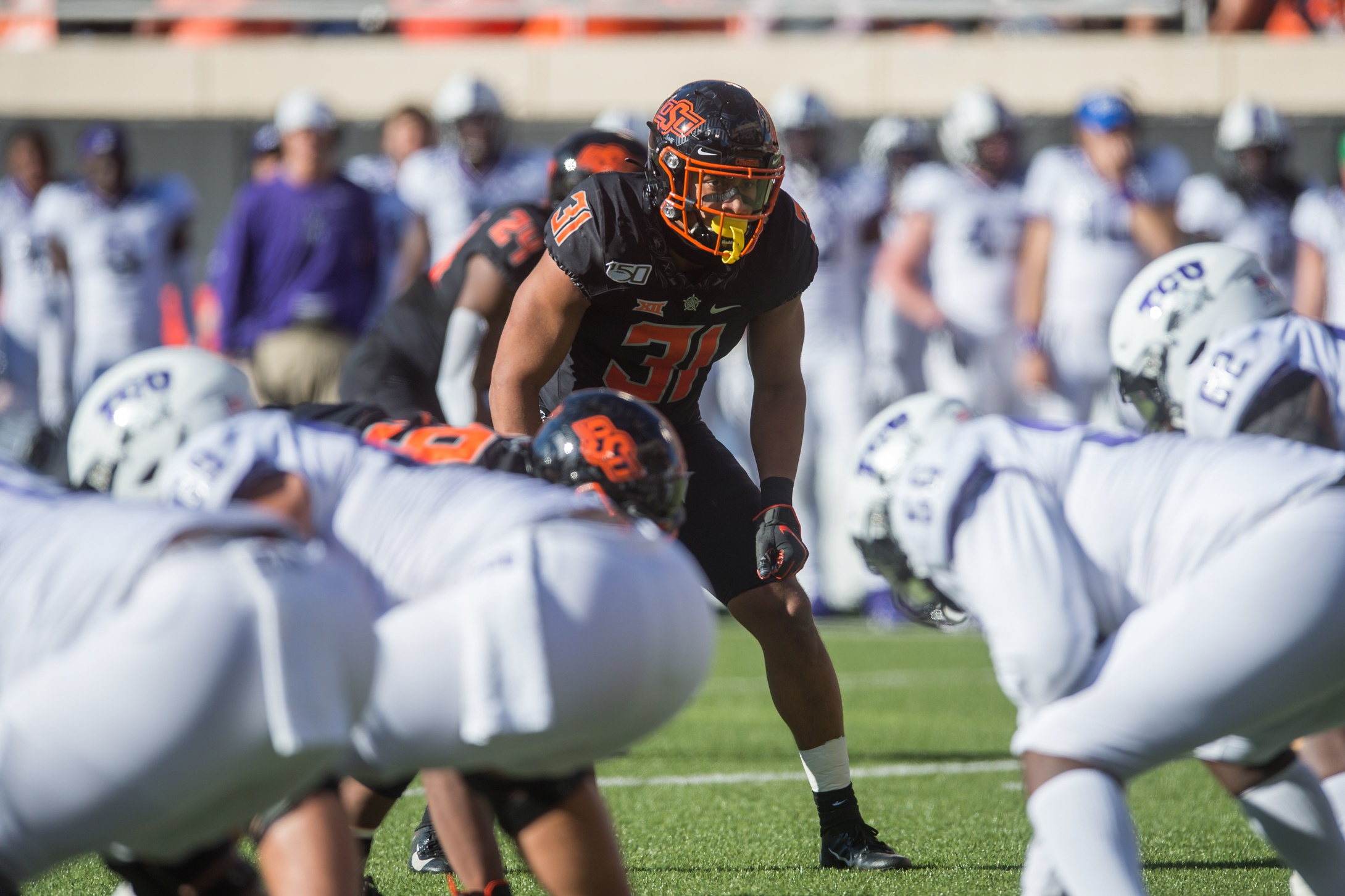 81. S Kolby Harvell-Peel, Oklahoma State
Harvell-Peel is yet another playmaker in a loaded safety class. His 14 forced incompletions last season ranked second at the position in the country, while his five interceptions ranked seventh.
82. DI Jordan Davis, Georgia
Davis is a mammoth interior defensive lineman at 6-foot-6, 330 pounds who has some awe-inspiring reps when he puts it all together. He plays with such inconsistent leverage, however. Because of that, he has struggled to stay on the field, playing only 265 snaps last season.
83. IOL Josh Myers, Ohio State
Myers is an enforcer in the middle of Ohio State's offensive line. He just needs to go for fewer kill shots in pass protection after allowing 15 pressures for a 72.5 pass-blocking grade last season.
84. WR Nico Collins, Michigan
Collins isn't your average 6-foot-4, 220-pound receiver. He has legit wheels and averaged 19.7 yards per reception last season. That combination of size and speed is intriguing, but he needs to develop into a more well-rounded route-runner.
85. QB Sam Ehlinger, Texas
Ehlinger's grade has improved considerably every single year of his college career en route to a 90.1 overall mark last season. Unfortunately, his arm is borderline for the NFL, so he'll have to be near-perfect to go high.
86. CB Jaycee Horn, South Carolina
Horn has racked up eight pass breakups in each of his first two seasons with the Gamecocks. He's a long, smooth athlete who could push his draft stock into Round 1 with a big year. I rarely say it about corners, but his tackling is a serious issue at the moment. He's missed 20 of his 96 tackle attempts in his career.
87. S Caden Sterns, Texas
Sterns is big (6-foot-1, 207 pounds), athletic and a former top recruit. We'd love to see more playmaking from him after only one pass breakup last season.
88. S Reed Blankenship, Middle Tennessee State
Blankenship is a smooth athlete on the back end, and his best position in the NFL may end up being cornerback. He needs to play with more ferocity against the run to stick at safety in the league.
89. EDGE DeAngelo Malone, Western Kentucky
Malone is another undersized edge rusher. He currently tips the scales at only 230 pounds, but it looks like he has the frame (6-foot-4) to get near 250. He may not have the production of guys such as Chris Rumph or Quincy Roche, but Malone has more juice off the edge than both. He's athletic enough where he could even transition to off-ball linebacker if need be. Last season, he racked up 14 sacks, 12 hits and 26 pressures.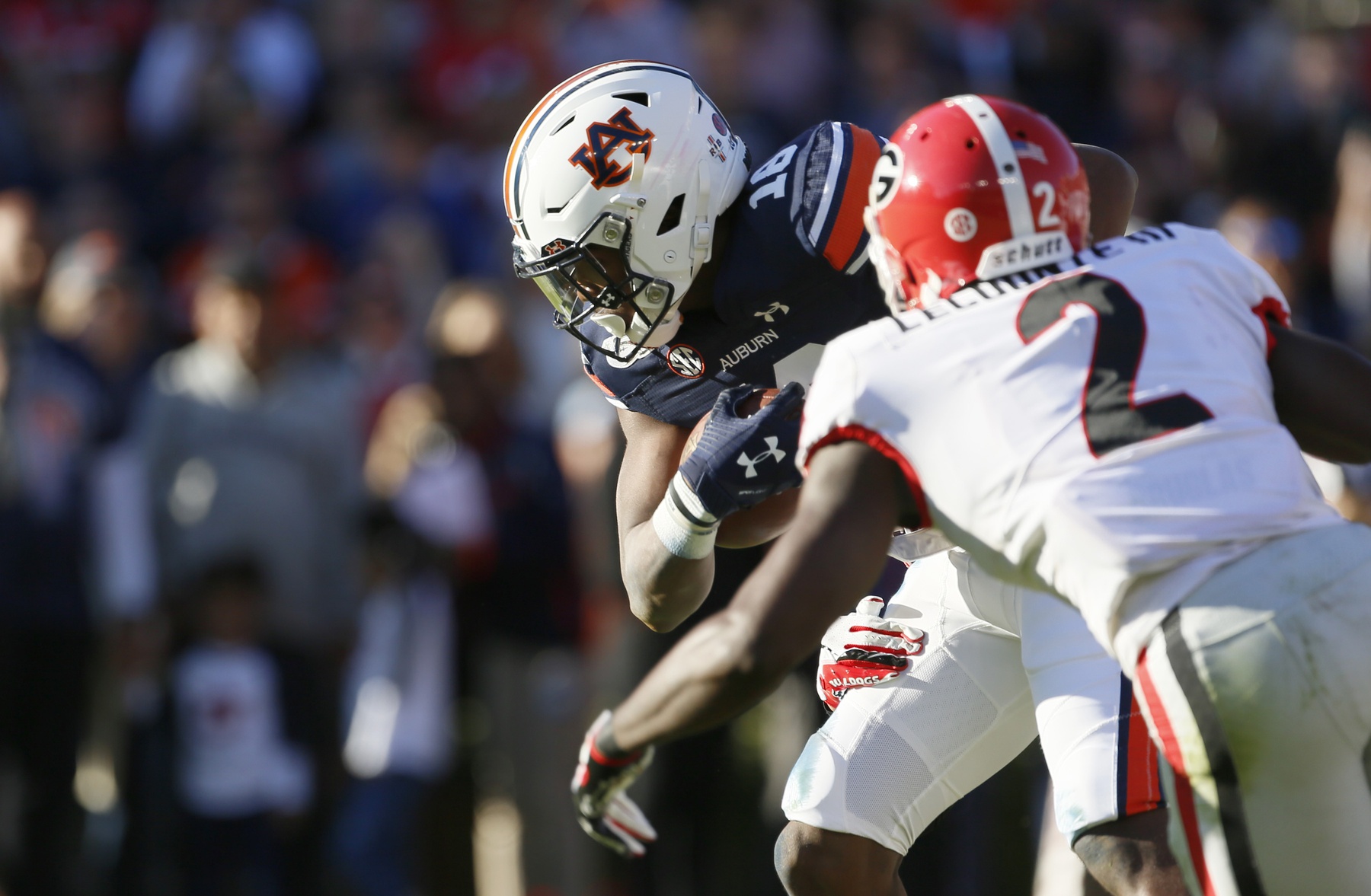 90. CB Tyson Campbell, Georgia
A turf toe injury limited Campbell to only 275 snaps last season, but they were some pretty darn impressive reps. He allowed only eight catches on 20 targets for 94 yards with three pass breakups and no touchdowns surrendered.
91. TE Charlie Kolar, Iowa State
Kolar is a bit of a plodder, and that will limit how high he goes in the draft. That didn't limit his production in 2019, however, as he hauled in more catches targeted 10-plus yards downfield (28) than any returning tight end in college football.
92. S Paris Ford, Pittsburgh
Ford may be a tad undersized for a safety at 6-foot, 190 pounds, but he throws his body around with a recklessness you can't help but love. In his first year switching from corner to safety, he broke up seven passes and picked off three more.
93. LB Cameron McGrone, Michigan
McGrone is one of the most agile linebackers in college football. He's also already proven to be adept at stacking blockers at the point of attack.
94. CB Israel Mukuamu, South Carolina
At 6-foot-4, 205 pounds, Mukuamu is one of the largest corners you'll ever see. He won't be a fit for every scheme, but he's a nightmare to get off of at the line of scrimmage.
95. EDGE Joseph Ossai, Texas
Ossai is an edge/off-ball hybrid at the moment with a near-even split of pass-rushing (228) and coverage (263) snaps. He is a handful when coming downhill and shows tremendous pop in his hands.
96. WR Terrace Marshall Jr., LSU
After Marshall played third fiddle to Justin Jefferson and Ja'Marr Chase last season, it's his time to shine in 2020. He has a wide catch radius and projects as a possession-type receiver in the league.
97. DI LaBryan Ray, Alabama
A foot injury cost Ray his 2019 season, but he flashed the makings of a violent run defender on his 326 snaps as a sophomore in 2018. He racked up 18 run stops on only 168 snaps in run defense.
98. OT Jalen Mayfield, Michigan
Mayfield could have benefited greatly from another season at tackle, but he has already opted out to prepare for the 2021 NFL Draft. He has the requisite athleticism, yet he gave up a hefty 27 pressures last season and looked outclassed against NFL-caliber edge groups from Penn State and Ohio State.
99. WR Dazz Newsome, North Carolina
Newsome is a modern vertical slot weapon. His 13 deep receptions last season were the fifth-most of any returning receiver in college football.
100. CB Kyler Gordon, Washington
A true freak athlete at the position, Gordon is still honing his craft as an outside corner. The redshirt sophomore has rare change-of-direction ability that shows when he breaks on routes.