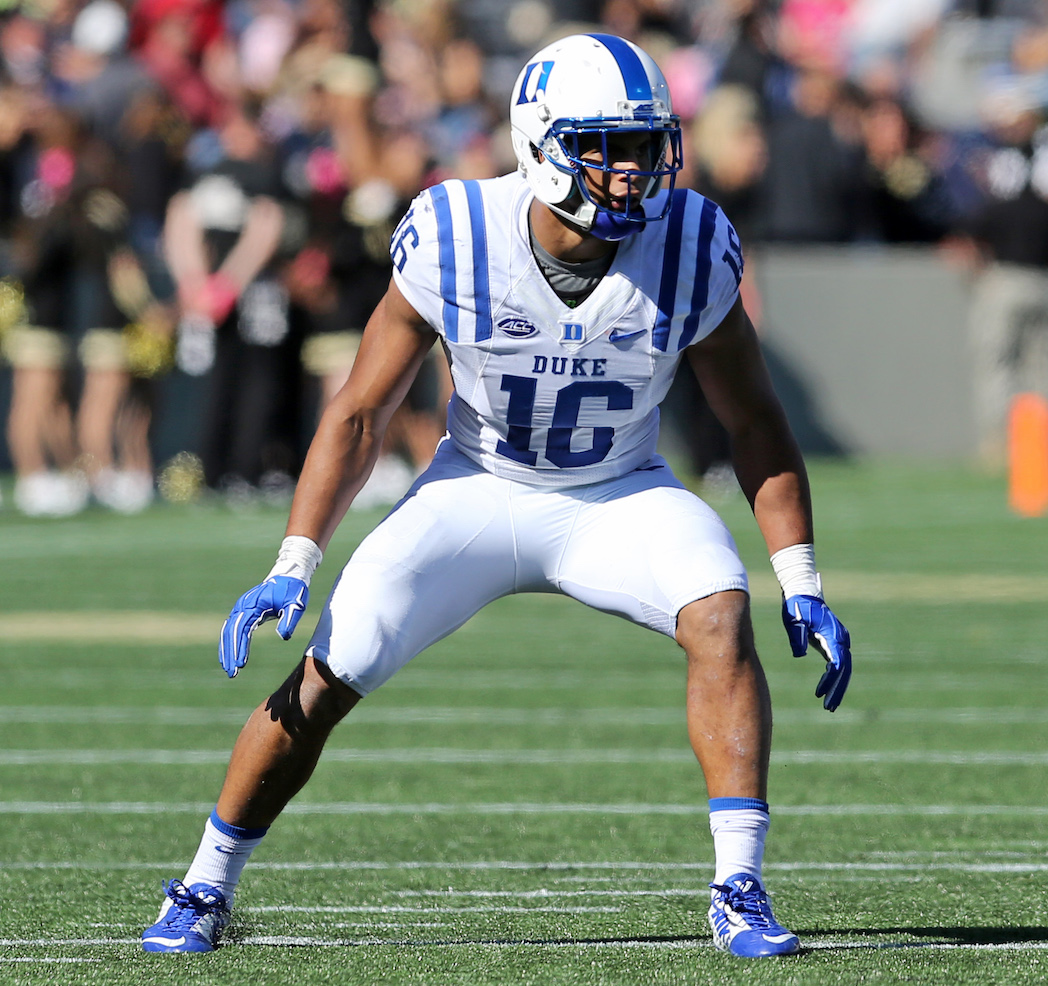 Duke Blue Devils' Jeremy Cash #16 in action against the Army West Point Black Knights during a college football game on Saturday, October 10, 2015 in West Point, NY. Duke won. (AP Photo/Gregory Payan)
Day 1 of practices is in the books at Senior Bowl. Here are five players who stood out who also put up impressive numbers in our college football grades this season:
1. Jeremy Cash, S, Duke: While he is listed as a safety, he primarily lined up as an outside linebacker and slot cornerback at Duke this season (just 2 percent of his snaps came at safety, compared to 41 percent in the slot and 57 percent at linebacker). He earned just an average coverage grade in 2015, but was an absolute standout against the run and as a pass-rusher, earning the No. 1 grade in both areas at his position.
Cash is a player who could be viewed 32 different ways by the 32 different NFL teams, but he has the potential to be an elite prospect in the eyes of teams who are looking to recreate what Arizona has done with Deone Bucannon – a college safety who now lines up at linebacker in the Cardinals' defense. The only question mark there is whether Cash — who measured in at 6-foot-1 and 212 pounds — is big enough to play that type of role.
Cash's coverage ability is a question mark, and there wasn't much for scouts to go on based on his few snaps at free safety in Tuesday's practice. But he flashed in pass-rush drills, again confirming that he's a playmaker you want attacking the ball as a second-level defender.
2. Bronson Kaufusi, DE, BYU: Kaufusi was a standout in our PFF grades this season. Among draft-eligible 3-4 defensive ends, he earned our eighth-best run-defense grade. Even more impressively, he ranked second in our pass-rush grades, ranking behind only Oregon's DeForest Buckner (who looks worthy of at least a top-10 pick). And in our pass-rush productivity metric, Kaufusi actually ranks higher than Buckner.
Kaufusi backed up that season-long performance with an impressive first day of practice. Kaufusi has the size that NFL scouts are going to look for at the 3-4 DE position, having measured in at 6-foot-7 and 281 pounds, with 34-inch arms.
More importantly: He plays that big. To play this position in the NFL, you need to have the length and power to take on blockers, and during one-on-one pass-rush drills as well as team drills Tuesday, Kaufusi consistently used his length to control opposing offensive linemen and get free of them.
3. Tajae Sharpe, WR, Massachusetts: Sharpe was picked on a bit on Twitter Tuesday after his hands measured just eight inches — far below what you typically see from top wide receiver prospects.
But here's what our data tells us: Sharpe hardly ever dropped a pass this season. On 114 catchable targets, Sharpe had 111 receptions and just three drops, giving him a drop rate of 2.6 that is third-lowest among draft-eligible receivers. And on deep balls thrown 20 or more yards downfield, he had zero drops, hauling in all 12 catchable targets.
He also stood out for his all-around play, earning our fifth-best receiving grade among draft-eligible WRs.
He'll have to overcome questions of competition level during the draft process, but he did very well in Tuesday's practices against better cornerbacks than he's faced all year, making a couple of impressive catches. That's after a very good showing at the East-West Shrine Game, making him a potential sleeper moving forward.
4. Jason Spriggs, OT, Indiana: Spriggs has largely been flying below the radar to this point, but he is someone who graded out well this season. Among draft-eligible offensive tackles, he ranked 20th in our run-block grades, but where he stood out more was in pass protection. He allowed just 13 pressures all season long, ranking fifth in PFF's pass-blocking efficiency metric.
His athleticism was on full display in Tuesday's practice, particularly with his footwork. He consistently was able to mirror pass-rushers, even when they came at him with counter moves. Because he is better as a pass-protector than as a mauling run-blocker, he's likely a better fit in a zone-heavy scheme than a power scheme. But he could be really highly valued by NFL teams that put a premium on athleticism on the offensive line. We wouldn't be surprised if he emerges as a rising prospect in the coming weeks and months.
5. Sterling Shepard, WR, Oklahoma: He was the No. 1 wide receiver in our PFF grades this season, doing most of his damage from the slot (71 percent of routes run came as a slot receiver), ranking No. 1 in the nation in catch rate from that position.
But it would be unfair to label him as simply a slot receiver, as he demonstrated remarkable efficiency on deep routes. He caught all 10 of the catchable balls thrown to him on passes that traveled 20 or more yards downfield, including four touchdowns. That's a limited sample size, but shows what he's capable of when utilized as a deep target.
He was impressive in Tuesday's practice, appearing bigger and stronger than you'd expect from a player who measured in at 5-10 and 193 pounds. He looks like he has a strong frame to absorb contact, and he showed the ability to separate from coverage during one-on-one drills.