Welcome to the tenth NCAA Team of the Week for the 2018 season. As always, our team of over 500 analysts has dissected and graded every snap of every game to bring you the most detailed and valid set of picks you can find anywhere.
The Week 10 Team of the Week saw many impressive performances across the country and as always, overall grades, playing time and the quality of opposition has been factored in to make these selections.
The PFF Team of the Week is brought to you by Eckrich, the Official Smoked Sausage of the College Football Playoff.
Offense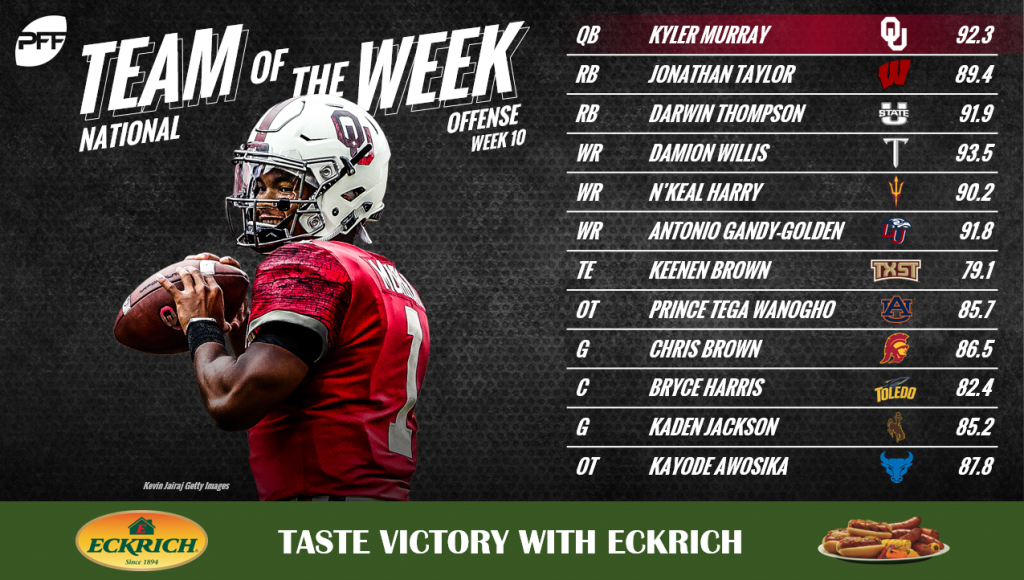 QUARTERBACK
Kyler Murray, Oklahoma
Week 10 Grade: 92.3
Murray overcame two early interceptions to pepper the field with positively-graded throws, including four passes that would have moved the chains but were dropped. The stat line wasn't great, as he finished 20-for-35 for 342 yards to go with three touchdowns and the two interceptions, but he also picked up five first downs (including a touchdown) on the ground, finishing with 98 yards as a runner.
RUNNING BACK
Jonathan Taylor, Wisconsin
Week 10 Grade: 89.4
Taylor got back on track with 27 carries for 208 yards this week, with 112 of his yards coming after contact while forcing four missed tackles. He also added a 30-yard reception to the mix, upping his season receiving total to 52 yards.
RUNNING BACK
Darwin Thompson, Utah State
Week 10 Grade: 91.9
While the 10.8 yards per attempt are impressive, Thompson created 10.2 yards after contact per rush, as 132 of his 141 yards came after contact this week. He forced an incredible nine missed tackles on only 13 rushes with seven of his rushes moving the chains (including three scores).
WIDE RECEIVER
Damion Willis, Troy
Week 10 Grade: 93.5
Willis caught 10 of his 13 targets for 213 yards and a score, and he moved the chains on seven of those receptions. He's used his 6-foot-4 frame to break out as one of the nation's most productive receivers over the last two weeks.
WIDE RECEIVER
N'Keal Harry, Arizona State
Week 10 Grade: 90.2
It was another highlight reel effort for Harry, who caught all nine of his targets for 161 yards, 92 yards after the catch, and three touchdowns. Harry forced two missed tackles along the way while picking up first downs or touchdowns on seven of his nine catches.
WIDE RECEIVER
Antonio Gandy-Golden, Liberty
Week 10 Grade: 91.8
Add another 6-foot-4 receiver to the team as Gandy-Golden had his second 200-plus yard game in five weeks. He caught nine of 14 targets for 205 yards and two scores, with all nine of his catches moving the chains.
TIGHT END
Keenen Brown, Texas State
Week 10 Grade: 79.1
It wasn't a great week for tight end play, but Brown returns to the list after catching all seven of his targets, five of which went for first downs. He picked up 31 of his 57 yards after the catch while forcing three missed tackles.
OFFENSIVE TACKLE
Prince Tega Wanogho, Auburn
Week 10 Grade: 85.7
Tega Wanogho didn't allow a pressure on his 35 snaps in pass protection, and his 85.2 grade as a run-blocker ranked second in the nation, making his performance the best all-around outing from a Power-5 tackle on the day.
OFFENSIVE GUARD
Chris Brown, USC
Week 10 Grade: 86.5
The USC run game paved the way in their victory over Oregon State, and Brown's 87.3 grade as a run-blocker is the highest among all guards this week. He was also clean in pass protection on 29 attempts.
CENTER
Bryce Harris, Toledo
Week 10 Grade: 82.4
Harris stayed clean on 36 snaps in pass protection, and he was strong in the run game with a 76.9 grade, good for second-best in the country this week.
OFFENSIVE GUARD
Kaden Jackson, Wyoming
Week 10 Grade: 85.2
It was all about the run game for Wyoming, who carried the ball over 60 times against San Jose State. Jackson was the best lineman on the field for the Cowboys; his 83.5 run-blocking grade ranked third in the nation this week, and he didn't allow a pressure on his nine attempts.
OFFENSIVE TACKLE
Kayode Awosika, Buffalo
Week 10 Grade: 87.8
Awosika allowed only two pressures on 49 attempts, but he was even better in the run game with an 89.1 grade that paced all FBS tackles this week.
Defense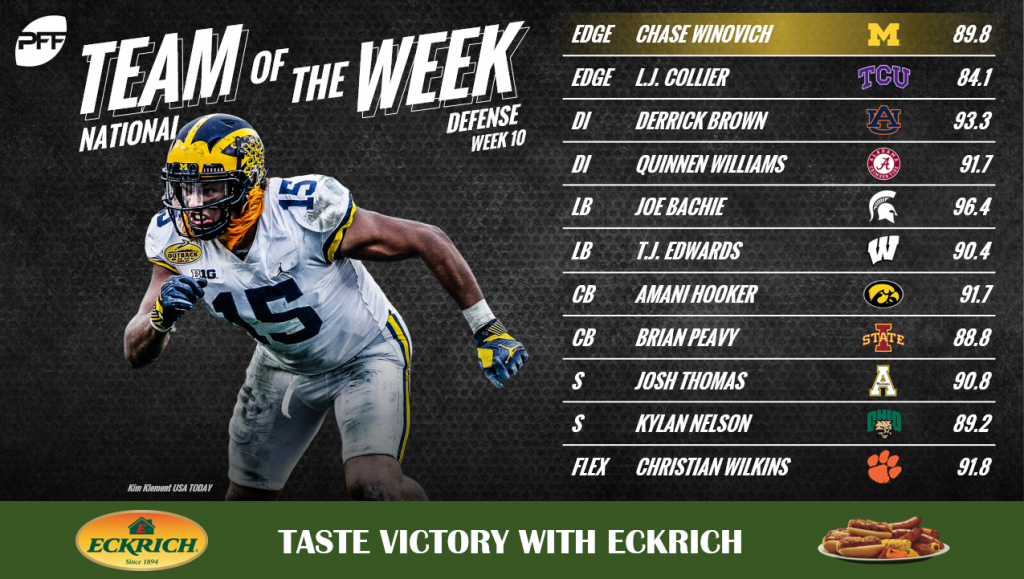 EDGE DEFENDER
Chase Winovich, Michigan
Week 10 Grade: 89.8
Michigan dominated defensively, and Winovich was once again their best player. He notched seven pressures (one sack, six hurries) on only 21 rushes and he got in on one more stop as he played an efficient 34 total snaps on the afternoon.
EDGE DEFENDER
L.J. Collier, TCU
Week 10 Grade: 84.1
Collier picked up seven pressures (one sack, one QB hit, five hurries) on his 30 rushes while adding five more stops on the day. He tied for fifth in the nation in total pressures and ranked fifth with a run defense grade of 81.2 this week.
DEFENSIVE INTERIOR
Derrick Brown, Auburn
Week 10 Grade: 93.3
With a dominant career-high 93.1 pass-rush grade, Brown was the best player on the field for Auburn. He finished with five pressures (sack, two QB hits, two hurries) and a batted pass on 30 rushes to go with three stops and a forced fumble.
DEFENSIVE INTERIOR
Quinnen Williams, Alabama
Week 10 Grade: 91.7
It was yet another incredible game by Williams, who has been the best defensive player in the nation this season. This time, the entire country was watching as he finished with seven pressures (four sacks, one QB hit, two hurries) on 29 rushes to go with four more stops in the run game.
LINEBACKER
Joe Bachie, Michigan State
Week 10 Grade: 96.4
Bachie had one of the best playmaking efforts you'll see at linebacker, as he forced three fumbles and broke up a pass. The all-around game netted a 99.9 grade against the run and a 91.9 mark in coverage.
LINEBACKER
T.J. Edwards, Wisconsin
Week 10 Grade: 90.4
Edwards did his best work in coverage, where he broke up two passes on only four targets, and he finished with five stops and a quarterback pressure on the day.
CORNERBACK
Amani Hooker, Iowa
Week 10 Grade: 91.7
As Iowa's primary slot cornerback, Hooker allowed just one catch and two yards on four targets while picking off a pass and also getting in on a sack.
CORNERBACK
Brian Peavy, Iowa State
Week 10 Grade: 88.8
Peavy continues to put up impressive numbers in the pass-heavy Big 12, this week allowing only two catches and 13 yards on five targets while breaking up two passes. He's allowed just 133 yards across eight games this season.
SAFETY
Josh Thomas, Appalachian State
Week 10 Grade: 90.8
Making the most of his 32 snaps between free safety and the slot, Thomas picked off a pass and broke up another while also getting in on a stop. He was targeted three times in coverage, allowing just one catch for -2 yards.
SAFETY
Kylan Nelson, Ohio
Week 10 Grade: 89.2
Another hybrid safety/slot player, Nelson was targeted twice, allowing no catches while breaking up a pass and intercepting the other.
FLEX DEFENSE
Christian Wilkins, Clemson
Week 10 Grade: 91.8
Wilkins was disruptive on his 33 snaps, picking up five pressures (two sacks, one QB hit, two hurries) on just 24 rushes while forcing a fumble and getting in on two more run stops.