One of, if not the, hottest position battles in the SEC this offseason is who will start at quarterback for the Georgia Bulldogs. A team that boasts a star in the backfield in running back Nick Chubb, there has been much debate over who should start under center in 2016.
Do they go with the more experienced Greyson Lambert, the relatively untested junior Brice Ramsey or the unknown in true freshman Jacob Eason? After looking back at 2014 and 2015, and watching the 2016 spring game, I'm of the opinion that the best man for the job is Eason. Here's why:
Greyson Lambert is inconsistent
Lambert had a couple of really big performances for the Bulldogs in 2015, and there's no taking away from that. Most notable was his performance against South Carolina in the third game of the year, when he completed 24-of-25 passes for 330 yards and three touchdowns. Simply put, it was one of the best single-game performances we saw from a quarterback all year. So what's the problem? Well, as good as that performance was, that game was the outlier and there were plenty of struggles to go along with it.
His completion percentage over the course of the season was 63.0 percent, but he had five games where he completed less than 53 percent of his throws, and his adjusted completion percentage over the course of the year, which takes into consideration drops, batted passes, throwaways, spikes and throws while being hit, was just 72.0 percent, ranking 44th in the nation.
The 79th-highest graded quarterback in the nation last year, Lambert's passing grade of +7.0 was equal to his grade in that game against South Carolina, with the rest of his year rounding out at average, with a lot of ups and downs helping him there. Heading into his senior season, the Bulldogs can't trust which version of Lambert will turn up on a weekly basis.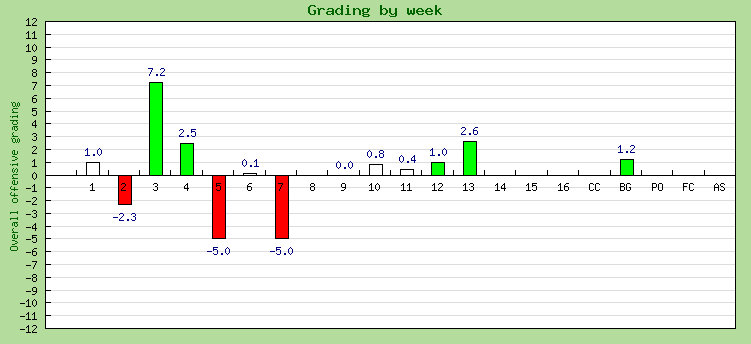 Brice Ramsey has never shown he deserves the starting job
Ramsey arrived at Georgia as a four star recruit, but has yet to live up to that hype. In his defense, he's yet to really get a chance, never attempting more than 14 passes in a single game in the past two seasons. Perhaps he would have had more opportunities however, if he had stood out a little bit more in those games. This past season he attempted four passes of 20 yards or further downfield, with three falling incomplete, and the other being intercepted. He was more consistent between 10 and 19 yards, going five-for-seven, for 84 yards and an interception, but his struggles to push the ball downfield when needed are noted.
571 players took at least one snap at quarterback in 2015, with Ramsey's grade of -2.0 ranking tied for 390th in the nation. He also lacks the big time throws in his repertoire, with just two throws with a +1.0 grade from 78 passing attempts over the past two seasons, with seven throws grading at -1.0 or worse in that span. It's hard to judge him fully based on such a small sample size, but he certainly hasn't shown anything, even in flashes, to think that he can make this starting role for the Bulldogs his own.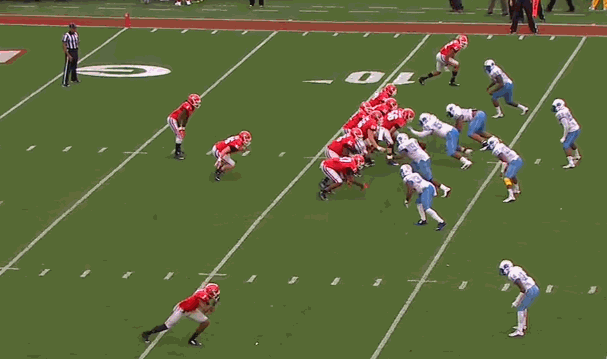 Teams shouldn't be afraid to start true freshman
There's a common misconception that inexperience automatically means that a quarterback is going to struggle. However, when you look at the true freshman quarterbacks who saw significant time a year ago, that's not always true. In fact, six of the 16 true freshman to play 310 or more snaps in 2015 finished the season with a positive grade. Four of them, Washington's Jake Browning (+21.6), Boise State's Brett Rypien (+17.9), UCLA's Josh Rosen (+16.9) and Baylor's Jarrett Stidham (+16.0), finished the season grading within the top 42 quarterbacks in the nation.
Rosen and Browning have drawn heavy praise for their play last season, and head into 2016 with high expectations after impressive freshman campaigns. There are obviously no guarantees, but if Georgia head coach Kirby Smart feels like Jacob Eason is ready, and that he can perform to a similar level to that of those standout freshman last year, there's a strong case to be made that he is the Bulldogs' best option at quarterback. Consider that all four of those freshman graded higher than both Lambert and Ramsey a year ago, and a similar level of performance from Eason would see a Georgia offense that already has Nick Chubb as a star out of the backfield take a big step forward in 2016.
Eason looks to have all the tools
Lambert's inconsistency, Ramsey's inability to seize the role for himself and the previous success of other freshman quarterbacks are part of the equation, but the key to all of this is really just how good Eason can be. A five-star recruit, Eason stuck with the Bulldogs even after the coaching change from former head coach Mark Richt to man in charge Kirby Smart, and comes into college highly regarded after a high school career decorated with awards. The truth is though, with the exception of the spring game, we've yet to see what he can do against college competition. He impressed in that spring game though, limiting mistakes and making a big time throw to get everyone talking.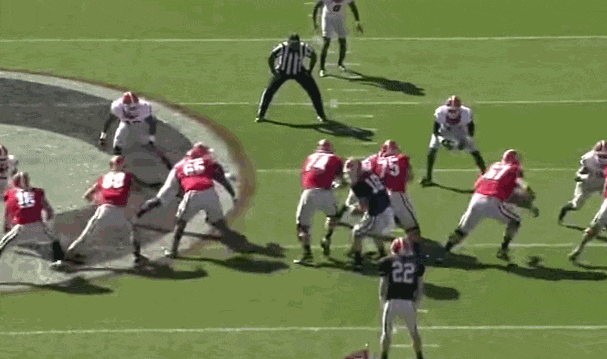 Even without that big throw on the corner route, he looked far more composed and in control of the offense, taking what the defense would give him on short passes to running backs out of the backfield. It was only a scrimmage, so we shouldn't get too carried away, but even under those conditions he looked to be the best quarterback of the group.
It's easy to get caught up in the hype of a five-star freshman quarterback, but the Georgia Bulldogs want to compete in the SEC once again in 2016. With Nick Chubb expected to be back in time for the season beginning, and Sony Michel a very good option if he isn't quite ready, Georgia don't need a quarterback to win them games week-in, week-out. What they need is someone who can avoid mistakes and occasionally make a big throw to keep the defense honest. Even as a true freshman, that quarterback looks to be Jacob Eason.