National Signing Day is just a week away, thus with the early entries to the NFL draft now official, this is the perfect time to look at the biggest holes in each team's roster left by attrition. With the understanding that incoming freshmen are unlikely to simply replace the departing talent of their respective teams, here is a look the biggest needs of each of the Big Ten teams heading into February 1:
Illinois: Defensive line
Illinois' best player on either side of the ball, DE Dawuane Smoot, will have the eyes of the NFL on him during Senior Bowl week, but as far as the Illini are concerned, he is one of five exiting senior defensive linemen they need to replace for 2017. Smoot exits after racking up 111 total combined pressures in 2015 and 2016, while the quartet of Chunky Clements, Rob Bain, Carroll Phillips and Gimel President amassed 1,812 snaps this past season (Smoot played another 838). Jamal Milan, who played 397 snaps in 2016, does return, but with so much attrition, any incoming freshmen Illinois brings in will have a chance to compete for playing time immediately.
Indiana: Offensive guard
Indiana has verbal commits at offensive tackle and center, but none thus far at guard. This could be an issue if the school is unable to address the position on signing day, as they lost both starting guards to graduation this year. Dan Feeney is one of the best all-around guard prospects in the nation, and was Indiana's only above-average graded offensive lineman on run blocks in 2016. Jacob Bailey is the other standout the Hoosiers will lose this season; he gave up just six combined pressures in pass protection this season. Indiana seems to have a knack for developing offensive linemen as of late, but losing the two best all-around blockers on the team will be tough to overcome, especially if new incoming talent isn't ready to compete for playing time.
Iowa: Linebacker
Iowa's need at linebacker isn't necessarily immediate, as Josey Jewell and Bo Bower combined for more than 1,1600 snaps this past season and will return for their senior seasons. However, no other linebacker had 100 reps for the Hawkeyes in 2016, making this one of the least-experienced position groups on the roster. With the team so reliant on the senior duo, they need to bring in new talent to foster competition at the backup spots, and prepare themselves for 2018.
Maryland: Quarterback
2016 starting quarterback Perry Hills was an inconsistent passer throughout his college career, but unfortunately his backups gave little reason for optimism themselves. With Hills now graduated, the Terrapins are left razor-thin at the position, and need help from the incoming class. Maryland has locked up JUCO transfer Ryan Brand, but a strong freshman recruit could set the team up well for the future.
Michigan: Linebacker
The Wolverines have a number of losses on the defensive side of the ball, but the LB corps has been especially hard-hit with the official early NFL-entry of Jabrill Peppers and graduation of Ben Gedeon. Peppers' hybrid position will not be easily filled, and Gedeon ended his college career by posting six sacks and 40 total defensive stops. Mike McCray does return, but with the other two starters gone, there are clear opportunities for young players earn significant playing time.
Michigan State: Quarterback
The Spartans have developed a number of strong QBs over the past decade, but currently don't have any signal-callers on the existing roster that have shown much promise. Damian Terry completed just 30 percent of his passes that traveled at least 10 yards through the air from the line of scrimmage, while Brian Lewerke completed just 53.4 percent of his passes and had a QB rating of just 40.3 when under pressure. A freshman QB would almost certainly have a chance to compete for significant playing time this year considering the significant troubles of the returning players.
Minnesota: Wide receiver
With Drew Wolitarsky moving on, there is little positive production returning from the Minnesota receiving corps. Wolitarsky caught 66 balls for 859 receiving yards in 2016, while no other receiver reached 20 receptions. Quarterback should also be a concern for the Golden Gophers, as Mitch Leidner also departs, but the receiving corps as it stands offers little in terms of vertical explosion, which was a hallmark of new head coach P.J. Fleck's offenses at Western Michigan.
Nebraska: Quarterback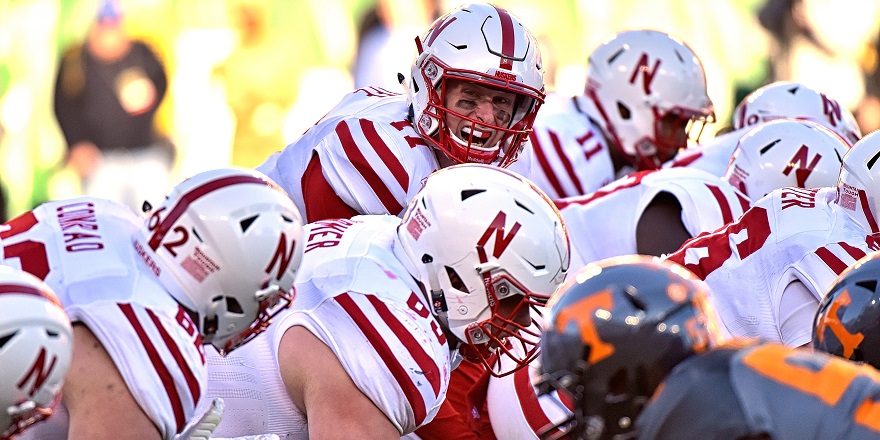 While Tommy Armstrong Jr. had a wildly disappointing senior season, his departure leaves a huge hole on Nebraska's roster. The Cornhuskers completely fell apart when Armstrong struggled through injuries late in the season, as backup Ryker Fyfe completed just 48.0 percent of his throws. Both QBs depart, leaving Nebraska with just six snaps of experience at the position. Without a viable option at QB, Nebraska is likely to take a couple of steps backward in 2017.
Northwestern: Offensive line
Northwestern's big need is less about attrition, and more about performance. The 2016 Wildcat line did not feature a player with an above-average grade on run or pass blocks, and three of the five starters gave up more than 35 total QB pressures. Northwestern needs an open competition at every offensive line position, and unless last year's returnees show significant improvements throughout spring practices, any incoming freshman on the line is likely to have a real opportunity at winning a starting spot.
Ohio State: Center
Pat Elflein was one of the top guards in the country in 2015, and because of his experience, was asked to slide inside to center for the 2016 campaign. While he had another solid year in run blocking, he was not as effective on pass blocking (16 total pressures allowed). He departs for the NFL, and the Buckeyes have already announced intentions to move Billy Price, their best returning lineman for 2017, inside to replace Elflein. Price will likely prove to be just as capable of changing positions as Elflein was this season, but would probably be better served being kept at guard. In order to prevent shuffling in the future, Ohio State should consider pursuing a top-end target at the position. This would help to improve the overall continuity of the line, something that appeared to be lacking at critical points during the 2016 season.
Penn State: Defensive end
Garrett Sickel's decision to enter the NFL draft early means that for the second consecutive season, both starting defensive ends for the Nittany Lions will need to be replaced. This puts a heavy burden on the underclassmen forced into a major role, and leaves Penn State potentially thin at a position that has been a strength of the defense each of the past two seasons. The 93 combined pressures of Sickels and the graduating Evan Schwan isn't something likely to be duplicated with a freshman in 2018, but replenishing the talent level at the position is clearly paramount, and will better position Penn State for the future.
Purdue: Secondary
The Boilermakers posted the 11th-lowest raw cumulative pass-coverage grade in 2016, as just one back-end player posted an above-average grade for the season. While most of the unit returns intact for 2017, the reality is that a talent upgrade would go a long way toward improving the all-around defensive production. Purdue has quietly put a number of solid defensive backs into the NFL in recent seasons, but it's difficult to look at the play of the unit this past season and identify who the next star is. While only one starting position needs to be replaced from last year, a big recruit at either corner or safety could potentially compete with the current talent for immediate playing time.
Rutgers: Offensive athleticism
WR and return specialist Janarion Grant played just 214 snaps in 2016 due to a season-ending ankle injury suffered against Iowa, and without the unit's star, the Rutgers offense was listless. Without its lone threat, Rutgers was shut out four times in conference play, and scored just seven points in two other conference contests. Grant recently announced his plan to return for the 2017 season, but even with his return it's clear that Rutgers needs to upgrade the talent of its receivers and running backs if it hopes to get back to being competitive in the Big Ten.
Wisconsin: Offensive tackle
Wisconsin is yet another Big Ten school that could use a talent upgrade at quarterback, but at least the Badgers do have experience at the position returning for 2017. The biggest hole is left by left tackle Ryan Ramczyk's early entry to the NFL. Ramczyk gave up just one sack, three hits and eight hurries in 2016, and was also one of the best run blockers in the country at his position. Outside of C Michael Dieter, the rest of the returning offensive line did not impress this past season; Even with Ramczyk's massive grade, Wisconsin's cumulative raw pass-blocking grade ranked just eighth in the Big Ten, and both run- and pass-blocking grades were well-below average for the season. The Badgers are of course unlikely to strike gold twice in a row, as Ramczyk was a transfer student in his only season of Division I football in 2016, but based off last year's results, Wisconsin could use depth and legitimate competition at the position in 2017.