The 2016 college season is almost upon us, and the SEC looks to be a ridiculously talented conference once again. From talented passers to the toughest running backs around, to stud pass-rushers that are ready to get after quarterbacks.
So who are the best at various aspects of play around the conference? In honor of media days, here are our picks for 2016 SEC superlatives:
Best deep passer: Chad Kelly, Ole Miss
Kelly was the only returning SEC QB to have adjusted completion percentage above 50 percent on passes 20 yards or further downfield, with an adjusted completion percentage of 52.9 percent. He threw for 1,218 yards on those passes, more than 400 yards more than the next best returning QB, and his 16 deep touchdown throws were nine more than the next best quarterback.
Runner-up: Brandon Harris, LSU
Most accurate QB under pressure: Brandon Harris, LSU
He didn't have the highest completion percentage on throws under pressure, but Harris suffered from his receivers dropping seven passes. Under pressure, now returning SEC quarterback had a higher adjusted completion percentage than Harris' 67.2 percent.
Runner-up: Chad Kelly, Ole Miss
Toughest HB to tackle: Leonard Fournette, LSU
Could it be anyone else? His 85 missed tackles forced were the most of any running back in the nation, let alone the SEC. Adding another 10 missed tackles as a receiver, Fournette is in the range that a 100 missed tackle forced season isn't out of the question.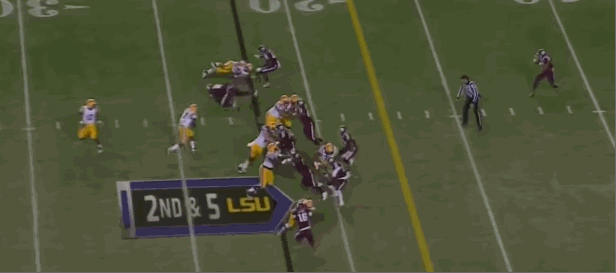 Runner-up: Alvin Kamara, Tennessee
Best hands: Terry Godwin, Georgia
Seven players in the SEC had a perfect drop rate last year, but none saw more targets than the 35 catchable passes thrown Godwin's way in 2015. The Bulldogs will be hoping he can follow that up with another solid season in 2016.
Runners up: Jared Cornelius, Arkansas, Ethan Wolf, Tennessee, Gus Walley, Mississippi State, Ish Witter, Missouri, Mikel Horton, Kentucky and Dallas Rivers, Kentucky
Most productive TE: Jeremy Sprinkle, Arkansas
Good news for Razorbacks fans worried about the loss of Hunter Henry, there's another player ready to take over his production at the tight end position. No returning tight end had a higher yards per route run average than Sprinkle's 1.83.
Runner-up: O.J. Howard, Alabama
Most productive WR: Travin Dural, LSU
While the star of the offense is running back Leonard Fournette, there's talent at wide receiver for the Tigers too. No returning wide receiver had a higher yards per route run average than Dural, who averaged 2.84.
Runner-up: Dominique Reed, Arkansas
Best deep threat: Josh Reynolds, Texas A&M
Reynolds saw 11 catchable passes travelling 20 yards or more through the air in 2015, catching all 11 for 450 yards and two touchdowns. No other returning receiver had more than 385 yards on deep passes.
Runner-up: Calvin Ridley, Alabama
Best pass blocking tackle: Sean Rawlings, Ole Miss
It's not easy as a pass blocker in the tough SEC, with some of the best pass rushers in the nation. Rawlings didn't allow a sack all year, allowing just one hit and nine pressures throughout 2015.
Runner-up: Chance Hall, Tennessee
Best run blocker: Robert Leff, Auburn
Leff only played 270 snaps in 2015, but was once of the best run blockers in the nation on a small sample size. His +8.7 run blocking grade was the highest of any returning offensive tackle in the conference.
Runner-up: Braden Smith, Auburn
Best tackling linebacker: Reuben Foster, Alabama
Foster missed three tackles both in run defense and in coverage. In total, he missed a tackle once every 13.2 attempted, the best rate of any inside linebacker who played at least 222 snaps in 2015.
Runner-up: Skai Moore, South Carolina
Most productive pass rusher: Tim Williams, Alabama
Ok, so he did it on 147 pass rushing snaps, but Williams was the definition of a pass rushing specialist, generating 52 total pressures including 11 sacks. His pass rushing productivity rating of 28.4 was by far the best in the SEC.
Runner-up: Ryan Anderson, Alabama
Best run stuffer: Daylon Mack, Texas A&M
No returning interior defensive linemen in the SEC had a higher grade in run defense than Texas A&M's Mack and his +22.2 grade. 17 of his 26 tackles resulted in a defensive stop during the 2015 season.
Runner-up: D.J. Jones, Ole Miss
Best defensive playmaker: Jalen Tabor, Florida
Tabor was targeted 58 times on the Gators defense during the 2015 season, and came away with four interceptions and 12 pass breakups. His 12 pass breakups were four more than the next best returning cornerback in the SEC.
Runner-up: Eddie Jackson, Alabama
Best returner: Antonio Callaway, Florida
No punt returner was as impressive as Callaway was last year. Scoring two touchdowns, he averaged 17.8 yards per punt return, providing a catalyst for the Florida Gators.
Runner-up: Cameron Sutton, Tennessee