College football award watch season has finally arrived, which means it's time for PFF to reveal our preseason picks for the most prestigious honors in the game.
The Chuck Bednarik Award and Bronko Nagurski Trophy are two separate honors that recognize the same achievement: the best defensive player in college football.
With the help of PFF's College Football Preview Magazine, PFF grades, advanced stats and, of course, the tape, here is a look at PFF's favorites for the awards and a list of other names to watch.
Editor's Note: This is a PFF preseason watch list that is in no way affiliated with the Chuck Bednarik Award or Bronko Nagurski Trophy
Subscribe to
Stingley might be the best athlete to take the field this fall. He's so rare in that regard that even head coach Ed Orgeron is thinking about giving him some reps on offense. Coming out of high school in 2019, the five-star cornerback clocked a 4.3-second 40 time and a 42-inch vertical. He then proceeded to have the best true freshman season since PFF College's inception back in 2014, recording a 91.7 PFF grade and 0.97 wins above average (WAA), the latter being the best mark among non-quarterbacks all year.
Last year, he saw two fewer targets per game on average, as it quickly became apparent that opposing quarterbacks weren't looking to test him. Stingley faced 30 targets over his seven outings, allowing just seven first downs while forcing five incompletions, three of which came against Missouri despite playing most of the game with an ankle injury.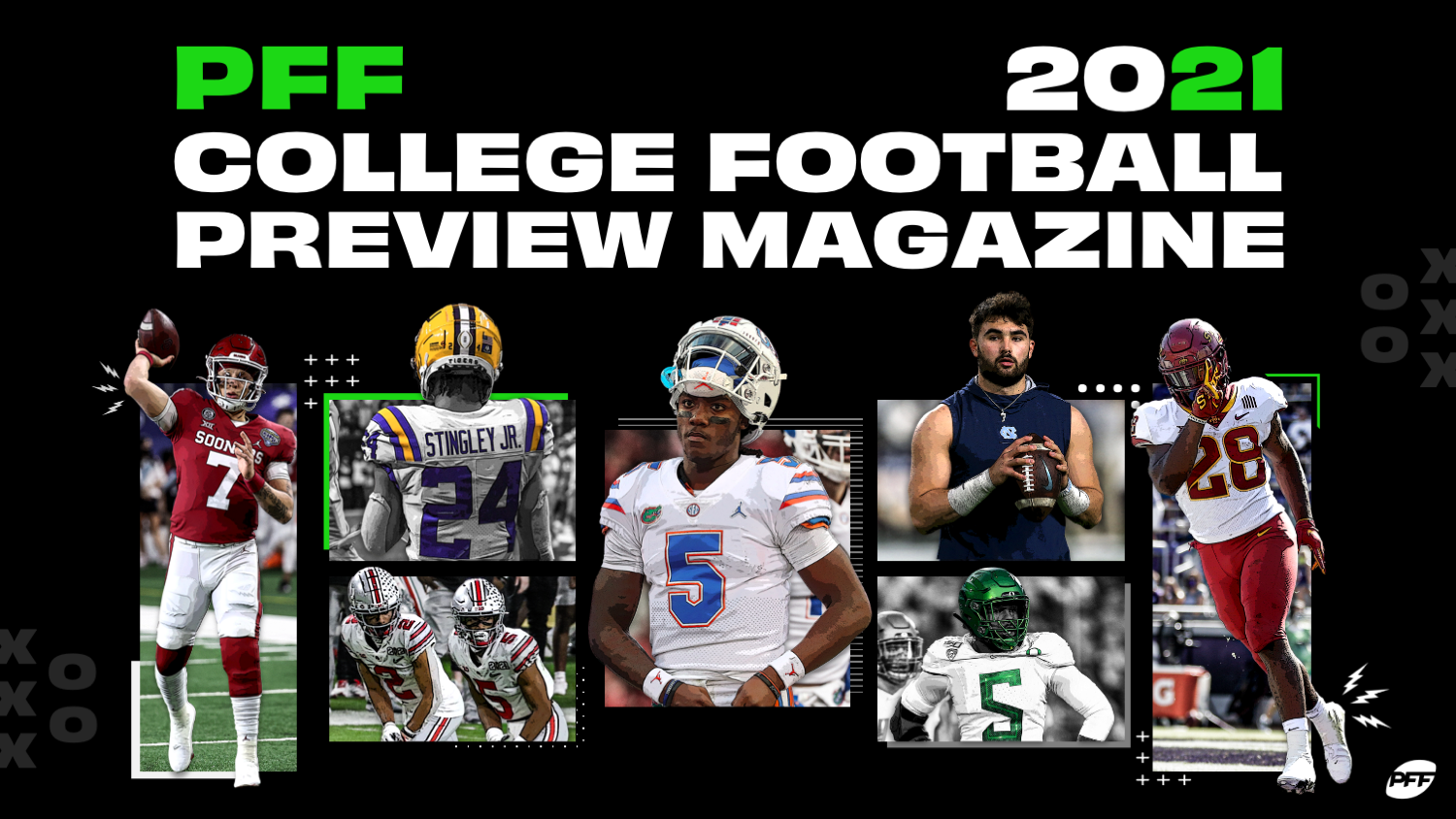 Bonitto might be the most underrated player in college football. The rush-end led all FBS edge defenders in pass-rush grade (93.6), pass-rush win rate (28%) and pressure rate generated (25.7%) in 2020. Bonitto ranks in the top five in all three metrics among Power Five edge defenders since PFF began grading college football seven years ago,
Bonitto's explosiveness and athleticism caused headaches for every offensive tackle he faced, and no lineman succeeded in shutting him down in 2020. His lowest win rate in a single game this past year sat at 17.6% — a pretty solid day for most FBS edge rushers.
Gardner arrived in the Queen City as a three-star recruit in 2019 and earned a 90.2 PFF coverage grade as a true freshman, defying the dreaded learning curve at almost every turn. He was seemingly always at the catch point and hardly ever lost. And nothing changed in Year 2.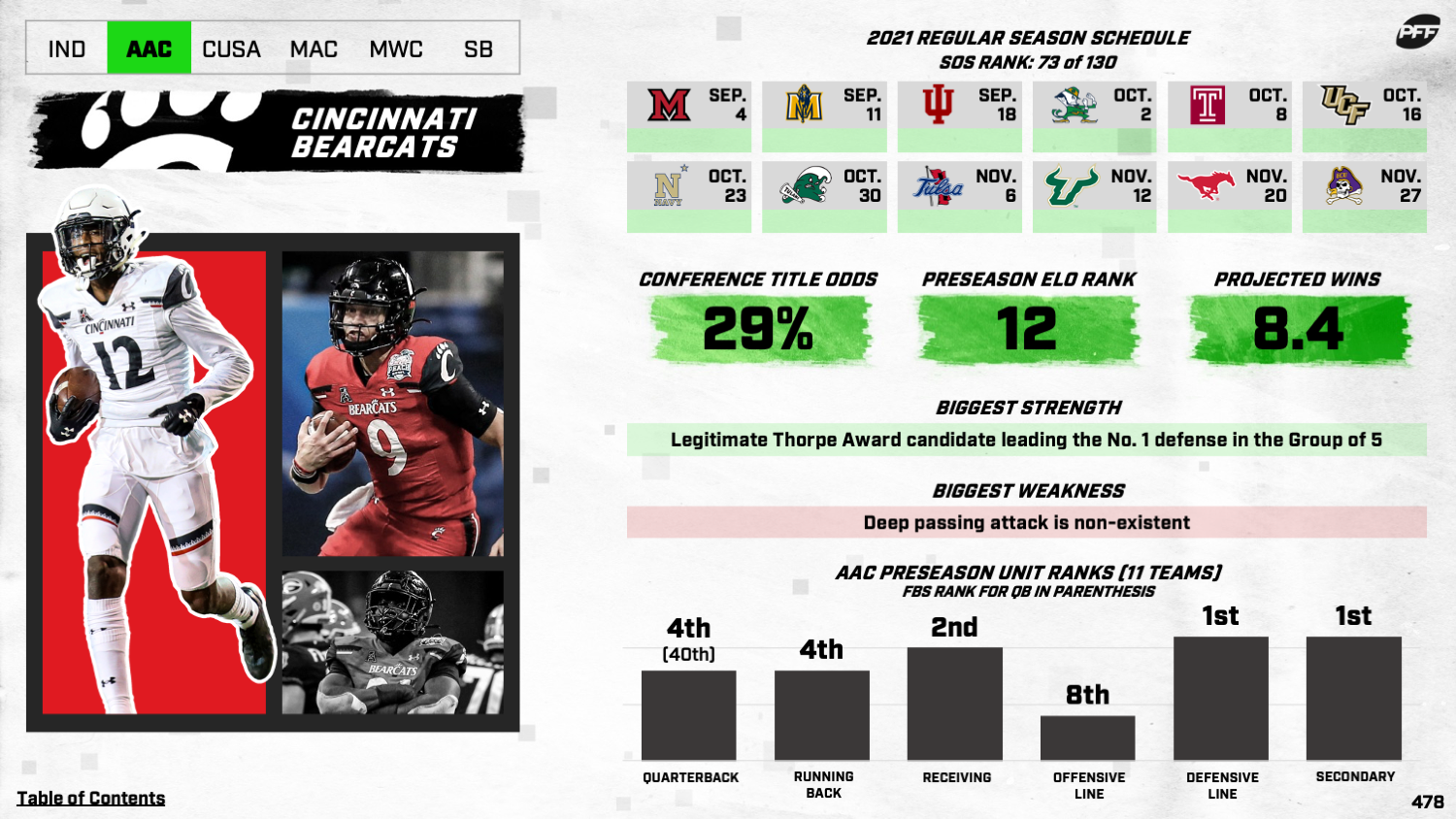 Gardner has developed into one of the best press-man coverage corners in college football over the past few years. The 6-foot-2, 188-pounder has seen 84 targets in press coverage since landing in Cincinnati, and he has allowed just 16 first downs while making a whopping 22 plays on the ball, the most in the FBS over that time. He has yet to allow a touchdown in his college career, with opposing quarterbacks netting a 35.3 passer rating on throws into his primary coverage. Throwing the ball in the grass every play would generate a 39.6 passer rating.
Thibodeaux's 2020 campaign started slowly, but he turned on the jets down the stretch and looked like an elite edge defender over his final four games (out of seven on the year). Thibodeaux was one of the highest-graded players at his position over that span, boasting an 87.2 PFF grade that included a 12-pressure performance against USC and Alijah Vera-Tucker — a first-round pick in 2021 — in the Pac-12 championship game.
If you were to build a perfect college pass rusher among those playing next year, Thibodeaux's get-off and bend would be precisely what you'd want. He is an elite talent who is bound for a monstrous 2021. Be sure to circle the calendar for Week 2 when he goes up against the best tackle duo in college football — Thayer Munford and Nicholas Petit-Frere — as the Ducks take on the Buckeyes in Columbus, Ohio.
LSU landed the best true freshman regardless of position in 2019 with Stingley, and the program earned that honor once again in 2020 thanks to standout play from five-star corner Eli Ricks.
The Tigers employed a healthy amount of man coverage last season, and unlike most first-year corners in the SEC, Ricks handled it like a pro. His man coverage grade ranked first among Power Five cornerbacks in 2020, and he allowed just six catches on 19 targets while making seven total plays on the ball from single coverage.
Ricks' physicality at the line of scrimmage and poise at the catch point make him a difficult cornerback to beat outright. It's quite clear he already has an excellent feel for the position. The LSU cornerback duo of Stingley and Ricks is going to be dangerously good in 2021. Godspeed to the SEC wide receivers facing these two next year.
Smith, a three-star recruit of the 2019 class, recorded the third-best slot coverage grade in the FBS over his true freshman and sophomore seasons while serving as the "spear" in West Virginia's defense. Now, he'll be taking his talents to the Georgia Bulldogs, where he will anchor a secondary that was gutted this past offseason.
Smith's 2020 campaign was a sight to behold. He was targeted 38 times in coverage across 10 games and allowed just 110 yards for the season. He did not give up a single pass of 15-plus yards, made five plays on the ball and forced 10 passing stops. At 5-foot-10 and 198 pounds, Smith is a physical player who shed receiver blocks and blew up screens like clockwork in 2020. He has great eyes in coverage and was never caught off guard. Keep an eye on Smith next season — he's the real deal.
Hamilton stands at 6-foot-4 and 221 pounds, and he is one of the most explosive safeties in the game. His 42-inch vertical may have helped him land on Bruce Feldman's 2020 Freaks List, but he also pairs his physical skill set with great eyes in coverage, making him a certified playmaker.
Hamilton compiled 16 combined pass breakups and interceptions and 15 passing stops as a true freshman and sophomore. Better yet, he was responsible for only three passes of 15-plus yards over that span. The Notre Dame safety has generated the third-most PFF Wins Above Average among players at his position over the past two years.
Jobe is a press coverage technician. Of all the Power Five corners who have played at least 200 coverage snaps in press in the past five years, Jobe's 2020 season ranked fourth in yards allowed per coverage snap (0.4). That's not even half of that entire group's average. Jobe allowed 35 yards or less in all but one of his 13 games played, surrendering only 12 first downs while forcing 10 incompletions.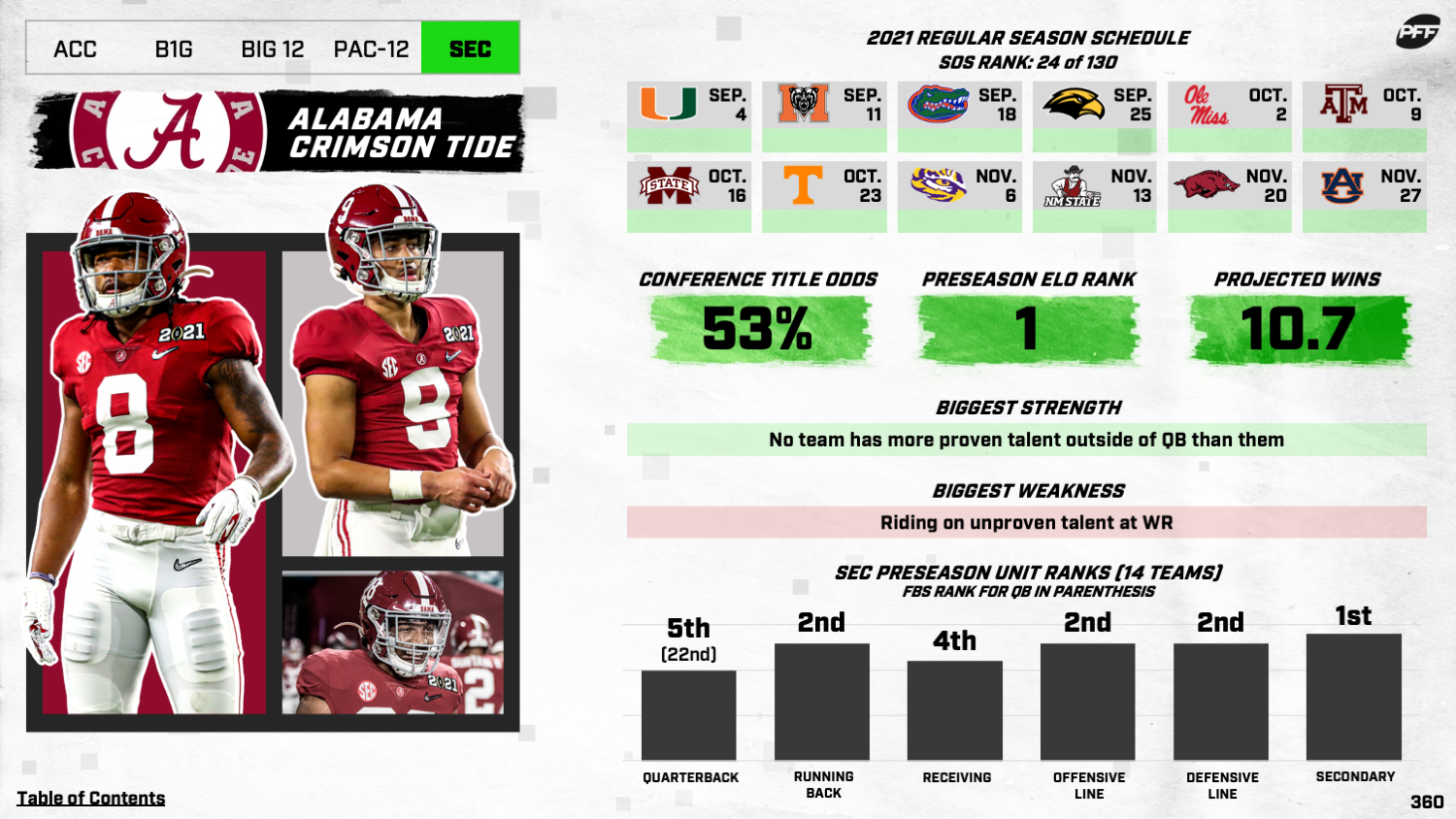 Still, it wasn't without fault. There were several instances of him going overboard physically and getting flagged; he actually drew more penalties than any corner in the FBS this past season and was the first Alabama cornerback of the PFF College era to hit double digits in that category. Call it an area for improvement in 2021.
Elam did give up a few big plays early on in 2020, but he rallied and emerged as the playmaker we saw as a true freshman in 2019. He now has played exactly 600 coverage snaps in college, earning a 90.7 coverage grade in the process. In those two years combined, Elam has been responsible for 19 first downs and touchdowns while making 21 plays on the ball.
He's at his best at the line of scrimmage and when playing in press coverage, allowing him to rely on his length and physicality. In all, 265 of his 600 coverage snaps have come in press coverage, yet he's given up only 0.47 yards per coverage snap on those reps, the best mark among Power Five cornerbacks with at least 250 such snaps in that span. Elam's press performance was an area of focus for him last offseason, and it's safe to say the hard work paid off.
Leal has a lot of power in his 6-foot-4, 290-pound frame, and it showed routinely this past season. He notched an 80.0-plus grade as both a run defender and a pass rusher in 2020, something only four other Power Five edge defenders accomplished. Leal displayed improved hand usage and a deadly push-pull. He flashed exactly that in his performance against Florida, which earned him a career-high PFF grade.
He was a consistent performer in 2020, recording a single-game PFF grade north of 70.0 in nine of his 10 outings, which led him to an 88.3 PFF grade for the season. Leal may be 290 pounds, but he sure doesn't play like it with his athleticism. Needless to say, he is clearly living up to his five-star recruiting status.
OTHER NAMES TO WATCH
DI Haskell Garrett, Ohio State
CB Trent McDuffie, Washington
DI Jermayne Lole, Arizona State
S Brandon Joseph, Northwestern
CB Tiawan Mullen, Indiana
LB Edefuan Ulofoshio, Washington
EDGE Myjai Sanders, Cincinnati
DI Dante Stills, West Virginia
EDGE Will Anderson Jr., Alabama
SCB Malachi Moore, Alabama
LB Mike Jones Jr., LSU
S Jaquan Brisker, Penn State
LB Carlton Martial, Troy
---
Dive into PFF's guides to get the most out of the 2021 season, from the 2022 NFL Draft to college football to fantasy football! Get 40% off a PFF subscription with promo code SAVE40