As a part of our partnership with ESPN, this is a part of a story that was originally published on ESPN+ and can be viewed in its entirety here with your ESPN+ subscription — College Football Playoff National Championship: Ranking the top 25 players in Alabama-Ohio State
There once was a time when it seemed as though we would never get to this point, but the time has finally come to crown a national champion for the 2020 college football season.
The Alabama Crimson Tide and the Ohio State Buckeyes are loaded with talent on both sides of the ball, so we go to the PFF from grading every player on every play of every game to rank the top 25 stars in the College Football Playoff National Championship game. Nick Saban's squad comes out on top, with 15 of the top 25 players.
Note: This is not a projection of NFL talent or a future ranking. It's based on how good the players are right now heading into Monday night's game (8 p.m. ET, ESPN/ESPN App).
Smith has been the most dominant player in college football this season, regardless of position. The 6-foot-1, 175-pound pass-catcher enters Monday night's national title game with a 94.7 PFF receiving grade, which tops the previous PFF College-era FBS record set by Andy Isabella in 2018 (93.8) and also takes down the Power 5 record set by Amari Cooper in 2014 (93.3).
We have never seen a wide receiver finish a season as one of the 10 most valuable players in college football in terms of PFF's wins above average, but Smith is on pace to become the first.
It seemed unlikely a quarterback would ever be in a position to break the records Joe Burrow set in 2019, but Jones has defied the odds and is on pace to leapfrog the 2020 No. 1 overall NFL draft pick in the PFF record books.
Jones' PFF grade currently stands at 95.5, well above Burrow's record-setting mark in 2019 (94.9). His accuracy and decision-making have been nearly perfect, and his negatively graded throw rate is unlike anything we have seen since we began grading college games back in 2014. And Jones has done this without the benefit of having a cupcake Group of 5 game on his schedule. That right there is special.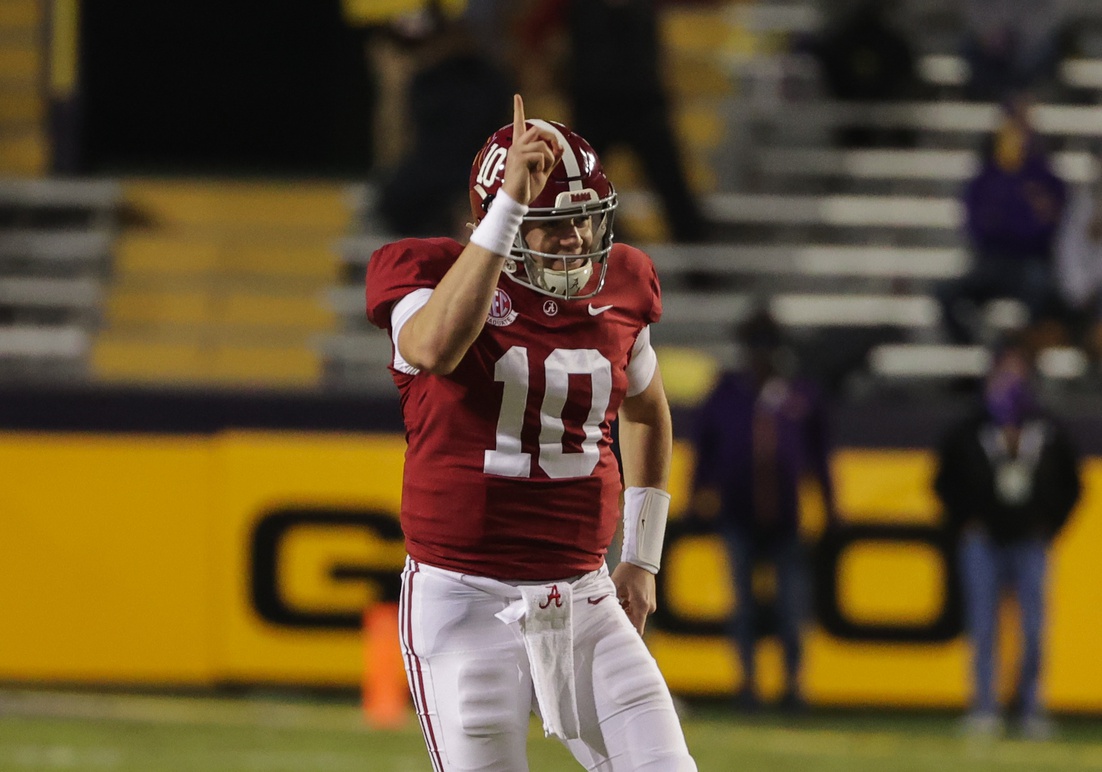 Fields did have a couple of hiccups against the coverage rotations of Indiana and Northwestern this season, but he bounced back in a big way in the CFP semifinal.
The Buckeyes signal-caller got his revenge on Clemson, catching the Tigers off guard multiple times with tempo, coming away with a 94.6 passing grade in what was one of the best CFP performances we have ever graded. This season, including the CFP semifinal, Fields leads all FBS quarterbacks in the percentage of accurate passes thrown beyond the line of scrimmage (73.4%) by 8 percentage points.
As of now, it's unknown whether we will see Waddle make his return to the field after he fractured his ankle in Week 8. However, the possibility of the speedster returning is good enough for us to slot him at No. 4.
Waddle performed as well as expected to start the season. He generated a Power 5-best 4.68 yards per route run, averaged 10.7 yards after the catch per reception, produced a perfect passer rating of 158.3 on his 29 targets and hauled in 329 deep receiving yards over his four games. The latter still ranks 13th among all Power 5 receivers.
The Alabama standout has been tasked with playing on an island more than any other cornerback in the country, yet he still ranks first among corners in PFF grade this season (89.7).
Surtain allowed less than 15 yards in coverage in exactly half of his games, and he never allowed more than 60 in one outing. The Notre Dame Fighting Irish flat-out avoided him in the CFP semifinal, with just two targets on 55 coverage snaps — and Surtain allowed only one catch for just 6 yards while breaking up the other.
Perhaps the most underappreciated aspect of his game this season has been his discipline, as he has yet to commit a single penalty.
Barmore is fresh off a purely dominant outing against Notre Dame in which he produced a 92.2 PFF grade and a whopping seven pressures. This was all the more impressive because the Fighting Irish's offensive line is the best unit in the country.
While we haven't seen that kind of strong performance week in and week out from Barmore, he has still been the best interior defensive lineman in the pass rush this season. His 91.2 pass-rush grade leads all FBS players at his position.
Harris was one of college football's top dual-threat backs this season. He hauled in 36 catches in 12 games and broke 17 tackles after the catch, four more than any other Power 5 back.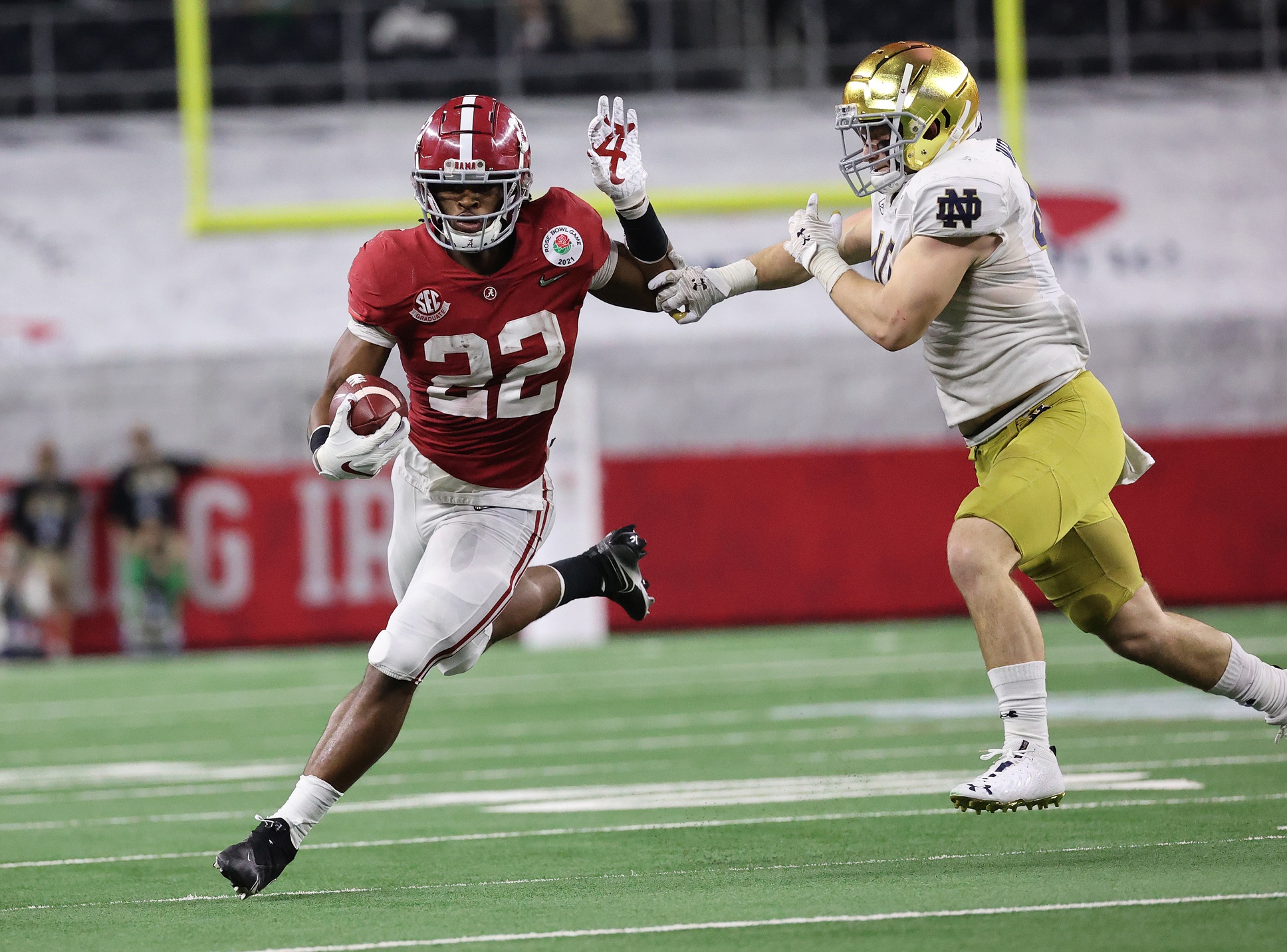 Harris pounded the rock 230 times and earned a top-10 rushing grade among players at his position (89.9). Harris is just one of two Power 5 running backs to rank in the top 10 in both rushing and receiving grade.
Garrett might fall second to Barmore when it comes to the best pass-rusher at the position, but he is a clear-cut second this season. He has consistently been a disrupter against both the pass and run, generating a pass-rush grade of 90.8 to pair with a run-defense grade of 83.5. Garrett is actually the only Power 5 interior defensive lineman to eclipse an 80.0 grade in both of those facets this season.
Munford was a quality starter for the Buckeyes in 2018 and 2019, but this season he has elevated his play to elite status. The 6-foot-6, 315-pounder has consistently paved holes for the rushing attack, earning an 88.9 run-block grade (sixth among FBS left tackles), and he has allowed just two total hurries across 224 pass-block snaps this season.
After an injury-riddled senior campaign in 2019 that forced him to redshirt, Cooper has put together a rare fifth-year breakout this season. Cooper was a four-star recruit who ranked 57th nationally in the 2016 ESPN 300, but he hadn't lived up to expectation, mustering a four-year pass-rush grade of 71.2.
This season, he broke out with a 91.3 pass-rush grade, which is tied for third best in the FBS. Cooper has won more than 20% of his pass rushes in all but one game this season, leading to a season-long win rate of 23.1%.
Similar to Surtain, who starts opposite him, Jobe has been one of the stingiest cornerbacks in college football this season. Despite not recording an interception, he made more plays on the ball (12) than first downs allowed (10). Jobe also surrendered just 0.41 yards per coverage snap when playing on the outside — that led all cornerbacks in college football and was nearly a third of what the FBS average is.
Moore's true freshman campaign got off to a rocky start with 171 yards allowed and a 55.4 coverage grade from the slot through his first three games in 2020. From there, it was a complete 180.
In his next seven games to close out the regular season, Moore surrendered just 151 yards from the slot and had three more plays made on the ball (10) than first downs allowed (seven). That led him to the highest slot-coverage grade over that span (88.7). Moore reportedly suffered an injury against Florida in the SEC championship game — a game in which he struggled, giving up 123 yards and a touchdown on five targets — that kept him out of the Rose Bowl. His status for Monday's game is currently unknown.
Olave is one of college football's most refined route runners, making him a nightmare to defend in single coverage. Among all Power 5 wide receivers against single coverage this season, Olave ranks sixth in receiving grade and first in passer rating when targeted, generating a nearly perfect 157.5 mark with 13 receptions on 17 such targets for 242 yards and five touchdowns.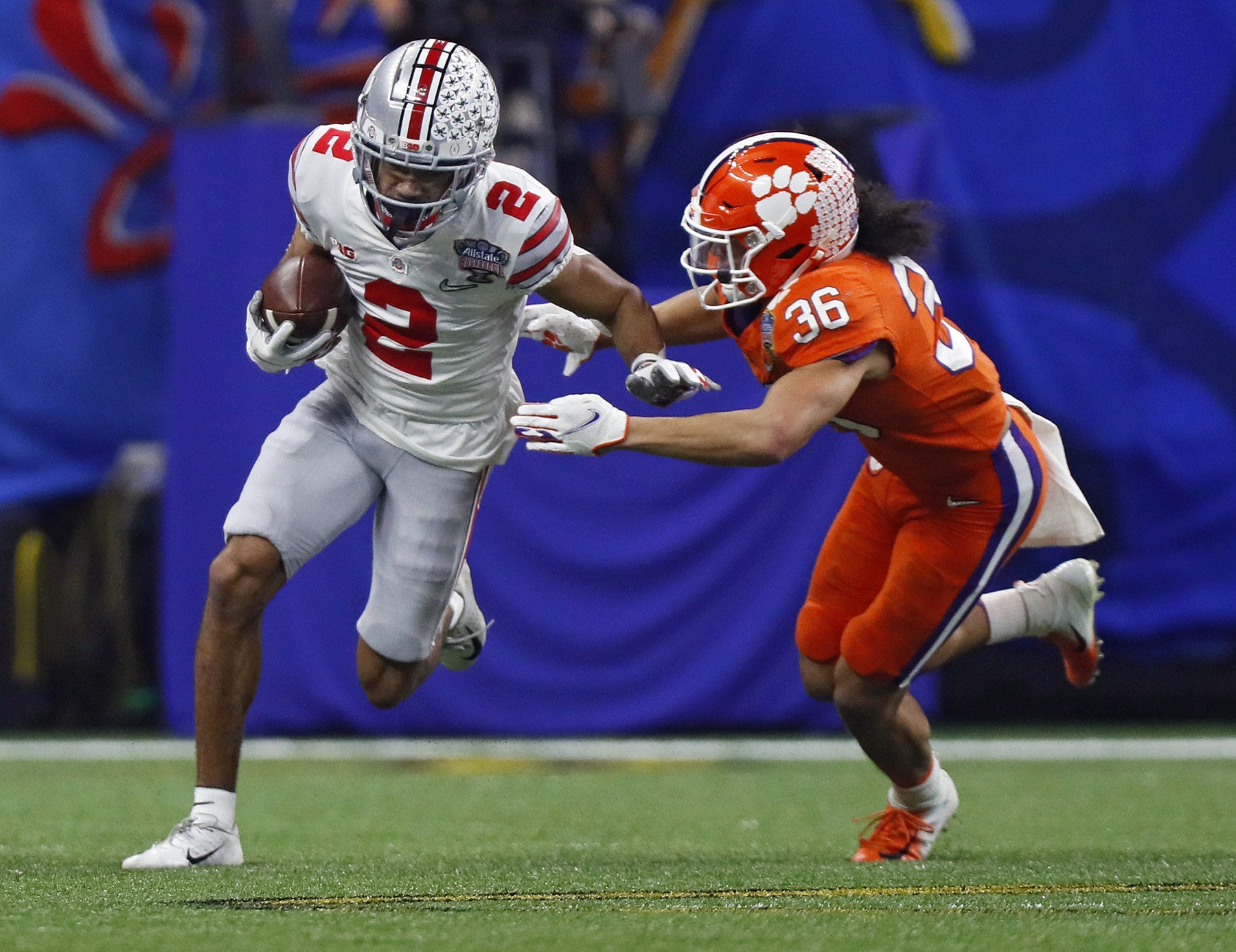 Anderson, a true freshman who came in at No. 49 in the 2020 ESPN 300, has been uber-productive for the Crimson Tide in Year 1. His 81.8 run defense grade ranks seventh best among Power 5 edge defenders. As a pass-rusher, Anderson has taken advantage of cleanup and pursuit situations to rack up seven more total quarterback pressures (56) than anyone else in the country. Even with a large chunk of his pressure total being essentially handed to him, Anderson has still won his pass-rushing battles at an impressive rate for a true freshman (20.2%, 14th in the Power 5).
Wilson is just as good of a route runner as Olave, establishing himself as one of the more productive wide receivers in the country alongside his teammate. Wilson plays in the slot and out wide, but he has been an explosive play waiting to happen from an inside alignment. No Power 5 wide receiver with at least 30 slot targets has turned a higher rate of his looks into an explosive gain of 15 or more yards than Wilson (36%).
Togiai has been stout against the run for Ohio State this season. His run-defense prowess is the backbone of his success; he boasts an 87.8 grade in that facet and a 10% run stop rate (third and eighth, respectively, at the position in the Power 5). Togiai's impact as a pass-rusher has been a bit hot and cold, though. He notched four or more pressures in three outings this season, but he had three games with one or none. Considering the Crimson Tide are without Landon Dickerson at center, we could see the former from Togiai against Alabama.
It has been a tale of two halves for Battle, who took a big step forward following Alabama's pause in Weeks 10-11. He recorded a 65.8 PFF grade in the first six games of 2020 before that lull, but the sophomore improved that mark to 83.0 in the six games since.
The biggest difference between those splits had to do with his play when defending the slot. He gave up a few big plays to slot wideouts in the first span, but he began making plays himself in the second half. One such play was an interception he took to the house against Kentucky while serving as what is essentially a robber in Cover 3 Buzz.
Smith's tackling and run defense haven't been anything special, but his impact in the pass rush certainly has been. The edge rusher has recorded multiple pressures in all seven of his games. That has led to a 22.3% pressure rate for the season that ranks second in the Power 5 and nearly 3 percentage points higher than third.
Sermon has started in recent games to look more like the contributor we were expecting to see this season. His three highest-graded outings as a Buckeye have been his past three games, leading to an 88.2 rushing grade for the season. Sermon busted off an explosive run of 10 or more yards on 27% of his 70 carries over that stretch. For reference, Javonte Williams leads the country in that metric with a rate just north of 26% on 157 carries this season.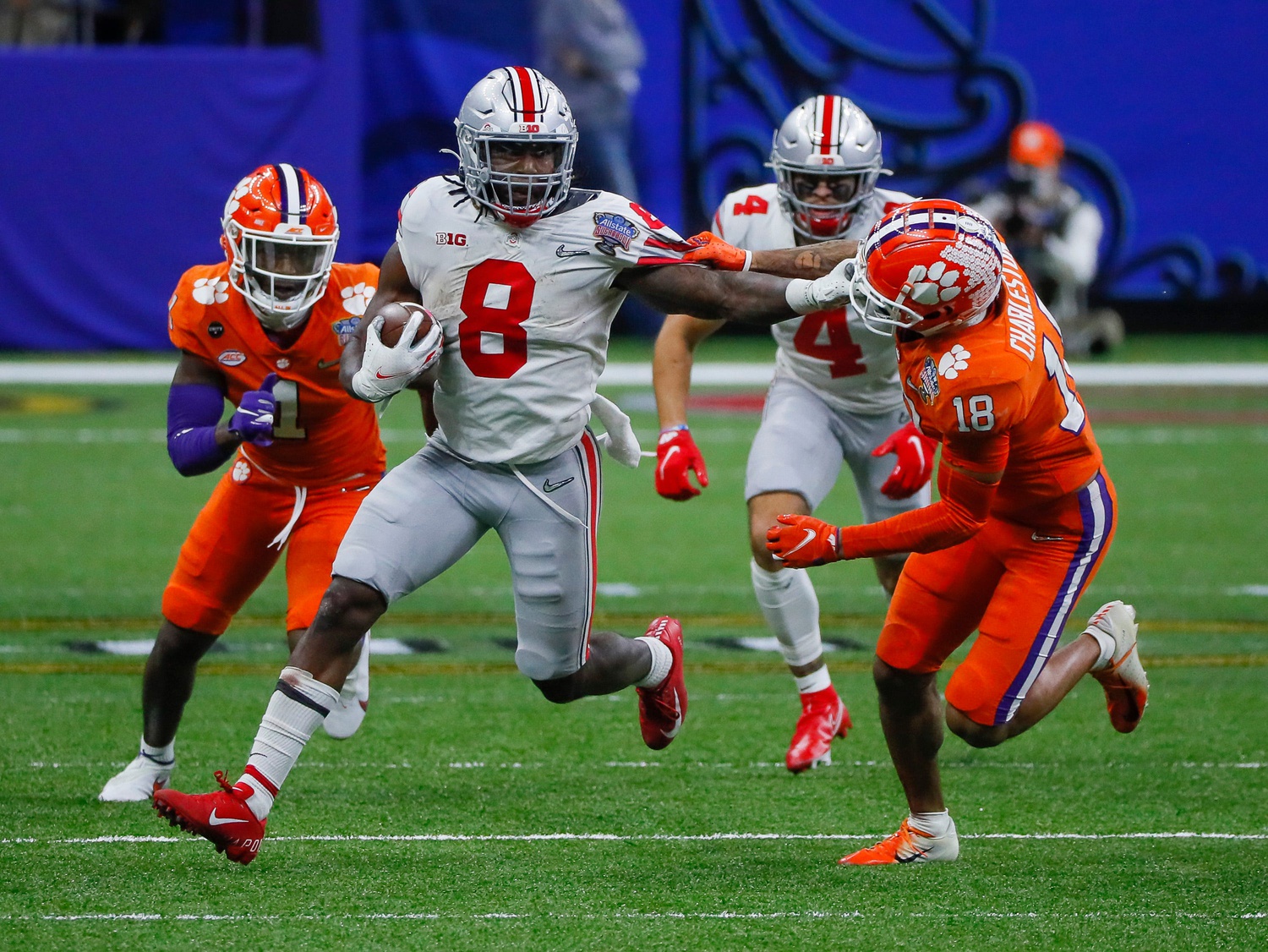 Petit-Frere has been one of the most surprising performers for the Buckeyes this season. After playing just 118 pass-block snaps in 2018 and 2019 and performing poorly on those with a 48.3 grade and 14 total losses (six resulting in a pressure), Petit-Frere has been one of the best pass-protecting right tackles in the country. He lost just four reps all season on 224 pass-block snaps, with only one of those counting as a pressure (it was a hurry). That has led the right tackle to an 86.5 pass-block grade and a Power 5-best 0.5% pressure rate allowed.
Mathis has logged over 70 snaps at nose tackle, defensive tackle and defensive end across his 326 total snaps this season, and he has been productive at all three positions. The 6-foot-4, 312-pound lineman has picked up 17 pressures and 17 defensive stops while recording grades above 70.0 both against the run and as a pass-rusher.
Neal has been a great pass-protecting tackle this season after flipping from guard, with just eight pressures allowed in 12 games, though his run blocking has been a smidge better relative to his counterparts. Neal has produced one of the highest positively graded run-block rates in the country, which has led to the 12th-best run-block grade among all Power 5 tackles this season (85.7).
Leatherwood has been red-hot in pass protection over his past five games, raising his pass-block grade from 65.7 in his first seven games to 79.1. Against Notre Dame, Leatherwood didn't allow a single pressure. His run blocking, on the other hand, has been among the best at his position all season. Leatherwood ranks seventh among all Power 5 left tackles in run-block grade at 84.2.
Notre Dame might have rattled Ekiyor last week for three pressures that led to a 42.8 pass-block grade for the game, but he has been strong in both facets for Alabama on the season. Ekiyor has put up a goose egg in the total pressures allowed column in half of his 12 games played, and he ranks fifth among Power 5 right guards in run-block grade.
Metchie has proved he can hurt some defenses deep and has been a quality No. 2 option after DeVonta Smith in the absence of Jaylen Waddle. He has picked up a 70.0 receiving grade this season and turned 35.4% of his targets into an explosive reception of 15 or more yards. The latter ranks second in the entire FBS. Not too shabby for a guy who entered the season with only five career catches to his name at the collegiate level.