We are a few weeks deep into the 2020 college season, which means our Heisman board is starting to take shape. The Heisman Trophy has become a quarterback's award, and thus far in the 2020 season, there hasn't been a player at a different position who has done enough to challenge that.
The SEC and Big Ten have yet to play a down of football this year (still awaiting word from the Pac-12), but we are including the two conferences here for what we expect them to do in 2020. Using PFF's advanced database and play-by-play grading, which is also available to PFF's CFB Premium Stats+ subscribers, here are our top 10 candidates through Week 3 of the college season to take home the 2020 Heisman Trophy.
Editor's note: Die-hard college football fans, NFL draft enthusiasts and avid college football bettors can now subscribe today to CFB Grades+ or CFB Premium Stats+ to get access to PFF's player grades, advanced stats and NCAA betting dashboard. Use code BIG10 here to get 20% off your subscription
As of now, Lawrence is firmly in the No. 1 spot — and no one is particularly close to him. Through two weeks of play, the Clemson quarterback has earned a 96.6 passing grade while recording six big-time throws and no turnover-worthy plays. On throws of 10 or more yards downfield, Lawrence has been off-target just once en route to a near-perfect grade. And we have yet to see him really put his mobility on display outside of a few zone reads in the red zone (largely because we haven't had to see it). If he continues to put up elite numbers, Lawrence could top some of the PFF College records that Joe Burrow set in 2019.
Lincoln Riley and the Oklahoma Sooners are home to arguably the most quarterback-friendly offense in the country. Ever since Riley came to Norman, Oklahoma has had one of the best quarterbacks in the country — Baker Mayfield, Kyler Murray, Jalen Hurts and now Spencer Rattler. In his lone 2020 appearance, the former five-star recruit made throws that very few college quarterbacks can. I don't care if it's Missouri State, this is just flat out impressive: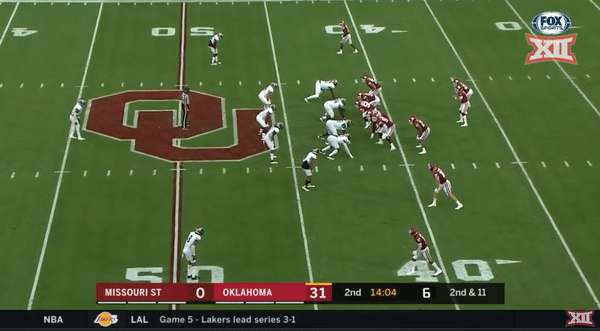 He finished that game with a 93.5 passing grade, throwing just one uncatchable pass on 17 attempts while also recording three big-time throws. Rattler will see far more difficult defenses from here on out, but there aren't many on the schedule that he won't be able to pick apart.
Ohio State's offense and its route-runners certainly make life easier for Justin Fields, but make no mistake: He is the real deal. Fields still has to find the open receiver and make the right decisions, and he checks both of those boxes. He can make plays inside and outside of structure with his mobility, too. If it weren't for Burrow's historic season last year, the Heisman Trophy would have gone to Fields.
Ohio State produced positive expected points added on pass plays at the third-highest rate in college football last year, and a big reason why was Fields' ability to uncork and attack downfield. He led all Power Five quarterbacks in average depth of target and finished the season ranked third in big-time throw rate. While we haven't seen Fields take a snap yet this year, the gap between him and second place is slim.
There was no doubt that Texas would blow the doors off UTEP in Week 2, but I'm not sure anyone was ready for Sam Ehlinger to complete 24-of-32 passes for 422 yards and five scores in the first half. Most of this production came from easy, schemed-up throws, and he benefited plenty from playing against a poor defense. And at the end of the day, he did have just one big-time throw for the entire game. Still, he executed this offense to perfection.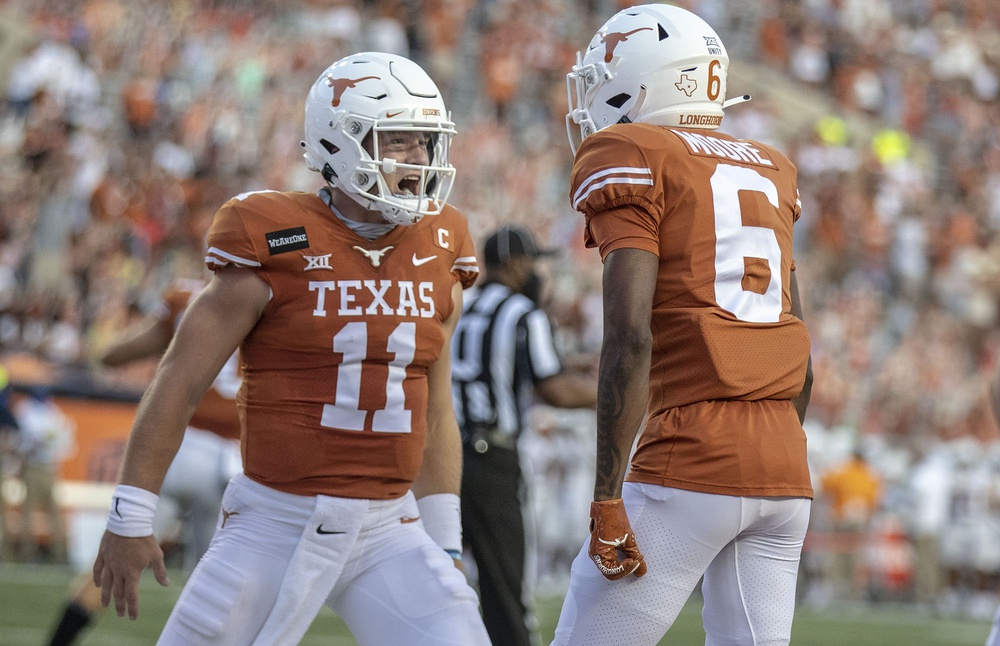 Ehlinger's ability to avoid turnover-worthy throws and handle pressure has helped him become one of the 10 most valuable college quarterbacks in each of the past two years. He showcased that again versus UTEP, not making a single turnover-worthy throw while creating numerous great plays when sticking around in the pocket under pressure. Despite the lack of big-time throws, he's capable of making plays downfield, as he produced the third-most big-time throws in 2018 and 2019. As we all know, the Big 12 isn't really known for its defenses — I would expect these outings to continue from Ehlinger.
There were high hopes for D'Eriq King to turn around a Miami offense in 2020 that has been anemic in recent years. This past weekend, King played a big role in the Hurricanes having their best passing offense in a single game in the PFF era by expected points added per pass. Through King's two games this season, it looks like The U might have its best offense since the early part of the century.
King has produced an 83.4 PFF grade thus far, ranking fourth among Power Five quarterbacks. He leads the group in scramble runs resulting in a 10-plus yard gain (10). As a passer, he has recorded four big-time throws and no turnover-worthy plays. Whether he has to use his mobility to extend the play or take a play-action shot, King has consistently done great things for Miami thus far. He might just be getting back to his 2018 form when he was college football's second-highest graded quarterback.
Gabriel, a true sophomore in his second year starting for the Knights, wouldn't have made this list if it weren't for his season debut against Georgia Tech this past weekend. He was one of three quarterbacks in Week 3 to produce a passing grade above 90.0. He did have quite a few quarterback-fault incompletions (seven to be exact, tied for fifth-most of the week), but none were deemed turnover-worthy and no other quarterback had more big-time throws. The true sophomore finished the game with an unreal seven big-time throws, which were three more than any other quarterback.
Should we be surprised Gabriel did this in his 2020 debut? Nope. He had one of the top true freshman seasons we have recorded at the position last year, producing an 81.4 PFF grade that ranked 28th in the FBS. He routinely hit go routes in stride deep downfield and showcased that again Saturday. Gabriel makes the right decisions and has more than enough arm to form a potent deep passing attack. As a result, he is going to put up numbers this year.
Jones may not be cut from the same cloth as other quarterbacks on this list, but he is the signal-caller of this Crimson Tide team, which means he just needs to find and hit the open receiver. And that is something he can do. Jones has two of the biggest playmakers in college football at his disposal in DeVonta Smith and Jaylen Waddle. Both are deep threats and after-the-catch monsters.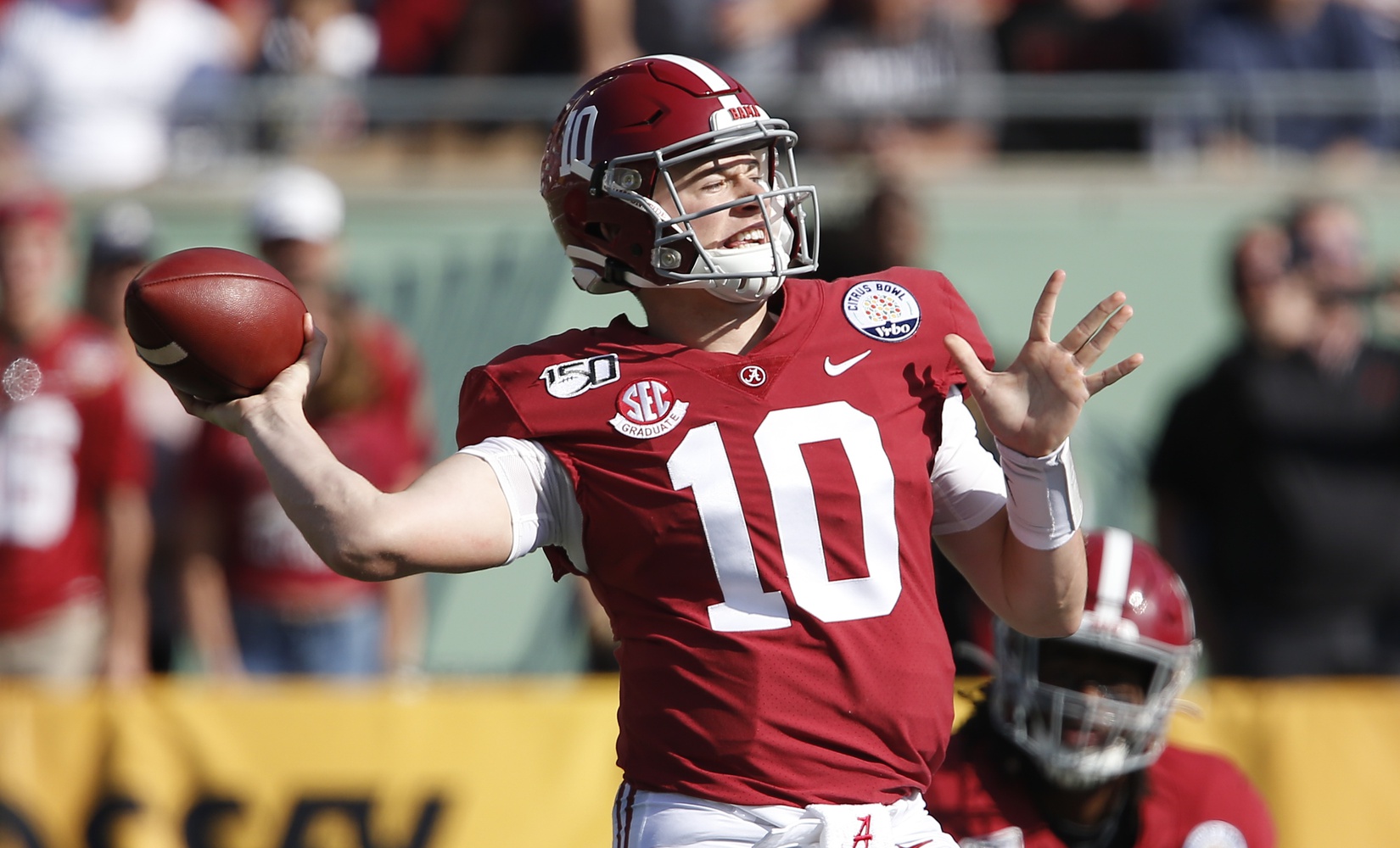 Smith will help Jones' numbers with his ability to create separation and top-notch ball skills that help him haul in difficult targets. Waddle will do just the same, but more so because of his game-wrecking speed on screens. The Alabama offense and supporting cast helped Jones produce the fourth-highest rate of positively graded throws in the FBS from Week 9 on (his first start). He's not Tua Tagovailoa from an accuracy standpoint, but Jones should lead this offense to success.
Doege started his collegiate career at Bowling Green in 2017 and 2018, seeing six starts in Year 1 before playing the entirety of Year 2. He had some nice games in that span, but he was relatively average overall. Doege produced a 71.5 passing grade in that two-year span, ranking 68th of 110 qualifying FBS quarterbacks. He transferred to West Virginia after his second season and didn't see the field until the final four games. However, he looked markedly better, improving his passing grade to 81.6. And he looked even better to start 2020.
In Week 2 against Eastern Kentucky, Doege produced a 93.4 passing grade with four big-time throws and zero turnover-worthy plays. Some may temper those results against an FCS defense, but Doege had throws that are special against any level of competition. His accuracy was nearly flawless, as just two of his 25 passes were deemed a quarterback-fault incompletion. Doege is the real deal and is set up for a huge year in 2020.
The running back play thus far in 2020 isn't on pace to be at a Heisman level, but there is still one player at the position we have yet to see take a snap this fall who is capable of doing so. If Sermon, who transferred from Oklahoma to Ohio State this past offseason, gets back to his injury-free 2018 season, he could be the only running back with a shot of taking down a quarterback in the Heisman polls.
In 2018, Sermon had an 90.8 PFF grade that ranked fifth and a wins above average total that ranked second at his position in the country. His 0.35 broken tackles forced per attempt mark in 2018 was third to NFL backs David Montgomery and Devin Singletary.
A defensive back hasn't taken home the Heisman Trophy since Charles Woodson did so at Michigan in 1997. It truly has become a quarterback's award, as just three winners this century didn't play the position. That said, if any defensive back could produce at such a Heisman level, it'd be LSU's Derek Stingley Jr.
As a true freshman last year, Stingley led all FBS cornerbacks in PFF grade and was a playmaker with 21 combined pass breakups and interceptions. He is such a ridiculous athlete that Coach O has publicly said he has thought about playing him on both sides of the ball. Either way, Stingley — the most valuable non-quarterback of 2019 — is capable of playing at a Heisman level.