With a whole slew of big names moving on to the NFL — including Connor Cook, Nate Sudfield, Jake Rudock, Cardale Jones and Joel Stave — the Big Ten is severely lacking in top-end talent at the quarterback position. The east division teams are particularly barren at the position, as Ohio State's J.T. Barrett is the only returning starter in the division with a positive overall grade last season, and he didn't win his team's starting job outright until Week 8.
Because teams like Michigan State, Michigan, Penn State and Wisconsin are all installing new signal-callers this season, one of them is bound to crack the top five in the conference at the position by season's end. For now, here are the top five QBs in the conference as they stand, based on their performances last season.
C.J. Beathard, Iowa
C.J. Beathard is the only returning Big Ten signal-caller with a positive passing grade from last season. His 17 touchdowns in Iowa's run-heavy offense weren't overly impressive, but his five interceptions were a big reason why Iowa went undefeated through the regular season and came within a couple of plays against Michigan State in the Big Ten championship game of winning the right to play in the national playoff.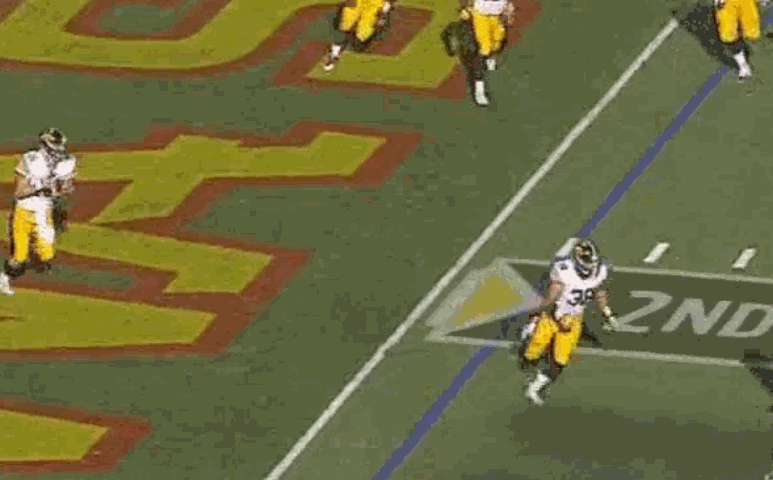 His adjusted accuracy percentage (our advanced completion percentage stat that accounts for drops, throwaways and spikes) of 71.9 not only leads all returning Big Ten QBs, but also ranks him 11th among Power-5 conference returnees. He also leads Big Ten veterans in completion percentage under pressure, and his impressive 103.1 NFL QB rating when having at least 2.6 seconds to throw in the pocket is 26 points higher than his next closest competitor.
Considering Iowa also returns its top receiver from 2015 in Matt VandeBerg, as well as one of the highest-graded tight ends in the country in George Kittle, Beathard should be at or near the top of most of our QB analytics through the 2016 season.
J.T. Barrett, Ohio State
After an impressive freshman season that saw him look like a future Heisman contender until breaking his right ankle against Michigan, J.T. Barrett struggled to beat out Cardale Jones for Ohio State's starting QB job.
His first official start of the 2015 season against Rutgers was virtually flawless, as he was 14-of-18 passing for 223 yards and three touchdowns, earning him a near-perfect NFL QB rating of 157.9. However, he could not come close to matching his passing production against the Scarlet Knights for the remainder of the season, posting a passing grade of just -0.5 over the final four games (0.0 for the season, which is our definition of average), instead relying on his legs and those of 2016 fourth-overall draft pick RB Ezekiel Elliott to move the ball consistently.
While Ohio State fans are hoping to see Barrett return to the form that allowed him to post 34 touchdowns to just 10 interceptions in 2014, the reality is his offense returns just one skill player (WR/RB/H-Back Curtis Samuel) with more than 80 pass reps in a season. Expect Barrett to rely heavily on his feet in order to move the chains, as he's earned +30.8 of his +32.7 overall career grade on the ground.
Tommy Armstrong Jr., Nebraska
Tommy Armstrong Jr. was a wildly inconsistent QB in 2015, as even his highest-graded games were marred by inaccurate passing and untimely turnovers. No game better exemplifies this than Nebraska's Week 3 overtime loss against the University of Miami, where he completed 21-of-45 passes for four touchdowns and three costly interceptions, including a brutal pick on the first play of overtime that gift-wrapped the game for the Hurricanes.
Maddening plays aside, he and the Nebraska offense should benefit greatly from the return of essentially the entire receiving corps, including our two highest-graded returning receivers in Jordan Westerkamp and Brandon Reilly. The development of the offensive line has a critical part in Armstrong's play in 2016, as gone are four players who combined for 3,214 snaps and just two sacks last year (essentially three starting positions).
Wes Lunt, Illinois
Okay, so Lunt's 56.0 completion percentage and 77.1 NFL rating from 2015 are not impressive, and neither is the fact he threw just eight touchdowns in conference play. It's difficult to defend this level of production, especially considering the optimistic play he showed in 2014, when on just 243 throws he completed 153 passes for 1,760 yards (63.0 completion percentage) with 13 touchdowns and just three interceptions.
While his performance last year looks like pure regression, there is statistical reason for optimism in 2016. First of all, Illini-faithful have to be encouraged by how well he takes care of the ball. After just the three picks thrown in 2014, he only threw six last season, and in essentially double the snaps. He also threw the ball away safely 26 times, the highest total among the 10 returning Big Ten QBs. In other words, his play is not always sexy, but he rarely puts the defense in bad positions because of silly turnovers.
He was also plagued by a ridiculous 42 drops — a total only equaled by Washington State's Luke Falk — who attempted a whopping 167 more throws than Lunt! Gone is WR Geronimo Allison and his 12 drops (tied for third-worst in FBS last year), and while it's fair to question the talent level at Illinois, it's hard to envision them approaching last year's outlandish drop total.
Eliminate last season's drops and throwaways, as well as seven other throws that were spiked, batted at the line of scrimmage or adversely affected by a hit, and Lunt's accuracy percentage shoots up to 69.5. If he can duplicate his effort from last season, expect his numbers to naturally improve and put him among the top passers in the conference.
Mitch Leidner, Minnesota
As our own Steve Palazzolo explained in a recent interview with Saturday Tradition's Connor O'Gara, Minnesota QB Mitch Leidner is not the first-round prospect some of the mainstream analysts claim he is. While he checks off all of the size and arm strength boxes NFL evaluators love, his negative plays far out-weigh positive flashes. 25 touchdowns to 19 interceptions in two seasons at the helm for the Golden Gophers, as well his career 55.8 completion percentage and 78.0 NFL QB rating suggest he is an average producer, not a national phenom.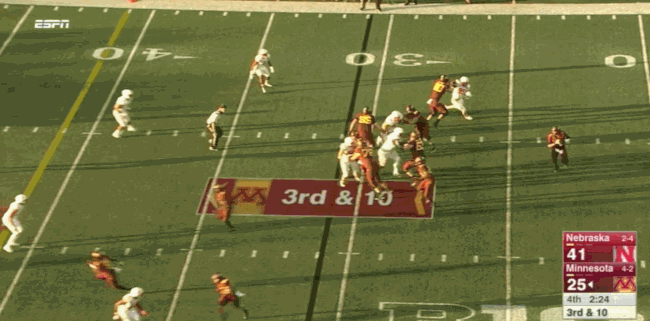 To be fair, he was also limited by a rash of drops last season (27), although certainly not to the extent of Lunt. 16 turnover-worthy plays to 14 touchdown passes (11 interceptions), however, are a huge concern, and it's this recklessness that puts him below the more conservative Lunt, despite clearly being the more physically-gifted player.
With the QB class of the Big Ten as weak as it is, Leidner still makes the list, and certainly has the potential to improve his stock significantly. However, if he does not improve his decision-making and accuracy, he is likely to be outplayed by other, less experienced talent in the conference.