With the Big 12 media days coming to an end yesterday, there was certainly much to talk about. Whether it was Mike Gundy's mullet or the talk of a potential expansion for the conference, there were no shortage of talking points.
One of the biggest storylines for the Big 12 this year is the amount of returning players it will see. Nearly every team's starting quarterback from last year is on his way back, as well as other key players all over the field. We're going to take a look at the best returning player from each team in the Big 12 going into the 2016 season.
Baylor: Seth Russell, QB
There's a case to be made for DE K.J. Smith being the best returning player for Baylor, but it's very clear that this team will go as far as Russell takes them. His +23.1 overall production grade last season ranked 13th among all returning quarterbacks, and he did it in just seven games. He averaged just over 300 passing yards and more than four touchdowns per game. He also added nearly 80 yards and a touchdown per game on the ground. The Bears were 7-0 with Russell starting and averaged over 60 points per game. He's not only the best returning player on the team, he's one of the best returning players in the whole conference.
Iowa State: Brian Peavy, CB
Peavy was an excellent corner last year despite playing on a well below-average team and facing some of the best offenses in the country. His +11.4 coverage grade ranked 17th among all NCAA corners last season — a big number considering he was just a redshirt freshman. He was targeted 80 times and allowed just 43 completions for 470 yards. He surrendered three touchdowns but also had two interceptions and eight pass breakups. Plays like this showcased his ability to diagnose and react to plays, as he avoids the pick and is able to cut off the throw and make the pass breakup on a key fourth-down play.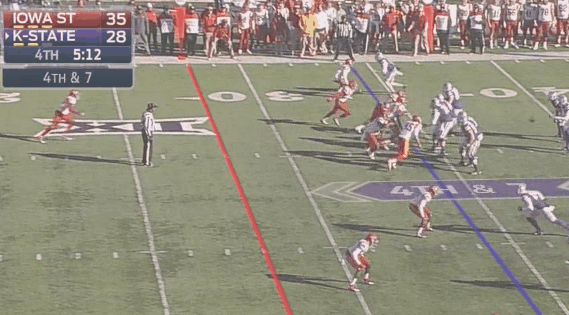 Kansas: Ben Johnson, TE
It was not easy to find a bright spot on the Kansas roster for this coming year but Johnson was the least bad out of all of them. He was hardly used in the receiving game, catching just 13-of-18 passes for 111 yards on the season. But he finished the season with some good strong games that bumped his run block grade up to +3.1 on the season. There was definitely improvement from 2014 to 2015, so the hope is there that he can continue to trend upwards. 
Kansas State: Jordan Willis, DE
This one really was a toss-up between Willis and DT Will Geary. While Geary has a slightly higher overall grade, Willis is more well-rounded as player and so he gets the nod. Willis finished last year with a +26.5 overall grade thanks to equal strong play in both the run and pass game. He had 15 run stops and a +11.4 run defense grade that was right near the top of his position in the conference. He was even better rushing the passer, with seven sacks and 47 total pressures last year for a 9.0 pass rushing productivity score that was the highest among returning Big 12 DE's. Kansas State is hoping for more sacks like these, where he just blows by the right tackle with ease before dumping the quarterback.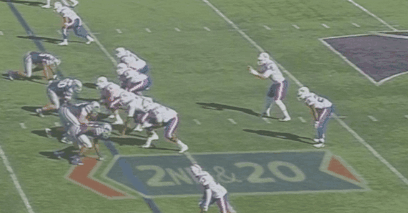 Oklahoma: Baker Mayfield, QB
This one is a no-brainer, as Mayfield is one of the best returning players in the entire country. His +49.6 overall grade is the highest among all returning QBs in the entire NCAA. Only two returning QBs threw more touchdowns than Mayfield's 36. He also had a +8.8 rushing grade that was a top-20 mark among returning NCAA QBs. His adjusted completion percentage and deep throw accuracy numbers are right near the top of the list in the Big 12 and all signs point to him having another huge year for Big 12 favorite's Oklahoma.
Oklahoma State: Mason Rudolph, QB
Rudolph shone last season despite splitting snaps with QB J.W. Walsh. Now that Walsh is gone, Rudolph should see an improvement on a season where his +43.5 passing grade was the highest among all returning Power-5 quarterbacks. He had the fourth-highest adjusted completion percentage among returning QBs in the Big 12 last year. His adjusted completion rate of 57.3 percent on deep throws was the best mark among all returning quarterbacks in the whole country. He was also the best under pressure in the Big 12 and even one of the best in the entire NCAA.
TCU: Denzel Johnson, S
Johnson was one of the most versatile players not just in the Big 12 last year, but in the country. His +17.2 overall grade ranked 11th among safeties and he was one of just thirteen to have grades above +1.0 in all three phases of the game (pass coverage, run defense, pass rush). His 25 run stops were the most among all returning Big 12 safeties. He also had the best tackling efficiency of 14.0 thanks to a mere six missed tackles on 84 attempts. Johnson also had the highest coverage grade among returning safeties in the conference at +6.5. 
Texas: Connor Williams, LT
Williams is the anchor of a Longhorns' offensive line that has seen better years. He was the only O-lineman on the team to grade positively last year. His +11.6 overall grade is the highest among all returning Big 12 tackles. He didn't allow a single sack last season and had a pass blocking efficiency of 96.4. He also added a Big 12 tackle-best +7.2 run blocking grade. He'll be the anchor to what Texas hopes is a dominant run game this coming year.
Texas Tech: Patrick Mahomes, QB
Mahomes is a player that everyone should keep an eye on this season. No returning quarterback in the NCAA threw for more yards than Mahomes 4644. He also added 36 touchdowns and averaged 8.0 yards per attempt. He also carried the ball 101 times for 617 yards and 10 touchdowns, as well as 21 missed tackles forced. Mahomes is also one of the best quarterbacks in the nation at avoiding sacks and extending plays. Despite being under pressure on 34.3 percent of his dropbacks, he was only sacked on a mere 11.7 percent of them, the eighth-lowest among all returning NCAA quarterbacks.
West Virginia: Tyler Orlosky, C
West Virginia's biggest strength last season was a rushing attack that gained over 3150 yards and scored 25 touchdowns. That should be what they lean on again, and it will all be led by the returning Orlosky. His +27.7 overall grade was the fourth-highest in the entire NCAA, and the three above him have all moved on. He's a powerful run blocker and his top-ranked +16.9 run block grade is proof of that. He's also no slouch in pass protection, having allowed just one sack and six total pressures last season for a NCAA third-best 99.0 pass blocking efficiency.