The Cincinnati Bearcats made history in 2021 by cruising to a 13-0 record and becoming the first Group of Five team in history to make the College Football Playoff. Now, they face an Alabama squad that will be eyeing back-to-back CFP titles after a convincing upset victory over Georgia in the 2021 SEC Championship Game.
The Bearcats wanted Bama, and now they're going to get them.
Cincinnati currently stands as 13.5-point underdogs, which would be tied for the third-largest point spread in a CFP game if it closes at that number. So, if Cincinnati were to pull off the win, it would be the largest upset in the history of the four-team playoff.
Anything is possible, but a lot will need to go Cincinnati's way if they are to lift the trophy. But before we dive into the matchups they need to win, let's quickly look back at how the Crimson Tide got the No. 1 seed.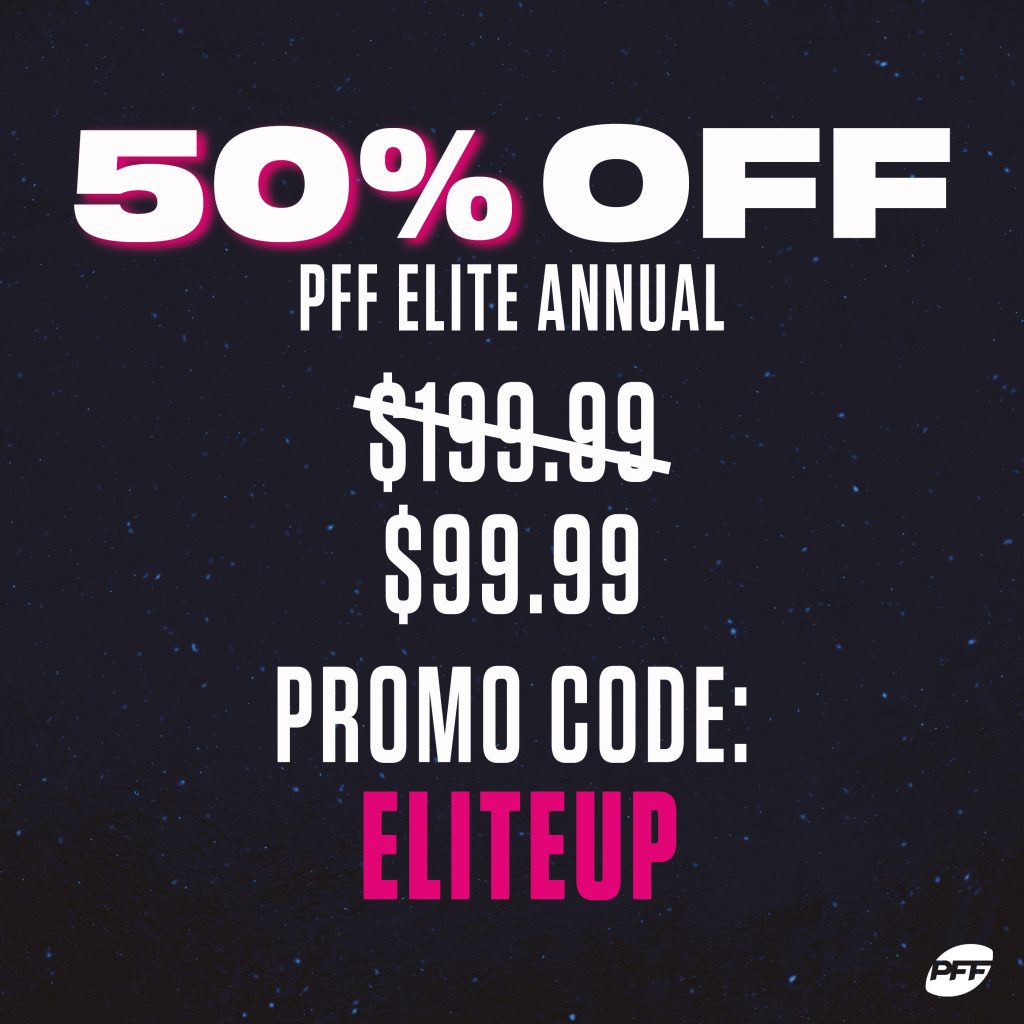 Click here for more PFF tools:
Rankings & Projections | WR/CB Matchup Chart | NFL & NCAA Betting Dashboards | NFL Player Props Tool | NFL & NCAA Power Rankings
Best Bets Tool
---
A QUICK REMINDER OF WHAT HAPPENED AGAINST GEORGIA
Bryce Young played almost perfectly against a Georgia defense that blitzed on 44% of his dropbacks. And despite being moved off his spot on 31.3% of those snaps, he avoided any major mistakes.
Young took all three of his scramble runs for 10 or more yards and posted a 74.4 passing grade against the Dawgs' blitzes. He didn't record a single turnover-worthy play under pressure and didn't take a sack on any of his 18 pressured dropbacks. He minimized mistakes and found ways to make something out of nothing — it was the backbone of the Crimson Tide's success.
BRYCE YOUNG THROWING BLOCKS

— PFF College Football (@PFF_College) December 4, 2021
The Alabama quarterback shredded the Georgia defense when he was given time in the pocket, completing 20-of-27 attempts for 317 yards and three touchdowns when free from pressure — good for 11.7 yards per attempt and a 149.8 passer rating.
He moved through his progressions as well as he had all year and displayed an understanding and command of the position that one rarely sees from a true sophomore.
Take the play below as an example. With his first read taken away to the left, Young looks back over to his right, sees the open space in the corner of the end zone and helps direct his wide receiver to the void, where he delivers an absolute dime.
BRYCE YOUNG IS THAT GUY ????
(via @CBSSports)pic.twitter.com/fHEz7Kv5Yz

— Overtime (@overtime) December 4, 2021
It was a game that showed just how high Young's ceiling is. He's on track to post the highest PFF grade by a non-draft-eligible quarterback in the PFF College era, at 92.9.
The Alabama quarterback played about as well as a quarterback could against Georgia's stout defense and got some help from wide receiver Jameson Williams, who went off for 175 yards and two touchdowns on six receptions. That, added with blatant mistakes from the Bulldogs in coverage, led to a huge game for the Crimson Tide offense.
However, there is a reason to believe regression could occur in Alabama's next game.
WHAT CINCINNATI NEEDS AGAINST ALABAMA
Pressure
Young played as cleanly as possible under pressure against the vaunted Georgia defense, but it's tough for even the best quarterbacks to keep winning in those scenarios. And while it may have not been a major issue in the SEC championship, pressure has been a real issue for the Crimson Tide in several important games this season.
Bama narrowly escaped games against LSU and Auburn, the Crimson Tide's least efficient outings of 2021. Young spent just over 37% of his dropbacks in those games under pressure, completing only nine passes for 131 yards, one touchdown and one interception across 39 dropbacks. He made zero big-time throws but recorded two turnover-worthy plays and took 10 total sacks.
How those two teams obtained pressure on Young came in different ways. 
LSU brought the heat in Week 10. Over two-thirds of their pressures came via the blitz. The Tigers blitzed Young 55% of the time, and they got home often. Alabama had a tough time with its protections and struggled to pick up the extra men in the pass rush, as they allowed a season-high nine unblocked pressures.
Against Auburn in Week 13, most of the pressure came courtesy of the four-man rush, often with the help of stunts or creepers.
Both teams confused and flat-out beat Alabama's offensive line, which has performed well beneath the program's standards all season. Young has been under pressure on 34.7% of his dropbacks this season, the 12th-highest rate among Power Five quarterbacks. Yes, he's shown an innate ability to make plays when knocked off rhythm and avoid major mistakes when under pressure, but those dropbacks still take a hit on offensive output, and performance under duress isn't stable.
Put simply, if the offensive line continues to play this poorly, it will come back to haunt the Crimson Tide. It is a matter of when, not if.
Matching what he did against Georgia will be extremely tough for the Crimson Tide signal-caller. Cincinnati has a solid pass rush that uses its linebackers to show pressure; they rank third nationally in pressure rate generated this season (42%) and are fourth in team pass-rush grade (90.8).
It will be essential for the Bearcats to generate pressure at that kind of rate. Young may have the ability to be Superman in these circumstances, but that high rate of pressure is destined to lessen their offensive efficiency to some extent.
Subscribe to PFF Edge to continue reading
Already have a subscription? Sign In