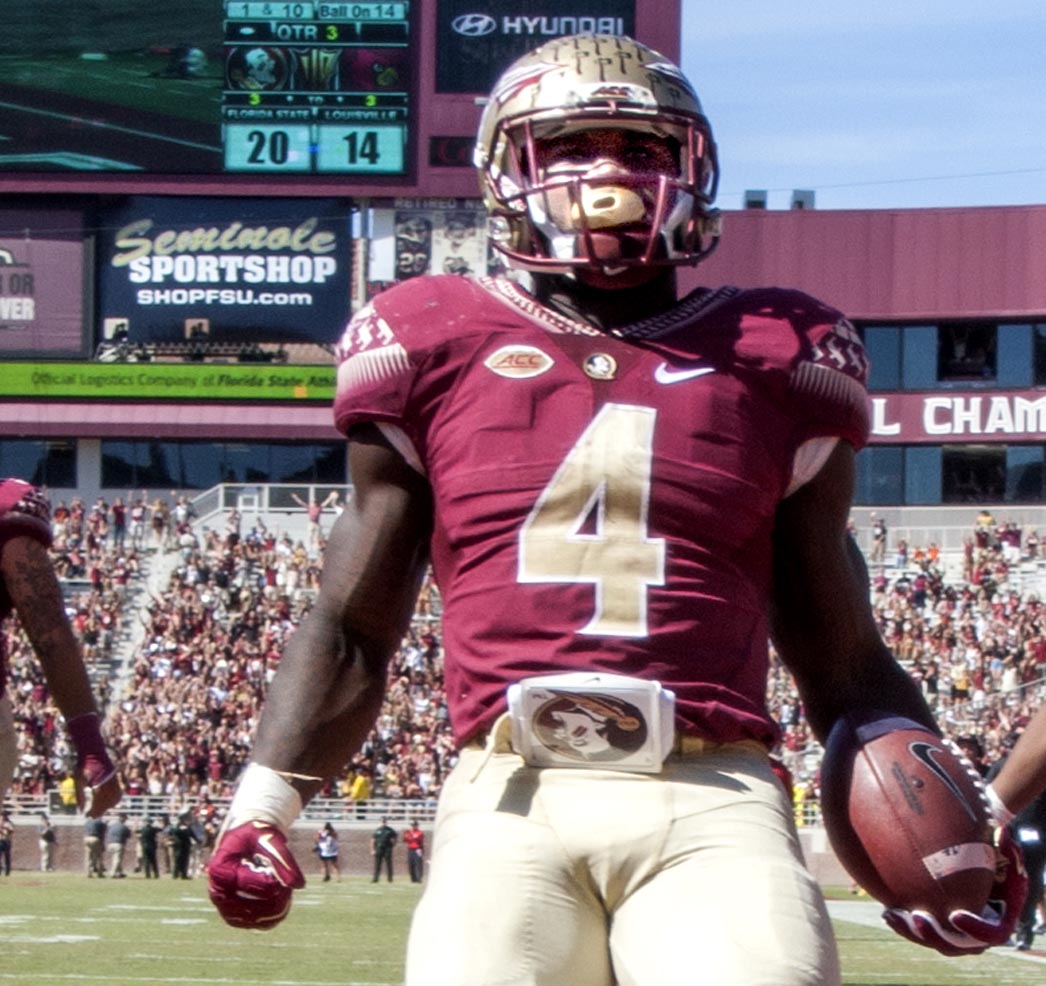 PFF grades every play of every college football game involving an FBS opponent, meaning we were witness to a long list of impressive individual performances last season. Which ones stood out the most?
We ranked the top 10 from the ACC from 2015 among players returning for the 2016 season:
BC LB Matt Milano vs Notre Dame, Week 12
Boston College has a history of producing talented linebackers. Junior Matt Milano is the next in the pipeline. His excellent season was capped off by a complete performance against Notre Dame. Milano put on a clinic in linebacker play, making an impact in coverage, against the run and as a pass rusher. He showed his athleticism in coverage, tracking a post route deep down the field before ensuring an incompletion with a pass deflection. Against the run, he took points off the board by forcing then recovering a fumble in goal line defense. Milano completed the trifecta with a couple of pressures, finishing with a +6.0 grade.
SYR DE Ron Thompson vs Central Michigan, Week 3
Despite a struggling supporting cast, DE Ron Thompson made a consistent impact for the Orange in 2015. He enjoyed a particularly dominant game against Central Michigan, generating eight combined pressures. Thompson's best moment was a game-defining. Up a touchdown at the beginning of the fourth quarter with CM in field goal range, Thompson dipped inside the left tackle and got a big left paw on the ball, forcing a fumble which Syracuse recovered. They went on to win the game by a field goal. Aside from that play, he added a further sack, hit and five hurries along with four defensive stops. Few defensive ends could boast a better performance in 2015.
MIA CB Corn Elder vs Nebraska, Week 3
Artie Burns may have been a first-round pick, but there's a case against him as Miami's top corner in 2015. His teammate, Corn Elder, graded significantly higher in our rankings. Although he lacked consistency last season, his performance against Nebraska was outstanding. Overall he allowed only 19 yards on three catches from eight targets, with two pass deflections and an interception. Elder allowed a QB rating of only 45.8 in that outing. He not only dominated throughout the contest, but made a decisive, final contribution; picking off a pass in the endzone in overtime. Few corners had such a good overall performance, coupled with a game-winning contribution, in 2015.
UL NT DeAngelo Brown vs Florida State, Week 7
Nose tackle DeAngelo Brown feasted against Florida State. The Seminoles' desperate center situation certainly contributed to his +6.9 grade, but Brown made plays against the entirety of FSU's front. He recorded four pressures in just 24 rushes, winning with both quickness and power. The latter was also on full display against the run. On one specific play, he drove RG Wilson Bell deep into the backfield. Unsatisfied with merely disrupting the run, he also shed the block to make the tackle for loss.
VT OG Wyatt Teller vs Tulsa, Bowl Game
Converted defensive tackle Wyatt Teller improved throughout 2015, culminating in an outstanding bowl game. The redshirt sophomore has proved predictably raw in pass protection throughout his two years as a starter, but is a mauler in the ground game. Against Tulsa, he was perfect in pass protection and finished with a season-high +5.8 grade as a run blocker. Teller also made an impact in the screen game, grading positively in each facet of play.
BC DE Harold Landry vs Florida State, Week 3
Landry had one of the best statistical games of the season against Florida State. He generated seven combined pressures and made a remarkable eight stops. Four of those seven pressures were knockdowns, and they came on just 30 rushes. Landry is most effective against the run, however. On three consecutive fourth quarter runs, Landry made tackles around the line of scrimmage. He simply refused to be blocked, earning a dominant run defense grade.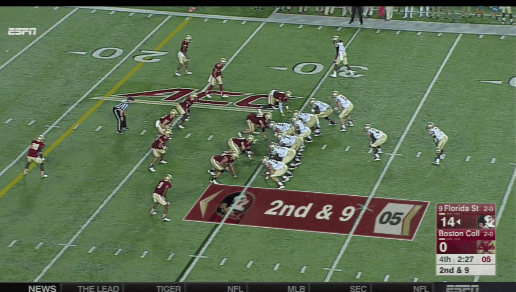 PIT QB Nate Peterman vs Georgia Tech, Week 7
Peterman was far from the best QB in the ACC in 2015, but he had one of the best games in Week 7 against the Yellow Jackets. Discounting passes thrown away, he completed 14 of 18 targets for 162 yards and three scores. Peterman's best throw in the game came toward the end of the second quarter. He was pressured off the edge, but was able to adjust his body and complete a 30 post into the endzone between two defenders. Peterman also used his legs successfully, both to extend plays and to pickup yardage on the ground.
FSU HB Dalvin Cook vs Lousiville, Week 7
Cook could select from a number of tapes for his top game of 2015. He recorded his highest grade in FSU's matchup with Louisville, generating 163 yards on 22 carries and two touchdowns. Cook shattered Lousiville's resistance early in the third quarter, breaking four tackles on a 54-yard touchdown run. On a counter concept, he used his incredible acceleration to reach the perimeter outrunning the contain defender. Cook cut inside to maximize the yardage, using his balance to stay upright despite contact from four defenders. In the same game, he broke six tackles on four targets as a receiver. There's a lot of competition for the title of top FBS running back, Cook is right in the mix.
NCS TE Jaylen Samuels vs Eastern Kentucky, Week 2
Jaylen Samuels was one of the most effective tight ends in all of college a year ago, ranking behind only Hunter Henry and Jake Butt in pure receiving grade. He shredded FCS college Eastern Kentucky racking up 88 yards on six catches with eight broken tackles. Five of those broken tackles came on a single play. Samuels caught a screen on the right sideline, driving across the field away from the over-pursuing defense, leaving five defenders in his wake for a gain of 30. That single play highlights Samuels' game-breaking ability.
VT WR Isaiah Ford vt Ford vs North Carolina, Week 12
Ford might not be the most dominant receiver, but his consistency is impressive. He graded positively in every game in 2015, recording a season-high grade in the Hokies matchup with the Tarheels. Ford won downfield on three occasions, using subtle route running and speed to get open on double moves. He had success with both the "out and up" and "stop and go", using his speed to generate separation deep. Overall he caught eight passes for 155 yards and a touchdown against North Carolina's strong secondary.