Week 3 of the college football season is officially in the books, with Week 4 ushering in the official start of conference play. Fittingly, Week 4 is headlined by a team with no conference as Notre Dame heads to Athens to take on our third-ranked Georgia Bulldogs. The Big Ten pits its second- and fifth-ranked teams in Madison and the SEC showcases Auburn on the road at Texas A&M. With college football now in full swing let's dive into our Top 25 based on PFFELO rankings.
PFFELO is an iterative system that updates each team's rating after each game based on two things: how well they played against their opponent and how well they were expected to play against their opponent. The PFFELO rating system measures the former using our unique offensive, defensive and special teams grades, while the latter is determined by the PFFELO ratings leading up to the game and where the game is played.
For example, a heavy favorite playing at home is expected to outplay the visitor, so a victory would result in only a small rise in their PFFELO rating and a similarly-small decrease in the defeated team's, but if an upset were to happen, the visiting team would see their PFFELO rating rise substantially, and the home team's see a similarly-sized drop.
Sometimes in football, the best team does not win, and PFFELO accounts for these oddities by using our grades. Hence there will be teams rated higher or lower in this system than their win-loss record would suggest.  While adjustments are made using preseason market data, along with recruiting rankings, the majority of these numbers are derived using our grades. Since PFF began charting college football in 2014, the difference in PFF ELO values alone has been able to explain over three-fourths of the variance in the closing Vegas line.  Check back to profootballfocus.com for weekly college spread picks using this model (as well as other information) and check out PFF College Greenline for a full slate of against the spread and total lines based on this on our rating metrics. 
[Editor's Note: All ELITE subscribers have access to PFF Greenline, an online dashboard with projections for the spread, total and moneyline for NFL and FBS games every week. Subscribe today to gain access!]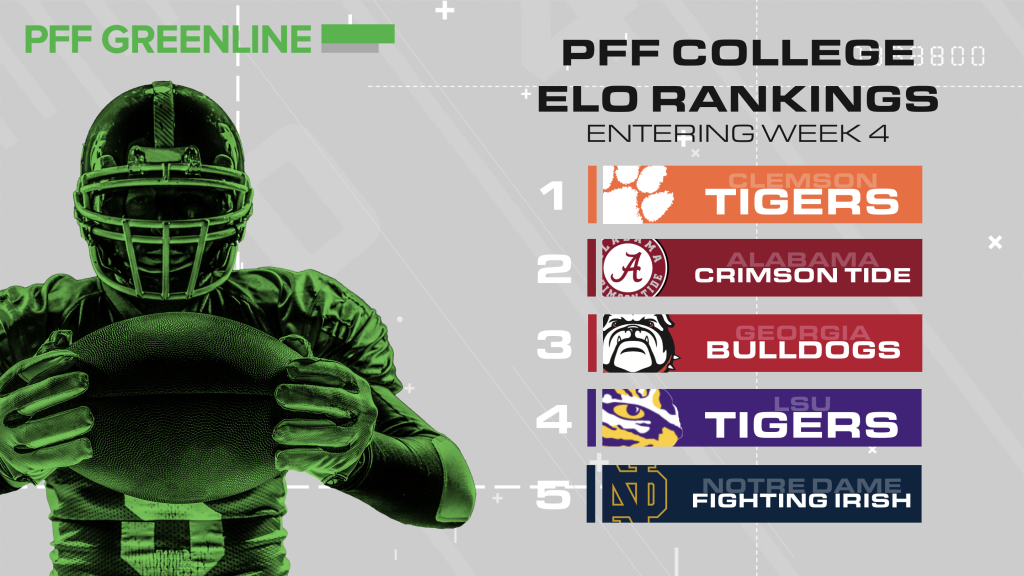 Top 25 Rankings
Clemson showcased their dominance over the ACC with a never-in-doubt beatdown of Syracuse on the road. Tee Higgins continues to flash as a dynamic piece to this Clemson offense, as he has the fourth-best receiving grade in the FBS and has four big-time catches so far this year. Clemson's offensive line is also grading as the ninth-best pass-blocking unit in the FBS having allowed pressure on only 13.5% of dropbacks. They have a clear path to the ACC championship game with the playoffs a short distance later, as our model gives them over a 90%chance of joining the top four.
Besides his rocky performance in the SEC championship game, Tua Tagovailoa earned the lowest passing grade of his career at South Carolina on Saturday. Tagovailoa has now received almost 72% of his yards after the catch in 2019, and his average depth of target of 7.0 is the eighth-lowest mark among FBS quarterbacks who've dropped back at least 40 times. Thankfully, he has still been accurate, as both his accuracy percentage and "accuracy plus" percentage rank in the top-20 among qualifying quarterbacks. The Crimson Tide haven't needed much from Tua yet, but at some point in 2019, they will. 
A distant third from the top-two but clearly in a tier of their own before those below them, the Bulldogs face their first real test of the 2019 season with the fifth-ranked Fighting Irish coming to town. Georgia opened as 12-point favorites at home and were swiftly bet up to a two-touchdown spread. They have leapfrogged the Clemson Tigers in our offensive ranking and have risen from tenth (to start the season) up to sixth in our defensive rankings. Jake Fromm is just waiting for his signature game to put him in the Heisman trophy hunt. With the sixth-best "accurate plus" percentage in the FBS, his time to shine could be coming this weekend against the third-best defense in the country, per PFF Greenline. 
LSU slides into their SEC conference schedule with a road matchup against Vanderbilt this weekend. LSU opened as 23.5-point road favorites with Greenline having reservations about the Tigers covering all those points on the road. The Tigers have their work cut out for them the rest of the season, with the fourth-most difficult strength of schedule remaining. Navigating their remaining schedule will be a difficult task, as we give them around a 15% chance of reaching the college football playoff. On the outside for Joe Burrow, Justin Jefferson has the third-highest receiving grade in the FBS, buoyed by six big-time catches, the second-most in the FBS. 
The time has finally arrived for the Fighting Irish to measure up against one of the best in college football. Notre Dame found few backers at the opening +12 spread as it was hammered out to +14. Highlighted as our PFF game of the week, Notre Dame has slightly above a break-even percentage cover probability on Saturday, according to Greenline. The crucial piece to this game will be the play of Ian Book. Dramatic splits between his play when clean compared to his play under pressure mean it is paramount that Book has enough clean pockets to deliver downfield. If the Bulldogs can maintain the 55% pressure rate they have so far, it could make this a long game for Book and the Fighting Irish. 
Despite heavy turnover on the offensive side of the ball from 2018, the Buckeyes appear to have improved in most facets of offensive play this year. They have risen from ninth to fourth overall in our offensive rankings with Justin Fields third in the nation with 77.9% of his yards coming through the air. Factoring in an 84.9% adjusted completion percentage, the Buckeyes have been just as accurate throwing but no longer rely on the dink-and-dunk with yards coming after the catch. Fields has the FBS' lowest percentage of uncatchable, inaccurate passes (2.4%). Defensively, the Buckeyes continue to improve — after starting the season 36th in our rankings they have risen up to 12th after their Week 3 performance. 
7. Oklahoma
The Sooners own the top spot in our offensive rankings and also have by far the best EPA per pass numbers in the FBS. Jalen Hurts continues to be better than advertised with the fifth-best passing grade in the nation. With the 36th most difficult strength of schedule remaining, the Sooners have a clear path to the college football playoff with our simulation giving them the fourth-highest chance of making it, most likely as the fourth seed. 
The Gators went on the road and beat a quality Kentucky Wildcats team but lost Feleipe Franks in the process. Florida didn't rely too heavily on their signal-caller, but the loss of Franks will still weigh heavily. Kyle Trask took 16 dropbacks on Saturday and threw two turnover-worthy throws on 15 attempts. Over his career, he has 42 pass attempts and has earned a below-average grade. The pass-rush will be even more critical to the Gators' success going forward. Led by Jonathan Greenard and his 87.2 pass-rushing grade, this unit needs to continue to generate pressure at a high rate.
After a much-needed week of rest after their overtime thriller against Army, the Wolverines head to Wisconsin where they opened as three-point road dogs. This number has oscillated between +3 and +3.5 with Greenline all over a play on both the spread and total in this matchup. Shea Patterson needs to bottle up his early-season performance against Middle Tennessee and forget about his home game against Army. If he puts up another passing grade close to 86.2, the Wolverines should be able to cover and most likely emerge victorious on the road this Saturday. Things do not let up for Michigan as they have the tenth most difficult rest of season schedule and the second most difficult when removing SEC teams. 
Auburn officially jumps into their SEC schedule with a road matchup against 13th-ranked Texas A&M. The hope is that Bo Nix can build on his performance against Kent State, where he posted an 81.7 passing grade with an 88.2 adjusted completion percentage. The Tigers find themselves as four-point road dogs this Saturday, with Greenline giving them a 38.2% win probability. If they survive, things do not get any easier for Auburn as they have the fifth most difficult rest of season schedule and face a ranked opponent every other week for the remainder of 2019.
11. Penn State
In a rivalry matchup, Penn State outlasted Pittsburgh thanks to a coaching decision to kick a field goal at the one-yard line. A wise man once said, "field goals are turnovers with a participation trophy," which could not be any more relevant to Pittsburgh on Saturday. The Nittany Lions head into their Big Ten play set to face the 13th most difficult rest of season schedule. With Sean Clifford having by far the worst graded game of his short career, he will need to rebound quickly if the Nittany Lions want to make some noise in the Big Ten conference. It could be a difficult task with our simulation giving them around a 10% chance of getting to the Big Ten title game.  
12. Iowa
Iowa survived in-state rival Iowa State in a rain-delayed game that lasted over six hours. Relying on four field goals, the over that was written up in our spread picks column fell painfully short. Iowa gets a much-needed week off before a get-right game against Middle Tennessee in two weeks. The first week in October, the Hawkeyes head to the big house in Michigan to take on the Wolverines. Iowa is still the favorite to come out of the Big Ten West, with our model giving them around a 40% chance of playing in the conference title game. 
Texas A&M found their way against Lamar after hanging tough but falling short against Clemson the week before. The Aggies now jump into the third most difficult rest of season schedule by hosting Auburn this weekend. Opening as four-point favorites, the Aggies must win to stay at all relevant in the SEC. They travel to Tuscaloosa in two weeks and are the only team to face all four of the top-ranked teams in regular-season play. 
With season-ending injuries to starting quarterbacks at both Florida and Kentucky, the Missouri Tigers look like the main contender for Georgia to emerge from the SEC east. After a rocky start to the season, Kelly Bryant appears to be settling into his new Tigers team. Larry Rountree has seen a steadily increasing workload averaging 3.6 yards after contact per attempt and forcing 11 missed tackles. 
Texas got back on track before the start of their Big-12 conference play against Rice. The Longhorns now face off against 27th-ranked Oklahoma State as five-point home favorites. After opening as a touchdown favorite, this line was pounded down, with the market not agreeing on just how good this Texas team is. With a 66% win probability, Texas needs to start off their conference schedule strong if they want to keep pace with Oklahoma. 
The Huskies rode a hot start to a 52-20 rout of Hawaii on Saturday. Jacob Eason appears to be much closer to the quarterback who recorded a 78 adjusted completion percentage while averaging 10.9 aDot than the one who showed a 55.2 passing grade against California in Week 2. We should have a much clearer picture of Eason after their Week 4 road matchup against BYU. After opening as 6.5-point road favorites, this number has bounced between -4.5 to -5.5 in spots. Greenline is enticed by a play on the spread but falls right in line with the market consensus on the total. 
The other main challenger in the Pac-12, Utah continues to prove the preseason hype correct. Tyler Huntley has looked better than expected early, with an 89.3 passing grade that ranks seventh in the FBS. With a low aDOT of 7.3, it would be more encouraging if his accuracy numbers were higher. Things finally get real this weekend with Utah kicking off their Pac-12 schedule Friday on the road at USC. This spread has settled in between 3.5 to 4.5 points for the road favorite Utes. 
We find out quickly who slots in as the class of the Big Ten behind Ohio State. Wisconsin has picked up the hook on the key number three since the open now settling in as -3.5 favorites. This game will come down to quarterback play, with Wisconsin having a better passer rating when clean and under pressure than the Wolverines have had in 2019.  With only one turnover-worthy throw, Jack Coan has done what is needed to win so far in 2019. If he can deliver downfield while minimizing mistakes, the Badgers should be in a position to win on Saturday. 
Virginia has been one of the fastest rising teams in our ELO rankings after opening the season at 27th. They are also one of the most balanced teams in the FBS with the 28th-ranked offense and 27th-ranked defense. The offense has been driven by their rushing attack, which combined, has forced 17 missed tackles with an EPA per rush play of 0.19. The Cavaliers have a 98% win probability as 30.5-point favorites at home against Old Dominion. After this week they head to Notre Dame to face what could be an angry Fighting Irish squad. 
If it wasn't for the reliance on their kicker, the Wildcats could have easily emerged victorious against Florida last Saturday. Kentucky didn't have the same playmaking ability at quarterback, with Sawyer Smith struggling to fill the shoes of Terry Wilson. Despite decent box score stats, Smith had three turnover-worthy plays and an adjusted completion percentage of just 66.7%. The Wildcats now head to Mississippi State as seven-point road dogs. With just a 33.4% win probability, Kentucky is dangerously close to falling out of relevance quickly in the SEC. 
It was a wild finish to an otherwise lackluster game for the Spartans on Saturday. Many will be perplexed by the Spartans remaining in our top-25 after a loss to Arizona State at home. Our rankings utilize all facets of PFF grades to predict what the final score should have been and not necessarily what the final score was. This is done to remove random bounces and elements of luck that occur throughout football games. The Spartans travel to Northwestern as 9.5-point road favorites this weekend. With the lowest total in Week 4 opening at 38.5 and staying at 39.5, this could be another brutal game to watch with the expectation of very few points being scored.  
After a brutal loss that caused them to drop from 16th to 22nd in our ELO rankings, the Bulldogs begin their SEC schedule at home against Kentucky. If Tommy Stevens can go, he has to play better if the Bulldogs are going to rebound from last weeks letdown. With so much uncertainty on offense for both of these teams, the under has some value here.
23. Wake Forest
One of the biggest risers in our ELO rankings, Wake Forest started the season as the 37th-best team and have risen from 28th last week to 23rd this week. The Demon Deacons appear to have been overlooked, but few should be sleeping on them after an impressive win against UNC. Jamie Newman has an 83.8 passing grade with zero turnover-worthy throws; 63% of his yards came through the air, and he has averaged an aDot of 10.6. The Demon Deacons are quickly showing that they may be the real challenge to Clemson remaining perfect in the regular season. 
As 3.5-point road favorites, TCU demolished Purdue rising 16 spots into our top-25 from a previous week ranking of 40. It has been an effective ground-and-pound attack from the Horned Frogs, as they currently lead the nation in EPA generated per rush attempt at 0.36. Sixty percent of their rushes have been successful, as they have generated a missed tackle on 28% of attempts. It is not necessarily the recipe for lasting success, however. TCU has a tough road matchup against an underrated SMU squad. The Horned Frogs opened as 9.5-point home favorites with Greenline giving them a 73.2% win probability. 
UCF rolled to a convincing victory over Stanford, crushing our hopes and dreams in the spread picks column. UCF heads to Pittsburgh with the spread opening as 10-point favorites for the Knights. This spread has caught some steam, adding two points before settling in as 12-point road favorites. Dillon Gabriel has been tremendous, posting a 77.4 passing grade and the third-highest aDOT (at 14.3) in the FBS. With 57% of his throws past the sticks, this offense is as good as any, with the fifth-best EPA per pass attempt in the country.