The Big 12 has always been known for its strong quarterback play, and this upcoming season promises to be no different in that regard. The conference is led by arguably the two best quarterbacks in the country in Oklahoma's Baker Mayfield and Oklahoma State's Mason Rudolph. The pair graded out as the top two quarterbacks in college last year, earning 96.1 and 91.9 overall grades, respectively.
So, it's clear who the two best quarterbacks in the Big 12 are. What is less clear, though, is who ranks third. There are a few candidates, so lets take a look at who has the best chance to claim the spot of third-best quarterback in the Big 12 in 2017.
1. Kenny Hill, TCU (73.8 overall grade in 2016 season)
Kenny Hill's passing totals didn't look overly impressive last year. He completed 60.5 percent of his attempts for 3,215 yards (7.2 YPA) and threw 17 touchdowns compared 13 interceptions. Digging deeper, however, and we see that those numbers are a bit misleading.
On the year, Hill's receivers dropped a ridiculous 38 passes, most in the nation. His adjusted completion percentage was over 10 points higher than his actual completion percentage, at 71.5. That number ranked inside the top-50 last year, and was actually higher than Mason Rudolph's (71.4). Hill did struggle with the deep ball, though, and he'll need to improve in that area going forward. He recorded an adjusted completion rate of just 38.0 percent on passes more than 20 yards downfield, which ranked 80th in the country.
Hill also adds a dynamic running ability to his game, which comes in handy when coverage is good or the pressure is on. He finished last year with a rushing grade of 89.2, which ranked 17th among quarterbacks. He rushed the ball 97 times last season, gaining 755 yards and 10 touchdowns, all while forcing 28 missed tackles. He was particularly effective on QB scrambles, gaining 423 yards on 42 scrambles, averaging over 10 yards per rush.
At times in 2016, Hill looked like he belonged right in that top echelon of Big 12 quarterbacks. There were other moments, however, where he looked nowhere close to that level. He had three awful games against Kansas (44.5 game grade), West Virginia (37.1), and Texas (51.4). Take away those games, and his season starts to look much better. So, if Hill can become a bit more consistent and get rid of those bad games—and improve on his deep-ball accuracy—he could very well make the claim as the third-best quarterback in the Big 12 next year.
2. Shane Buechele, Texas (70.4)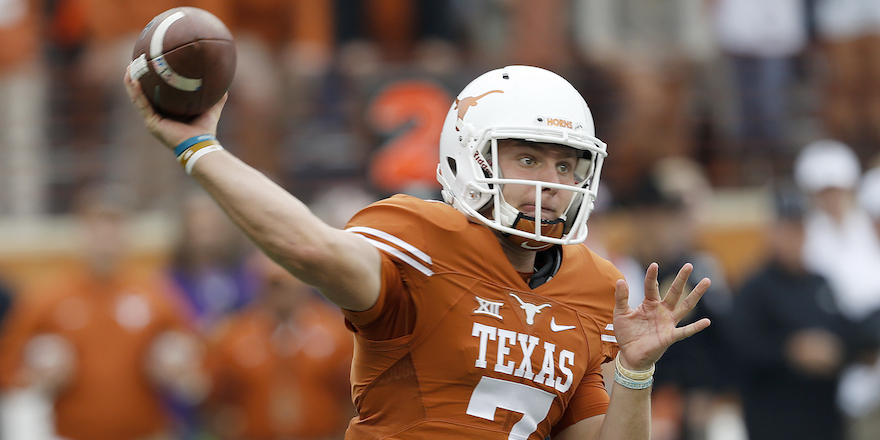 Texas fans were excited watching Buechele early in the 2016 season when he looked like one of the best QBs in the country. He ultimately did fall back to earth in a big way, but there was a lot of good to take away from his play, especially given that he was a true freshman. Buechele completed 59.9 percent of his passes for 2,945 yards while throwing 21 touchdowns to 11 interceptions. While a sub-60 completion rate doesn't look great, he too was a victim of dropped passes. Buechele's recorded a 70.5 adjusted completion percentage, which isn't one of the best marks, but certainly isn't terrible, either.
Much like Hill, what Buechele really needs to work on is his deep ball. At times, especially early on in the season, Buechele looked like one of the best deep-ball passers in the country. He struggled as the year went on, though, possibly due to injuries, and by the end of the season, his adjusted completion percentage on deep passes was a mere 30.8—one of the lowest marks in the league. Buechele was also one of the worst quarterbacks under pressure, completing just 28.3 percent of his passes when under duress (46.3 adjusted completion rate).
Luckily for Buechele, Texas' offensive line will likely be one of the best in the conference next year, if not the best. The Texas offense relies on the deep ball more than almost any other team, meaning the young QB will definitely need to improve in that regard. Buechele now has a full offseason to train and prepare for the upcoming year; if he can take that next step, he could vault himself into that top echelon of Big 12 quarterbacks.
3. Jesse Ertz, Kansas State (77.3)
Ertz is probably the most surprising name on this list. A junior taking the reigns of the Wildcats' offense last year for the first time, Ertz put up very underwhelming passing numbers. He completed just 56.7 percent of his passes for 1,742 yards (a mere 6.5 YPA) and threw nine touchdowns to four interceptions. He recorded one of the lowest adjusted completion percentages in college football, at 66.1 perent, and had a deep-ball adjusted completion rate of a mere 28.0 percent. He was below-average when under pressure, putting up a QB rating of just 49.7 on such plays.
So how can a guy with such poor passing numbers have a chance to be the third-best quarterback in the Big 12?
The simple answer is this: Ertz was not only the best running quarterback in the Big 12 last year, he was one of the best in the whole country. His 95.2 rushing grade ranked third in the FBS, behind only Quinton Flowers of South Florida and, you probably guessed it, Heisman winner Lamar Jackson. Kansas State's option attack offense allowed Ertz to rush for 1,113 yards on 168 carries, and he scored 12 touchdowns while forcing 31 missed tackles. Ertz did most of that in the second half of the season, too, as he had barely rushed for 300 yards halfway through the year. Watching Ertz run was electric at times, and he proved he could take over games by himself as a runner.
There's no question that Ertz will need to improve his passing to find himself in the conversation as one of the best quarterbacks in the Big 12, but he's already proven that he's one of the best rushing QBs in the entire country. With Kansas State running an option-heavy offense, he won't need to be a perfect pocket passer to succeed. Some minimal improvement in his passing game could be all it takes to vault Ertz up to that top-QB status.