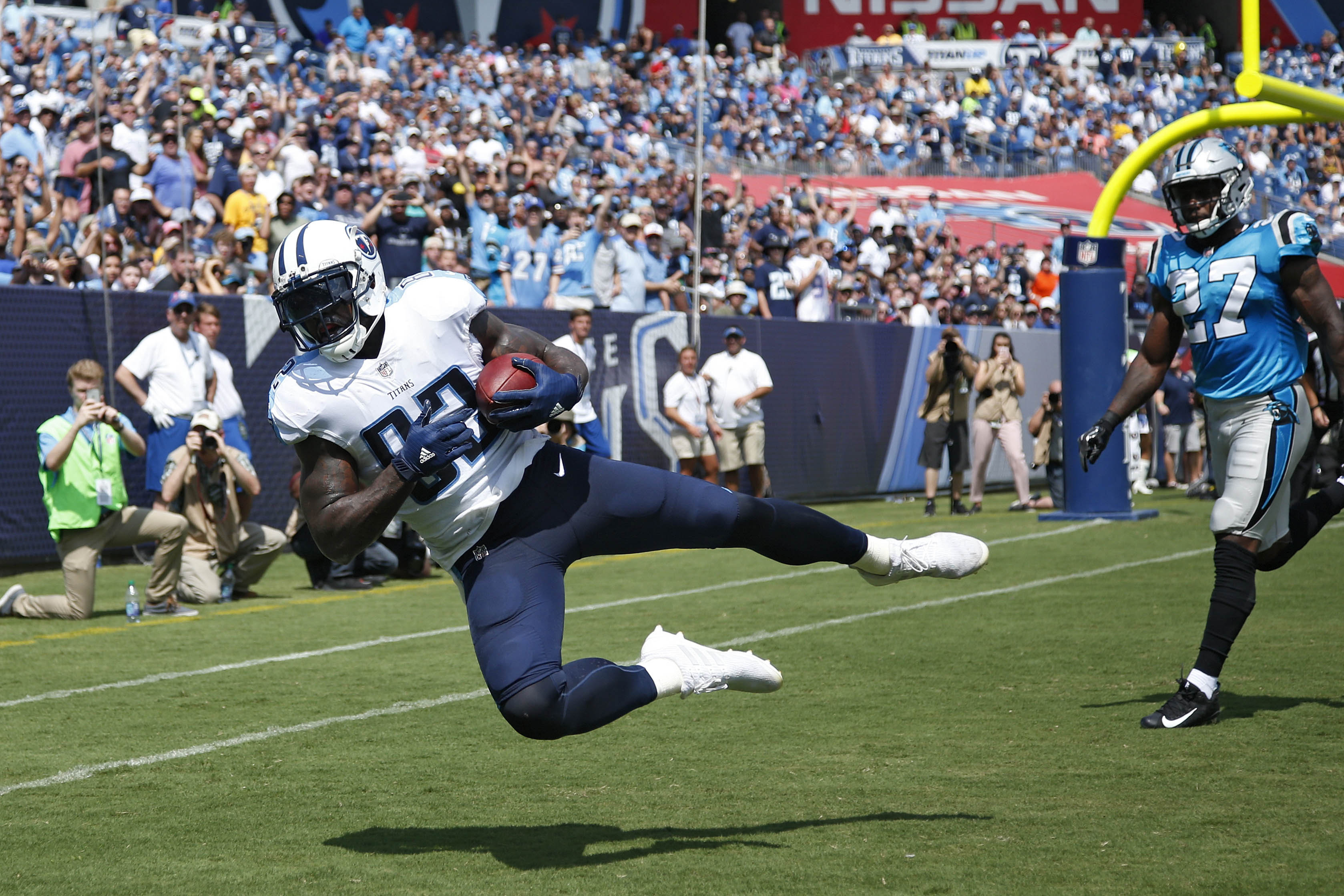 NASHVILLE, TN - AUGUST 19: Delanie Walker #82 of the Tennessee Titans makes a four-yard touchdown reception in the first quarter of a preseason game against the Carolina Panthers at Nissan Stadium on August 19, 2017 in Nashville, Tennessee. (Photo by Joe Robbins/Getty Images)
Tennessee Titans QB Marcus Mariota looked sharp in two series with the team, hitting TE Delanie Walker for a touchdown, while the Titans defense impressed in the first quarter, jumping out to a 17-0 lead at the end of the quarter. Carolina Panthers' fans didn't get to see any of QB Cam Newton, but were treated to their first real taste of what the possibilities will be with rookie RB Christian McCaffrey in the backfield.
Despite McCaffrey's strong performance, the Titans held on to a 34-27 victory in the end that saw the teams combine for five touchdowns on the ground. With that we give you our PFF exclusive takeaways from the contest for each team.

Top 5 Grades
CB Kalan Reed, 88.6 overall grade
ED Aaron Wallace, 87.9 overall grade
S Denzel Johnson, 87.7 overall grade
DI Cameron Robbins, 84.1 overall grade
T Taylor Lewan, 82.9 overall grade
Performances of note:
The Titans left tackle was utterly dominant in his 35 snaps on the field, delivering several impressive blocks in the running game to create room for running back Derrick Henry. As a pass protector he was flawless, with no pressure allowed from 16 pass blocking snaps, for a pass blocking efficiency mark of 100.0.
Incredibly tough to bring down, the former Heisman Trophy winning running back from Alabama made life difficult for the Carolina Panthers defense early in the game, forcing four missed tackles on 16 carries and averaging 3.4 yards after contact per carry. He added another two forced missed tackles as a receiver to give him an elusive rating of 106.6 in the game.
CB Kalan Reed, 88.6 overall grade
Titans CB Reed impressed in coverage, allowing just one completion for eight yards on five passes thrown into his coverage, breaking up one pass and knocking another from a receiver's hands with a well-timed hit. He saw just a 39.6 passer rating when targeted in the game, and his second game ball in as many games for the Titans.
With a second impressive performance of this preseason, Wallace recorded a strip sack, a QB hit and three further pressures, bringing his tally to 10 pressures through two preseason games. His pass-rush productivity for the game was an impressive 14.1, as he saw all of his aforementioned pressures accumulated when rushing from the right side of the defensive line.

Top 5 Grades
LB David Mayo, 85.5 overall grade
CB James Bradberry, 83.1 overall grade
DI Eric Crume, 82.4 overall grade
T Taylor Moton, 81.8 overall grade
HB Cameron Artis-Payne, 79.6 overall grade
Performances of note:
In just nine snaps, McCaffrey managed to show just how dynamic he can be, using his quickness and vision to make the most of any space he was given, the Titans defense struggled to get near him. He also ran six of his nine snaps in route, and accumulated an outstanding 6.50 yards per route run in the passing game.
Artis-Payne had to wait until the second half for his opportunity to impress, and he made sure to do just that, with runs of 43 and 22 yards. The highlight was a rather impressive juke past the Titans S Denzel Johnson, who had a fine game himself. Artis-Payne finished with an impressive, game-high 92.9 breakaway percentage.
LB David Mayo, 85.5 overall grade
Trying to solidify his roster spot, Mayo had a solid outing, particularly in coverage. Targeted twice, he gave up just one reception for six yards and came away with a pass breakup. He made an impact against the run too, and finished the game with four of his seven solo tackles resulting in a defensive stop.
If this afternoon's game was any indication, CB James Bradberry is on course to make a big splash in his second season in the NFL. Targeted twice on nine coverage snaps, the former second-round draft pick out of Samford allowed just one reception for three yards, and saw a 56.3 passer rating when targeted.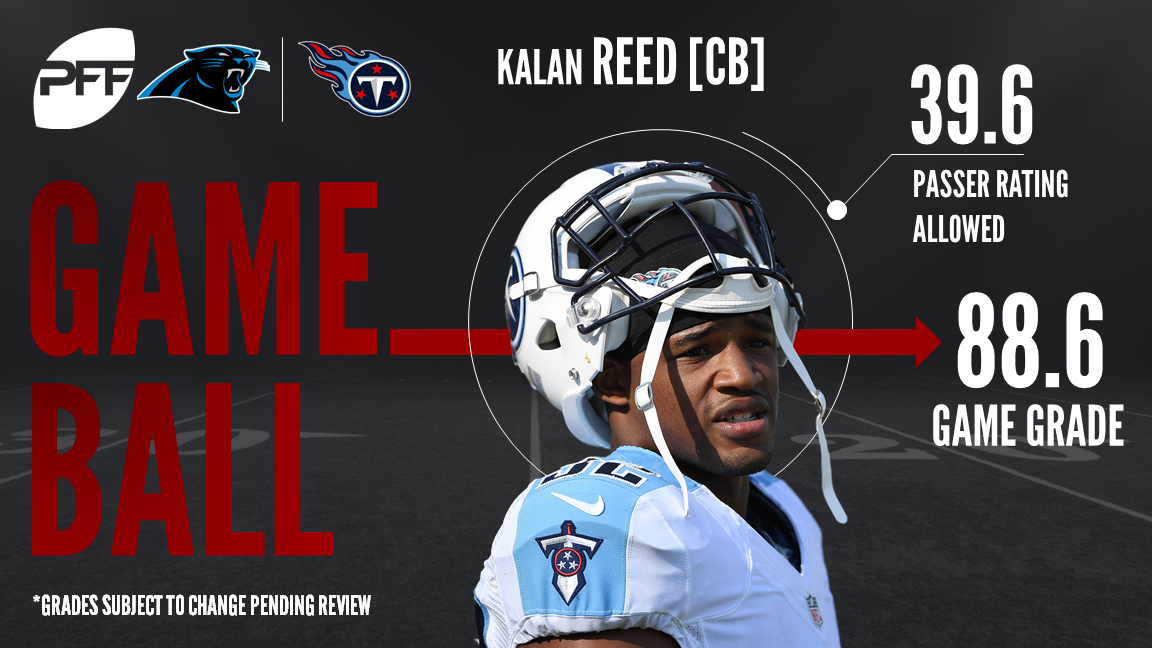 *Grades subject to change