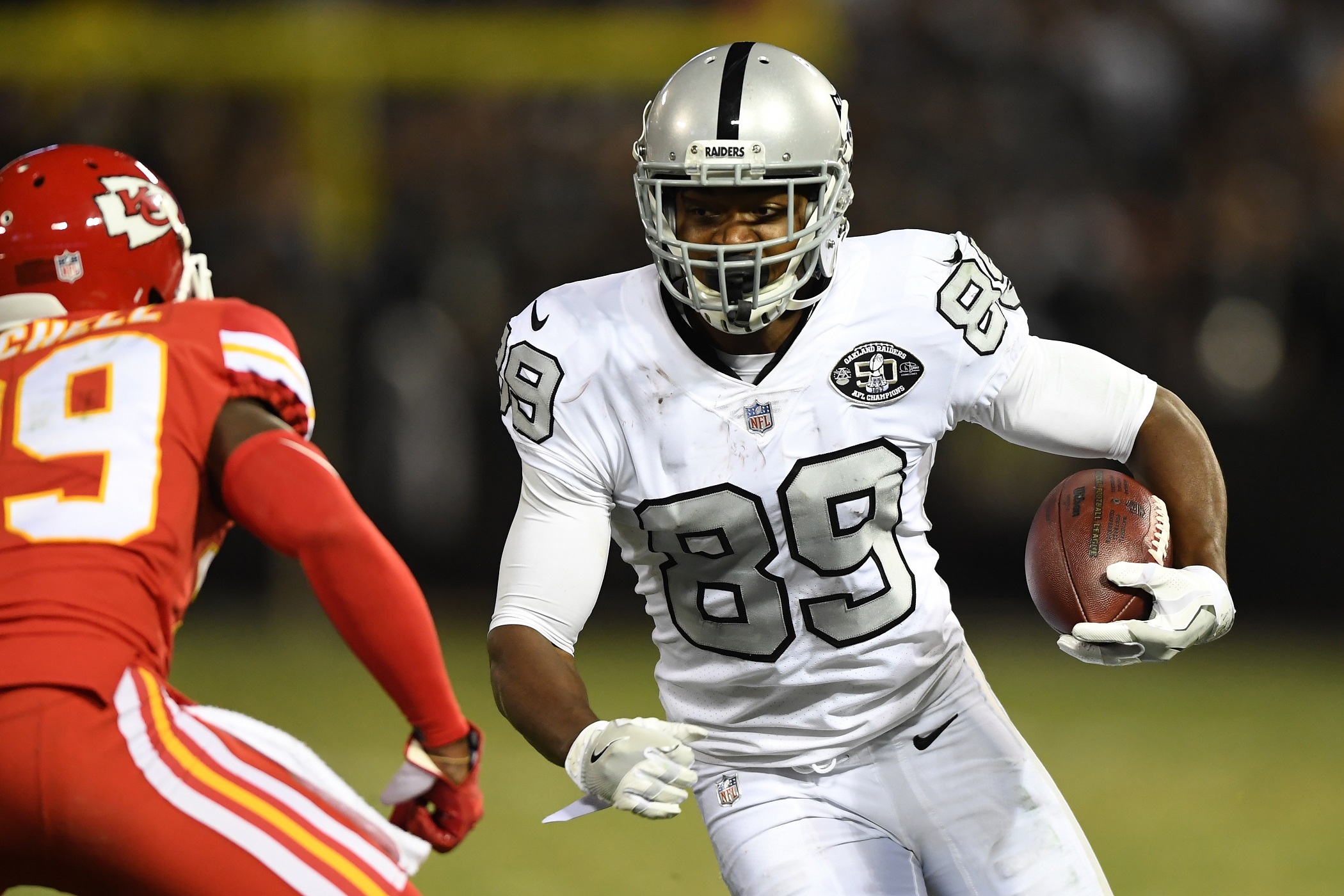 OAKLAND, CA - OCTOBER 19: Amari Cooper #89 of the Oakland Raiders runs after a catch against the Kansas City Chiefs during their NFL game at Oakland-Alameda County Coliseum on October 19, 2017 in Oakland, California. (Photo by Thearon W. Henderson/Getty Images)
WR Amari Cooper filled up the stat sheet all night long after recording a disappointing season to this point. He and QB Derek Carr connected for two first quarter touchdowns, but a long WR Tyreek Hill touchdown pass from QB Alex Smith would help give the Chiefs the lead at halftime.
With RB Marshawn Lynch ejected from the game, the Raiders opened the second half with a RB DeAndre Washington rushing touchdown to pull ahead. The Chiefs would score 10 third quarter points, but the Raiders would respond. WR Michael Crabtree caught a touchdown pass on an untimed down that, with the made extra point, won the game for the Raiders, 31-30. With that, we give you our PFF exclusive takeaways from the contest for each team.

Top 5 Grades:
DI Justin Ellis, 83.0 overall grade
WR Amari Cooper, 82.7 overall grade
TE Jared Cook, 82.3 overall grade
LB NaVorro Bowman, 82.0 overall grade
QB Derek Carr, 81.7 overall grade
Performances of Note:
After a rough start to the season, Amari Cooper finally had a breakout game. He was targeted a career-high 18 times, and hauled in 11 catches for another career-high of 210 yards. However, he also had two drops on the night, to extend his lead-leading drop count to nine.
QB Derek Carr, 81.7 overall grade
This was definitely a game where Carr's stats don't necessarily line up with his grading, and for multiple reasons. First, he had a terrible fumble and was bailed out by a questionable illegal contact penalty, and he threw multiple turnover-worthy passes. However, on the flip side, his receivers also dropped seven passes, not including the pass that Johnny Holton seemingly prevented Seth Roberts from catching on the final drive. In the end though, Carr stepped up on the final drive to seal the win after several "final" plays of the game.
Raiders DI Justin Ellis was a stud on the inside. Ellis had three stops in run defense and added a pressure rushing the quarterback. Ellis was able to defeat blockers and change the intended point of attack on the Chiefs rushing plays.
Edge Khalil Mack, 81.5 overall grade
Edge defender Khalil Mack finished with a sack, a hit and five hurries. Mack was a disruptive force all game and clearly flustered Alex Smith as the game wore on, doing a lot of his damage rushing from the right side of the offense. He also produced a run stop in run defense.

Top 5 Grades:
WR Tyreek Hill, 83.9 overall grade
TE Travis Kelce, 81.5 overall grade
G Bryan Witzmann, 81.1 overall grade
Edge Justin Houston, 80.8 overall grade
T Mitchell Schwartz, 80.2 overall grade
Performances of Note:
QB Alex Smith, 71.0 overall grade
Smith finished 25-of-36 (including 1 drop) for 342 yards and three touchdowns. Smith was 5-of-11 under pressure for 75 yards, while he was 4-of-4 of passes of 20 yards or more for 191 yards and two touchdowns, although one of the touchdowns (post route) could have easily been intercepted, as the ball was deflected and then caught on the ricochet for the touchdown.
WR Tyreek Hill, 83.9 overall grade
Hill had a big game, hauling in all 6 catchable passes thrown his way for 125 yards and a touchdown. Two of Hill's receptions came on deep passes (throws that are targeted 20-plus yards downfield), totaling 95 yards. Hill finished with a fantastic PFF wide receiver rating of 156.3.
Houston was held without a sack or hit for the third time in the last four games, but he did finish the game with six hurries. Interestingly, Houston lined up as the right edge defender on 11 snaps, putting him against LT Donald Penn instead of RT Vadal Alexander, who was struggling in his first start of the season. This was only the second game of the year where Houston lined up on the right edge for more than a couple plays.
DI Chris Jones, 79.7 overall grade
It was a quiet night from most of the interior defensive line, as Jones was the only interior defender to get a pressure on the quarterback. Jones finished with five hurries on the night on 45 pass-rush snaps. He also added two stops in run defense.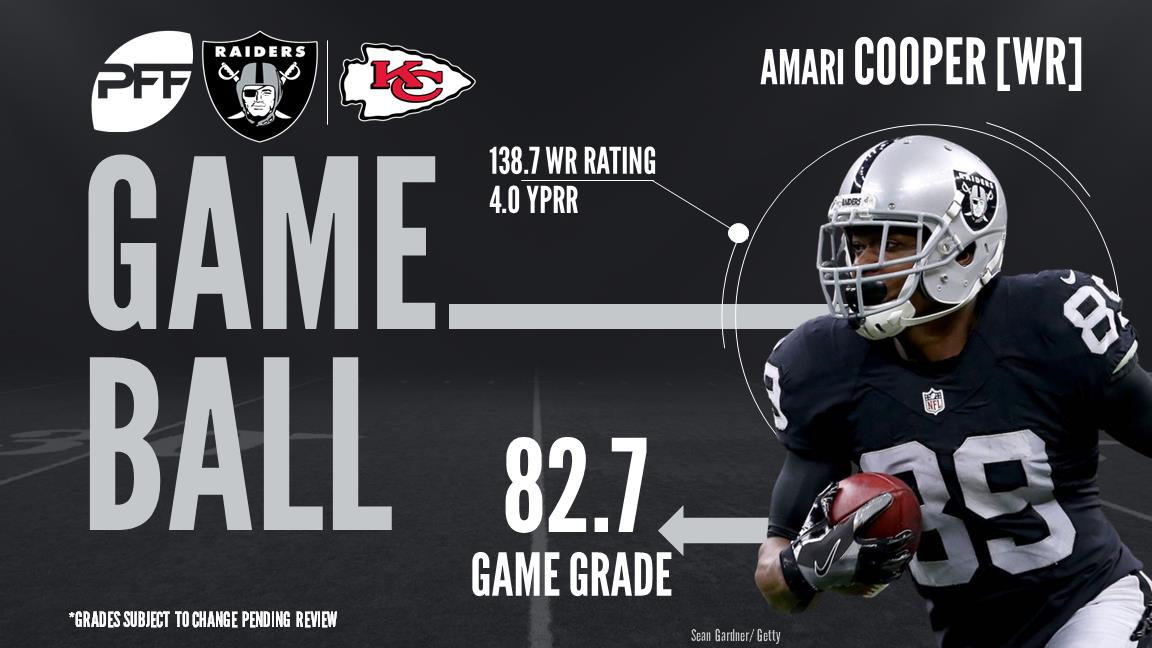 *Grades are subject to change upon review