The Atlanta Falcons defeated the Arizona Cardinals, 40-14, in Week 15 of the 2018 NFL season.
PFF's ReFocused series this season features immediate takeaways and a key to the victory from two Senior Analysts who graded the performance, watching every player on every play of the game. For more data and analysis from the game, utilize our Premium Stats 2.0 dashboard to expand your knowledge on the key players, signature stats and much more.

FINAL SCORE
Atlanta Falcons 40, Arizona Cardinals 14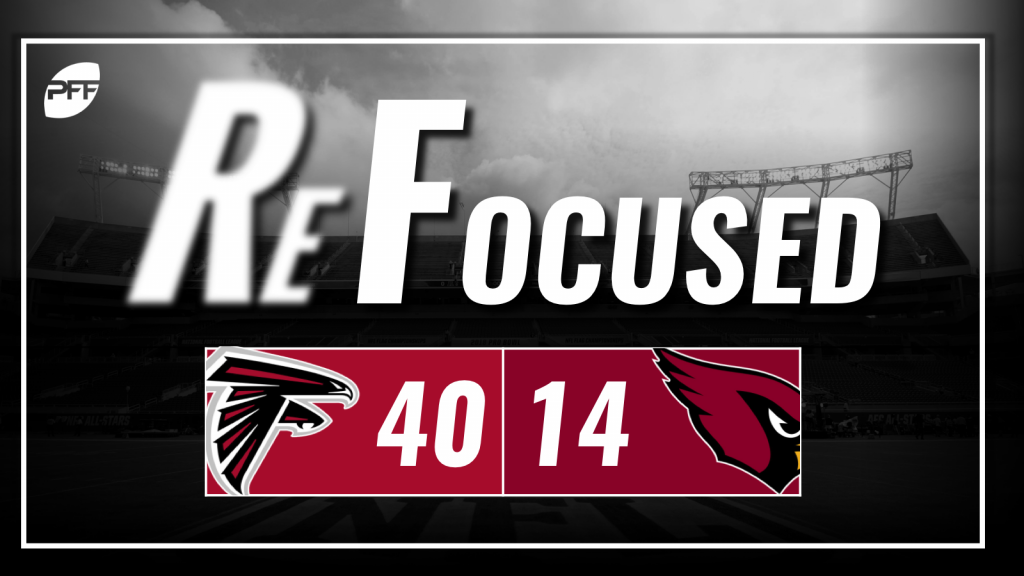 Steven Means was only used as a rotational player for the Falcons, but he penetrated frequently in both the run game and passing game. Means looks like he should get more playing time the rest of the season to see what he can do.
Deion Jones provided the Falcons with an early pick-six, but after that play, he missed multiple tackles and had some difficulties in coverage throughout the game.
The Falcons at home normally means good Matt Ryan will come out to play, and that stood true against the Cardinals. While he only threw for 231 yards, he had some dropped passes and also rarely put the ball in any danger of being picked off, as the Falcons just needed to not gift the Cardinals the ball and they did not do so.
Julio Jones scored on a diving catch against Patrick Peterson but only came back for one play in the second half, as the Falcons were too far ahead to even let him come back in.

Josh Rosen had very little chance to succeed against the Falcons, as their offensive line couldn't give Rosen time in the pocket. Because of that, Rosen was forced to throw the ball short most of the game and unable to even attempt passes to get any chunk yards.
The left side of the offensive line had major issues against the Falcons, especially inside against Grady Jarrett. He recorded two sacks and also multiple pressures, as the story of the Cardinals' offense was the lack of ability to give Rosen clean pockets.
Tre Boston flashed for the Cardinals' defense, especially in coverage, as he broke up a pass and was consistently around the ball. Though the defense allowed 40 points, he played better than anyone looking at the box score would see.
The Cardinals seemed to have issues in how they used Haasan Reddick. Early in the game, he was used as a biltzer and recorded a sack. In the second quarter, he was forced to cover Calvin Ridley and Jones on back-to-back plays, and he was unable to keep with the speed for the Falcons receivers.
Keys to the Game
Atlanta
The Falcons utterly dominated the Cardinals. Once Deion Jones took back a pick-six the Falcons never looked back, as they nearly outgained the Cardinals by 200 yards.
Arizona
The Cardinals took the lead in the middle fof the first quarter, but from that point on, it was all Falcons. Rosen, with limited protection, showed some of the potential early but was unable to move the ball under heavy pressure