The Seattle Seahawks defeated the San Francisco 49ers, 43-16, in Week 13 of the 2018 NFL season.
PFF's ReFocused series this season features immediate takeaways and a key to the victory from two Senior Analysts who graded the performance, watching every player on every play of the game. For more data and analysis from the game, utilize our Premium Stats 2.0 dashboard to expand your knowledge on the key players, signature stats and much more.

FINAL SCORE
Seattle Seahawks 43, San Francisco 49ers 16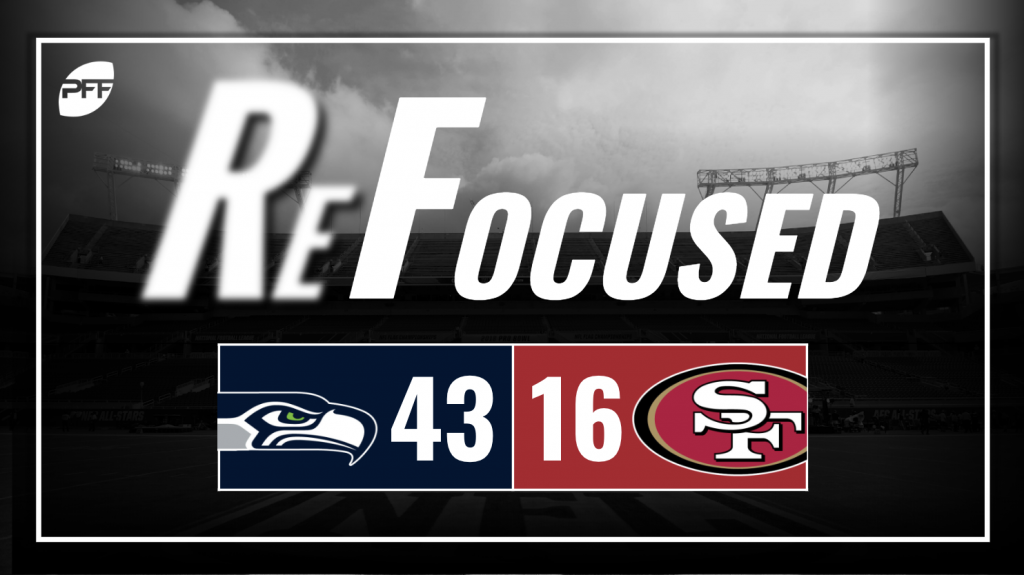 Bobby Wagner over the past several years has established himself as the best linebacker it the NFL, and he played exactly like that on Sunday. Wagner established himself early with his pass-rush, but the best play of the day came when he legitimately took the ball from Jeff Wilson Jr. near the goal line.
Hats off to the Seahawks interior defensive line in run defense, as they absolutely dominated the 49ers' guards and center at the point of attack and forced the 49ers to either run outside or put the ball in the hands of Nick Mullens.
The final stat line is nice, but outside of the deep crosser to Tyler "I only score touchdowns" Lockett, Russell Wilson's day was pretty average. He missed on a number of open throws and took a couple of bad sacks. Wilson didn't need to be on his A game, as this game was never in question.
Generational talent Chris Carson had an excellent game despite most of his offensive line struggling to maintain blocks. He gained a first down on 25% of his carries and made several nice reads and cuts while breaking several tackles to earn most of his 89 yards. He also added a first down as a receiver and caught all three of his targets for 39 yards. Rashaad Penny also scored a touchdown.

It was a rough game for safety Marcell Harris in run defense, as he missed several tackles. He did salvage some of his bad run defense with two stops and allowed just three yards in coverage. Cornerback K'Waun Williams also had a rough outing, as he was targeted early and gave up a few touchdowns and first downs.
Interior defensive lineman DeForest Buckner recorded two sacks but was largely absent as a pass rusher outside those two plays because Seattle wasn't forced to pass the ball for most of the game. Arik Armstead was solid as a run defender for the 49ers, as was linebacker Malcolm Smith.
One shining takeaway from this blowout loss to Seattle was the emergence of rookie wide receiver Dante Pettis. The former Washington product showed his great yards-after-the-catch ability on his long touchdown pass off of a slant route, where he outran the entire Seattle defense.
For the 49ers to stay in any game with an inexperienced quarterback like Mullens, they are going to have to support him with strong offensive line play both in run blocking and pass protection. The 49ers did neither on Sunday against the Seahawks. They were unable to get a decent running game going, and when Mullens dropped back to pass, he was under pressure far too often.
Keys to the Game
Seattle
Wilson wasn't perfect by any means, but the balance between the run and pass was too much for the 49ers to handle.
San Francisco
The 49ers' offensive line needs to support their young quarterback better if they are going to be able to hold the ball long enough and score enough to stay in games.