The Houston Texans defeated the Tennessee Titans, 34-17, in Week 12 of the 2018 NFL season.
PFF's ReFocused series this season features immediate takeaways and a key to the victory from two Senior Analysts who graded the performance, watching every player on every play of the game. For more data and analysis from the game, utilize our Premium Stats 2.0 dashboard to expand your knowledge on the key players, signature stats and much more.

FINAL SCORE
Houston Texans 34, Tennessee Titans 17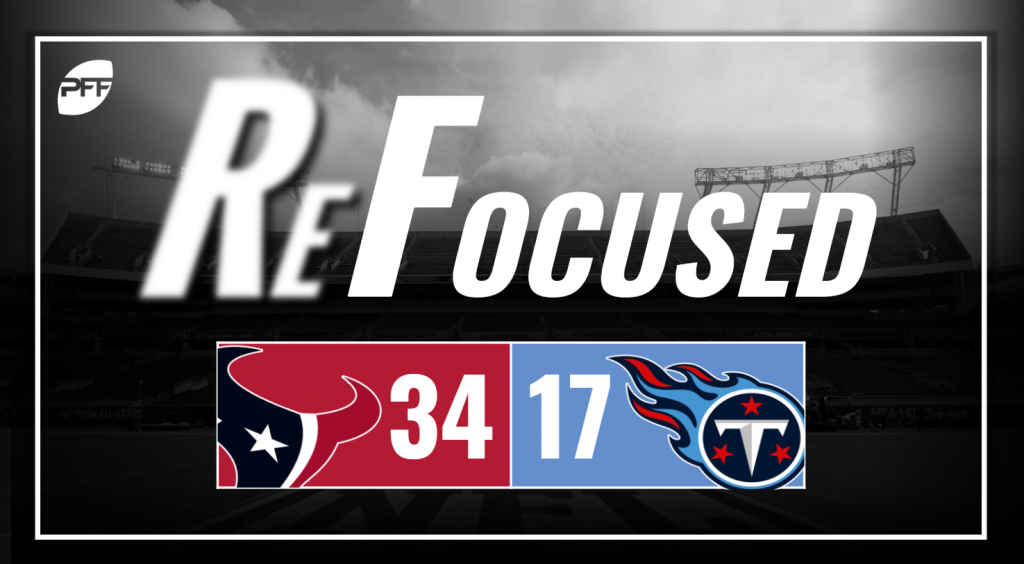 Deshaun Watson didn't put up gaudy box-score numbers, throwing for just 210 yards, but it was an efficient night for the second-year quarterback. He didn't push the ball downfield often, largely working underneath, but was accurate and effective when he did. And while there were times when he got a bit antsy in some clean pockets, he turned several of those plays into positive ones with his feet, adding an additional 70 rushing yards with a score.
Demaryius Thomas got both of Watson's touchdown passes, but it was the combination of DeAndre Hopkins and Lamar Miller that did most of the damage for Houston's offense. Hopkins was the primary downfield option, hauling in five-of-six targets and converting four of them for first downs. Miller led the charge for a Texans' offense that relied heavily on the run game, highlighted by a 97-yard score to give Houston a double-digit lead they wouldn't relinquish.
It's very simple. J.J. Watt took over the game and played like a man possessed. The Titans tried a couple different schemes to block him, including putting a tight end and running back on him at the same time. The Titans' blockers weren't bad; he was just great.
Zach Cunningham impressed with his staunch run defense, including a big goalline stop that turned the momentum of the game.

Marcus Mariota played well most of the game and made some nice throws, especially in the first half. The Texans' pressure was just too much for Mariota and theTitans' offense to overcome.
Corey Davis was a big factor when the Titans found success on offense. He had some nice catches down the field, showing pristine route-running and also had a big run on a reverse in the first half.
Bennie Logan and Jurrell Casey were perhaps the only standouts for a Tennessee defense that struggled to get stops, as the duo made plays in both the run game and as pass-rushers.
It was a rough night for the Titans in coverage, as they simply gave up too many easy completions and rarely challenged Houston's receivers at the catch point. If Tennessee's pass-rush didn't get home, positive plays generally happened for the Texans.
Keys to the Game
Houston
Watson was effective through the air and on the ground and combined with a solid rushing attack.
Tennessee
Mariota was efficient, but he needed to be better than efficient. And Tennessee's breakdowns in pass protection and in coverage didn't help, either.