As we close the door on Week 11 in the NFL, it's time to look at Pro Football Focus' season grades for all 32 teams' quarterback play so far this season. The best of the best have likely already punched their tickets to the playoffs, while the signal-callers nearing the middle of the pack and below have work to do in order to get back on track under center.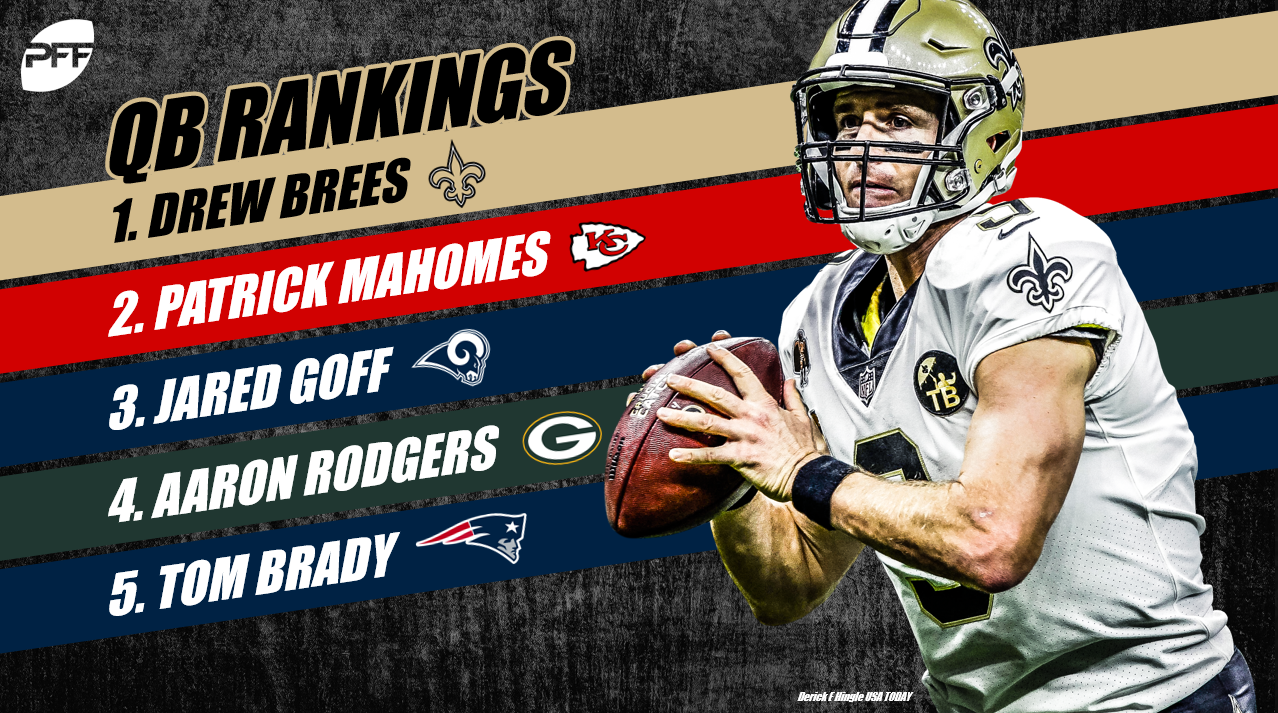 Drew Brees is on pace to break the NFL record for completion percentage (76.9), passer rating (126.9) and PFF QB record for overall grade (95.6). Enough said.

Calling Mahomes the second-best quarterback this season is no knock on him. He's on pace for the second-most touchdowns and third-most yards in a single season all-time. At the same time, his 11 turnover-worthy plays rank 19th at the position and are six more than Brees.

Jared Goff has been a sight to behold this season. You can talk scheme all you want, but the fact of the matter is that Goff has the most big-time throws of any quarterback this season (29). Those are throws that require special ball placement and timing down the field and there's no scheme that can 'fake' them.

When Aaron Rodgers wants to throw the ball, he's been one of the most impressive quarterbacks in the NFL this season. In fact, when you only look at targeted passes, Rodgers is the second-highest graded quarterback in the league and has a passer rating of 117.2. The problem is he's thrown the ball away 43 times this season and taken 30 sacks so far – the former being on pace to set the PFF record.

It hasn't quite been the Tom Brady we've seen over the past couple seasons, but at the same time, any talk of demise is overblown. The Pats receiving corps has been in constant flux so far this season, and he's trusted his backs more than his tight ends in the passing game.

It took a little while to get going, but Andrew Luck has been humming the past handful of weeks. He's got individual game grades of 76.6, 81.0, 91.1 and 86.9 over the last four weeks. The last two came against the Jaguars and Titans, respectively, two talented pass defenses. The most impressive thing, though? Luck has converted pressure to sacks only 8.4 percent of the time, the lowest rate in the NFL.

We're finally getting an answer to the question of what Philip Rivers can do with even a modicum of pass protection. He's been under pressure 3.6 percentage points less than he was a season ago and with that slower pass-rush, he's also improved his performance under pressure. Rivers 96.5 passer rating under pressure is tops in the NFL.

Brian Schottenheimer may be taking the ball out of Russell Wilson's hands more than recent seasons, but it's not because Wilson isn't playing well. The Seahawks quarterback is second in the league with 28 big-time throws and ranks fifth in terms of fewest turnover-worthy plays.

Andy Dalton has quietly made some of the most impressive downfield throws of his career this season. His 23 big-time throws rank sixth in the NFL and have already almost matched his total from a season ago (28). Dalton has also been victimized by the third-worst drop rate of any quarterback this season with 10.5 percent of his on-target passes being dropped.
Kirk Cousins has alternated between special plays down the field and head-scratching decision-making. His 122.2 passer rating on deep passes ranks fifth in the NFL, but he's attempted them at one of the lowest rates in the league (10.0 percent of attempts). A lot of that comes down to time. He's been under pressure on 40.4 percent of his dropbacks, the third-most in the league.

It's been a fantastic year for Matt Ryan statistically although it's difficult to ignore that he's had a lot of help from his receivers. Ryan has only had 10 big-time throws all year and has gained the fourth-most yards in the league throwing to receivers we've classified as open or wide open.

[Editor's Note: Tampa Bay's rank takes into account a combination of Jameis Winston's and Ryan Fitzpatrick's grades this season.]
Where you rank the Bucs has everything to do with your aversion to turnovers. If you don't mind them, they'd rank top-10 (and they do have the eighth-best scoring offense in the NFL). If you do mind turnovers, they'd be bottom-10. Winston and Fitzpatrick have combined for 29 turnover-worthy plays this season – no other team has more than 20. As it stands though, it's hard to ignore some of the impressive performances from Fitzmagic this season. On throws targeted 10+ yards downfield, he averaged 13.8 yards per attempt.

If you're looking to point fingers for the Eagles' demise this season, Carson Wentz isn't where I'd start. Coming off an ACL injury, Wentz looks much the same guy we saw in 2017. His 79.8 overall grade this season is a shade below his 84.9 a season ago although they were about on par before a dismal outing this past weekend in New Orleans.

The most valuable part about Cam Newton's game so far this season is the way he's manipulated defenses with the threat of his legs in the Panthers' rushing attack, and that's difficult for us to quantify. As a passer, though, he's been much the same guy as most of his career outside of 2015 – they've simply taken away a lot of the downfield passing. Only 51.9 percent of Newton's yards have come through the air compared to 63.0 percent in his MVP season.

It's been a very interesting sophomore campaign for Deshaun Watson. When they were losing early in the season, his performance was likely being underrated. Now on their seven-game winning streak, he's actually had some shaky play covered up. The downfield passer we saw a season ago hasn't quite been there this year. He has only 10 big-time throws on the season and has more picks (5) than touchdowns (4) on deep passes.

Roethlisberger has been about as boom-or-bust as one can get this season (outside of if you quarterback the Bucs). He has the second-most turnover-worthy plays of any quarterback (16) and the fourth-most big-time throws (27). At the same time, the talent around Roethlisberger has carried him a good deal statistically. He's gained the lowest percentage of his yards through the air of any quarterback this season (45.2 percent).

It's been an inexplicably mediocre season for Matthew Stafford. With a full stable of weapons at receiver and one of the better offensive lines in his career, Stafford has been middle of the pack. The worrisome part is how conservative he's been. Stafford's 6.3 average depth of target is the second-lowest figure in the league. That's over a yard and a half shorter than his average depth of target in his highest-graded passing season in 2013.

Yet another quarterback who has been pathologically conservative this season. Prescott has the third-fewest turnover-worthy plays (6) but also the 24th-most big-time throws (11). To operate that kind of offense, the last you can do is take sacks, and Prescott has converted pressure to sacks at the fifth-highest rate in the league (25.2 percent). He has 13 sacks on plays where he broke the pocket, the most in the NFL. 

Before his injury, Alex Smith was the same guy we saw prior to 2017. His 6.7 average depth of target was the third-lowest in the NFL and 1.3 yards lower than it was a season ago. He also, unsurprisingly, ranked third in terms of fewest turnover-worthy plays.

While Marcus Mariota has struggled with consistency and has the highest sack conversion rate in the NFL (30.2 percent of pressure), there's been some positives as well. He has the highest adjusted completion percentage on deep passes (60.9) although five of his 14 accurate passes were dropped.

Baker Mayfield has been far and away the most impressive rookie quarterback this season, but even he's had his ups and downs. His scrambling play style from Oklahoma hasn't necessarily translated to the NFL, yet. We've charged him with five sacks already, and he has a passer rating of only 36.7 on passes where he broke the pocket.

Even with a brand new and improved receiving corps, Joe Flacco hasn't taken any sort of step forward. He's throwing far more down the field than last year – his 52 deep attempts are already five more than his 2017 total – but his 52.6 passer rating on those throws is the third-worst in the NFL.

A good couple of games hasn't been enough to save Eli Manning's rank from some of the stinkers he threw up this season. Manning simply hasn't been making too many throws past the sticks this season. He has the fourth-lowest rate of positively graded throws of any starter in the league. And 54.7 percent of his attempts have been targeted short of the sticks (seventh highest rate) compared to 43.6 percent back in his highest-graded season of 2011.

Yet another team with a melange of quarterbacks this season. So far though, it's been former UDFA Nick Mullens 75.8 overall grade that's been tops of the bunch. While that's a great silver lining, this ranking is still near where they were supposed to be this season. Jimmy Garoppolo was poised to take the next step forward, but instead only earned a 62.6 overall grade in his three starts before tearing his ACL.

Case Keenum is another quarterback whose 2017 season was obviously an outlier in the course of his career. Keenum's 13 turnover-worthy plays this season rank fifth so far this year and are already two more than he had all of last year. While he's offset that with some nice throws downfield, it's his down-to-down consistency that's been lacking. He has the eighth-highest rate of downgradeable off-target throws in the league and the second-lowest rate of positively graded throws of any starter.

Derek Carr has absolutely crumbled in the face of pressure this season. He still has a lightning quick release, but when he can't get rid of it immediately, things go south. Carr has converted pressure to sacks 27.1 percent of the time – second-most in the NFL, and his 48.9 passer rating under pressure only bests two rookies in Sam Darnold and Josh Rosen.

The trouble with the Jaguars' offense this season has been Blake Bortles' inability to make tight window throws. On passes attempted into anything resembling tight coverage this season, Bortles has completed only 37.5 percent of his passes. Only Josh Allen has been worse among starters.

While the stats still look good, there's no sugar-coating the fact that  Mitch Trubisky has the highest rate of off-target throws of any quarterback in the league this year. Some of that comes with the territory of having the third-highest average depth of target of any quarterback, but it's still concerning that it's been to that degree. Trubisky also has the fifth-most turnover-worthy plays of any quarterback this season (13) and the lowest drop rate from his receivers (3.2 percent).

While Brock Osweiler has been the same guy we've seen his entire career, Ryan Tannehill wasn't playing all that much better before his injury. Tannehill's 27.8 adjusted completion percentage on deep passes is dead last in the NFL. He also converted pressure to sacks at the fourth-highest rate in the league (26.8 percent).

Sam Bradford's tenure at the helm in Arizona was a travesty, and while Rosen has shown promise, it hasn't been a whole lot better. His 28.5 passer rating under pressure has been the worst in the NFL though it hasn't helped that he's been under pressure on 40.5 percent of his dropbacks. The encouraging thing is that his 12 big-time throws are already more than Dak Prescott has on the entire season.

Sam Darnold simply hasn't been ready. When he's faced pressure, his passer rating has plummeted to 33.9. Down the field, he's gotten nothing going as well. His 32.5 adjusted completion percentage on deep asses is better than only Joe Flacco among full-time quarterbacks this season, and his five picks on such throws are the most in the league. He has eight big-time throws and 18 turnover-worthy plays.

It's obviously not nice to pile on someone when they're down, but where's the fun in that? Nathan Peterman's 31.6 overall grade on 106 dropbacks this season was so bad that Keenan Allen and DeAndre Hopkins graded out higher than him at quarterback. On Allen's one dropback, he took a sack and on Hopkins' lone pass, he overthrew Lamar Miller. They'll be relieved to have Josh Allen back at quarterback.