It's not all about the first rounders here at PFF. Each week we'll bring you a few rookies whose names weren't called among the first 32 picks of the NFL draft, yet they still impressed with their preseason performances.
Here are those notable rookies, not selected in the first round, from the third week of the preseason:
Second round notables
Getting the start at left tackle, Dawkins once again showed that he's a dominant force as a run blocker. He put up a 90.0 run blocking grade (90.0 and above is considered elite), making this the second consecutive week that he put up a run blocking grade north of 90.0 (he had a 94.2 run blocking grade last week against Philadelphia). Dawkins held his own as a pass-protector, surrendering just one hurry on the night, if he can build off that while continuing his dominance in the run game he might just be the missing piece that elevates Buffalo's offensive line into the top-3 conversation.

Including special teams, Jones saw 61 total snaps against Denver and once again he shined in run defense. Jones' 86.2 run defense grade ranked third among all safeties this week and his 85.5 run defense grade this preseason ranks fourth. Jones' 16.7 run stop percentage ranks ninth among all safeties who've seen at least 25 snaps in run defense this preseason.
Third round notables: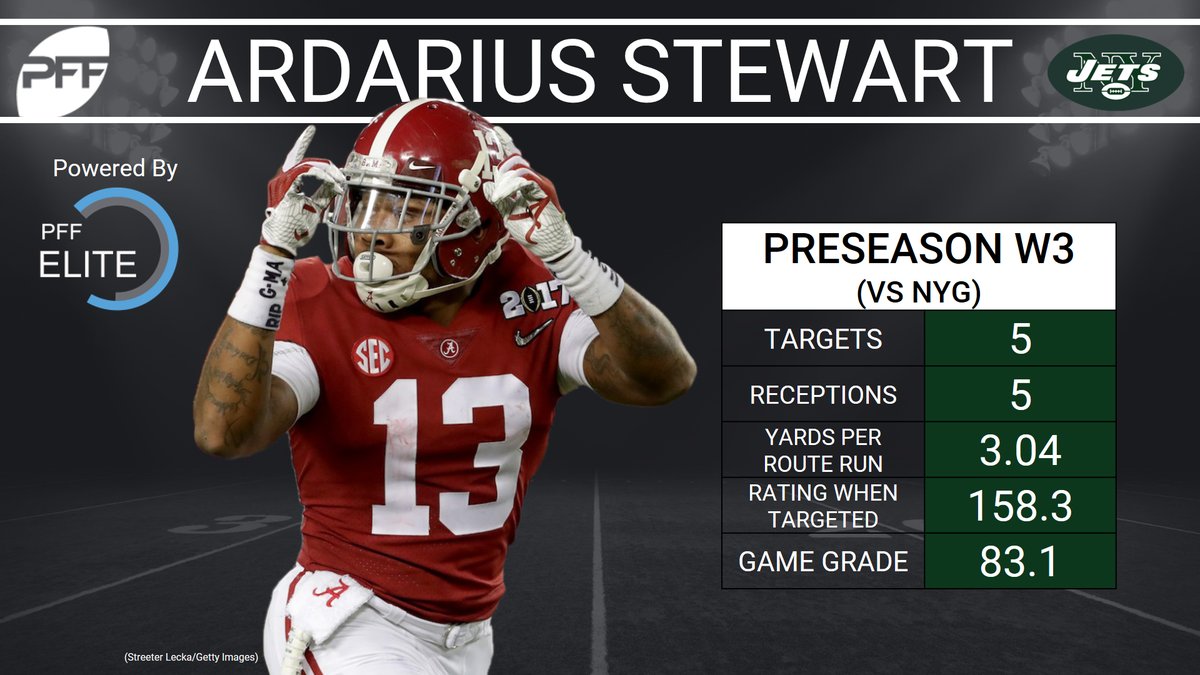 Seeing action starting towards the end of the first quarter and throughout the rest of the game, Stewart caught all five of his targets this past week and for the preseason now he's hauled in eight of nine targets for a total of 113 yards and two touchdowns, giving him a perfect 158.3 WR Rating (QB rating when targeted). Seven of his eight catches so far this preseason have come outside of the numbers and five of them traveled at least 10 yards in the air before reaching him.
Fourth round notables:
Seeing time throughout the second half, Johnson once again showed dominance as a run defender. His 84.5 run defense grade ranked sixth among defensive interior players this week and his 88.8 cumulative run defense grade for the preseason ranks second (while his 87.4 overall grade ranks fourth). Johnson has 10 combined pressures and run stops this preseason, which ties with Elijah Qualls for the lead among rookie interior defenders.
Playing with the second unit and finishing out the game against Arizona, Harlow finished this week as our sixth highest graded guard in terms of overall grade. He allowed just one pressure (a hurry) on 26 pass blocking snaps and his 87.5 run blocking grade trailed only Cody Whitehair among guards.
Sixth round notables: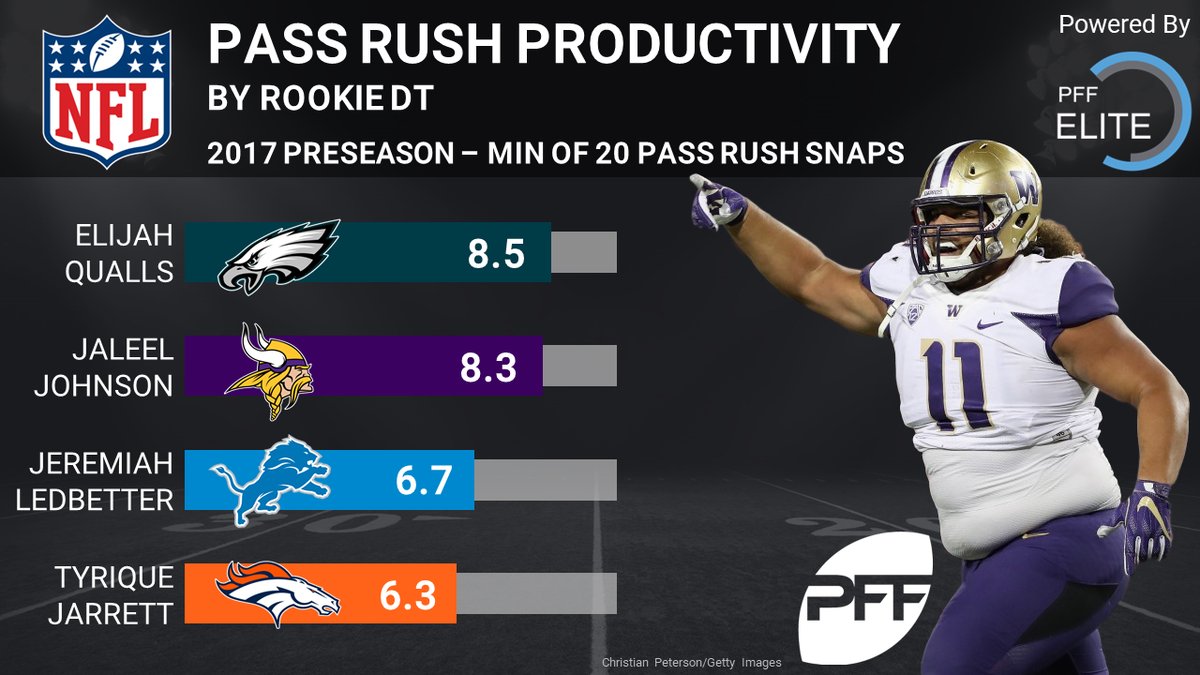 Seeing action towards the end of the first quarter before then playing heavily throughout the rest of the game, Qualls ranked third among all defensive interior players this week in terms of overall grade; and he now ranks third among defensive interior players for the preseason with a cumulative 87.7 overall grade. Qualls earned grades north of 80.0 as both a pass-rusher and run defender this week, making it the second time in two games he's done that.
Playing the second half against Houston, Muhammad ranked 14th among edge defenders this week in terms of overall grade as he demonstrated strong ability as both a pass-rusher and run defender. Muhammad ranked seventh among rookie 4-3 defensive ends with a 10.3 pass rush productivity rating (PRP measures pressure created on a per snap basis with weighting towards sacks) and second among the group with a 28.6 run stop percentage. Muhammad now has 11 total pressures – which leads rookie 4-3 ends – on 75 pass rush snaps, with four of those being sacks.
Making his first professional start, Roullier more than held his own as he finished the week as our second-highest graded center; and after three weeks he's our highest graded center this preseason at 82.3 overall. Roullier did surrender two pressures (a hurry and a sack) on 21 pass rush snaps but where he did shine was as a run blocker: his 81.1 run blocking grade ranked third among centers this week.

Undrafted notables:
Rush continues to impress this preseason as he now ranks tenth among all quarterbacks with a 77.4 overall grade through three preseason games. This past week, the Western Michigan product started the second half against Oakland and led all rookies with a 92.3 adjusted completion percentage and he leads all rookie quarterbacks this preseason with a cumulative 83.7 adjusted completion percentage. Rush has also been the most productive rookie quarterback so far when it comes to dealing with pressure: his 80.0 adjusted completion percentage when under pressure leads all rookie QBs and his 116.7 passer rating under duress ranks second.
Butler trailed just Cam Jordan and Cassius Marsh this week in terms of overall grade among edge defenders, finishing with grades of 85.0 or better in both run defense and as a pass rusher against the Lions. He played sporadically throughout the first half and then saw the bulk of his snaps in the second half and his 17.6 PRP ranked second among all rookie edge defenders after he tallied four pressures (three hurries and a hit) on 17 pass-rush snaps.