The Washington Redskins visit the Dallas Cowboys in Week 13 of the 2017 NFL season. PFF previews the top player matchups of the game.

PFFELO Ranking: 17
Coverage by: Mark Chichester
WR Jamison Crowder vs. CB Orlando Scandrick – Over the last five weeks, Crowder has developed into the type of receiving threat that many expected him to be at the start of the season. From Week 8 to 12, he's seen 38 targets (nine more targets than he saw from Weeks 1 to 7) and has amassed 412 receiving yards. Running 70.5 percent of his routes from the slot position, he's put up an average of 2.67 yards per route run from the slot, the fifth-best mark among pass catchers, so on Thursday night, he can look to add to his latest run of good form and take advantage of his matchup against slot cornerback Orlando Scandrick. Through 12 weeks, Scandrick has surrendered 1.04 yards per slot coverage snap, which ranks 24th of 52 qualifying slot cornerbacks.
RB Samaje Perine vs. DI Tyrone Crawford – Coming off back-to-back 100-yard rushing games, Perine has the chance to further show the coaching staff that he is capable of handling an increased workload going forward. Over the last two games, Perine has ran very well, and averaged 3.23 yards after contact per attempt, the fifth-best mark among running backs with at least 25 carries in that span, while also tallying 63 rushing yards on three 'breakaway runs'. In his third game as starter, Perine will be looking to continue his recent performance, but he'll need to stay away from Tyrone Crawford, who has been the best run defender on the Cowboys defensive line. Through 12 weeks, Crawford's run-defense grade of 81.0 ranks first among Cowboys defensive linemen and 28th among 118 interior defenders.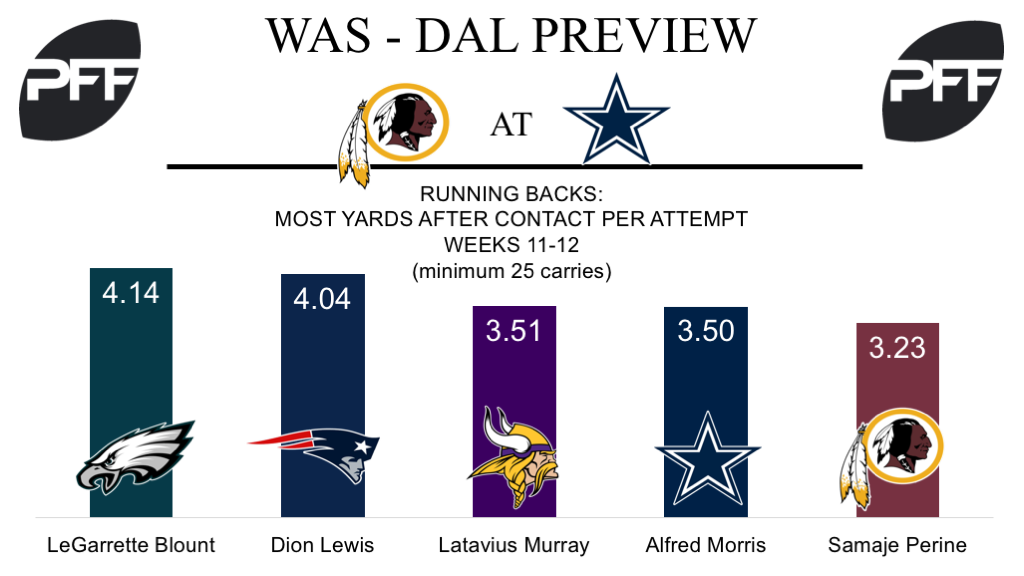 T Morgan Moses vs. Edge DeMarcus Lawrence – Since injuring both of his ankles in his team's Week 7 contest against the Philadelphia Eagles, Moses has done his best to stay on the field for his team, and has missed just four snaps despite his injuries. However, it seems to have taken its toll on him in pass protection, as he's allowed two sacks, two hits and nine hurries over the last five games, resulting in a pass-blocking efficiency of 95.0, 24th among tackles in that span. Moses will need to improve if he's to fend off DeMarcus Lawrence, who has produced a pass-rushing productivity of 13.6 so far this year, good for second among 4-3 defensive ends.

PFFELO Ranking: 14
Coverage by: Aaron Jones