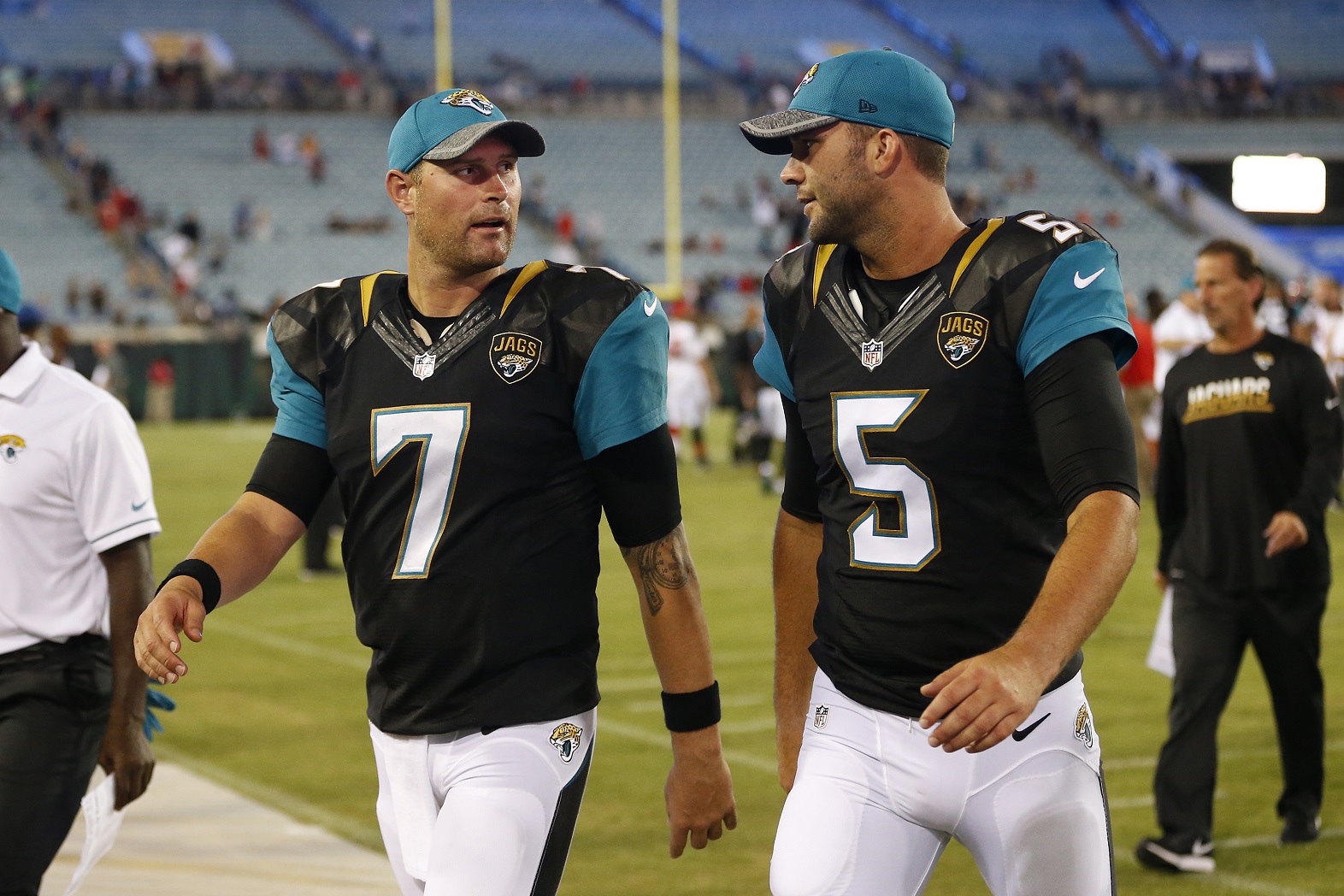 JACKSONVILLE, FL - AUGUST 20: Chad Henne #7 and Blake Bortles #5 of the Jacksonville Jaguars talk as they leave the field after the preseason game against the Tampa Bay Buccaneers on August 20, 2016 at EverBank Field in Jacksonville, Florida. Tampa Bay defeated Jacksonville 27-21. (Photo by Joel Auerbach/Getty Images)
Jacksonville Jaguars head coach Doug Marrone announced that both incumbent starter Blake Bortles and veteran Chad Henne are competing for the team's starting quarterback position which is "there for grabs," according to John Oehser, senior writer for jaguars.com.
Bortles struggled in 2016, posting a PFF overall grade of 69.2, which was down on his 2015 total of 80.8. One of the things that deserted Bortles in 2016 was his deep passing ability, with only 410 passing yards coming from deep passes (passes 20 or more yards downfield), whereas in 2015 his 1,330 yards ranked first in the league.
Bortles has also struggled with deep passes thus far in the preseason, completing none of his 3 deep passing attempts, while Henne and Brandon Allen, the other quarterback on the Jaguars roster, both have touchdowns on deep passes.
Both Allen and Henne have also performed better under pressure than Bortles, with Allen leading the trio with a passer rating of 135.4, Henne 64.6 and Bortles 42.4.
Bortles' passer rating of 79.6 is also the lowest of the three when not under pressure. Henne tops this category with a QB rating of 144.4 when not under pressure.