In a game in which both teams seemed determined to field goal each other to death, it was the Denver Broncos that came away with the shock win on the back of six field goals from kicker Brandon McManus.
Editor's note: All of PFF's grades and advanced stats from this game will be finalized and made available to ELITE subscribers within 24 hours of the final whistle.
Story of the Game
What made the result all the more bizarre is that Drew Lock threw some absolute dimes in the game and will come out of it with a PFF grade that bears absolutely no resemblance to his NFL passer rating in one of the wider discrepancies you will see. Three of Lock's passes were dropped, and the offense as a whole just couldn't put the ball into the end zone despite Lock putting the ball in a position for touchdowns on more than one occasion. Lock's performance may have been the best of his young career despite an ugly interception late on that gave the Patriots life.
Denver kept being given those opportunities because of New England mistakes. The Patriots fumbled the ball four times, though they only lost one of them. They also threw two picks for a total of three turnovers that could have been far more. Cam Newton didn't look close to his best, ultimately missing a throw on fourth down late in the game as Denver sent a heavy blitz that could have given them a chance to keep it alive and maybe snatch a win. The Patriots managed just over 20 yards per drive overall and struggled to deal with the Denver defense, with the Broncos seemingly able to dial up pressure on critical downs all game long.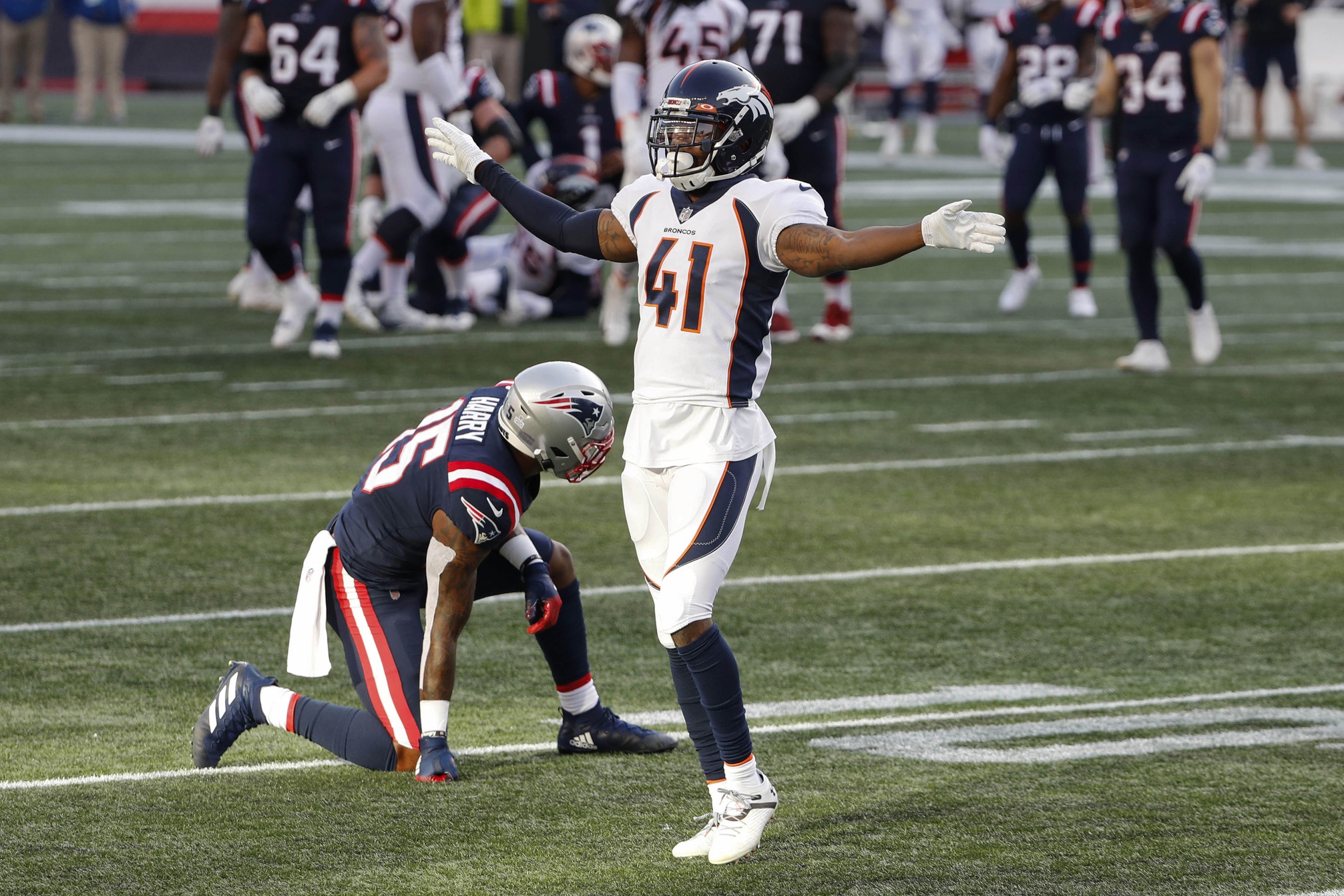 Lock out-duelling Newton wasn't something many people were expecting to see from this game, and if you were looking only at the box score you wouldn't necessarily come away with the understanding that he did. But the game tape and resulting PFF grade will likely show that's exactly what happened.
Rookie Watch
While missing some players due to injury, the Denver Broncos had a lot of contributions from first-year players. Lloyd Cushenberry III played all game at center and was solid enough, allowing just one hurry on his way to what is likely to be a career-high in PFF pass-blocking grade.
Jerry Jeudy saw five targets and his drops surfaced again, catching just two of those targets and dropping one. Both his catches went for first downs, but he wasn't a big difference-maker on offense. Albert Okwuegbunam actually beat Jeudy in targets with six passes thrown his way but ended with just two catches for 45 yards. Lock put a perfect pass into his hands in the end zone only to find Jonathan Jones breaking it up at the last second and saving a touchdown.
Third-round corner Michael Ojemudia had the best game of his career, with two defensive stops and a big pass breakup deep down the field in a key situation.
For the Patriots, rookies Justin Herron (fifth round) and Michael Onwenu (sixth round) each played 56 snaps on offense, with neither player having a great game. For Onwenu, this was an unusually poor game given the impressive standards he has set so far this season. Tight end Devin Asiasi played 24 snaps but didn't see a single target all game.
On defense, Anfernee Jennings and Kyle Dugger both topped 20 snaps, and Dugger's three defensive stops were the third-most on the team.
ELITE subscribers can view player grades, advanced statistics, positional snap counts and more in Premium Stats 2.0.