No NFL franchise can have a perfect draft class. Every year, a chunk of non-first-round picks will surprise all and a chunk of first-round picks will be paving their path down the bust trail. Some cases are a result of teams putting too much investment into a player's potential even with a lack of collegiate production and some just ignore the data. With that being said, there are some cases in which a player with superb collegiate numbers just doesn't translate to the NFL as expected.
Nonetheless, we here at PFF give you cases of all three of those scenarios in our rookie stock report that was drafted using PFF's unique grading system and advanced database.
Stock Up
Seventy-five players were taken above the former Ohio State Buckeye Terry McLaurin in this past NFL Draft. Through Week 12, McLaurin has outplayed nearly every single one of them. McLaurin currently ranks ninth in PFF receiving grade at 83.7 and has been everything the Washington franchise always wanted, yet, never really had.
Not only is McLaurin one of the NFL's best downfield targets, but he's also on pace to be the best Washington has ever seen. On targets at or beyond the sticks, McLaurin at this moment is the highest-graded wide receiver in the NFL and the best the franchise has ever had in the PFF era (2006-19). Moreover, even with five games left to play, McLaurin has already tied the PFF franchise record in deep touchdowns (four) and produced the third-most deep catches with 10 (DeSean Jackson has the two most amounts in a season with 12 in 2014 and 16 in 2016, but McLaurin is currently catching a higher rate of his catchable deep targets). When filtering to just the first 12 weeks of each season since 2006, McLaurin is solo first in deep catches and touchdowns.
Not to mention, he is doing this with arguably the worst quarterback situation in the NFL. There have been 35 quarterbacks to take at least 130 dropbacks in 2019. The two who have been throwing to him (Dwayne Haskins and Case Keenum) both rank 33rd and 34th. Week 12 against the Detroit Lions – when he beat a top tier cornerback in Darius Slay a handful of times – was a testament to that.
Exhibit A: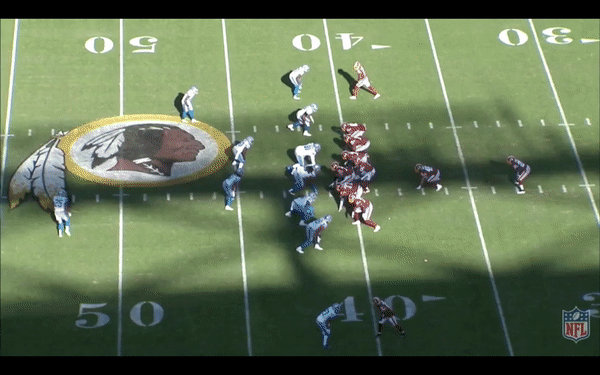 Exhibit B: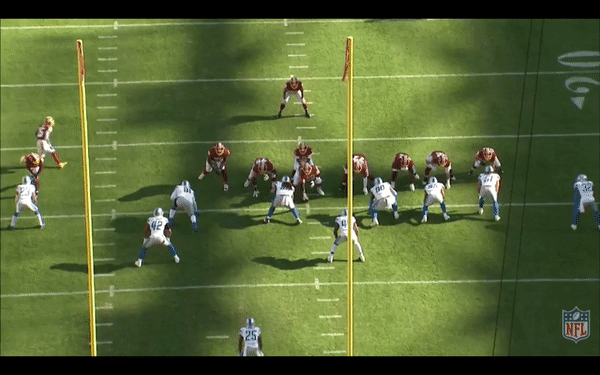 Exhibit C: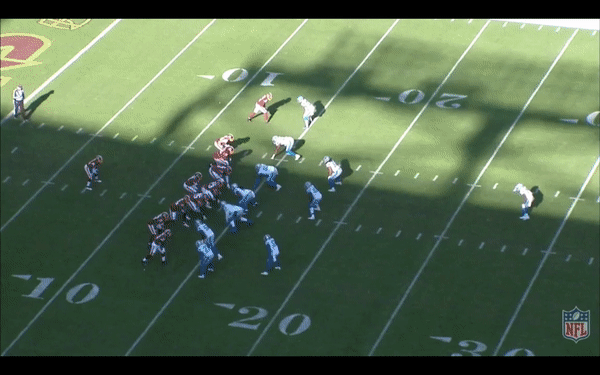 McLaurin has been absolutely bodying guys in contested-catch situations, as well. Among 33 wide receivers with at least 10 contested targets at or beyond the sticks, McLaurin ranks behind only Michael Thomas and Marvin Jones Jr. in contested catch rate at 64.3% and is second passer rating generated on those targets at 142.0.
As indicated, the quarterback situation has been less than ideal and the receiving unit outside of McLaurin has been just as worse. After McLaurin at 83.7, the next highest-graded Washington wideout in receiving grade is at 63.8. Nonetheless, the third-round rookie Terry McLaurin is performing at a top 10 level, with one of, if not, the worst supporting cast in the entire NFL. McLaurin is only going to get better from here.
There may have not been a more criminally underutilized wide receiver to start of 2019 than second-round rookie A.J. Brown. The yet-to-prove-themselves duo of Corey Davis and Adam Humphries both received more targets than Brown when is it was apparent Brown was deserving of far more. Though, once Marcus Mariota got benched for Ryan Tannehill, things turned around for Brown. Since Week 7 (Tannehill's first week as starter), Brown more targets than both Davis and Humphries and ranks 17th in PFF receiving grade and seventh in yards per route run. Funny how that works, eh?
It's difficult to contain the 6-foot, 230-pound Brown. When in a one-on-one matchup against man coverage at outside receiver, Brown is arguably one of the best in the NFL. On those plays, Brown is PFF's sixth highest-graded receiver and ranks first in both yards after catch per reception (9.8) and passer rating generated (142.4).
Brown is a massive human that runs some crispy routes and gets shifty after the catch (first in yards after catch per reception and seventh in broken tackles). He has been one of few wide receivers to have an elite graded game in 2019, and he has done that twice. Brown is the best wide receiver on the Titans' roster and can become one of the league's best wideouts if he keeps up this pace.
Fourth-round selection Maxx Crosby has always been a PFF favorite. Going back to his last two seasons in college at Eastern Michigan, Crosby was playing as good as any pass-rusher in the nation. In 2017, Crosby produced an elite PFF grade at 90.5 and followed that up in 2018 with a great 88.2 grade. In that two-year stretch, Crosby had generated a total of 122 pressures, 40 combined sacks and hits and nine forced fumbles. Subsequently, we had him listed as a prospect that should have been taken over 30 picks sooner than he actually was.
Crosby got off to a slow start in his NFL career, but he's been a dominant force and just as good as anyone else as of late. Since Week 8, Crosby is 19th among all edge rushers in PFF pass-rush grade and has generated the third-most pressures with 26.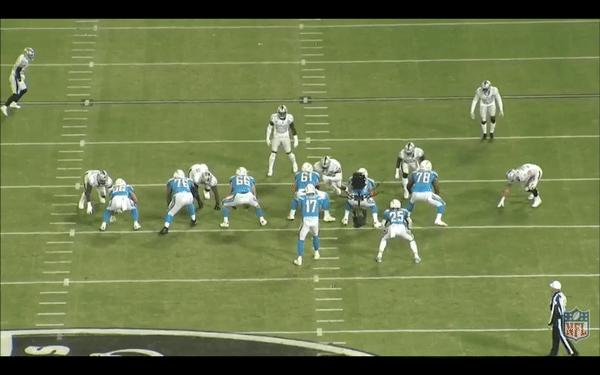 Cheers to you, Mike Mayock and Jon Gruden for getting this guy at pick 106.
You might be asking yourself "Why is Nick Bosa in the stock up section when he was the second overall pick and we all knew he would be good?" Bosa just hasn't been "good" as we expected – he's been playing at a historic level and has arguably been the NFL's best edge rusher.
Bosa was playing at that "good" level in his first few professional games and first game action since early Week 3 of his final year in college (missed all of the preseason due to injury). In Weeks 1-3, Bosa was a top 25 pass-rusher in regard to PFF grade and had generated the ninth-most pressures. Moreover, the 'Niners were one of the lucky teams to get the earliest bye possible in Week 4, but for Bosa, it wasn't just a bye week, it was a turning point for his NFL career. Since returning from that bye week in Week 5, Bosa is the highest-graded edge defender overall at 90.3 and is parting offensive linemen like they're the Red Sea.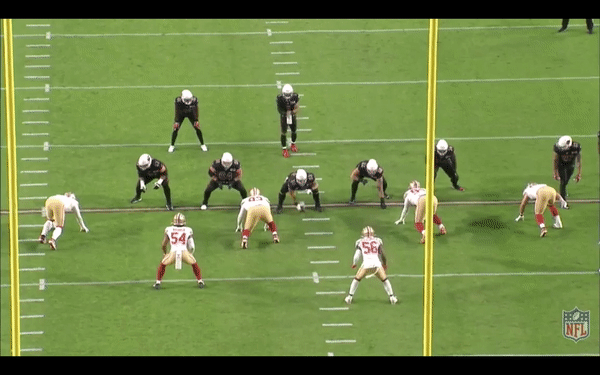 Bosa is on pace to shatter rookie records for his position. His pressure rate currently leads all at his position by over a half percent at 19.1%, and his pass-rush win rate comes in at fifth at 22.1%.
Of course, you have to give credit to Defensive Coordinator Robert Saleh in his usage of Bosa, especially in Week 12 against the Green Bay Packers.
Bosa lining up on the left of the DL more in this game than he has before this week.

Whether they're getting him away from Bakhtiari or just putting him on the obvious mismatch since Bulaga went down, it's notable.

— Sam Monson (@PFF_Sam) November 25, 2019
Prior to Week 12, Bosa hadn't lined up on the left side of the line more than 14 times in a single game. Consequently, it was looking like we were going to see a matchup between one of the league's best pass-rushers in Nick Bosa and one of the league's best left tackles in Green Bay's David Bakhtiari. Not so fast my friend. Instead of letting Bosa go up against Bakhtiari, Saleh moved him over to go up against Green Bay's weakest part of the line on the right side (33 snaps). Nonetheless, it got ugly for Green Bay pretty quickly.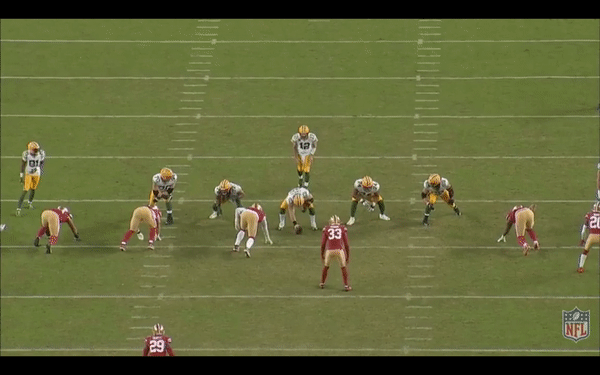 By playing a position that gets incredibly overlooked by the casual football fan and most folks in the media, Erik McCoy might be the most undervalued rookie of 2019. He is currently PFF's third highest-graded center.
Whether it be in pass protection or as a run-blocker, McCoy has gotten the job done. In PFF pass-blocking grade, McCoy has produced a grade that is ninth at his position. He has also allowed a minimal pressure rate that ranks sixth. In PFF run-blocking grade, McCoy ranks third.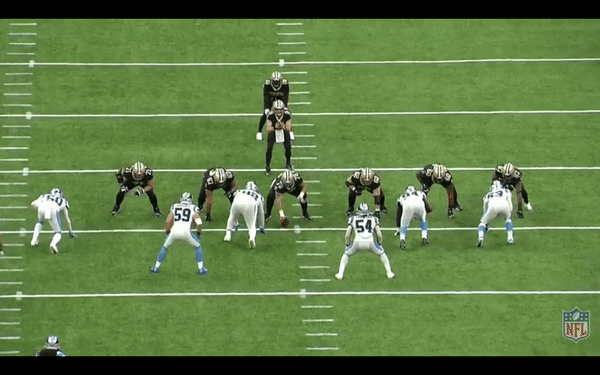 Stock Down
While we are saluting Mayock and Gruden for snagging Crosby later than he should've been taken, we have been scratching our heads at their selection with the fourth overall pick in Clelin Ferrell. 
As PFF's 35th overall prospect in his draft class, it was a clear scene of overreaching for potential. Not only was he not even close to being a top-three prospect at his position coming into the NFL draft, but he also wasn't even the best player on his college defensive line at Clemson. In fact, PFF had Ferrell rated lower as a prospect than two other Clemson defensive linemen in the 2019 NFL Draft. Nonetheless, it's really not a surprise to see. He isn't close to living up to his hype.
Through Week 12, Ferrell has produced the third-worst PFF grade for an edge rusher at 53.2 and has been insipid as a pass-rusher. Henceforth, Ferrell has produced a pass-rush win rate of just 7.9% and a pressure rate of just 8.2%. Overall, his tackling has been a massive issue with seven missed tackles on 29 attempts.
"We asked him (Ferrell) to do a lot. He played inside. He played defensive tackle. I don't know what Football Focus (PFF) says, but if they focus on the numbers, I'll bet he played inside quite a bit. And that's a real challenge for a rookie that's undersized and under his playing weight." – Oakland Raiders Head Coach Jon Gruden on Clelin Ferrell's struggles
When lined up outside the offensive tackle (383 snaps), Ferrell has the fifth-worst pass-rush win rate (9.0%), is 55th in pressure rate (9.8%) and is 83rd in PFF grade at 59.1. When lined up over or inside the offensive tackle (109 snaps, just 20 snaps at defensive tackle for what it's worth), Ferrell's win rate falls to 5.1%, pressure rate dips down to 4.3% and overall grade goes down to 38.8.
While Ferrell has been a better pass-rusher when lined up outside (marginally), he still has not been close to effective as others around the NFL at that alignment.
First and foremost, athleticism certainly gives those on the field an advantage but certainly doesn't solidify them as a "great" football player. Case in point: Noah Fant. The first-round Iowa product is freakishly athletic and has insane measurables that most humans couldn't dream of touching. He led all at his position at the NFL Combine in the 40-yard dash, vertical jump and broad jump, but none of those events measure whether or not he can effectively play tight end at the NFL level. Due to those measurables, Fant was taken at pick 20 in the first round. PFF has him as a mid-second-round prospect.
During his final collegiate season at Iowa, Fant dropped 11 of his 80 catchable targets. Through 12 weeks of NFL action, Fant ranks 34th of 39 qualifying tight ends in percentage of catchable targets caught at 83.3%. Consequently, Fant is generating a low passer rating of 86.7 on his targets (also ranks 34th). In addition to that, he has caught just four of 12 contested targets.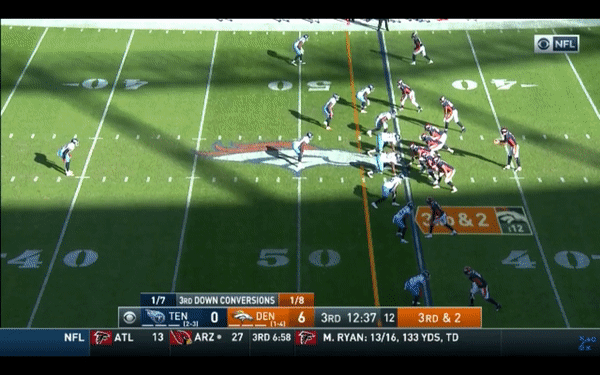 Denver took a big reach on Fant. He is the prototypical prospect who has shown very little, yet, highly coveted because of his "potential." There's still time for him to turn it around, but the hope is beginning to dwindle out.
This may be the most surprising rookie performance of the 2019 season. After recording the highest single-season grade of any defensive player we have graded in the PFF College era at 96.0, Quinnen Williams was getting a lot of attention and was even being considered by some to be a better prospect than the second overall pick Nick Bosa. Williams ended up going third overall to the New York Jets and everyone thought they got the safest pick in the Draft. Thus far in 2019, that's not even remotely close to being the case.
Williams has produced an overall grade of 67.4, ranking 46th among 76 interior defensive linemen. He has made a few plays in run defense and made his way to the 37th best run-defense grade at 70.5. However, Williams' run-defense isn't the issue – it's his pass-rushing. Williams drops all the way down to 60th in PFF pass-rush grade at 57.2, has produced pressure at an astronomically low rate of 4.7% and has won on just 7.3% of his reps. 
Injury had gotten to Williams early on, but he's been healthy as of late and has still made little to no impact plays. There's more optimism with Williams than any other rookie in PFF's stock down report, but his play thus far is certainly cause for concern.
PFF was not as high as most were on the linebacker position collectively throughout the 2019 draft process, but we still had linebacker number one as eventual fifth overall pick Devin White. While at LSU, White produced a coverage grade that ranked first among all FBS linebackers and showed to be a perfect blitzing linebacker, as he produced 70 pressures on 188 pass-rush snaps from 2017 to 2018. With Tampa Bay bringing in Todd Bowles as defensive coordinator, who is known for his blitz-heavy scheme, White seemed to be exactly what the Bucs needed. Like Quinnen, it's been the exact opposite – but even worse than one could have possibly imagined.
In his time as a Buccaneer, White has recorded a PFF overall grade and coverage grade that both rank among the four worst linebackers in the NFL. While in coverage, White has allowed 29 of 34 targets to be caught and 119.6 passer rating to the opposing quarterback. On top of that, in six of his seven games with significant snaps, White has allowed at least one play of 15-plus yards in coverage.
White has been okay as a pass-rusher with nine pressures on 51 pass-rush snaps, yet he still is not producing like we all thought he would. Not to mention, he's been missing tackles at a rate that you hate to see with 10 missed on 66 attempts. We've seen linebackers like White turn it around after a rookie slump, but not everyone is as fortunate. Hopefully playing alongside the highest-graded linebacker in coverage, Lavonte David, will help matters.
To close out the stock down report for rookies is perhaps the biggest reach from the 2019 draft, Rashan Gary. Coming out of Michigan, PFF was very vocal that Gary was not a first-round talent, let alone worth the 12th overall selection he was taken at. PFF pegged Gary as the 48th overall prospect and a large part of that was due to his lack of production in the pass-rush in college (68.3 pass-rush grade last collegiate season). Similar to Clelin Ferrell and Noah Fant, the Packers over-drafted for Gary based on "potential."
On 99 pass-rush snaps in his NFL career, Gary has produced an underwhelming 56.8 pass-rush grade, 11% pass-rush win rate and just nine total pressures. He hasn't even been the pass-rusher to come out of Michigan – former teammate Chase Winovich, who was the 77th overall pick, has been far better for his team (New England Patriots) with a 68.0 pass-rush grade. At the end of the day, Green Bay lucked out in that they signed two of the 2019 free agency classes' best pass-rushers in Preston Smith and Za'Darius Smith, as they both rank among the top 16 in PFF pass-rush grade through Week 12.