For the first time in Patrick Mahomes' tenure as the Kansas City Chiefs' starting quarterback, the team doesn't have enough to be considered Super Bowl contenders.
What's worse: What stands between this generational talent and holding the Lombardi Trophy again isn't anything Mahomes (or his head coach, Andy Reid) can control or change. In spite of having faced the four best teams in the AFC, Kansas City ranks sixth in PFF's offensive grade (83.0) and third in expected points added per play (.121).
| | | | | |
| --- | --- | --- | --- | --- |
| | Offensive Grade | EPA/Play | % Yards Before Contact, Runs | Passer Rating |
| Kansas City Chiefs, Thru Week 5 | 83.0 (6th) | .121 (3rd) | 48% (T-1st)  | 106.1 (7th) |
The Chiefs' passing offense is still the same unstoppable force it's always been, and they've quietly been one of the most efficient teams running the football this season. No offense has gained more of its rushing yards prior to contact than Kansas City, in spite of Reid and offensive coordinator Eric Bienemy using multiple backs/tight ends below the NFL average.
Click here for more PFF tools:
Rankings & Projections | WR/CB Matchup Chart | NFL & NCAA Betting Dashboards | NFL Player Props tool | NFL & NCAA Power Rankings
By all accounts, the Chiefs have reached the peak iteration of the modern spread offense in the pros, but the defense is doing everything in its power to make sure it doesn't matter.
Not only does the unit rank dead last in PFF's defensive grade (46.7), but its EPA per play average is significantly behind the 31st-ranked Jacksonville Jaguars. No team has fewer defensive stops, the pass rush is narrowly outside of the bottom 10 in pressure rate, the defense is tied for the most passes of 15-plus yards allowed and only the Chargers (a team committed to playing in light boxes) allow more yardage on the ground before tackles.
| | | | | |
| --- | --- | --- | --- | --- |
| | Defensive Grade | EPA/Play Allowed | Avg. Depth of Tackle on Runs | Passes of 15+ Yards Allowed |
| Kansas City Chiefs | 46.7 (32nd) | .213 (32nd) | 4.91 (31st) | 40 (T-Most) |
In any other context, we would be honed in on what may end up being the worst defense to still make the playoffs in recent memory, if not one of the worst all-time. Defensive coordinator Steve Spagnuolo has plenty of job security, though — Reid is known to hold on to the assistants he has a long history with, and Spagnuolo has a relationship with Reid that dates back to their time in Philadelphia. He and Reid share in their philosophy on what makes a successful defense: having a strong pass rush and a talented enough defensive backs to play tight coverage when needed.
It's rare to see a defense struggle at all three levels in this way. While the simplest answer to some of their problems is to get better players in the offseason, it's important to specifically diagnose how teams are taking advantage of these roster holes within the structure of Kansas City's scheme. The answers to be found in the film will be instructive in finding out whether 2021 will be salvageable for the Chiefs.
Stopping The Run
No matter the scheme, stopping a team from moving the football begins and ends with matchups. Whatever kind of personnel the offense is presenting to you, a defense needs an answer in terms of the bodies it fields, which informs the cascading decisions made in terms of what plays can be called. The body types will influence the kind of run support needed, influencing the kind of front a defense uses. And a defensive structure is created therein.
With that in mind, the data shows that offenses are committed to forcing Kansas City into base personnel — only four defensive backs on the field. Until now, Spagnuolo has never had a season in Kansas City where he spent the majority of run defense snaps in base. This defense is built to operate in obvious passing situations, and the more time this defense spends in base, the fewer snaps it has with its 11 best players.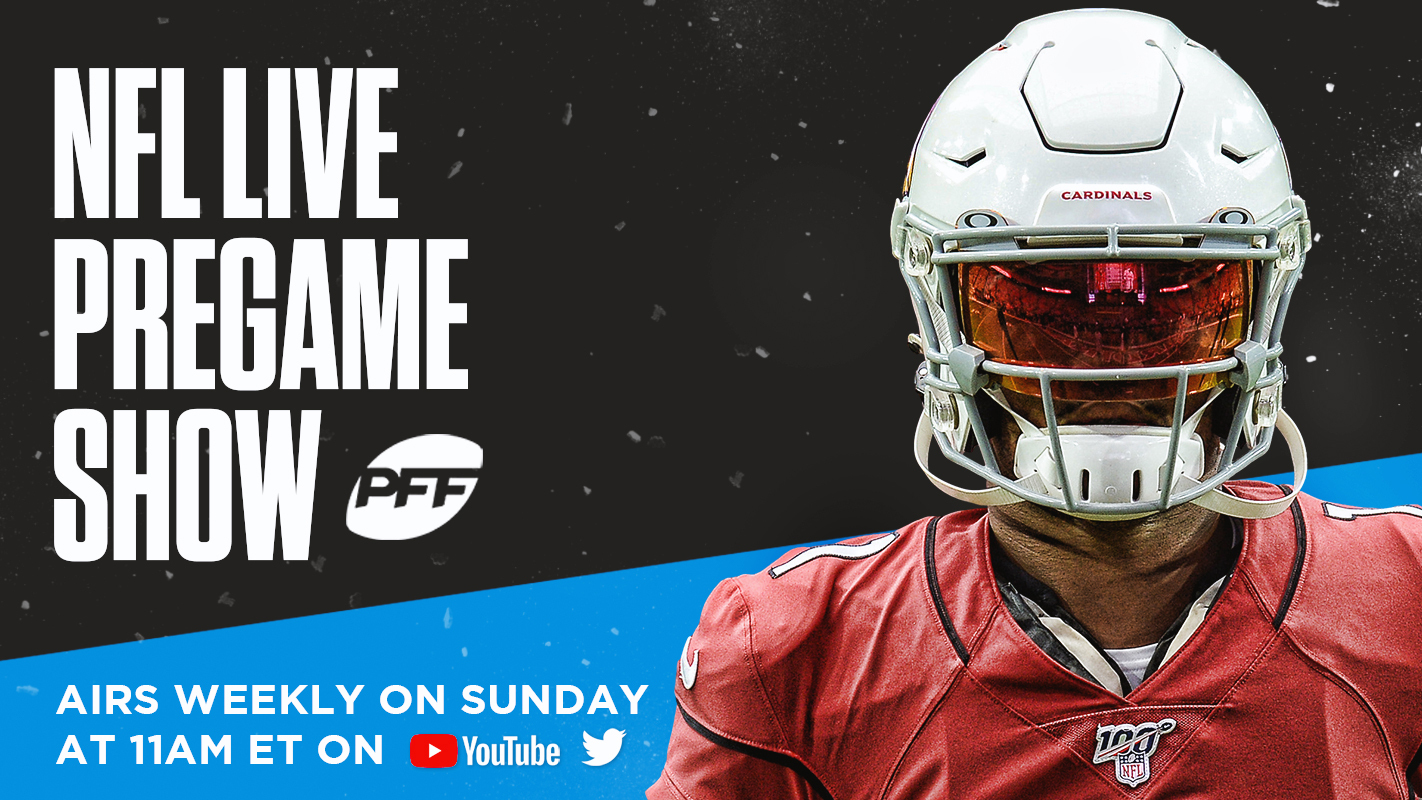 It's important that Spagnuolo keeps his ability to live in two worlds, in terms of run support. Of the 57 snaps Kansas City has spent defending the run in base, the defense has a 58-42 split between single-high and split-safety looks. This isn't much different than what we're seeing from the (re-)proliferation of the 3-4 defense in the NFL, but Spagnuolo is true to his roots within the four-down front. Not a single snap out of base has been out of an odd front.
Living in two worlds of fitting the run out of a four-down front means that linebackers have to make the defense "right" by attacking downhill based on their keys. Because of the way they structure their front, the Chiefs try to keep guards and tackles off their inside linebackers. On run concepts like outside zone, the backers are flying untouched to fit gaps as they move.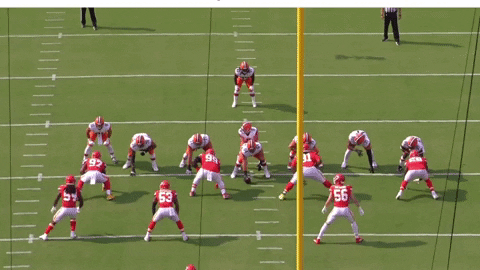 Where things get hairy are on downhill runs, when offensive linemen can get double teams at the point of attack and force linebackers to honor potential cutback lanes. On runs like duo, the ball carrier can press the hole and bounce outside before a linebacker can affect the play.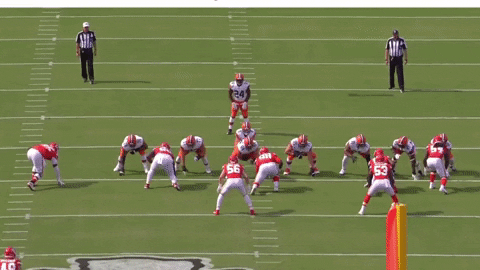 Most dangerous for a four-down front is a "gap" scheme, where lead blockers and pullers kick out edge defenders and climb up to linebackers. Kansas City has faced off against some of the best teams in the NFL at running counter actions, and it's hurt them consistently. A well-designed gap scheme can cut the defense in half, leaving run-fitters opposite the flow of the ball with no prayer of getting involved. Any misdirection or hesitation creates the time needed to seal defenders and open alleys in a way that would make former ESPN analyst Merril Hoge proud.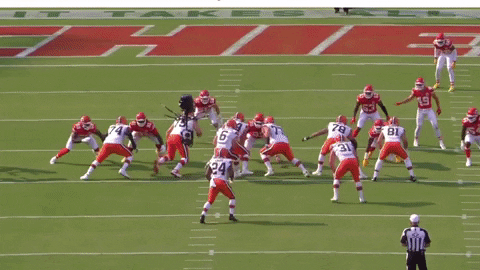 Linebackers Anthony Hitchens, Ben Niemann and Nick Bolton each have a PFF run-defense grade below 50.0 on the season, and the first-level defenders aren't faring much better. Chris Jones leads all Kansas CIty defensive linemen in PFF run-defense grade, and he's below 60.0 as well.
Covering The Pass and Affecting the QB
Kansas City has been bad at stopping the run for years, so the data and film aren't telling much of a new story in 2021. What's alarming, though, is how poorly the unit has fared in coverage through the first month of the year.
The majority of the defense's coverage snaps have been out of nickel personnel, and the Chiefs have been just as bad covering the pass with five defensive backs as stopping the run with three linebackers, in comparison to the rest of the league.
The issue here isn't nearly as nuanced as the details that go into designing how one prefers to fit the run — the Chiefs struggle to stand up in one-on-one coverage scenarios, and this defense relies on man coverage to set up the rest of the coverage calls and safety rotations that can make Spagnuolo's scheme look so diverse at its best.
Playing man means seeing a healthy dose of man-beating concepts, and the Chiefs have found themselves on the losing end of crossing routes, fades and slants all year long.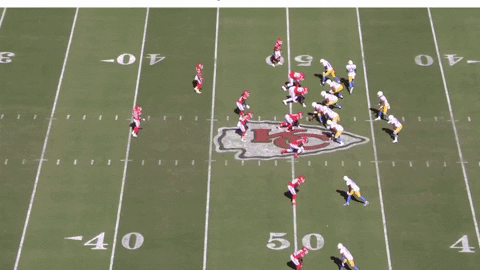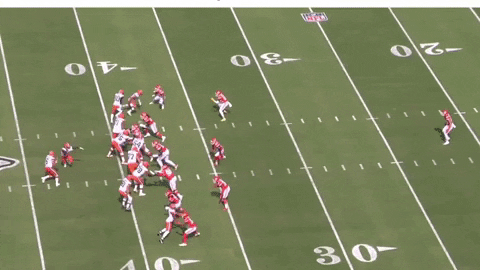 Safety Daniel Sorensen has been the proverbial barbecue chicken for opposing offenses, with a 27.0 coverage grade when Kansas City plays Cover 1, allowing 134 yards and a touchdown on just eight targets. As a team, the Chiefs allow over nine yards per coverage snap out of Cover 1 through Week 5.
Playing man coverage with a four-man rush isn't all about the defensive backs, either. The best coverage oftentimes is getting home with four pass-rushers, but Chris Jones and Michael Danna are the only two Kansas city players with more than 10 pressures on the year, and neither has more than 15.
What this team needs, given its coverage struggles, is an investment in pressuring the quarterback. The defense currently ranks eighth in blitz rate, at 31%.
What we've laid out is a tenuous situation for a defense. This unit can't stop the run well enough to force more long and obvious passing situations, and there are some major holes in its ability to match up with the offenses it's seen so far. For the amount of blitzing the Chiefs do, they better have a way to make a quarterback's life difficult. Given that almost 40% of the coverage calls tied to a Kansas City blitz are Cover 0, the pass rush needs to make contact with the signal-caller.
Kansas City can tout its pressure rate on Cover 0 blitzes (48%) as a measure of forcing quarterbacks to get rid of the ball, but it surrendered a first down or touchdown on half of the 14 attempts with only one true quarterback hit in exchange. The ball is coming out fast in benefit of the offense, and the juice hasn't been worth the squeeze for the defensive backfield.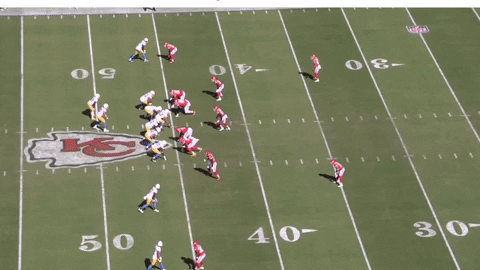 What is the defense left with after a Sunday Night Football loss dropped Kansas City? A scheme that can't protect its linebackers from downhill runs or its defensive backs from weaknesses in man coverage, and a pass-rush unit that can't find a quarterback if you put a non-contact jersey color on him.
These kinds of defenses don't play for Super Bowls, and that won't change this season.