The 2020 NFL offseason has clearly not unfolded the way Jadeveon Clowney would have wished. Entering free agency, Clowney looked like one of the marquee names available and was shooting for the next market-resetting contract at his position.
That market for his services never materialized, though, and teams have been unable to get him to agree to significantly more modest deals. Players betting on themselves when it comes to contract negotiations happens all the time, and Clowney's most likely resolution is to accept a one-year contract somewhere he believes he can thrive before testing the offseason waters again in 2021.
In a sense, NFL teams have been right to shy away from Clowney for monster money. There is a strong argument that he isn't among the best edge defenders in football outside of the flashes that show he has the potential to be. His run defense is excellent, but as a pass-rusher, he has cleared 60 total pressures in a season only once — and has never topped 65.
Za'Darius Smith led the league in 2019 with 93 pressures, so the gap between Clowney and the league's best is significant. It's probably also fair to say that he is a better pass rusher than three sacks in a season — the figure he managed last year for the Seahawks.
Sacks are the goal when it comes to pass rush, but they are a poor way of actually measuring pass-rush performance and an even worse way of predicting them. Clowney may not be an elite pass-rusher, but he isn't inept. When you add in the fact that he is one of the best run defenders in the league, he is still an overall impact player who can add a lot to almost any defense in the league.
So, with that in mind, here are five teams that should sign him.
Let's start with the most obvious option: the team Clowney played for last season. The Seahawks may have determined Clowney isn't worth a monster contract at the position, but that doesn't mean he isn't worth re-signing at any price or over any length of time. The Seahawks have made moves in the secondary, but their defensive line features a dearth of pass-rush pressure on paper, barring massive improvements from the players they have.
Clowney led the team in total pressures last season by 14, and the player in second (Quinton Jefferson) will play this season in Buffalo. The Seahawks don't have anyone on the roster who had over 30 total pressures last season. And at some point, a lack of pass rush is going to impact the secondary, even if coverage is a more important element of good defense in a vacuum. Clowney is also arguably the best run defender that the team would have available, and he would be the best on the defensive line without question.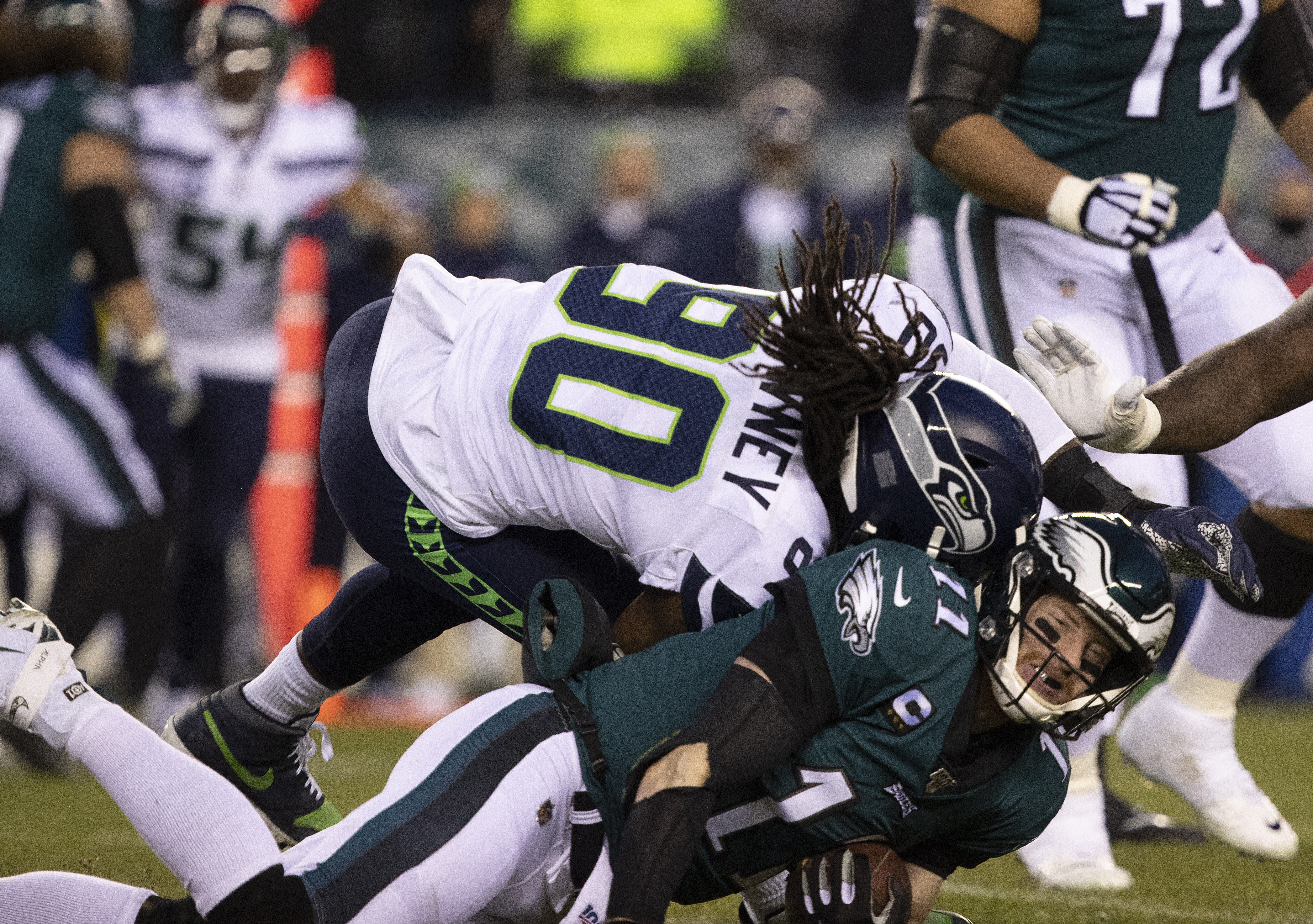 It's also worth noting that the best two seasons of Clowney's career have been his most recent two, one of which was in Seattle. He may not have become the transcendent talent that people expect for a No.  1 overall pick, but he has improved over his career. There's a chance his best football is still to come.
The Ravens' defense has a chance to be historically great in 2020. Losing Earl Thomas is a blow, even if he was less well-suited to the role he had in Baltimore than his prototypical single-high free safety assignment in Seattle. The Ravens have been putting together an elite defense for some time now, but they have been doing so without a high-level pass-rusher.
As previously pointed out, Clowney wouldn't be like adding one of the very best in the league to this defense, but he would bring plus play that the Ravens could enhance through the way they play defense and scheme up pressure.
The Ravens led the league in blitz percentage by a wide margin in 2019, blitzing on 55.2% of their snaps against pass plays — more than 10 percentage points higher than any other team and the only team to blitz more often than not. In addition to that, Baltimore ranked in the top five in percentage of rushes featuring a stunt (21.6%). All of this defensive aggression and deception caused the team to create more unblocked pressure than any other defense last season by a significant margin.
Matthew Judon was, by far, the team's best pass-rusher in terms of total pressures (62), but 17 of those (27.4%) were unblocked and a further 15 (24.1%) were clean up pressures. Judon produced a 77.3 PFF pass-rush grade, which was lower than Clowney's despite a season that looked far better on paper. Clowney within that Ravens system might look like the player he wants to be paid like.
Two of the Titans' top three pressure generators last season (Cameron Wake and Jurrell Casey) are no longer on the roster, and while Harold Landry was their No. 1 guy with 51 total pressures, he has yet to develop into the force the Titans wanted him to be when they selected him near the top of the second round in 2018.
Landry generated a mere 57.8 PFF pass-rush grade, which was worse than his rookie year mark with an expanded role. The Titans will still be leaning on Landry to be their best pass rusher from the edge, and their only real addition to that group has been Vic Beasley, whose career has nosedived since a 15.5-sack sophomore campaign that was never really backed up by grading.
Beasley was good, not great, that season, and he is another example of a player who hit on all the positive variance of his position in one season. Of his 56 total pressures in the regular season, 19 were either completely unblocked or clean up plays (33.9%) — and half of the 16 plays he sacked the quarterback fell into that category. Beasley is unlikely to be the answer for the Titans in terms of pressure from the edge, but Clowney would be significantly more effective.
The Colts entered free agency this year with money to burn, and while they didn't spend it on Clowney, they did spend with the attitude of a team that thinks it can contend immediately. The signing of Philip Rivers to a one-year deal makes the same statement of intent. Clearly, the Colts weren't in the market for giving Clowney a marquee contract, but if the price and duration come down, they have the space and capacity to make that happen. Plus, there is little doubt Clowney would improve this team on defense.
Justin Houston was largely rejuvenated last season in a reduced role for the Colts. He had 60 total pressures on the year, the most he has registered since 2015, and though he still rushed the passer as much as he had in his last couple of years in Kansas City, he played significantly fewer snaps overall as the Colts rotated him out on obvious run downs. Houston will likely still be effective this year, but there is little outside of him in the way of proven production.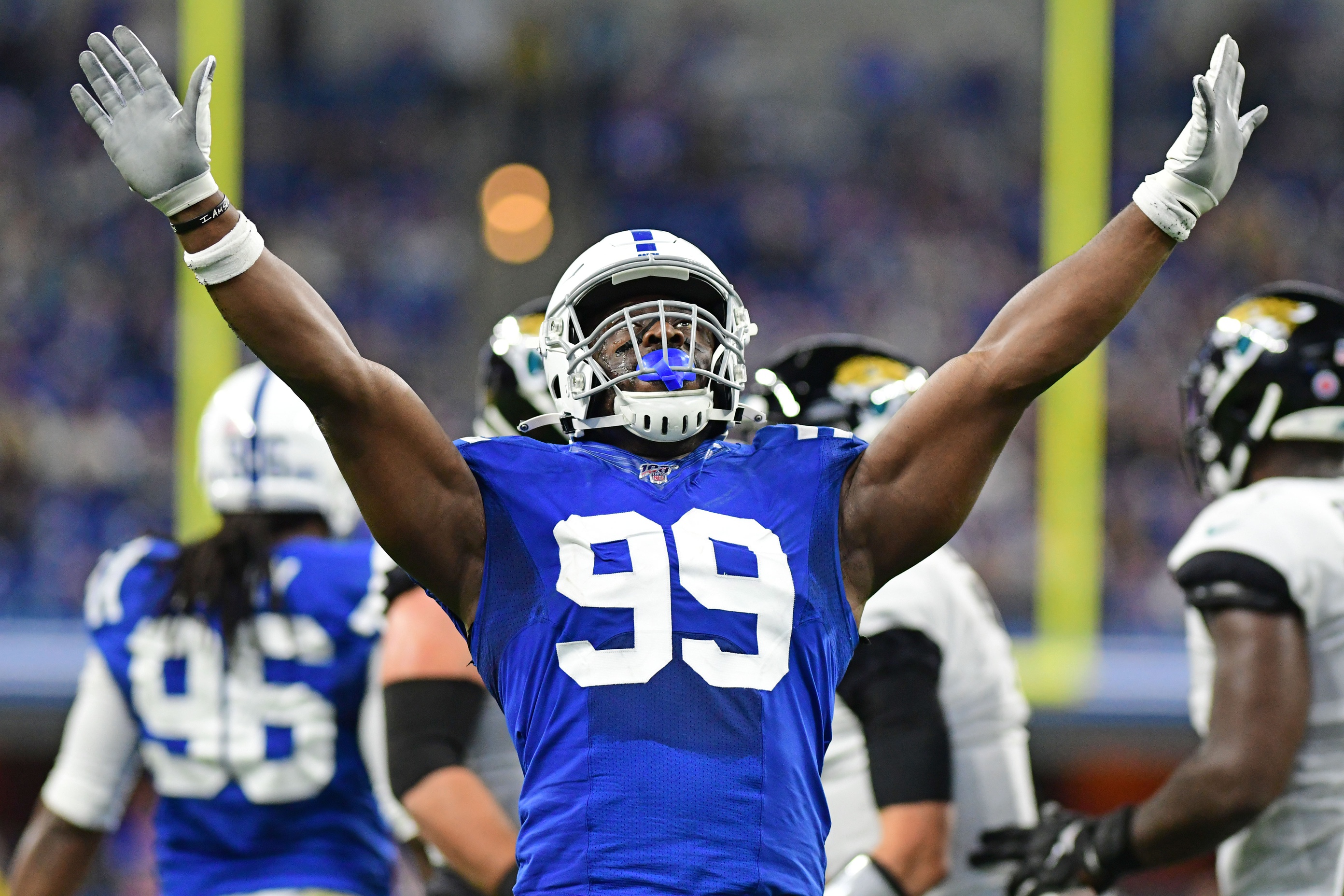 Kemoko Turay was actually the highest-graded edge defender in football over 81 snaps last season before he went down injured, generating 14 total pressures on 69 rushes. He earned just a 62.9 overall grade in the previous year, and it would be a gamble to expect big things from him based on that limited sample size, as much of the damage came against the Chargers, who had one of the worst offensive lines in the league.
Al-Quadin Muhammad is another option, but again, we have seen little to suggest he can be a high-level pass-rusher at this level. Clowney would be a significant upgrade and an insurance policy for Houston while helping the Colts load up for a playoff run without damaging their salary cap situation long-term.
You had to see this one coming, right? The Patriots have had an interesting approach to the position for years, and had Clowney been a pass-rushing specialist who was a liability against the run, I don't think this would have been a good fit at all.
We have seen the Patriots eschew those players in the past. Even now, they have been steadily diminishing the role of Deatrich Wise Jr. despite him excelling as a pass-rusher because he doesn't defend against the run.
Clowney, if anything, is a run-first player anyway, so he would be a natural fit for the Patriots' defensive scheme that covets the ability to set the edge and rush with contain on the quarterback. The Patriots also lost some significant defensive pieces without proven succession plans in place, so they may be tempted by the relative certainty that he would bring.
This is also another team that clearly would have little interest in handing Clowney the monster contract he was looking for. There's little doubt they could easily be tempted into offering him a one-year deal, though. That would let him show his worth before he walks out the door a year later having benefited from his playing time in Foxboro — and it could play into the Patriots' favor by way of a compensatory pick, too.