Late Sunday night, news broke that Cam Newton had signed a 1-year deal with the New England Patriots. This pairing makes perfect sense, and it's been almost a foregone conclusion since the only other remaining starting-caliber quarterback on the market, Andy Dalton, signed with the Dallas Cowboys in early May.
In this article, we will explore how Newton fits into the NFL quarterback landscape for the 2020 NFL season from a statistical standpoint. We are using the same method as in our analytics quarterback rankings to quantify the range of outcomes for the 2015 NFL MVP relative to his peers.
[Editor's Note: PFF's Player Grades, WAR metric, etc.  are powered by AWS machine learning capabilities.]
Quarterback duel in Foxborough? Not so much
Until yesterday, Jarrett Stidham was thought to be the Patriots' starter, but it looks as if Bill Belichick had — like so often beforehand — other plans. Are Jarrett Stidham and Cam Newton competing for the starting job on eye level? Probably not. Even if it were to be an open competition, a lot would have to go wrong for Newton to lose it.
Even though we are heavily weighing the most recent play — which doesn't particularly bode well for Newton — we estimate Cam to be the better quarterback 83% of the time when using a 50:50 blend of passing grade and expected points added (EPA) per play. And this doesn't even include his ability to add value on designed rushes, something that also allows Josh McDaniels to open up his creative mind.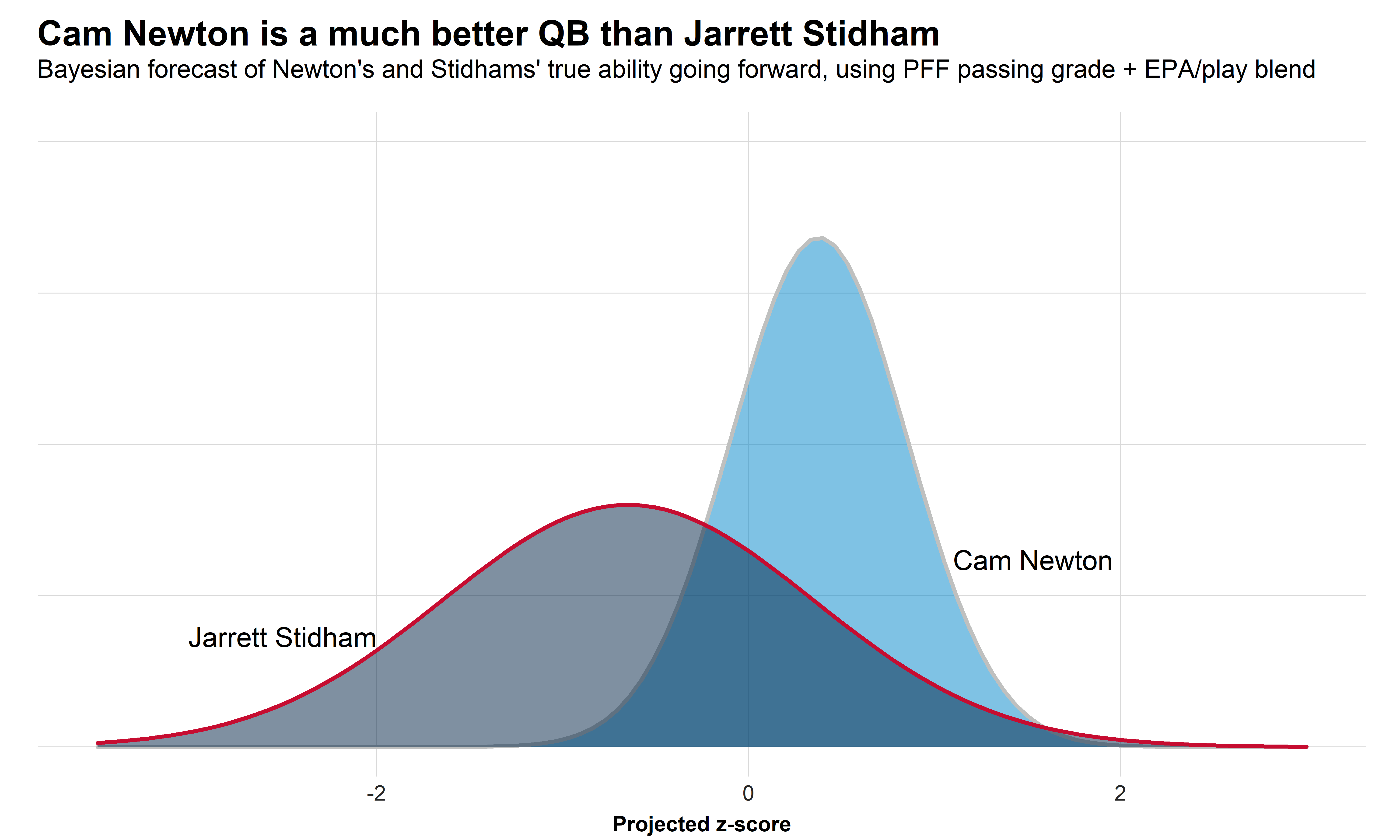 Subscribe to PFF Edge to continue reading
Already have a subscription? Sign In