Both the Philadelphia Eagles and Cincinnati Bengals were unable to put points on the board in the first quarter Sunday, and neither came away with a score in overtime, leading to a 23-23 tie.
The Eagles and Bengals each entered the contest seeking their first victories in 2020, but the pair left Week 3 winless once more.
Editor's note: All of PFF's grades and advanced stats from this game will be finalized and made available to ELITE subscribers within 24 hours of the final whistle.
STORY OF THE GAME
Philadelphia's defense sacked Joe Burrow eight times, held Joe Mixon to under 50 rushing yards and allowed just three first downs on 13 third-down attempts. Despite their defensive dominance, the Eagles were unable to clinch a victory, even with three possessions in overtime and what would have been a 59-yard field goal attempt from Jake Elliott, which was pushed back due to a false start. Much like the Bengals, the Eagles repeatedly made mental errors and did not take advantage of the opposing team's mistakes. 
Carson Wentz struggled for his third game in a row, completing just over 50% of his passes for 225 yards, one touchdown and two interceptions. He looked comfortable only when targeting his trusty tight end Zach Ertz or running with the football. He had nine carries go for 65 yards, including a scramble touchdown with seconds remaining in the fourth quarter to force overtime. 
It did not help that both DeSean Jackson and Dallas Goedert left the game early with injuries and rookie Jalen Reagor already being ruled out before the start of the game. Greg Ward — a former college quarterback out of Houston — was the leading receiver, as he was targeted 11 times, reeling in eight for 72 yards and a score. 
The Bengals did not help themselves, either, as they were called for two pass interference penalties on the Eagles' final drive of the game, thrusting Wentz and the Philadelphia offense into prime striking distance. The offensive line allowed 12 pressures on 52 reps in pass protection but surrendered three sacks and four quarterback hits.
Burrow was charged with five more sacks, as he often held onto the ball too long and either checked it down or threw it away. After looking like a deer in headlights in the first quarter, Burrow was able to bring his swagger back the rest of the game. He had zero turnover worthy plays and completed 70% of his passes for 312 yards and two end-zone dimes to fellow rookie Tee Higgins. 
Tyler Boyd continued to build rapport with the young signal-caller, having 12 passes thrown his way and catching 10 for 125 yards. A.J. Green, on the other hand, had only five receptions for 36 yards.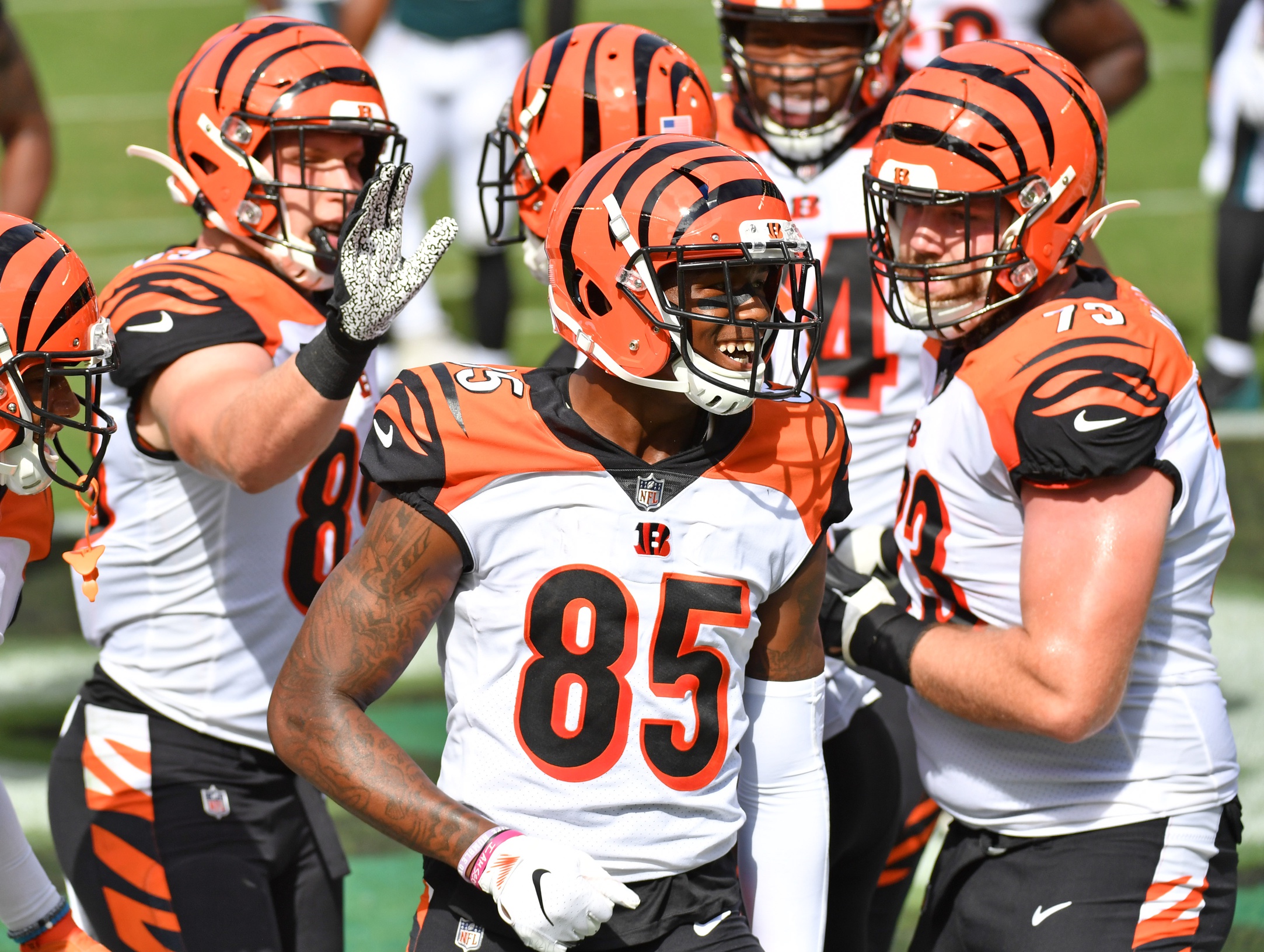 ROOKIE WATCH
Alongside Burrow, Higgins put together an impressive Week 3 performance. He hauled in five of his six catchable targets for 40 yards and the Bengals' only two touchdowns. Logan Wilson and Akeem Davis-Gaither both saw north of 15 snaps but failed to make much of an impact on defense.
John Hightower was the only Eagles rookie to receive more than five snaps, ending the day with 78 — more than any receiver on the team. Even with a large amount of playing time, he mustered just two receptions for 19 yards. Jalen Hurts saw the field for a few snaps but was unsuccessful at helping the offense move the chains. 
ELITE subscribers can view player grades, advanced statistics, positional snap counts and more in Premium Stats 2.0.