Lamar Jackson's Baltimore Ravens took on Deshaun Watson's Houston Texans in a battle between two of the NFL's premier young talents in Week 2. The signal-callers are familiar with one another, facing off last year and in a memorable back-and-forth firework show in college.
This game, however, was unsurprisingly one-sided from start to finish as the well-rounded Ravens took down the Texans, 33-16.
Editor's note: All of PFF's grades and advanced stats from this game will be finalized and made available to ELITE subscribers within 24 hours of the final whistle.
STORY OF THE GAME
Watson wasn't as bad as the score might suggest, and he might have even played better than Jackson from a passing perspective. He threw a beautiful deep ball early in the second quarter that resulted in a 38-yard gain before hitting on a 24-yard strike late in the third quarter while under pressure. That said, Watson also had a costly interception near the end of the first half (which was an unreal play by Ravens cornerback Marcus Peters). 
The biggest play that set back this Houston team was when Marlon Humphrey forced a fumble on receiver Keke Coutee after the catch in the second quarter, resulting in an L.J. Fort scoop-and-score. That put the Ravens up 20-7, and the Texans had no shot afterward. Through the first three quarters of action — when the game wasn't completely out of reach — Houston produced -0.22 expected points added per pass play. Meanwhile, the Ravens sat at 0.14. Both Humphrey and Peters made stellar plays and were instrumental in making this a one-sided affair.
Jackson didn't make any of the stellar plays we have grown accustomed to, but he routinely hit the open receiver. He had just two throws that would be considered a quarterback-fault incompletion — one overthrow and one underthrow. Jackson also produced solid runs that ended up in 10-plus yard gains. The offensive line presented several holes for the Ravens' running back unit and rarely allowed contact behind the line of scrimmage. Over the course of the game, the Ravens' running backs produced 0.42 expected points added per rush, whereas the Texans were at -0.22.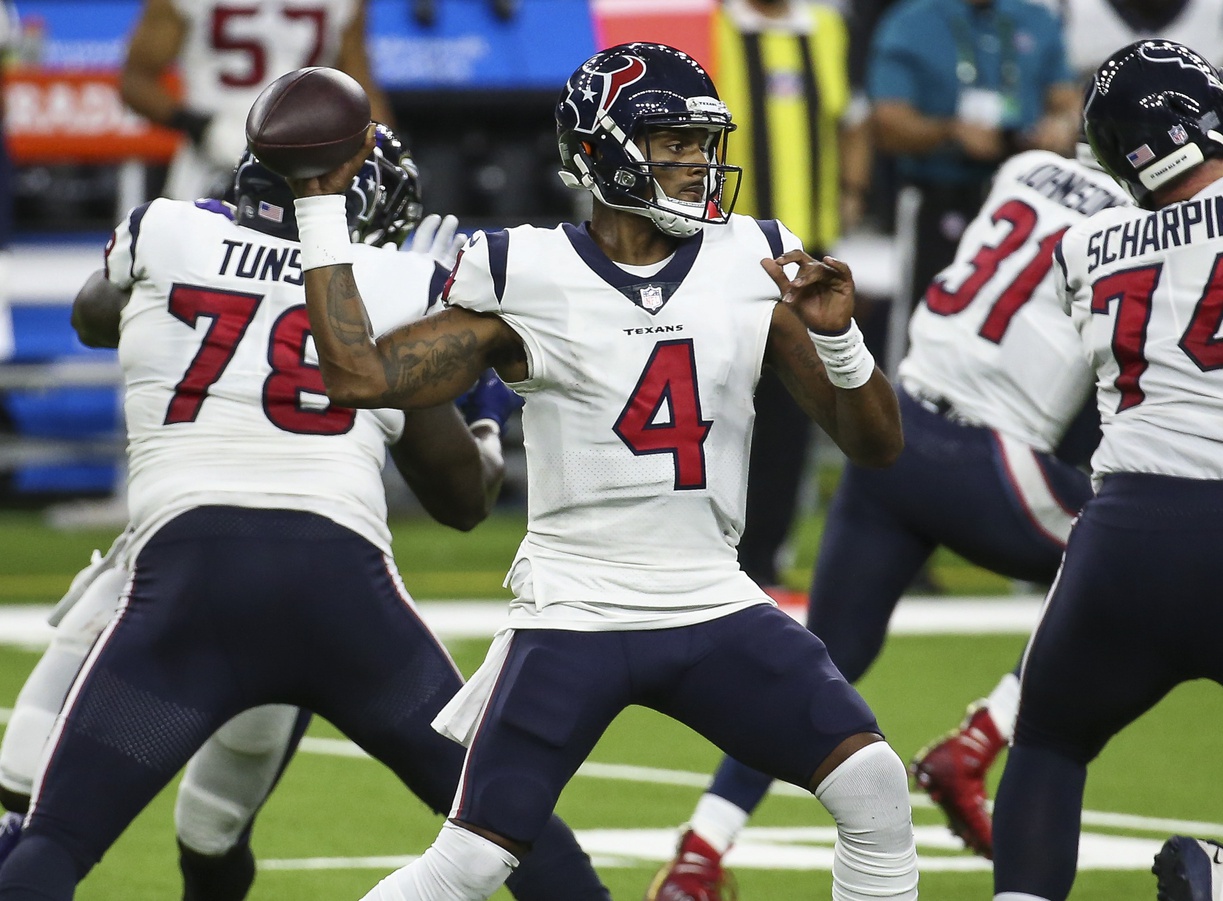 ROOKIE WATCH
Ravens right guard Tyre Phillips was beaten often in his Week 1 NFL debut Week 1 in both facets of play, resulting in a lowly 40.7 PFF grade for the day. In Week 2, his run blocking was once again a detriment, but his pass protection looked a lot better. He logged 13 true pass sets on the day (no play action, screen, quick throw, etc.) and didn't lose a single rep. Last week, he lost three reps and produced a 28.9 pass-block grade on such snaps. Phillips has a long way to go, but he wasn't a complete liability on the field this time around.
Baltimore first-round pick Patrick Queen didn't stand out in any facet of play last week in his NFL debut. Against Houston in Week 2, Queen got picked apart in coverage, as he allowed four catches on seven targets for 47 yards (three first downs). However, he made an impact against the run with a couple of tackles and one run stop on nine such snaps. We knew Queen's coverage play would be a work in progress in his first few years in the league, so patience is key.
ELITE subscribers can view player grades, advanced statistics, positional snap counts and more in Premium Stats 2.0.