Fantasy football draft season is right around the corner, so it's time to roll up your sleeves and finalize your prep with. One of the most useful weapons to have in your draft day arsenal is positional tiers. With a tier-based approach, you can see how each player stacks up at his respective position. Tiers are slightly different from rankings because it's not just a straight list of players. These groupings allow for a more flexible approach to drafting that you can ultimately build into your draft board.
Over the next few days, I'm going to go position-by-position and give you my tiers for 2019 drafts. We'll kick things off today with quarterback fantasy football tiers.
[Editor's Note: Jeff Ratcliffe's 2QB rankings are LIVE! All EDGE and ELITE subscriber can access the rankings here.]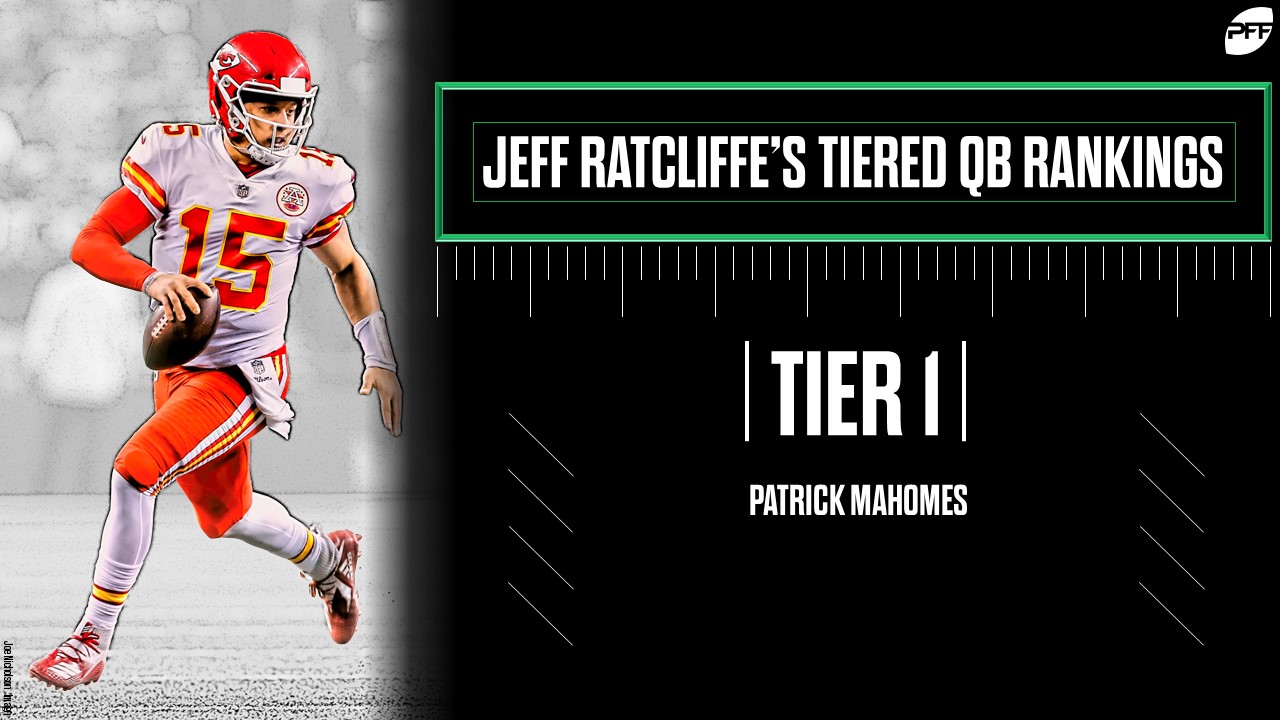 Tier 1 – Rarified Air
Patrick Mahomes, Kansas City Chiefs
There's no question that Mahomes is the clear elite option at the position this season following his breakout 2018 campaign. And even if he sees somewhat significant regression in his touchdown efficiency, Mahomes could still easily lead quarterbacks in fantasy scoring. The bigger debate with Mahomes is how early he should go in 2019 fantasy drafts. Our rankings currently have him positioned in the early-fourth, but he's likely to go much earlier than that in home leagues. Keep that in mind when you draft this year.
Tier 2 – No. 1 Potential
Deshaun Watson, Houston Texans
Andrew Luck, Indianapolis Colts
If there's anyone who can challenge Mahomes for the No. 1 spot this year, it's these two. Watson is coming off a fourth-place finish in 2018 and offers an enormous ceiling thanks to his ability as a runner. Luck put the shoulder injury in the rearview mirror last year and was extremely consistent with 11 top-10 fantasy finishes over the final 13 games of the season. He also got some nice upgrades in his wide receiver corps with the additions of Parris Campbell and Devin Funchess.
Tier 3 – The Old Faithfuls
Aaron Rodgers, Green Bay Packers
Matt Ryan, Atlanta Falcons
Russell Wilson, Seattle Seahawks
These guys aren't necessarily the "sexy" options in 2019 fantasy drafts, but each of them has shown elite fantasy potential in the past. Rodgers is coming off a down year where he threw for just 25 passing scores. He's poised to rebound under first-year head coach Matt LaFleur. Ryan finished second in fantasy scoring for the second time in the last three seasons. While that may be the top of his range, the potential for big numbers is very real yet again this season. The Seahawks' run-heavy approach caps Wilson's overall upside, but he showed last season that he can still be extremely efficient on limited volume.
Tier 4 – Baker
Baker Mayfield, Cleveland Browns
He's one of the hottest names in fantasy heading into 2019, but Mayfield is far from a slam dunk. And it's that uncertainty that places him in his own tier. Sure, he was excellent last season and certainly has an impressive surrounding cast. But the new coaching regime in Cleveland is far from a sure thing, and Mayfield could see some negative regression in his touchdown efficiency. That being said, he's very much in the QB1 conversation.
Tier 5 – Former Elites at a Value?
Cam Newton, Carolina Panthers
Drew Brees, New Orleans Saints
Both Newton and Bress have been elite fantasy options in the past, but the two are positioned more toward the back-end of the QB1s heading into 2019 drafts. For Newton, the biggest question that looms is his shoulder. Until we know he's good to throw, Newton remains a risky option. But if the shoulder is good, he may prove to be a major value at his ADP. Brees' days as an annual 5,000-yard passer are in the past, but he showed last season that he's still very capable of topping 30 touchdowns. It's that touchdown efficiency that keeps him in the QB1 fantasy conversation.
Tier 6 – Upside After Round 8
Jared Goff, Los Angeles Rams
Carson Wentz, Philadelphia Eagles
Ben Roethlisberger, Pittsburgh Steelers
Kyler Murray, Arizona Cardinals
Jameis Winston, Tampa Bay Buccaneers
It's all about getting upside if you wait at quarterback, and this group is chock full of it. Goff showed us last season that he can put up elite numbers for stretches, as he was the No. 2 fantasy quarterback over the first 11 weeks of the season. Similarly, Wentz ranked second in scoring at the position before tearing his ACL in 2017. The Steelers no longer have Antonio Brown, but Roethlisberger has weapons and is coming off a 5,000-yard passing season. We don't quite know what to expect from Murray, but his dynamic playmaking ability is very appealing for fantasy. Winston was up-and-down in 2018, but he finished strong with the ninth-most fantasy points among quarterbacks over the final seven weeks of the season. 
Tier 7 – Late-Round High Floors
Dak Prescott, Dallas Cowboys
Philip Rivers, Los Angeles Chargers
Tom Brady, New England Patriots
Kirk Cousins, Minnesota Vikings
If you want to execute the "safe and upside" late-round approach in your drafts where you take one safe option and one upside option, this is your safe tier. These guys may not all be available at the end of your drafts, but it's extremely likely that at least one will be. These four signal callers may not have the highest ceilings, but their floors make them appealing options. Prescott has tossed at least 22 touchdowns and rushed for six scores in each of the last three seasons. Rivers is an annual back-end QB1. Brady is very much on the downslope of his career, but he's still capable of giving you solid weekly production. Cousins is coming off a 30-touchdown season and can be had for peanuts at the end of drafts.
Tier 7a – Late-Round High Ceilings
Mitchell Trubisky, Chicago Bears
Lamar Jackson, Baltimore Ravens
Josh Allen, Buffalo Bills
Jimmy Garoppolo, San Francisco 49ers
This is the group to pair with your safe option. These four do not come with a high floor, but each of them has the potential to give you a massive return on investment if they hit this year. Trubisky flashed elite potential last year with two first-place fantasy finishes. Jackson won't give you a ton with his arm, but his ability as a runner makes him uber-intriguing. Allen also flashed upside on the ground last season. We didn't get to see much of Garoppolo last year, but he still offers appealing fantasy potential in Kyle Shanahan's offense.
Tier 8 – 2QB options/Streamers
Sam Darnold, New York Jets
Derek Carr, Oakland Raiders
Matthew Stafford, Detroit Lions
Andy Dalton, Cincinnati Bengals
Marcus Mariota, Tennessee Titans
Nick Foles, Philadelphia Eagles
Eli Manning, New York Giants
Joe Flacco, Denver Broncos
Josh Rosen, Miami Dolphins
Dwayne Haskins, Washington Redskins
Ryan Fitzpatrick, Miami Dolphins
Case Keenum, Washington Redskins
Daniel Jones, New York Giants
Drew Lock, Denver Broncos
These guys aren't likely to be drafted in 1QB leagues, but they're all in consideration in 2QB and SUPERFLEX formats. Likewise, there's a chance some of them to surface on the streaming radar at times during the season.