We're back again for the final edition of our weekly dive into the top streaming defenses of the week. We can't all be so lucky and own the New England Patriots defense, a legitimate league-winner. And, I'm sure, not all of you listened to me earlier in the year and held onto the 49ers or Steelers —top-three defenses all year. For everyone else, you may want to consider streaming defenses.
Each week in this space we've been looking at the top team defenses available on your waiver wire (roughly 50% owned or less on Yahoo) to add for the upcoming week.
Here are the defenses you should be looking to add in your Championship round:
vs. Carolina Panthers (-6.5)
Kyle Allen has lost six straight games, averaging 3.0 turnovers per game and 4.2 sacks per game over this span. And yet, at no point did Carolina let third-round rookie and third-string backup Will Grier take a single snap. That seems fairly damning, and, surely, that doesn't bode well for Grier's prospects this week, as heavy road dogs against a competent Colts defense.
vs. New York Giants (-3.0)
On Sunday, two of the three worst teams in the NFL battle it out over Chase Young and the second overall pick. Neither team has anything to gain by winning, but both teams have a lot to gain by losing. Although the Giants are a fine streaming defense in their own right, Washington's is at home and favored, with a more competent defense (6.7 fantasy points per game vs. 6.1) and a less incompetent offense (9.8 fantasy points per game allowed vs. 11.1). Give the edge to Washington if Daniel Jones and his 2.5 turnovers and 3.3 sacks per game returns to the lineup this week, but it'd be more of a toss-up if Eli Manning draws the start.
vs. Detroit Lions (-6.5)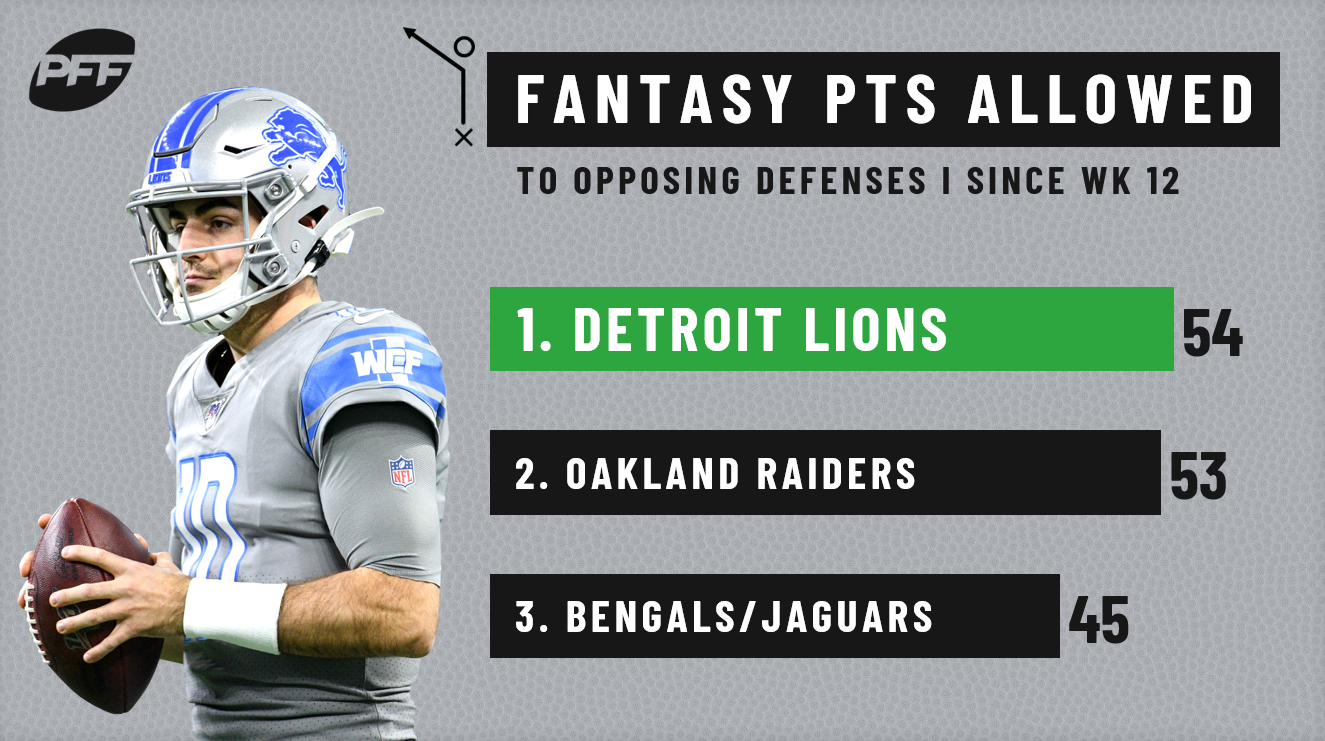 After exceeding expectations in two very difficult tough matchups — six sacks, four turnovers, 20 fantasy points on the road against Kansas City and Houston — Denver gets a near-perfect matchup this week. Over the last four weeks, Detroit is giving up a league-high 13.5 fantasy points per game to opposing defenses. Third-string quarterback David Blough has been held under 4.0 AY/A in two straight games, while averaging 3.0 sacks and 2.0 turnovers per start.
@ Tampa Bay Buccaneers (+1.0)
Even without Mike Evans (and potentially Chris Godwin), Jameis Winston still feels like a coin-flip to throw for 400 yards. That may be true, but the odds are better he's going to cede double-digit fantasy points to the opposing defense. Winston ranks first in interceptions (24), first in pick-sixes (five), third in sacks (43), and fifth in fumbles (12). Despite ranking top-three in points scored per game (29.7), Tampa Bay is still giving up the fifth-most fantasy points per game to opposing defenses (10.4), which makes Houston one of the safest plays of the week.