The best part about fantasy football is the season never ends. Sure, technically speaking, the 2018 NFL regular season is over. But we're in the thick of the playoffs with the NFL scouting combine just over a month away. Then there's free agency which spills into the draft. Minicamps and OTAs follow shortly after. Before we know it, the Fourth of July is here and we're right back into fantasy draft mode.
In other words, it's never too early to start prepping for next season. Let's get the 2019 fantasy football season started with our first batch of rankings. The following list is for PPR scoring. Of course, this is only the first incarnation of 2019 fantasy football rankings. With so much yet to unfold across the NFL landscape, this list will undergo many changes over the next several months. We'll give plenty of updates along the way in addition to rankings for standard scoring, dynasty leagues, best ball, and IDP.
1. Todd Gurley, RB1
2. Saquon Barkley, RB2
3. Christian McCaffrey, RB3
4. Ezekiel Elliott, RB4
5. Alvin Kamara, RB5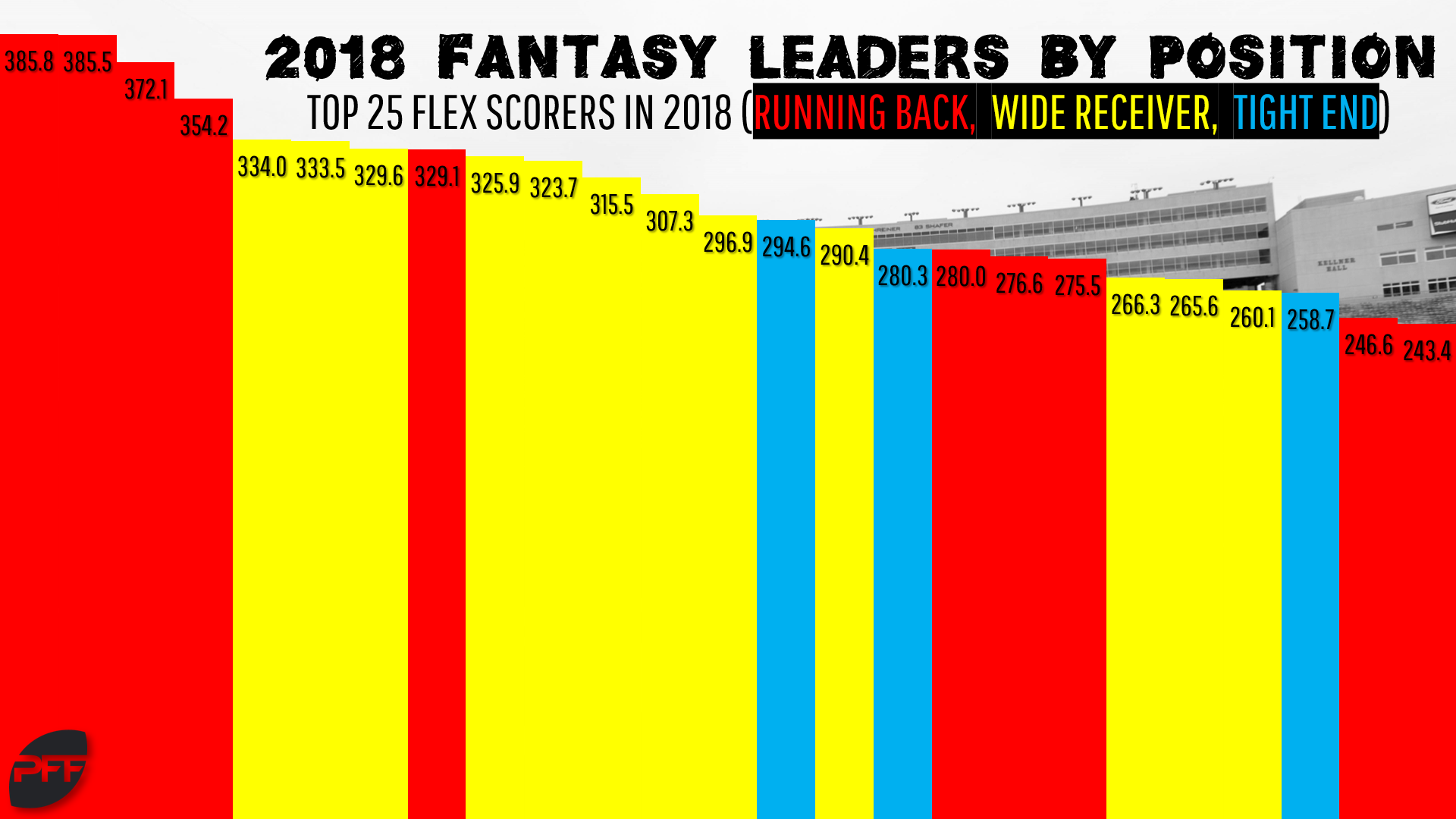 If there's one thing 2018 taught us, it's that an elite fantasy running back can take you a long way. The top tier of players in this year's drafts is all but guaranteed to be dominated by running backs with Todd Gurley at the top. Of course, the great debate is who should go No. 2? A case could be made for any of the remaining four players, but Barkley gets a razor-thin edge over the field for that distinction in this first set of rankings.
6. Melvin Gordon, RB6
7. Joe Mixon, RB7
8. James Conner, RB8
9. Davante Adams, WR1
10. DeAndre Hopkins, WR2
11. Nick Chubb, RB9
12. Michael Thomas, WR3
After the top five, things get a little tricky. It's likely that fantasy players will covet running backs in the first round, and that could create some very appealing values at wide receiver in the second and third rounds. Only three wideouts appear in the top 12 in these rankings, and interestingly, none of them are named Antonio Brown. So that means there's the very real chance that you could score one of the top fantasy wideouts of the last decade in the second round.
13. Antonio Brown, WR4
14. Julio Jones, WR5
15 .Travis Kelce, TE1
16. Odell Beckham Jr., WR6
17. Tyreek Hill, WR7
18. Keenan Allen, WR8
19. JuJu Smith-Schuster, WR9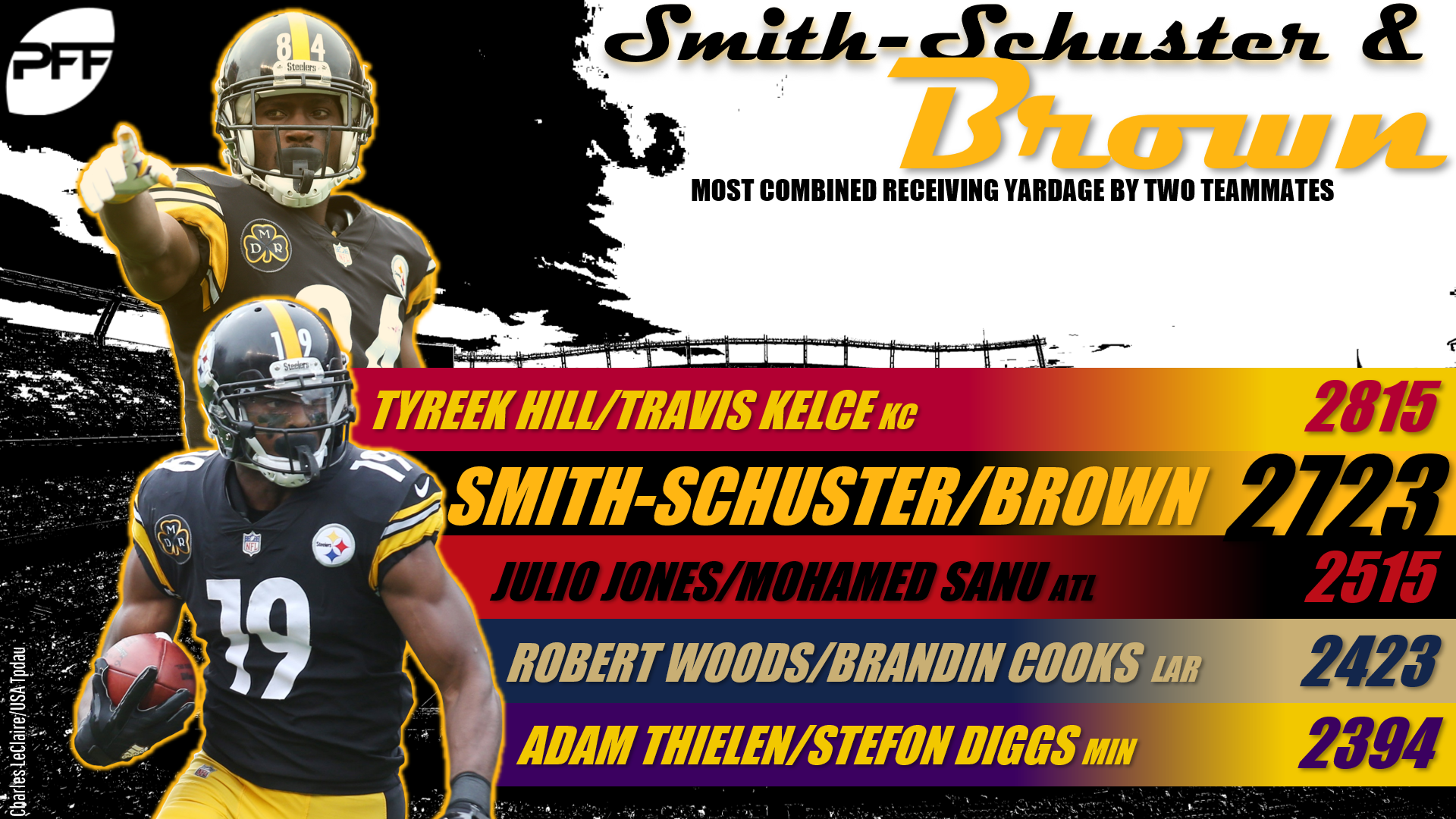 The names on this list should jump off the screen. In this tier, we have the year's No. 2 and 3 fantasy wideouts in Jones and Hill. Brown wasn't far behind them at fifth. His teammate, Smith-Schuster racked up 1,426 yards and a massive 111 catches. Beckham was banged up to finish the season, but before the injury he was top-10 among wideouts in fantasy scoring despite the overall ugly state of the Giants offense. Likewise, Allen missed time at the end of the season, but was a top-10 option for much of the year.
So in the second round, you're likely going to be able to get an elite wide receiver option, or you could step up and take Kelce. Tight end has the most sizeable gap between the elite options and back-end fantasy starters, which means Kelce's value will likely settle out in the early second-round range.
20. Le'Veon Bell, RB10
21. Zach Ertz, TE2
22. David Johnson, RB11
23. Dalvin Cook, RB12
24. A.J. Green, WR10
25. Mike Evans, WR11
26. Adam Thielen, WR12
27. Amari Cooper, WR13
28. T.Y. Hilton, WR14
29. Aaron Jones, RB13
30. Stefon Diggs, WR15
31. Kenny Golladay, WR16
32. George Kittle, TE3
33. Robert Woods, WR17
34. Brandin Cooks, WR18
35. Leonard Fournette, RB14
36. Sony Michel, RB15
Do yourself a favor and take a close look at the running back names from No. 20 to No. 36. If you were drafting today, these are the players you're likely to see taken in the second and third rounds at running back. If you're still excited to go with the running-back-early-and-often approach, you should also take a look at the running backs selected in the second, third, and fourth rounds by ADP last year. Once you get beyond the mid-second, the list is pretty ugly.
Now, do the same thing at wide receiver. The above names don't look too bad, do they? Now take a look at last year's ADP. It's the same exact thing. Thomas, Admas, Allen, Green, Evans, Hill, Diggs, Hilton, Cooper, Thielen, Smith-Schuster, and Cooks all went in the second through fourth rounds. The sharp drafter likely grabbed a first-round running back then plucked stud after stud at wide receiver in the next three rounds. If these early rankings are any indication, you'll be able to do the same exact thing in 2019.
37. Derrick Henry, RB16
38. Cooper Kupp, WR19
39. Patrick Mahomes, QB1
Patrick Mahomes gets his own mini-paragraph because another debate we'll have this year is where should he go in fantasy drafts. Note that it's a very different question than where will he go. In home leagues, there's a chance you see him picked in the first round. That's too early, and you know that. But where should he go? Mahomes is a special talent, but even he shouldn't go any earlier than the fourth round. You might think that's crazy, but the value at the position this year would suggest otherwise. More on this to come over the next eight months.
40. Kerryon Johnson, RB17
41. Allen Robinson, WR20
42. Jarvis Landry, WR21
43. Devonta Freeman, RB18
44. Phillip Lindsay, RB19
45. Alshon Jeffery, WR22
46. Corey Davis, WR23
47. Julian Edelman, WR24
48. Chris Carson, RB20
49. Marlon Mack, RB21
50. Jerick McKinnon, RB22
51. Jordan Howard, RB23
52. Marvin Jones Jr., WR25
53. Doug Baldwin, WR26
54. D.J. Moore, WR27
55. Tyler Boyd, WR28
56. Rob Gronkowski, TE4
57. Emmanuel Sanders, WR29
58. James White, RB24
59. Tarik Cohen, RB25
60. Derrius Guice, RB26
After six rounds of players, we're sitting with 26 running backs, 29 wide receivers, one quarterback, and four tight ends. That's about par for the course, but this is where things start to get interesting at running back. We have some upside breakouts at the top of this tier (Johnson, Lindsay, Carson, Mack) to go along with some question marks returning from injury (McKinnon and Guice) and some PPR options (White and Cohen). There's a lot of appeal in targeting your second running back in this range of players.
61. Mark Ingram, RB27
62. Tevin Coleman, RB28
63. Kenyan Drake, RB29
64. Tyler Lockett, WR30
65. Sammy Watkins, WR31
66. Calvin Ridley, WR32
67. Robby Anderson, WR33
68. O.J. Howard, TE5
69. Deshaun Watson, QB2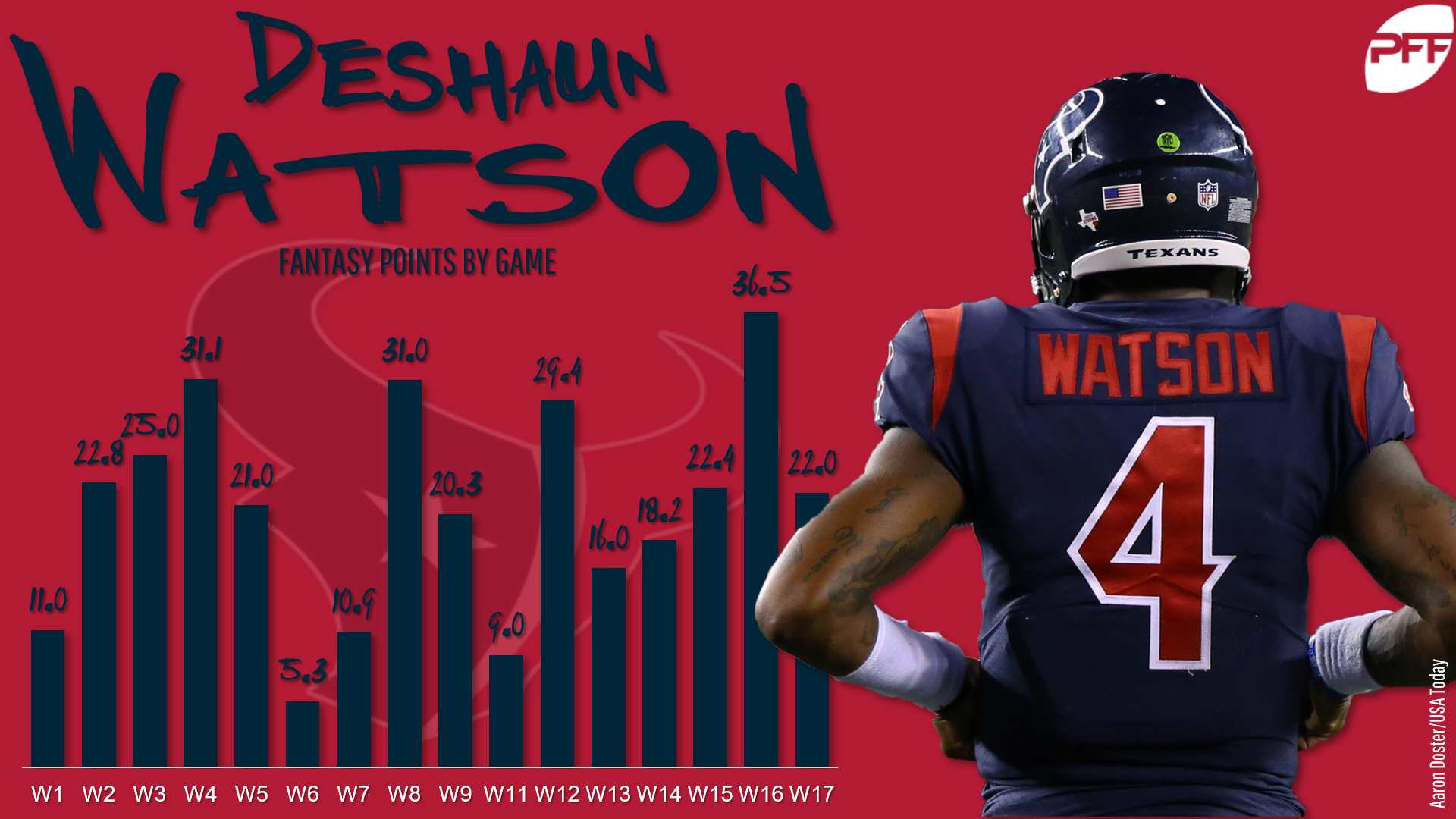 There's almost no way the second quarterback lasts this long in home league drafts, but the flat value at the position has really depressed the fantasy stock of the top options at the position. Of the quarterbacks not named Mahomes, Watson really stands out as the player with the best shot of finishing No. 1 at the position. He finished fourth in 2018, but was tremendous down the stretch, scoring the second-most fantasy points from Week 11 on. That's especially impressive considering Watson accomplished that with a banged-up wide receiver corps. A healthy Will Fuller and Keke Coutee will only help Watson's fantasy production.
70. Will Fuller V, WR34
71. Eric Ebron, TE6
72. Andrew Luck, QB3
73. Lamar Miller, RB30
74. LeSean McCoy, RB31
75. Aaron Rodgers, QB4
76. Chris Godwin, WR35
77. Hunter Henry, TE7
Things weren't supposed to be the way they ended up at tight end in 2018. Henry was going to break out and be a massive draft day value as a sixth-round pick. But football is a cruel mistress, and his offseason injury nixed that plan before it even began. This story might just have a happy ending after all, as Henry was activated for the Chargers Divisional Round playoff game against the Patriots. That means the recovery will be far in the rearview mirror when 2019 fantasy drafts roll around. So let's just pretend like last year didn't happen and cue the Henry breakout for next season.
78. Mike Williams, WR36
79. Christian Kirk, WR37
80. Cam Newton, QB5
81. Keke Coutee, WR38
82. Courtland Sutton, WR39
83. Dede Westbrook, WR40
84. Matt Breida, RB32
85. Kareem Hunt, RB33
86. Jay Ajayi, RB34
87. Rashaad Penny, RB35
88. Austin Ekeler, RB36
89. Duke Johnson Jr., RB37
90. Evan Engram, TE8
91. Ben Roethlisberger, QB6
92. Matt Ryan, QB7
Without looking answer this question: who were the Nos. 2 and No. 3 fantasy quarterbacks in 2018? Okay, this is an easy one if you look above to the rankings. Ryan ended the year second with Roethlisberger just behind him in third. These guys had tremendous fantasy seasons Roethlisberger led the league in passing yards (5,129), and Ryan finished third with 4,924. Not to mention that both signal-callers topped 30 touchdown passes. But here's the thing: there's a good chance one or both of these guys will get overlooked in your drafts. And hey, I get it. Neither player is the sexiest fantasy option. But sexy doesn't win fantasy championships. Points do, and these two put up a ton of points in 2018.
93. Nyheim Hines, RB38
94. DaeSean Hamilton, WR41
95. Dante Pettis, WR42
96. Michael Gallup, WR43
97. Demaryius Thomas, WR44
98. Larry Fitzgerald, WR45
99. DeSean Jackson, WR46
100. Golden Tate, WR47
101. Adam Humphries, WR48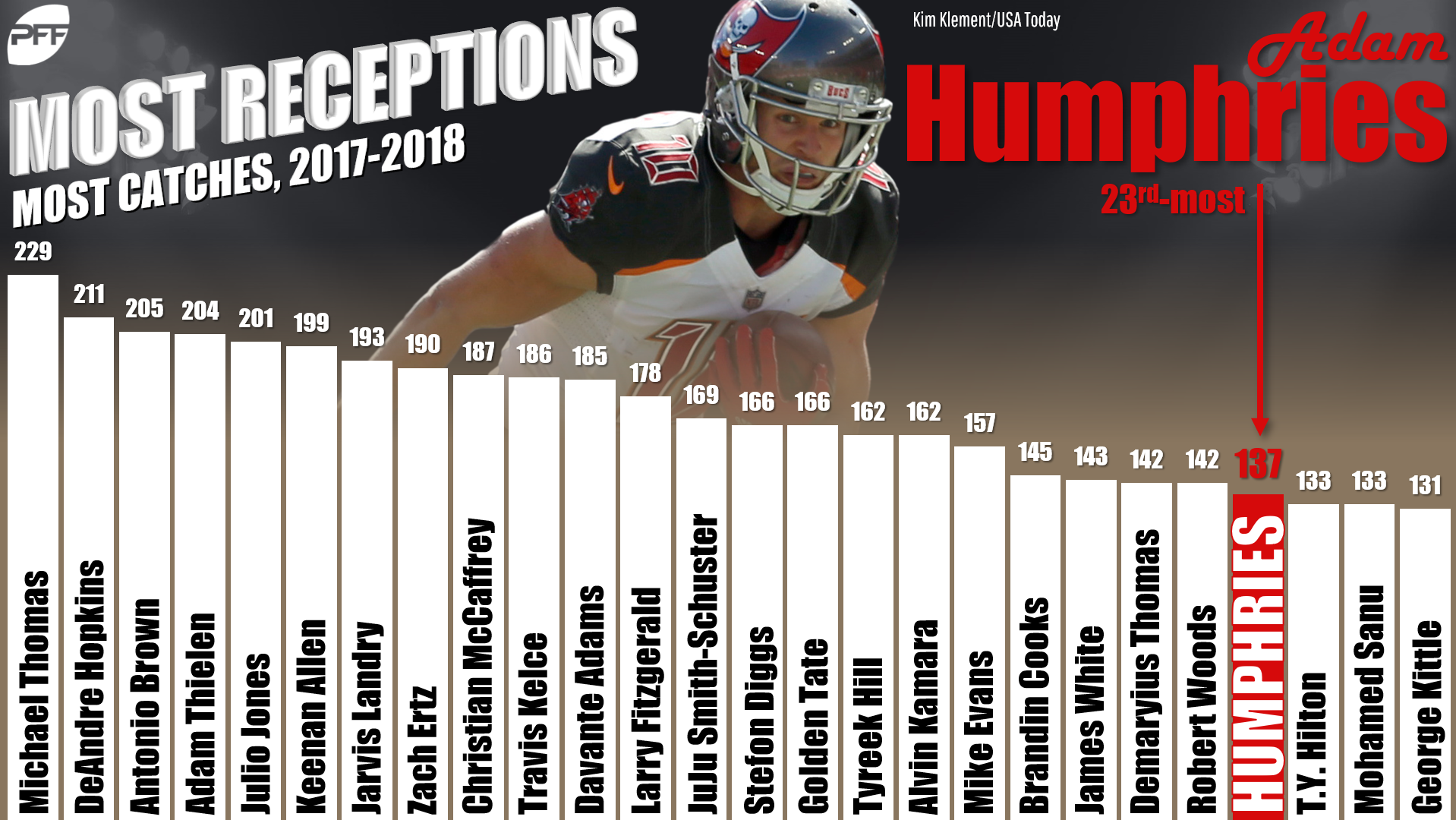 Did you realize Humphries had more catches than Kenny Golladay or Amari Cooper in 2018? It's true. Humphries racked up 76 receptions on 103 targets. He also finished the season as fantasy's No. 24 wideout. While he isn't a player we're going to target for upside, he should be monitored in the offseason. Bruce Arians taking over as the Bucs' head coach will be big for whoever mans the slot in the Tampa offense. Slot receivers under Arians have been PPR monsters in the past. Sure, Mike Evans is going to get his regardless, but the slot receiver in Tampa will be a PPR fantasy factor in 2019.
102. Sterling Shepard, WR49
103. Curtis Samuel, WR50
104. Kenny Stills, WR51
105. Zay Jones, WR52
106. Chris Thompson, RB39
107. Dion Lewis, RB40
108. Spencer Ware, RB41
109. Damien Williams, RB42
It's unlikely that the Chiefs open the season with Ware and Williams as their two primary backs, but one of these guys will move up if that does happen. Instead, we should expect the team to address the position either in free agency or the draft. Depending on who they add, that player will be at least an RB2 and quite possibly an RB1.
110. Royce Freeman, RB43
111. Elijah McGuire, RB44
112. Jared Cook, TE9
113. Delanie Walker, TE10
114. David Njoku, TE11
115. Austin Hooper, TE12
116. Greg Olsen, TE13
117. Drew Brees, QB8
118. Jared Goff, QB9
119. Russell Wilson, QB10
120. Tom Brady, QB11
121. Philip Rivers, QB12
122. Baker Mayfield, QB13
123. Marqise Lee, WR53
124. John Brown, WR54
125. Dez Bryant, WR55
126. Michael Crabtree, WR56
127. Jamison Crowder, WR57
128. Devin Funchess, WR58
129. Anthony Miller, WR59
130. Marquise Goodwin, WR60
131. Nelson Agholor, WR61
132. Albert Wilson, WR62
133. Robert Foster, WR63
134. DeVante Parker, WR64
135. Carson Wentz, QB14
136. Mitchell Trubisky, QB15
137. Dak Prescott, QB16
138. Gus Edwards, RB45
139. Isaiah Crowell, RB46
140. Peyton Barber, RB47
141. Jalen Richard, RB48
142. Ronald Jones II, RB49
143. T.J. Yeldon, RB50
144. D'Onta Foreman, RB51
145. Willie Snead IV, WR65
146. Mohamed Sanu, WR66
147. Randall Cobb, WR67
148. Paul Richardson, WR68
149. Kyle Rudolph, TE14
150. Jimmy Graham, TE15